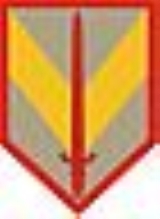 Sustainment Brigade
As part of the early 21st century
transformation of the United States Army
Transformation of the United States Army
Army Transformation describes the future-concept of the United States Army's plan of modernization. Transformation is a generalized term for the integration of new concepts, organizations, and technology within the armed forces of the United States....
from a
division
Division (military)
A division is a large military unit or formation usually consisting of between 10,000 and 20,000 soldiers. In most armies, a division is composed of several regiments or brigades, and in turn several divisions typically make up a corps...
-based structure to a
brigade
Brigade
A brigade is a major tactical military formation that is typically composed of two to five battalions, plus supporting elements depending on the era and nationality of a given army and could be perceived as an enlarged/reinforced regiment...
-based army; the Division Support Commands,
Corps Support Group
Corps Support Group
A Corps Support Group, or CSG, was a brigade-sized unit in the United States Army. A CSG differs from a DISCOM in that it is a corps, not a divisional, asset. Doctrinally, a CSG serves corps units, not division units, but in practice CSGs typically have a close working relationship with a...
s, and Area Support Groups are being inactivated or transformed to
Sustainment Brigades
(previously called Sustainment Units of Action (SUS or SUA).
The Sustainment Brigade is designed to provide Command & Control for combat service & combat service support units. It can be adjusted in size to support anywhere from 1 to 10 Brigade Combat Teams (BCTs). A sustainment brigade has a joint capability that allows the Army to better manage the flow of logistics into the Area of Operations (AO) and provides support to other services for common logistics like fuel, common ammo, medical supplies, repair parts of wheeled vehicles, and so forth. A Sustainment Brigade is designed to operate independently in a Theater of Operations, in conjunction with other Sustainment Brigades under the command of a
Sustainment Command (Expeditionary)
Sustainment Command (Expeditionary)
The Sustainment Command is a United States Army Logistics Headquarters.The Sustainment Command's primary mission is to command the Sustainment Brigades that provide combat support and combat service support in the areas of supply, maintenance, transportation, field services and the functional...
, or directly under a Theater Sustainment Command.
As of the last published information, there will be 30 Sustainment Brigades; 13
active duty
Active duty
Active duty refers to a full-time occupation as part of a military force, as opposed to reserve duty.-Pakistan:The Pakistan Armed Forces are one of the largest active service forces in the world with almost 610,000 full time personnel due to the complex and volatile nature of Pakistan's...
, 9
Army National Guard
Army National Guard
Established under Title 10 and Title 32 of the U.S. Code, the Army National Guard is part of the National Guard and is divided up into subordinate units stationed in each of the 50 states, three territories and the District of Columbia operating under their respective governors...
brigades and 9 US Army Reserve brigades.
Sustainment Brigades
Unit
Patch
Type
Home Headquarters

1st Sustainment Brigade

1st Sustainment Brigade (United States)

The 1st Sustainment Brigade is a sustainment brigade of the United States Army based at Fort Riley, Kansas. It provides logistics support to the 1st Infantry Division.Activated in 2007, the unit is a modular brigade capable of a variety of actions...




Active Duty

Active Duty

ActiveDuty.com is a pornography company based in North Carolina, United States, that specializes in the production of pornographic movies featuring gay, straight and bi military men engaging in solo and gay sex acts...




Fort Riley

Fort Riley

Fort Riley is a United States Army installation located in Northeast Kansas, on the Kansas River, between Junction City and Manhattan. The Fort Riley Military Reservation covers 100,656 acres in Geary and Riley counties and includes two census-designated places: Fort Riley North and Fort...


, Kansas

Kansas

Kansas is a US state located in the Midwestern United States. It is named after the Kansas River which flows through it, which in turn was named after the Kansa Native American tribe, which inhabited the area. The tribe's name is often said to mean "people of the wind" or "people of the south...




3rd Sustainment Brigade

3rd Sustainment Brigade (United States)

The 3rd Sustainment Brigade is a sustainment brigade of the United States Army headquartered at Fort Stewart, Georgia. The 3rd Sustainment Brigade is responsible for providing logistical support to the 3rd Infantry Division, however the modular nature of the brigade means that it takes on other...




Active Duty

Active Duty

ActiveDuty.com is a pornography company based in North Carolina, United States, that specializes in the production of pornographic movies featuring gay, straight and bi military men engaging in solo and gay sex acts...




Fort Stewart

Fort Stewart

Fort Stewart is a census-designated place and U.S. Army post primarily in Liberty County and Bryan County, but also extending into smaller portions of Evans, Long, and Tattnall Counties in Georgia, USA. The population was 11,205 at the 2000 census...


, Georgia

Georgia (U.S. state)

Georgia is a state located in the southeastern United States. It was established in 1732, the last of the original Thirteen Colonies. The state is named after King George II of Great Britain. Georgia was the fourth state to ratify the United States Constitution, on January 2, 1788...




4th Sustainment Brigade

4th Sustainment Brigade (United States)

The 4th Sustainment Brigade is a sustainment brigade of the United States Army. It previously provided logistical support to the 4th Infantry Division, but is now supporting the 1st Cavalry Division...




Active Duty

Active Duty

ActiveDuty.com is a pornography company based in North Carolina, United States, that specializes in the production of pornographic movies featuring gay, straight and bi military men engaging in solo and gay sex acts...




Fort Hood, Texas

Texas

Texas is the second largest U.S. state by both area and population, and the largest state by area in the contiguous United States.The name, based on the Caddo word "Tejas" meaning "friends" or "allies", was applied by the Spanish to the Caddo themselves and to the region of their settlement in...




7th Sustainment Brigade

7th Sustainment Brigade (United States)

The 7th Sustainment Brigade is a sustainment brigade of the United States Army. It is known and referred to as "the most deployed unit in the Army" because of its continuous mission to provide logistical support to all branches of the service for both training and war-time activities.-Units:* 7th...




Active Duty

Active Duty

ActiveDuty.com is a pornography company based in North Carolina, United States, that specializes in the production of pornographic movies featuring gay, straight and bi military men engaging in solo and gay sex acts...




Fort Eustis, Virginia

Virginia

The Commonwealth of Virginia , is a U.S. state on the Atlantic Coast of the Southern United States. Virginia is nicknamed the "Old Dominion" and sometimes the "Mother of Presidents" after the eight U.S. presidents born there...




10th Sustainment Brigade

10th Sustainment Brigade (United States)

The 10th Sustainment Brigade is a sustainment brigade of the United States Army. It provides logistical support to the 10th Mountain Division and is located on Fort Drum in Northern New York State.-Origins:...




Active Duty

Active Duty

ActiveDuty.com is a pornography company based in North Carolina, United States, that specializes in the production of pornographic movies featuring gay, straight and bi military men engaging in solo and gay sex acts...




Fort Drum

Fort Drum

Fort Drum is a United States Army base in New York near the Canadian border.Fort Drum may also refer to:*Fort Drum, Florida, a nearly-uninhabited town in the United States*Fort Drum , Philippines...


, New York

New York

New York is a state in the Northeastern region of the United States. It is the nation's third most populous state. New York is bordered by New Jersey and Pennsylvania to the south, and by Connecticut, Massachusetts and Vermont to the east...




15th Sustainment Brigade

15th Sustainment Brigade (United States)

The 15th Sustainment Brigade is a sustainment brigade of the United States Army based at Fort Bliss, Texas. It provides logistics support to other units of the United States Army, and is subordinate to the 13th Sustainment Command...




Active Duty

Active Duty

ActiveDuty.com is a pornography company based in North Carolina, United States, that specializes in the production of pornographic movies featuring gay, straight and bi military men engaging in solo and gay sex acts...




Fort Bliss

Fort Bliss

Fort Bliss is a United States Army post in the U.S. states of New Mexico and Texas. With an area of about , it is the Army's second-largest installation behind the adjacent White Sands Missile Range. It is FORSCOM's largest installation, and has the Army's largest Maneuver Area behind the...


, Texas

Texas

Texas is the second largest U.S. state by both area and population, and the largest state by area in the contiguous United States.The name, based on the Caddo word "Tejas" meaning "friends" or "allies", was applied by the Spanish to the Caddo themselves and to the region of their settlement in...




16th Sustainment Brigade

16th Sustainment Brigade (United States)

The 16th Sustainment Brigade is a sustainment brigade of the United States Army based at Warner Barracks in Bamberg, Germany. It is a subordinate unit of the 21st Theater Sustainment Command of the Seventh Army....




Active Duty

Active Duty

ActiveDuty.com is a pornography company based in North Carolina, United States, that specializes in the production of pornographic movies featuring gay, straight and bi military men engaging in solo and gay sex acts...




Bamberg

Bamberg

Bamberg is a city in Bavaria, Germany. It is located in Upper Franconia on the river Regnitz, close to its confluence with the river Main. Bamberg is one of the few cities in Germany that was not destroyed by World War II bombings because of a nearby Artillery Factory that prevented planes from...


, Germany

Germany

Germany , officially the Federal Republic of Germany , is a federal parliamentary republic in Europe. The country consists of 16 states while the capital and largest city is Berlin. Germany covers an area of 357,021 km2 and has a largely temperate seasonal climate...




17th Sustainment Brigade

17th Sustainment Brigade (United States)

The 17th Sustainment Brigade is a sustainment brigade of the United States Army National Guard in Nevada.-Mission:17th SB provides command and control for 3-7 sustainment of functional logistics battalions and assigned HR/FM companies...




National Guard

Army National Guard

Established under Title 10 and Title 32 of the U.S. Code, the Army National Guard is part of the National Guard and is divided up into subordinate units stationed in each of the 50 states, three territories and the District of Columbia operating under their respective governors...




Las Vegas

Las Vegas metropolitan area

The Las Vegas Valley is the heart of the Las Vegas-Paradise, NV MSA also known as the Las Vegas–Paradise–Henderson MSA which includes all of Clark County, Nevada, and is a metropolitan area in the southern part of the U.S. state of Nevada. The Valley is defined by the Las Vegas Valley landform, a ...


, Nevada

Nevada

Nevada is a state in the western, mountain west, and southwestern regions of the United States. With an area of and a population of about 2.7 million, it is the 7th-largest and 35th-most populous state. Over two-thirds of Nevada's people live in the Las Vegas metropolitan area, which contains its...




36th Sustainment Brigade

National Guard

Army National Guard

Established under Title 10 and Title 32 of the U.S. Code, the Army National Guard is part of the National Guard and is divided up into subordinate units stationed in each of the 50 states, three territories and the District of Columbia operating under their respective governors...




Temple, Texas

Temple, Texas

Temple is a city in Bell County, Texas, United States. Located near the county seat of Belton, Temple lies in the region referred to as Central Texas. Located off Interstate 35, Temple is 65 miles north of Austin and 34 miles south of Waco. In the 2010 Census, Temple's population was 66,102, an...




38th Sustainment Brigade

38th Sustainment Brigade (United States)

The 38th Sustainment Brigade is a sustainment brigade of the United States Army National Guard in Indiana.The former 38th Division Support Command , along with several other support units, transformed into the 38th Sustainment Brigade in 2007...




National Guard

Army National Guard

Established under Title 10 and Title 32 of the U.S. Code, the Army National Guard is part of the National Guard and is divided up into subordinate units stationed in each of the 50 states, three territories and the District of Columbia operating under their respective governors...




Kokomo, Indiana

Kokomo, Indiana

Kokomo is a city in and the county seat of Howard County, Indiana, United States, Indiana's 13th largest city. It is the principal city of the Kokomo, Indiana Metropolitan Statistical Area, which includes all of Howard and Tipton counties....




43rd Sustainment Brigade

43rd Sustainment Brigade (United States)

The 43rd Sustainment Brigade is a U.S. Army Forces Command combat service support unit stationed at Fort Carson, Colorado. The Brigade motto is "Provide with Pride". The Brigade call sign is "Rough Riders"...




Active Duty

Active Duty

ActiveDuty.com is a pornography company based in North Carolina, United States, that specializes in the production of pornographic movies featuring gay, straight and bi military men engaging in solo and gay sex acts...




Fort Carson, Colorado

Colorado

Colorado is a U.S. state that encompasses much of the Rocky Mountains as well as the northeastern portion of the Colorado Plateau and the western edge of the Great Plains...




45th Sustainment Brigade

45th Sustainment Brigade (United States)

The 45th Sustainment Brigade is a sustainment brigade of the United States Army based at Schofield Barracks, Hawaii. The 45th SB is directly subordinate to the 8th Theater Sustainment Command.-Organization:...




Active Duty

Active Duty

ActiveDuty.com is a pornography company based in North Carolina, United States, that specializes in the production of pornographic movies featuring gay, straight and bi military men engaging in solo and gay sex acts...




Schofield Barracks, Hawaii

Hawaii

Hawaii is the newest of the 50 U.S. states , and is the only U.S. state made up entirely of islands. It is the northernmost island group in Polynesia, occupying most of an archipelago in the central Pacific Ocean, southwest of the continental United States, southeast of Japan, and northeast of...




55th Sustainment Brigade

55th Sustainment Brigade (United States)

The 55th Sustainment Brigade is a sustainment brigade of the United States Army Reserve.It is located at Fort Belvoir, Virginia. Activated in March 2006, the unit has served at least one tour in Iraq....




Reserve

Fort Belvoir

Fort Belvoir

Fort Belvoir is a United States Army installation and a census-designated place in Fairfax County, Virginia, United States. Originally, it was the site of the Belvoir plantation. Today, Fort Belvoir is home to a number of important United States military organizations...


, Virginia

Virginia

The Commonwealth of Virginia , is a U.S. state on the Atlantic Coast of the Southern United States. Virginia is nicknamed the "Old Dominion" and sometimes the "Mother of Presidents" after the eight U.S. presidents born there...




77th Sustainment Brigade

Reserve

Fort Dix, New Jersey

New Jersey

New Jersey is a state in the Northeastern and Middle Atlantic regions of the United States. , its population was 8,791,894. It is bordered on the north and east by the state of New York, on the southeast and south by the Atlantic Ocean, on the west by Pennsylvania and on the southwest by Delaware...




82nd Sustainment Brigade

82nd Sustainment Brigade (United States)

The 82nd Sustainment Brigade is a sustainment brigade of the United States Army based at Fort Bragg, North Carolina. It provides logistical support to all tenant units at the base, and is under the direct command of FORSCOM....




Active Duty

Active Duty

ActiveDuty.com is a pornography company based in North Carolina, United States, that specializes in the production of pornographic movies featuring gay, straight and bi military men engaging in solo and gay sex acts...




Fort Bragg

Fort Bragg (North Carolina)

Fort Bragg is a major United States Army installation, in Cumberland and Hoke counties, North Carolina, U.S., mostly in Fayetteville but also partly in the town of Spring Lake. It was also a census-designated place in the 2010 census and had a population of 39,457. The fort is named for Confederate...


, North Carolina

North Carolina

North Carolina is a state located in the southeastern United States. The state borders South Carolina and Georgia to the south, Tennessee to the west and Virginia to the north. North Carolina contains 100 counties. Its capital is Raleigh, and its largest city is Charlotte...




89th Sustainment Brigade

89th Sustainment Brigade

The 89th Sustainment Brigade is a subordinate command of 103rd Expeditionary Sustainment Command and one of only eight of its kind in the Army Reserve...




Reserve

Wichita

Wichita, Kansas

Wichita is the largest city in the U.S. state of Kansas.As of the 2010 census, the city population was 382,368. Located in south-central Kansas on the Arkansas River, Wichita is the county seat of Sedgwick County and the principal city of the Wichita metropolitan area...


, Kansas

Kansas

Kansas is a US state located in the Midwestern United States. It is named after the Kansas River which flows through it, which in turn was named after the Kansa Native American tribe, which inhabited the area. The tribe's name is often said to mean "people of the wind" or "people of the south...




90th Sustainment Brigade

Reserve

North Little Rock, Arkansas

Arkansas

Arkansas is a state located in the southern region of the United States. Its name is an Algonquian name of the Quapaw Indians. Arkansas shares borders with six states , and its eastern border is largely defined by the Mississippi River...




96th Sustainment Brigade

Reserve

Salt Lake City, Utah

Utah

Utah is a state in the Western United States. It was the 45th state to join the Union, on January 4, 1896. Approximately 80% of Utah's 2,763,885 people live along the Wasatch Front, centering on Salt Lake City. This leaves vast expanses of the state nearly uninhabited, making the population the...




101st Sustainment Brigade

101st Sustainment Brigade (United States)

The 101st Sustainment Brigade is a sustainment brigade of the United States Army based at Fort Campbell. It provides logistical support to the 101st Airborne Division , and is under the direct command of FORSCOM.-Organization:...




Active Duty

Active Duty

ActiveDuty.com is a pornography company based in North Carolina, United States, that specializes in the production of pornographic movies featuring gay, straight and bi military men engaging in solo and gay sex acts...




Fort Campbell

Fort Campbell

Fort Campbell is a United States Army installation located astraddle the Kentucky-Tennessee border between Hopkinsville, Kentucky, and Clarksville, Tennessee...


, Kentucky

Kentucky

The Commonwealth of Kentucky is a state located in the East Central United States of America. As classified by the United States Census Bureau, Kentucky is a Southern state, more specifically in the East South Central region. Kentucky is one of four U.S. states constituted as a commonwealth...




108th Sustainment Brigade

108th Sustainment Brigade (United States)

The 108th Sustainment Brigade is a sustainment brigade of the United States Army National Guard in Illinois.The former 33rd Area Support Group is transforming into the 108th Sustainment Brigade...




National Guard

Army National Guard

Established under Title 10 and Title 32 of the U.S. Code, the Army National Guard is part of the National Guard and is divided up into subordinate units stationed in each of the 50 states, three territories and the District of Columbia operating under their respective governors...




Chicago

Chicago

Chicago is the largest city in the US state of Illinois. With nearly 2.7 million residents, it is the most populous city in the Midwestern United States and the third most populous in the US, after New York City and Los Angeles...


, Illinois

Illinois

Illinois is the fifth-most populous state of the United States of America, and is often noted for being a microcosm of the entire country. With Chicago in the northeast, small industrial cities and great agricultural productivity in central and northern Illinois, and natural resources like coal,...




113th Sustainment Brigade

113th Sustainment Brigade (United States)

The 113th Sustainment Brigade is a modular sustainment brigade of the United States Army National Guard.The unit is composed of units from the North Carolina Army National Guard. The unit was originally formed in 1974 as the 113th Field Artillery Brigade...




National Guard

Army National Guard

Established under Title 10 and Title 32 of the U.S. Code, the Army National Guard is part of the National Guard and is divided up into subordinate units stationed in each of the 50 states, three territories and the District of Columbia operating under their respective governors...




Greensboro, North Carolina

North Carolina

North Carolina is a state located in the southeastern United States. The state borders South Carolina and Georgia to the south, Tennessee to the west and Virginia to the north. North Carolina contains 100 counties. Its capital is Raleigh, and its largest city is Charlotte...




224th Sustainment Brigade

224th Sustainment Brigade

The 224th Sustainment Brigade is a sustainment brigade of the United States Army and the California Army National Guard.-References:*...




National Guard

Army National Guard

Established under Title 10 and Title 32 of the U.S. Code, the Army National Guard is part of the National Guard and is divided up into subordinate units stationed in each of the 50 states, three territories and the District of Columbia operating under their respective governors...




Long Beach

Long Beach, California

Long Beach is a city situated in Los Angeles County in Southern California, on the Pacific coast of the United States. The city is the 36th-largest city in the nation and the seventh-largest in California. As of 2010, its population was 462,257...


, California

California

California is a state located on the West Coast of the United States. It is by far the most populous U.S. state, and the third-largest by land area...




230th Sustainment Brigade

National Guard

Army National Guard

Established under Title 10 and Title 32 of the U.S. Code, the Army National Guard is part of the National Guard and is divided up into subordinate units stationed in each of the 50 states, three territories and the District of Columbia operating under their respective governors...




Chattanooga, Tennessee

Tennessee

Tennessee is a U.S. state located in the Southeastern United States. It has a population of 6,346,105, making it the nation's 17th-largest state by population, and covers , making it the 36th-largest by total land area...




287th Sustainment Brigade

287th Sustainment Brigade (United States)

The 287th Sustainment Brigade is a sustainment brigade of the Kansas Army National Guard in Kansas.The 287th Sustainment Brigade was activated on 1 September 2005, and is headquartered in Wichita. Its mission is to plan, prepare, execute and assess combat service support operations within a corps...




National Guard

Army National Guard

Established under Title 10 and Title 32 of the U.S. Code, the Army National Guard is part of the National Guard and is divided up into subordinate units stationed in each of the 50 states, three territories and the District of Columbia operating under their respective governors...




Wichita

Wichita, Kansas

Wichita is the largest city in the U.S. state of Kansas.As of the 2010 census, the city population was 382,368. Located in south-central Kansas on the Arkansas River, Wichita is the county seat of Sedgwick County and the principal city of the Wichita metropolitan area...


, Kansas

Kansas

Kansas is a US state located in the Midwestern United States. It is named after the Kansas River which flows through it, which in turn was named after the Kansa Native American tribe, which inhabited the area. The tribe's name is often said to mean "people of the wind" or "people of the south...




300th Sustainment Brigade

Reserve

Grand Prairie, Texas

Texas

Texas is the second largest U.S. state by both area and population, and the largest state by area in the contiguous United States.The name, based on the Caddo word "Tejas" meaning "friends" or "allies", was applied by the Spanish to the Caddo themselves and to the region of their settlement in...




304th Sustainment Brigade

304th Sustainment Brigade (United States)

The 304th Sustainment Brigade is a sustainment brigade of the United States Army Reserve. It is headquartered at March Air Reserve Base near Riverside, California....




Reserve

March Air Force Base, California

California

California is a state located on the West Coast of the United States. It is by far the most populous U.S. state, and the third-largest by land area...




321st Sustainment Brigade

321st Sustainment Brigade (United States)

The 321st Sustainment Brigade is a sustainment brigade of the United States Army Reserve.-History:The 321st Materiel Management Center was activated as the Headquarters and Headquarters Company, 321st Logistical Command Fort Wayne, Indiana, on 27 February 1951, and inactivated on 31 December 1955...




Reserve

Baton Rouge, Louisiana

Louisiana

Louisiana is a state located in the southern region of the United States of America. Its capital is Baton Rouge and largest city is New Orleans. Louisiana is the only state in the U.S. with political subdivisions termed parishes, which are local governments equivalent to counties...




369th Sustainment Brigade

National Guard

Army National Guard

Established under Title 10 and Title 32 of the U.S. Code, the Army National Guard is part of the National Guard and is divided up into subordinate units stationed in each of the 50 states, three territories and the District of Columbia operating under their respective governors...




New York

New York

New York is a state in the Northeastern region of the United States. It is the nation's third most populous state. New York is bordered by New Jersey and Pennsylvania to the south, and by Connecticut, Massachusetts and Vermont to the east...


, New York

New York

New York is a state in the Northeastern region of the United States. It is the nation's third most populous state. New York is bordered by New Jersey and Pennsylvania to the south, and by Connecticut, Massachusetts and Vermont to the east...




371st Sustainment Brigade

371st Sustainment Brigade (United States)

The 371st Sustainment Brigade is an Ohio Army National Guard sustainment Brigade. It is based out of Springfield and Newark, Ohio. It is the new and larger incarnation of the 371st Corps Support Group, which had been based at Kettering, Ohio...




National Guard

Army National Guard

Established under Title 10 and Title 32 of the U.S. Code, the Army National Guard is part of the National Guard and is divided up into subordinate units stationed in each of the 50 states, three territories and the District of Columbia operating under their respective governors...




Kettering

Kettering

Kettering is a market town in the Borough of Kettering, Northamptonshire, England. It is situated about from London. Kettering is mainly situated on the west side of the River Ise, a tributary of the River Nene which meets at Wellingborough...


, Ohio

Ohio

Ohio is a Midwestern state in the United States. The 34th largest state by area in the U.S.,it is the 7th‑most populous with over 11.5 million residents, containing several major American cities and seven metropolitan areas with populations of 500,000 or more.The state's capital is Columbus...




501st Sustainment Brigade

501st Sustainment Brigade (United States)

The 501st Sustainment Brigade is a sustainment brigade of the United States Army. It provides logistical support to the 2nd Infantry Division.-History:...




Active Duty

Active Duty

ActiveDuty.com is a pornography company based in North Carolina, United States, that specializes in the production of pornographic movies featuring gay, straight and bi military men engaging in solo and gay sex acts...




Camp Carroll, South Korea

Camp Carroll, South Korea

Camp Carroll is located on the south east portion of South Korea, in Waegwan, close to the city of Daegu. It is named after Sergeant First Class Charles F. Carroll, a posthumous recipient of the Distinguished Service Cross for his acts of heroism during the Korean War.Camp Carroll is located at the...




518th Sustainment Brigade

Reserve

Raleigh

Raleigh, North Carolina

Raleigh is the capital and the second largest city in the state of North Carolina as well as the seat of Wake County. Raleigh is known as the "City of Oaks" for its many oak trees. According to the U.S. Census Bureau, the city's 2010 population was 403,892, over an area of , making Raleigh...


, North Carolina

North Carolina

North Carolina is a state located in the southeastern United States. The state borders South Carolina and Georgia to the south, Tennessee to the west and Virginia to the north. North Carolina contains 100 counties. Its capital is Raleigh, and its largest city is Charlotte...


(FY13)

528th Sustainment Brigade (Special Operations) (Airborne)

Active Duty

Active Duty

ActiveDuty.com is a pornography company based in North Carolina, United States, that specializes in the production of pornographic movies featuring gay, straight and bi military men engaging in solo and gay sex acts...




Fort Bragg

Fort Bragg (North Carolina)

Fort Bragg is a major United States Army installation, in Cumberland and Hoke counties, North Carolina, U.S., mostly in Fayetteville but also partly in the town of Spring Lake. It was also a census-designated place in the 2010 census and had a population of 39,457. The fort is named for Confederate...


, North Carolina

North Carolina

North Carolina is a state located in the southeastern United States. The state borders South Carolina and Georgia to the south, Tennessee to the west and Virginia to the north. North Carolina contains 100 counties. Its capital is Raleigh, and its largest city is Charlotte...




593rd Sustainment Brigade

593rd Sustainment Brigade (United States)

The 593rd Sustainment Brigade is a sustainment brigade of the United States Army.-History:Having been restructured from a corps support group, the 593rd Sustainment Brigade as part of the transformation of the United States Army, the 593rd was one of the last units to complete its transfer into a...




Active Duty

Active Duty

ActiveDuty.com is a pornography company based in North Carolina, United States, that specializes in the production of pornographic movies featuring gay, straight and bi military men engaging in solo and gay sex acts...




Fort Lewis

Fort Lewis

Joint Base Lewis-McChord is a United States military facility located south-southwest of Tacoma, Washington. The facility is under the jurisdiction of the United States Army Joint Base Garrison, Joint Base Lewis-McChord....


, Washington
External links