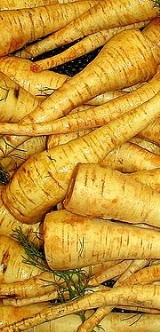 Parsnip
The
parsnip
is a
root vegetable
Root vegetable
Root vegetables are plant roots used as vegetables. Here "root" means any underground part of a plant.Root vegetables are generally storage organs, enlarged to store energy in the form of carbohydrates. They differ in the concentration and the balance between sugars, starches, and other types of...
related to the
carrot
Carrot
The carrot is a root vegetable, usually orange in colour, though purple, red, white, and yellow varieties exist. It has a crisp texture when fresh...
. Parsnips resemble carrots, but are paler than most carrots and have a sweeter taste, especially when cooked. The buttery, slightly spicy, sweet flavor of cooked mature (often picked after the first frost) parsnips is reminiscent of
butterscotch
Butterscotch
Butterscotch is a type of confectionery whose primary ingredients are brown sugar and butter, although other ingredients such as corn syrup, cream, vanilla, and salt are part of some recipes...
,
honey
Honey
Honey is a sweet food made by bees using nectar from flowers. The variety produced by honey bees is the one most commonly referred to and is the type of honey collected by beekeepers and consumed by humans...
, and subtle
cardamom
Cardamom
Cardamom refers to several plants of the genera Elettaria and Amomum in the ginger family Zingiberaceae. Both genera are native to India and Bhutan; they are recognised by their small seed pod, triangular in cross-section and spindle-shaped, with a thin papery outer shell and small black seeds...
. Like carrots, parsnips are native to Eurasia and have been eaten there since ancient times. Zohary and Hopf note that the archeological evidence for the cultivation of the parsnip is "still rather limited," and that Greek and Roman literary sources are a major source about its early use, but warn "there are some difficulties in distinguishing between parsnip and carrot (which, in Roman times, were white or purple) in classical writings since both vegetables seem to have been sometimes called
pastinaca
yet each vegetable appears to be well under cultivation in Roman times." As
pastinache comuni
the "common"
pastinaca
figures in the long list of comestibles enjoyed by the Milanese given by
Bonvesin de la Riva
Bonvesin de la Riva
Bonvesin da la Riva was a well-to-do Milanese lay member of the Ordine degli Umiliati , a teacher of grammar and a notable Lombard poet and writer of the 13th century.His De magnalibus urbis Mediolani , written in the late spring of...
in his "Marvels of Milan" (1288).
While parsnips can be eaten raw, they are more commonly served cooked.