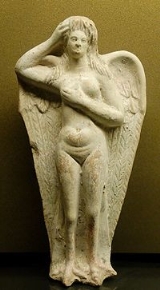 Siren
In
Greek mythology
Greek mythology
Greek mythology is the body of myths and legends belonging to the ancient Greeks, concerning their gods and heroes, the nature of the world, and the origins and significance of their own cult and ritual practices. They were a part of religion in ancient Greece...
, the
Sirens
(
Greek
Greek language
Greek is an independent branch of the Indo-European family of languages. Native to the southern Balkans, it has the longest documented history of any Indo-European language, spanning 34 centuries of written records. Its writing system has been the Greek alphabet for the majority of its history;...
singular: ; Greek plural: ) were three dangerous mermaid like creatures, portrayed as
seductresses
Femme fatale
A femme fatale is a mysterious and seductive woman whose charms ensnare her lovers in bonds of irresistible desire, often leading them into compromising, dangerous, and deadly situations. She is an archetype of literature and art...
who lured nearby sailors with their enchanting music and voices to shipwreck on the rocky coast of their island. Roman poets placed them on an island called
Sirenum scopuli
Sirenum scopuli
According to the Roman poets Virgil and Ovid, the Sirenum scopuli were three small rocky islands where the Sirens of Greek mythology lived and lured sailors to their deaths...
. In some later, rationalized traditions, the literal geography of the "flowery" island of Anthemoessa, or Anthemusa, is fixed: sometimes on Cape Pelorum and at others in the islands known as the
Sirenuse
Sirenuse
The Sirenusas , also known as the Gallos , are an archipelago of little islands off the Amalfi Coast of Italy near Positano and the Isle of Capri. The name, Sirenuse, is a reference to the mythological sirens said to have lived there...
, near
Paestum
Paestum
Paestum is the classical Roman name of a major Graeco-Roman city in the Campania region of Italy. It is located in the north of Cilento, near the coast about 85 km SE of Naples in the province of Salerno, and belongs to the commune of Capaccio, officially also named...
, or in
Capreae
Capri
Capri is an Italian island in the Tyrrhenian Sea off the Sorrentine Peninsula, on the south side of the Gulf of Naples, in the Campania region of Southern Italy...
. All such locations were surrounded by cliffs and rocks.
When the Sirens were given a name of their own they were considered the daughters of the river god
Achelous
Achelous
In Greek mythology, Achelous was the patron deity of the "silver-swirling" Achelous River, which is the largest river of Greece, and thus the chief of all river deities, every river having its own river spirit. His name is pre-Greek, its meaning unknown...
, fathered upon
Terpsichore
Terpsichore
In Greek mythology, Terpsichore "delight of dancing" was one of the nine Muses, ruling over dance and the dramatic chorus. She lends her name to the word "terpsichorean" which means "of or relating to dance". She is usually depicted sitting down, holding a lyre, accompanying the dancers' choirs...
,
Melpomene
Melpomene
Melpomene , initially the Muse of Singing, she then became the Muse of Tragedy, for which she is best known now. Her name was derived from the Greek verb melpô or melpomai meaning "to celebrate with dance and song." She is often represented with a tragic mask and wearing the cothurnus, boots...
,
Sterope
Sterope
Sterope was the name of several individuals in Greek mythology:* Sterope , one of the Pleiades and the wife of Oenomaus **a name of 22 Tauri in the Pleiades cluster of stars...
, or
Chthon
Chthon
Chthon may mean:*Chthon , two separate fictional entities from Marvel Comics and DC Comics*Chthon , a science fiction novel by Piers AnthonyChthon may also mean:...
(the Earth; in
Euripides
Euripides
Euripides was one of the three great tragedians of classical Athens, the other two being Aeschylus and Sophocles. Some ancient scholars attributed ninety-five plays to him but according to the Suda it was ninety-two at most...
'
Helen
Helen (play)
Helen is a drama by Euripides, probably first produced in 412 BC for the Dionysia. The play shares much in common with another of Euripides' works, Iphigenia in Tauris.-Background:...
167, Helen in her anguish calls upon "Winged maidens, daughters of the Earth"). Although they lured mariners, for the Greeks the Sirens in their "meadow starred with flowers" were not sea deities. Roman writers linked the Sirens more closely to the sea, as daughters of
Phorcys
Phorcys
In Greek mythology, Phorcys , a primordial sea god, generally cited as the son of Pontus and Gaia. According to the Orphic hymns, Phorcys, Cronus and Rhea were the eldest offspring of Oceanus and Tethys. Classical scholar Karl Kerenyi conflated Phorcys with the similar sea gods Nereus and Proteus...
.
Their number is variously reported as between two and five. In the
Odyssey
Odyssey
The Odyssey is one of two major ancient Greek epic poems attributed to Homer. It is, in part, a sequel to the Iliad, the other work ascribed to Homer. The poem is fundamental to the modern Western canon, and is the second—the Iliad being the first—extant work of Western literature...
,
Homer
Homer
In the Western classical tradition Homer , is the author of the Iliad and the Odyssey, and is revered as the greatest ancient Greek epic poet. These epics lie at the beginning of the Western canon of literature, and have had an enormous influence on the history of literature.When he lived is...
says nothing of their origin or names, but gives the number of the Sirens as two. Later writers mention both their names and number: some state that there were three, Peisinoe,
Aglaope
Aglaope
Aglaope is a genus of moths of the Zygaenidae family.-Species:* Aglaope infausta – Almond-Tree Leaf Skeletonizer Moth -References:*...
, and Thelxiepeia (Tzetzes,
ad Lycophron
7l2) or Parthenope,
Ligeia
Ligeia
"Ligeia" is an early short story by American writer Edgar Allan Poe, first published in 1838. The story follows an unnamed narrator and his wife Ligeia, a beautiful and intelligent raven-haired woman. She falls ill, composes "The Conqueror Worm", and quotes lines attributed to Joseph Glanvill ...
, and Leucosia (Eustathius, loc. cit.; Strabo v. §246, 252 ; Servius' commentary on Virgil's
Georgics
iv. 562); Eustathius (Commentaries §1709) states that they were two, Aglaopheme and Thelxiepeia. Their individual names are variously rendered in the later sources as Thelxiepeia/Thelxiope/Thelxinoe, Molpe, Aglaophonos/Aglaope/Aglaopheme, Pisinoe/Peisinoë/Peisithoe, Parthenope, Ligeia, Leucosia, Raidne, and Teles.
The Sirens of Greek mythology are sometimes portrayed in later
folklore
Folklore
Folklore consists of legends, music, oral history, proverbs, jokes, popular beliefs, fairy tales and customs that are the traditions of a culture, subculture, or group. It is also the set of practices through which those expressive genres are shared. The study of folklore is sometimes called...
as fully aquatic and
mermaid
Mermaid
A mermaid is a mythological aquatic creature with a female human head, arms, and torso and the tail of a fish. A male version of a mermaid is known as a "merman" and in general both males and females are known as "merfolk"...
-like; the fact that in Spanish, French, Italian, Polish, Romanian and Portuguese the word for
mermaid
is respectively
Sirena
,
Sirène
,
Sirena
,
Syrena
,
Sirenă
and
Sereia
, and that in biology the
Sirenia
Sirenia
Sirenia is an order of fully aquatic, herbivorous mammals that inhabit swamps, rivers, estuaries, marine wetlands, and coastal marine waters. Four species are living, in two families and genera. These are the dugong and manatees...
comprise an order of fully aquatic mammals that includes the
dugong
Dugong
The dugong is a large marine mammal which, together with the manatees, is one of four living species of the order Sirenia. It is the only living representative of the once-diverse family Dugongidae; its closest modern relative, Steller's sea cow , was hunted to extinction in the 18th century...
and
manatee
Manatee
Manatees are large, fully aquatic, mostly herbivorous marine mammals sometimes known as sea cows...
, add to the visual confusion, so that Sirens are even represented as mermaids. However, "the sirens, though they sing to mariners, are
not
sea-maidens,"
Harrison
Jane Ellen Harrison
Jane Ellen Harrison was a British classical scholar, linguist and feminist. Harrison is one of the founders, with Karl Kerenyi and Walter Burkert, of modern studies in Greek mythology. She applied 19th century archaeological discoveries to the interpretation of Greek religion in ways that have...
had cautioned; "they dwell on an island in a flowery meadow."
Sirens and death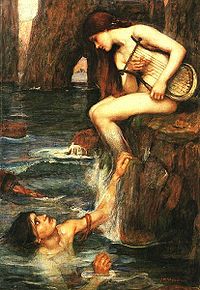 According to
Ovid
Ovid
Publius Ovidius Naso , known as Ovid in the English-speaking world, was a Roman poet who is best known as the author of the three major collections of erotic poetry: Heroides, Amores, and Ars Amatoria...
(
Metamorphoses
V, 551), the Sirens were the companions of young
Persephone
Persephone
In Greek mythology, Persephone , also called Kore , is the daughter of Zeus and the harvest-goddess Demeter, and queen of the underworld; she was abducted by Hades, the god-king of the underworld....
and were given wings by
Demeter
Demeter
In Greek mythology, Demeter is the goddess of the harvest, who presided over grains, the fertility of the earth, and the seasons . Her common surnames are Sito as the giver of food or corn/grain and Thesmophoros as a mark of the civilized existence of agricultural society...
to search for Persephone when she was abducted. However, the
Fabulae
of
Hyginus
Hyginus
Hyginus can refer to:People:*Gaius Julius Hyginus , Roman poet, author of Fabulae, reputed author of Poeticon astronomicon*Hyginus Gromaticus, Roman surveyor*Pope Hyginus, also a saint, Bishop of Rome about 140...
rather has Demeter cursing the Sirens for failing to intervene in the abduction of Persephone.
The Sirens might be called the Muses of the lower world,
Walter Copland Perry
Walter Copland Perry
Walter Copland Perry , was a noted British author and barrister.A student of the Middle Temple, who matriculated 12 January 1847, Perry was called to the bar 31 January 1851....
observed: "Their song, though irresistibly sweet, was no less sad than sweet, and lapped both body and soul in a fatal lethargy, the forerunner of death and corruption." Their song is continually calling on Persephone. The term "siren song" refers to an appeal that is hard to resist but that, if heeded, will lead to a bad result. Later writers have inferred that the Sirens were anthropophagous, based on
Circe's
Circe
In Greek mythology, Circe is a minor goddess of magic , described in Homer's Odyssey as "The loveliest of all immortals", living on the island of Aeaea, famous for her part in the adventures of Odysseus.By most accounts, Circe was the daughter of Helios, the god of the sun, and Perse, an Oceanid...
description of them "lolling there in their meadow, round them heaps of corpses rotting away, rags of skin shriveling on their bones." As
Jane Ellen Harrison
Jane Ellen Harrison
Jane Ellen Harrison was a British classical scholar, linguist and feminist. Harrison is one of the founders, with Karl Kerenyi and Walter Burkert, of modern studies in Greek mythology. She applied 19th century archaeological discoveries to the interpretation of Greek religion in ways that have...
notes of "
The Ker
Keres
Keres may refer to:* Keres , female death-spirits in Greek mythology* Keres people, Pueblo peoples in New Mexico* Keresan languages, languages or dialects spoken by Keres peoples* Paul Keres , Estonian chess grandmaster...
as siren:" "It is strange and beautiful that Homer should make the Sirens appeal to the spirit, not to the flesh." For the matter of the siren song is a promise to Odysseus of mantic truths; with a false promise that he will live to tell them, they sing,
Once he hears to his heart's content, sails on, a wiser man.

We know all the pains that the Greeks and Trojans once endured

on the spreading plain of Troy when the gods willed it so—

all that comes to pass on the fertile earth, we know it all!
"They are mantic creatures like the
Sphinx
Sphinx
A sphinx is a mythical creature with a lion's body and a human head or a cat head.The sphinx, in Greek tradition, has the haunches of a lion, the wings of a great bird, and the face of a woman. She is mythicised as treacherous and merciless...
with whom they have much in common, knowing both the past and the future," Harrison observed. "Their song takes effect at midday, in a windless calm. The end of that song is death." That the sailors' flesh is rotting away, though, would suggest it has not been eaten. It has been suggested that, with their feathers stolen, their divine nature kept them alive, but unable to feed for their visitors, who starved to death by refusing to leave.
According to
Hyginus
Hyginus
Hyginus can refer to:People:*Gaius Julius Hyginus , Roman poet, author of Fabulae, reputed author of Poeticon astronomicon*Hyginus Gromaticus, Roman surveyor*Pope Hyginus, also a saint, Bishop of Rome about 140...
, sirens were fated to live only until the mortals who heard their songs were able to pass by them.
Appearance
Sirens combine women and birds in various ways. In early Greek art Sirens were represented as birds with large women's heads, bird feathers and scaly feet. Later, they were represented as female figures with the legs of birds, with or without wings, playing a variety of musical instruments, especially harps. The tenth century Byzantine encyclopedia
Suda
Suda
The Suda or Souda is a massive 10th century Byzantine encyclopedia of the ancient Mediterranean world, formerly attributed to an author called Suidas. It is an encyclopedic lexicon, written in Greek, with 30,000 entries, many drawing from ancient sources that have since been lost, and often...
says that from their chests up Sirens had the form of sparrows, below they were women, or, alternatively, that they were little birds with women's faces. Birds were chosen because of their beautiful voices. Later Sirens were sometimes depicted as beautiful women, whose bodies, not only their voices, are seductive.
The first century Roman historian Pliny the Elder discounted Sirens as pure fable, "although Dinon, the father of Clearchus, a celebrated writer, asserts that they exist in India, and that they charm men by their song, and, having first lulled them to sleep, tear them to pieces." In his notebooks Leonardo da Vinci wrote of the Siren, "The siren sings so sweetly that she lulls the mariners to sleep; then she climbs upon the ships and kills the sleeping mariners."
In 1917, Franz Kafka wrote in
The Silence of the Sirens,
"Now the Sirens have a still more fatal weapon than their song, namely their silence. And though admittedly such a thing never happened, it is still conceivable that someone might possibly have escaped from their singing; but from their silence certainly never."
The so-called "Siren of Canosa" accompanied the deceased among grave goods in a burial and seems to have some psychopomp characteristics, guiding the dead on the after-life journey. The cast terracotta figure bears traces of its original white pigment. The woman bears the feet and the wings and tail of a bird. It is conserved in the
National Archaeological Museum of Spain
National Archaeological Museum of Spain
The National Archaeological Museum of Spain is a museum in Madrid, Spain, located beside the Plaza de Colón , sharing its building with the National Library....
, in Madrid.
Encounters with the Sirens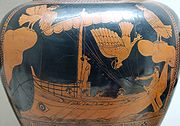 In
Argonautica
(4.891-919),
Jason
Jason
Jason was a late ancient Greek mythological hero from the late 10th Century BC, famous as the leader of the Argonauts and their quest for the Golden Fleece. He was the son of Aeson, the rightful king of Iolcus...
had been warned by
Chiron
Chiron
In Greek mythology, Chiron was held to be the superlative centaur among his brethren.-History:Like the satyrs, centaurs were notorious for being wild and lusty, overly indulgent drinkers and carousers, given to violence when intoxicated, and generally uncultured delinquents...
that
Orpheus
Orpheus
Orpheus was a legendary musician, poet, and prophet in ancient Greek religion and myth. The major stories about him are centered on his ability to charm all living things and even stones with his music; his attempt to retrieve his wife from the underworld; and his death at the hands of those who...
would be necessary in his journey. When Orpheus heard their voices, he drew out his
lyre
Lyre
The lyre is a stringed musical instrument known for its use in Greek classical antiquity and later. The word comes from the Greek "λύρα" and the earliest reference to the word is the Mycenaean Greek ru-ra-ta-e, meaning "lyrists", written in Linear B syllabic script...
and played his music more beautifully than they, drowning out their voices. One of the crew, however, the sharp-eared hero Butes, heard the song and leapt into the sea, but he was caught up and carried safely away by the goddess
Aphrodite
Aphrodite
Aphrodite is the Greek goddess of love, beauty, pleasure, and procreation.Her Roman equivalent is the goddess .Historically, her cult in Greece was imported from, or influenced by, the cult of Astarte in Phoenicia....
.
Odysseus
Odysseus
Odysseus or Ulysses was a legendary Greek king of Ithaca and the hero of Homer's epic poem the Odyssey. Odysseus also plays a key role in Homer's Iliad and other works in the Epic Cycle....
was curious as to what the Sirens sung in their song to him, so, on
Circe
Circe
In Greek mythology, Circe is a minor goddess of magic , described in Homer's Odyssey as "The loveliest of all immortals", living on the island of Aeaea, famous for her part in the adventures of Odysseus.By most accounts, Circe was the daughter of Helios, the god of the sun, and Perse, an Oceanid...
's advice, he had all his sailors plug their ears with
beeswax
Beeswax
Beeswax is a natural wax produced in the bee hive of honey bees of the genus Apis. It is mainly esters of fatty acids and various long chain alcohols...
and tie him to the mast. He ordered his men to leave him tied tightly to the mast, no matter how much he would beg. When he heard their beautiful
song
Song
In music, a song is a composition for voice or voices, performed by singing.A song may be accompanied by musical instruments, or it may be unaccompanied, as in the case of a cappella songs...
, he ordered the sailors to untie him but they bound him tighter. When they had passed out of earshot, Odysseus demonstrated with his frowns to be released.
Some post-Homeric authors state that the Sirens were fated to die if someone heard their singing and escaped them, and that after Odysseus passed by they therefore flung themselves into the water and perished. It is also said that
Hera
Hera
Hera was the wife and one of three sisters of Zeus in the Olympian pantheon of Greek mythology and religion. Her chief function was as the goddess of women and marriage. Her counterpart in the religion of ancient Rome was Juno. The cow and the peacock were sacred to her...
, queen of the gods, persuaded the Sirens to enter a singing contest with the
Muse
Muse
The Muses in Greek mythology, poetry, and literature, are the goddesses who inspire the creation of literature and the arts. They were considered the source of the knowledge, related orally for centuries in the ancient culture, that was contained in poetic lyrics and myths...
s. The Muses won the competition and then plucked out all of the Sirens' feathers and made crowns out of them. Out of their anguish from losing the competition, writes
Stephanus of Byzantium
Stephanus of Byzantium
Stephen of Byzantium, also known as Stephanus Byzantinus , was the author of an important geographical dictionary entitled Ethnica...
, the Sirens turned white and fell into the sea at
Aptera
Aptera
Aptera is an obsolete taxonomic category, which included the Apterygota along with various other wingless arthropods.Aptera may also refer to:* Aptera, Greece, the city in Crete* Aptera Motors, an automobile company producing the Aptera 2e...
("featherless") where they formed the islands in the bay that were called
Souda (modern Lefkai)
Souda (island)
Souda is an islet in Souda Bay on the northwest coast of Crete. In ancient times this islet was one of two islets that were referred to as Leukai . The second islet is known today as Leon.-History:...
.
Christian belief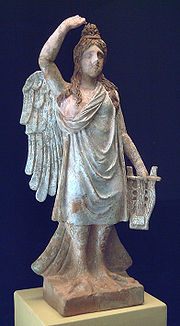 By the fourth century, when
pagan
Paganism
Paganism is a blanket term, typically used to refer to non-Abrahamic, indigenous polytheistic religious traditions....
beliefs gave way to
Christianity
Christianity
Christianity is a monotheistic religion based on the life and teachings of Jesus as presented in canonical gospels and other New Testament writings...
, belief in literal sirens was discouraged. Although
Jerome
Jerome
Saint Jerome was a Roman Christian priest, confessor, theologian and historian, and who became a Doctor of the Church. He was the son of Eusebius, of the city of Stridon, which was on the border of Dalmatia and Pannonia...
, who produced the Latin
Vulgate
Vulgate
The Vulgate is a late 4th-century Latin translation of the Bible. It was largely the work of St. Jerome, who was commissioned by Pope Damasus I in 382 to make a revision of the old Latin translations...
version of the Scriptures, used the word "sirens" to translate Hebrew
tenim
(jackals) in Isaiah 13:22, and also to translate a word for "owls" in Jeremiah 50:39, this was explained by
Ambrose
Ambrose
Aurelius Ambrosius, better known in English as Saint Ambrose , was a bishop of Milan who became one of the most influential ecclesiastical figures of the 4th century. He was one of the four original doctors of the Church.-Political career:Ambrose was born into a Roman Christian family between about...
to be a mere symbol or allegory for worldly temptations, and not an endorsement of the Greek myth.
Sirens continued to be used as a symbol for the dangerous temptation embodied by women regularly throughout Christian art of the medieval era; however, in the 17th century, some Jesuit writers began to assert their actual existence, including
Cornelius a Lapide
Cornelius a Lapide
Cornelius Cornelii a Lapide was a Flemish Jesuit and exegete.-Life:He was born at Bocholt, in Belgian Limburg...
, who said of Woman, "her glance is that of the fabled
basilisk
Basilisk
In European bestiaries and legends, a basilisk is a legendary reptile reputed to be king of serpents and said to have the power to cause death with a single glance...
, her voice a siren's voice—with her voice she enchants, with her beauty she deprives of reason—voice and sight alike deal destruction and death." Antonio de Lorea also argued for their existence, and
Athanasius Kircher
Athanasius Kircher
Athanasius Kircher was a 17th century German Jesuit scholar who published around 40 works, most notably in the fields of oriental studies, geology, and medicine...
argued that compartments must have been built for them aboard
Noah's Ark
Noah's Ark
Noah's Ark is a vessel appearing in the Book of Genesis and the Quran . These narratives describe the construction of the ark by Noah at God's command to save himself, his family, and the world's animals from the worldwide deluge of the Great Flood.In the narrative of the ark, God sees the...
.
The Early Christian euhemerist interpretation of mythologized human beings received a long-lasting boost from
Isidore's
Isidore of Seville
Saint Isidore of Seville served as Archbishop of Seville for more than three decades and is considered, as the historian Montalembert put it in an oft-quoted phrase, "le dernier savant du monde ancien"...
Etymologiae
Etymologiae
Etymologiae is an encyclopedia compiled by Isidore of Seville towards the end of his life. It forms a bridge between a condensed epitome of classical learning at the close of Late Antiquity and the inheritance received, in large part through Isidore's work, by the early Middle Ages...
. "They [the Greeks] imagine that 'there were three Sirens, part virgins, part birds,' with wings and claws. 'One of them sang, another played the flute, the third the lyre. They drew sailors, decoyed by song, to shipwreck. According to the truth, however, they were prostitutes who led travelers down to poverty and were said to impose shipwreck on them.' They had wings and claws because Love flies and wounds. They are said to have stayed in the waves because a wave created
Venus
Venus (mythology)
Venus is a Roman goddess principally associated with love, beauty, sex,sexual seduction and fertility, who played a key role in many Roman religious festivals and myths...
."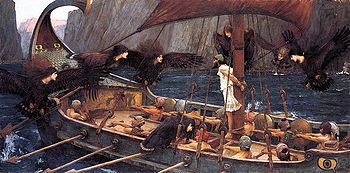 Charles Burney
Charles Burney
Charles Burney FRS was an English music historian and father of authors Frances Burney and Sarah Burney.-Life and career:...
expounded c. 1789, in
A General History of Music
: "The name, according to
Bochart
Samuel Bochart
Samuel Bochart was a French Protestant biblical scholar, a student of Thomas Erpenius and the teacher of Pierre Daniel Huet...
, who derives it from the Phoenician, implies a
songstress.
Hence it is probable, that in ancient times there may have been excellent singers, but of corrupt morals, on the coast of Sicily, who by seducing voyagers, gave rise to this fable."
John Lemprière
John Lemprière
John Lemprière , English classical scholar, lexicographer, theologian, teacher and headmaster...
in his
Classical Dictionary
(1827) wrote, "Some suppose that the Sirens were a number of lascivious women in Sicily, who prostituted themselves to strangers, and made them forget their pursuits while drowned in unlawful pleasures. The etymology of
Bochart
Samuel Bochart
Samuel Bochart was a French Protestant biblical scholar, a student of Thomas Erpenius and the teacher of Pierre Daniel Huet...
, who deduces the name from a Phoenician term denoting a
songstress,
favours the explanation given of the fable by
Damm
Christian Tobias Damm
Christian Tobias Damm was a renowned German Classical philologist, and the less than orthodox theologian who was rector and prorector of the Köllnische Gymnasium, the oldest in Berlin, but prematurely pensioned off in 1766, in the wake of scandalized accusations of trends towards Socianian...
. This distinguished critic makes the Sirens to have been excellent singers, and divesting the fables respecting them of all their terrific features, he supposes that by the charms of music and song they detained travellers, and made them altogether forgetful of their native land."
Such euhemerist interpretations have been abandoned since the later 19th century, in favour of analyses of Greek mythology in terms of historical Greek
social structure
Social structure
Social structure is a term used in the social sciences to refer to patterned social arrangements in society that are both emergent from and determinant of the actions of the individuals. The usage of the term "social structure" has changed over time and may reflect the various levels of analysis...
and their
cultural system
Cultural system
A cultural system may be defined as the interaction of different elements of culture. While a cultural system is quite different from a social system, sometimes both systems together are referred to as the sociocultural system....
, and the Greek taxonomy of the spiritual world.
In the Book of Watchers 19:2-3, supposedly authored by Enoch, great-grandfather of Noah, the women taken as wives by the Grigori of angels became sirens.
See also
Alkonost

Alkonost

The Alkonost is, according to Russian folklore, a creature with the body of a bird but the head of a beautiful woman. It makes sounds that are amazingly beautiful, and those who hear these sounds forget everything they know and want nothing more ever again, rather like the sirens of Greek myth. ...



Ethereal being

Ethereal being

Ethereal beings, according to some belief systems and occult theories, are mystic entities that usually are not made of ordinary matter. Despite the fact that they are believed to be essentially incorporeal, they do interact in physical shapes with the material universe and travel between the...



Harpy

Harpy

In Greek mythology, a harpy was one of the winged spirits best known for constantly stealing all food from Phineas...



Huldra

Huldra

In Scandinavian folklore, the Huldra , or the skogsrå or skogsfru/skovfrue or Tallemaja in Swedish culture, is a seductive forest creature...



List of avian humanoids
Lorelei

Lorelei

The Lorelei is a rock on the eastern bank of the Rhine near St. Goarshausen, Germany, which soars some 120 metres above the waterline. It marks the narrowest part of the river between Switzerland and the North Sea. A very strong current and rocks below the waterline have caused many boat...


, an area of the Rhine River where fishermen were drawn to their doom by enchanting songs and music
Melusine

Melusine

Melusine is a figure of European legends and folklore, a feminine spirit of fresh waters in sacred springs and rivers.She is usually depicted as a woman who is a serpent or fish from the waist down...



Moura Encantada
Naiad

Naiad

In Greek mythology, the Naiads or Naiades were a type of nymph who presided over fountains, wells, springs, streams, and brooks....



Nix

Nix

The Neck/Nixie are shapeshifting water spirits who usually appear in human form. The spirit has appeared in the myths and legends of all Germanic peoples in Europe....



Nymph

Nymph

A nymph in Greek mythology is a female minor nature deity typically associated with a particular location or landform. Different from gods, nymphs are generally regarded as divine spirits who animate nature, and are usually depicted as beautiful, young nubile maidens who love to dance and sing;...



Ondine

Ondine (mythology)

Undines , also called ondines, are elementals, enumerated as the water elementals in works of alchemy by Paracelsus. They also appear in European folklore as fairy-like creatures; the name may be used interchangeably with those of other water spirits. Undines are said to be able to gain a soul by...



Pincoya

Pincoya

The Pincoya is, according to local mythology, a female "water spirit" of the Chilotan Seas. The Pincoya is said to have long blond hair, be of incomparable beauty, be cheerful and sensual, and rise from the depths of the sea.-Legends:...



Sihuanaba

Sihuanaba

The Sihuanaba, La Siguanaba, Cigua or Cegua is a supernatural character from Central American folklore. It is a shape-changing spirit that typically takes the form of an attractive, long haired woman seen from behind...



Sirin

Sirin

Sirin is a mythological creature of Russian legends, with the head and chest of a beautiful woman and the body of a bird . According to myth, the Sirins lived "in Indian lands" near Eden or around the Euphrates River....



Slavic fairies

Slavic fairies

Fairies in Slavic mythology come in several forms and their names are spelled differently based on the specific language. Among the ones listed below there were also khovanets , dolia , polyovyk or polevoi , perelesnyk , lesovyk or leshyi , blud , mara Fairies in Slavic mythology come in several...



Syrenka, the Coat of Arms of Warsaw
Rusalka

Rusalka

In Slavic mythology, a rusalka was a female ghost, water nymph, succubus, or mermaid-like demon that dwelled in a waterway....



Trauco

Trauco

In the traditional Chilota mythology of Chiloé, the Trauco is a humanoid creature of small stature - similar to a dwarf or goblin - who lives in the deep forests. It has with an ugly face, and legs without feet.- Legend :...



Water sprite
Further reading
Siegfried de Rachewiltz, De Sirenibus: An Inquiry into Sirens from Homer to Shakespeare, 1987: chs: "Some notes on posthomeric sirens; Christian sirens; Boccaccio's siren and her legacy; The Sirens' mirror; The siren as emblem the emblem as siren; Shakespeare's siren tears; brief survey of siren scholarship; the siren in folklore; bibliography"
External links