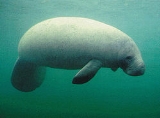 Manatee
Manatees
are large, fully aquatic, mostly herbivorous
marine mammal
Marine mammal
Marine mammals, which include seals, whales, dolphins, and walruses, form a diverse group of 128 species that rely on the ocean for their existence. They do not represent a distinct biological grouping, but rather are unified by their reliance on the marine environment for feeding. The level of...
s sometimes known as
sea cows
. There are three accepted living species of Trichechidae, representing three of the four living species in the order
Sirenia
Sirenia
Sirenia is an order of fully aquatic, herbivorous mammals that inhabit swamps, rivers, estuaries, marine wetlands, and coastal marine waters. Four species are living, in two families and genera. These are the dugong and manatees...
: the
Amazonian manatee
Amazonian Manatee
The Amazonian Manatee is a species of manatee that lives in the freshwater habitats of the Amazon basin. They are found in Brazil, Peru, Colombia, Ecuador, Guyana and Venezuela. Amazonian manatees are aquatic animals of the Sirenia order and are also known as "seacows". Their colour is grey but...
(
Trichechus inunguis
), the
West Indian manatee
West Indian Manatee
The West Indian Manatee is a manatee, and the largest surviving member of the aquatic mammal order Sirenia . The West Indian Manatee, Trichechus manatus, is a species distinct from the Amazonian Manatee, T. inunguis, and the West African Manatee, T. senegalensis...
(
Trichechus manatus
), and the West African manatee (
Trichechus senegalensis
). They measure up to 13 feet (4 m) long, weigh as much as 1300 pounds (589.7 kg), and have paddle-like flippers.