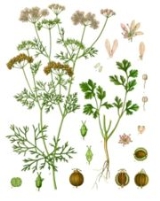 Coriander
"Chinese parsley" redirects here. This can also refer to the unrelated Heliotropium curassavicum

Heliotropium curassavicum

Heliotropium curassavicum is a species of heliotrope that is native to much of the Americas, from Canada to Argentina, and can be found on other continents as an introduced species...


.
Coriander
(
Coriandrum sativum
) is an
annual
Annual plant
An annual plant is a plant that usually germinates, flowers, and dies in a year or season. True annuals will only live longer than a year if they are prevented from setting seed...
herb
Herb
Except in botanical usage, an herb is "any plant with leaves, seeds, or flowers used for flavoring, food, medicine, or perfume" or "a part of such a plant as used in cooking"...
in the family
Apiaceae
Apiaceae
The Apiaceae , commonly known as carrot or parsley family, is a group of mostly aromatic plants with hollow stems. The family is large, with more than 3,700 species spread across 434 genera, it is the sixteenth largest family of flowering plants...
. Coriander is native to southern Europe and North Africa to southwestern Asia. It is a soft, hairless plant growing to 50 centimetres (19.7 in) tall. The leaves are variable in shape, broadly lobed at the base of the plant, and slender and feathery higher on the flowering stems. The
flower
Flower
A flower, sometimes known as a bloom or blossom, is the reproductive structure found in flowering plants . The biological function of a flower is to effect reproduction, usually by providing a mechanism for the union of sperm with eggs...
s are borne in small
umbel
Umbel
An umbel is an inflorescence which consists of a number of short flower stalks which are equal in length and spread from a common point, somewhat like umbrella ribs....
s, white or very pale pink, asymmetrical, with the petals pointing away from the center of the umbel longer (5–6 mm) than those pointing towards it (only 1–3 mm long). The
fruit
Fruit
In broad terms, a fruit is a structure of a plant that contains its seeds.The term has different meanings dependent on context. In non-technical usage, such as food preparation, fruit normally means the fleshy seed-associated structures of certain plants that are sweet and edible in the raw state,...
is a globular dry
schizocarp
Schizocarp
A schizocarp is a dry fruit that develops from multiple carpels. When mature it splits up into mericarps. Mericarps are often 1-seeded as in, for example, Malva, Malvastrum, and Sida...
3–5 mm diameter. In American culinary usage, the fruits ("seeds") are generally referred to as
coriander
, the leaves as
cilantro
.
Etymology
First attested in English late 14th century, the word
coriander
derives from the
Old French
Old French
Old French was the Romance dialect continuum spoken in territories that span roughly the northern half of modern France and parts of modern Belgium and Switzerland from the 9th century to the 14th century...
"coriandre", which comes from
Latin
Latin
Latin is an Italic language originally spoken in Latium and Ancient Rome. It, along with most European languages, is a descendant of the ancient Proto-Indo-European language. Although it is considered a dead language, a number of scholars and members of the Christian clergy speak it fluently, and...
coriandrum
, in turn from
Greek
Greek language
Greek is an independent branch of the Indo-European family of languages. Native to the southern Balkans, it has the longest documented history of any Indo-European language, spanning 34 centuries of written records. Its writing system has been the Greek alphabet for the majority of its history;...
(
koriannon
). The earliest attested form of the word is the Mycenaean Greek
ko-ri-ja-da-na
(written in
Linear B
Linear B
Linear B is a syllabic script that was used for writing Mycenaean Greek, an early form of Greek. It pre-dated the Greek alphabet by several centuries and seems to have died out with the fall of Mycenaean civilization...
syllabic script, reconstructed as
koriadnon
), similar to the name of
Minos
Minos
In Greek mythology, Minos was a king of Crete, son of Zeus and Europa. Every year he made King Aegeus pick seven men and seven women to go to Daedalus' creation, the labyrinth, to be eaten by The Minotaur. After his death, Minos became a judge of the dead in Hades. The Minoan civilization of Crete...
' daughter
Ariadne
Ariadne
Ariadne , in Greek mythology, was the daughter of King Minos of Crete, and his queen Pasiphaë, daughter of Helios, the Sun-titan. She aided Theseus in overcoming the Minotaur and was the bride of the god Dionysus.-Minos and Theseus:...
, and it is plain how this might later evolve to
koriannon
or
koriandron
.
Uses
All parts of the plant are edible, but the fresh leaves (cilantro) and the dried seeds are the parts most commonly used in cooking. Coriander is common in
South Asian
South Asian cuisine
South Asian cuisine, also known as Desi cuisine, includes the cuisines from the Indian subcontinent. It has roots in South Asia, including practices taken from the Hindu beliefs practiced by the large population found in the region, alongside influences from neighbouring regions and cultures,...
,
Middle Eastern
Middle Eastern cuisine
Middle-Eastern cuisine, West Asian cuisine, or in some place in the United States, Persian-Mediterranean cuisine is the cuisine of the various countries and peoples of the Middle East . The cuisine of the region is diverse while having a degree of homogeneity...
,
Central Asian
Central Asian cuisine
The Central Asian cuisines include:* Afghan cuisine* Iranian cuisine* Mongolian cuisine* Cuisine of Kashmir* Kazakh cuisine* Kashmiri cuisine* Kyrgyz cuisine* Pakistani cuisine * Tajik cuisine* Tibetan cuisine* Turkmen cuisine...
, Mediterranean,
Indian
Indian cuisine
Indian cuisine consists of thousands of regional cuisines which date back thousands of years. The dishes of India are characterised by the extensive use of various Indian spices, herbs, vegetables and fruit. Indian cuisine is also known for the widespread practice of vegetarianism in Indian society...
,
Texan
Tex-Mex
Tex-Mex is a regional American cuisine that blends food products available in the United States and the culinary creations of Mexican-Americans influenced by the cuisines of Mexico.Tex Mex may also refer to:...
,
Latin American
Latin American cuisine
Latin American Cuisine refers to typical foods, beverages, and cooking styles common to many of the countries and cultures in Latin America...
,
Portuguese
Portuguese cuisine
Portuguese cuisine is characterised by rich, filling and full-flavored dishes and is closely related to Mediterranean cuisine. The influence of Portugal's former colonial possessions is also notable, especially in the wide variety of spices used. These spices include piri piri and black pepper, as...
,
Chinese
Chinese cuisine
Chinese cuisine is any of several styles originating in the regions of China, some of which have become highly popular in other parts of the world – from Asia to the Americas, Australia, Western Europe and Southern Africa...
, African, and Scandinavian cuisine.
Leaves
The leaves are variously referred to as
coriander leaves
,
fresh coriander
,
Chinese parsley
,
cilantro
(in America, from the Spanish name for the plant).
It should not be confused with Culantro (
Eryngium foetidum
L.) which is a close relative to coriander (
Coriandrum sativum
L.) but has a distinctly different appearance, a much more potent volatile leaf oil and a stronger smell.
The leaves have a different taste from the seeds, with
citrus
Citrus
Citrus is a common term and genus of flowering plants in the rue family, Rutaceae. Citrus is believed to have originated in the part of Southeast Asia bordered by Northeastern India, Myanmar and the Yunnan province of China...
overtones. Some perceive an unpleasant "soapy" taste or a rank smell and avoid the leaves. The flavours have also been compared to those of the stink bug, and similar chemical groups are involved (aldehydes). Belief that aversion is genetically determined may arise from the known genetic variation in taste perception of the
synthetic chemical
Chemical synthesis
In chemistry, chemical synthesis is purposeful execution of chemical reactions to get a product, or several products. This happens by physical and chemical manipulations usually involving one or more reactions...
phenylthiocarbamide
Phenylthiocarbamide
Phenylthiocarbamide, also known as PTC, or phenylthiourea,is an organosulfur thiourea containing a phenyl ring.It has the unusual property that it either tastes very bitter or is virtually tasteless, depending on the genetic makeup of the taster...
; however, no specific link has been established between coriander and a bitter taste perception gene.
The fresh leaves are an ingredient in many South Asian foods such as
chutney
Chutney
Chutney is a a condiment used in South Asian cuisine that usually contains a spice and vegetable mix.Chutneys are wet or dry, having a coarse to fine texture. The Anglo-Indian loan word refers to fresh and pickled preparations indiscriminately, with preserves often sweetened. At least several...
s and salads), in Chinese dishes, in Mexican cooking, particularly in
salsa
Salsa (sauce)
Salsa may refer to any type of sauce. In American English, it usually refers to the spicy, often tomato based, hot sauces typical of Mexican and Central American cuisine, particularly those used as dips. In British English, the word typically refers to salsa cruda, which is common in Mexican ,...
and
guacamole
Guacamole
Guacamole , is an avocado-based dip that originated in Mexico. It is traditionally made by mashing ripe avocados with a molcajete with sea salt. Some recipes call for limited tomato, spicy Asian spices such as white onion, lime juice, and/or additional seasonings.-History:Guacamole was made by...
and as a garnish, and in salads in Russia and other
CIS
Commonwealth of Independent States
The Commonwealth of Independent States is a regional organization whose participating countries are former Soviet Republics, formed during the breakup of the Soviet Union....
countries. Chopped coriander leaves are a garnish on
India
India
India , officially the Republic of India , is a country in South Asia. It is the seventh-largest country by geographical area, the second-most populous country with over 1.2 billion people, and the most populous democracy in the world...
n dishes such as
dal
Dal
Dal is a preparation of pulses which have been stripped of their outer hulls and split. It also refers to the thick stew prepared from these, an important part of Indian, Nepali, Pakistani, Sri Lankan, and Bangladeshi cuisine...
. As heat diminishes their flavor, coriander leaves are often used raw or added to the dish immediately before serving. In Indian and Central Asian recipes, coriander leaves are used in large amounts and cooked until the flavor diminishes. The leaves spoil quickly when removed from the plant, and lose their aroma when dried or frozen.
Fruit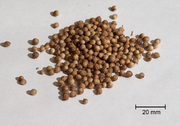 The dry fruits are known as
coriander
or
coriandi seeds
. In India they are called
dhania
. The word
coriander
in food preparation may refer solely to these seeds (as a spice), rather than to the plant itself. The seeds have a lemony citrus flavour when crushed, due to
terpene
Terpene
Terpenes are a large and diverse class of organic compounds, produced by a variety of plants, particularly conifers, though also by some insects such as termites or swallowtail butterflies, which emit terpenes from their osmeterium. They are often strong smelling and thus may have had a protective...
s
linalool
and
pinene
Pinene
Pinene is a bicyclic monoterpene chemical compound. There are two structural isomers of pinene found in nature: α-pinene and β-pinene. As the name suggests, both forms are important constituents of pine resin; they are also found in the resins of many other conifers, as well as in non-coniferous...
. It is described as warm, nutty, spicy, and orange-flavored.
The variety vulgare or macrocarpum has a fruit diameter of 3–5 mm while var. microcarpum fruits have a diameter of 1.5–3 mm. Large fruited types are grown mainly by tropical and subtropical countries, e.g. Morocco, India and Australia and contain a low volatile oil content (0.1-0.4%). They are used extensively for grinding and blending purposes in the spice trade. Types with smaller fruit are produced in temperate regions and usually have a volatile oil content of around 0.4-1.8%, and are therefore highly valued as a raw material for the preparation of essential oil.
It is commonly found both as whole dried seeds and in ground form. Seeds can be roasted or heated on a dry pan briefly before grinding to enhance and alter the aroma. Ground coriander seed loses flavor quickly in storage and is best ground fresh.
Coriander seed is a spice in
garam masala
Garam masala
Garam masala is a blend of ground spices common in North Indian and other South Asian cuisines. It is used alone or with other seasonings. The word garam refers to intensity of the spices rather than capsaicin content...
and Indian curries, which often employ the ground fruits in generous amounts together with
cumin
Cumin
Cumin is a flowering plant in the family Apiaceae, native from the east Mediterranean to India. Its seeds are used in the cuisines of many different cultures, in both whole and ground form.-Etymology:...
. It acts as a thickener. Roasted coriander seeds, called
dhana dal
, are eaten as a snack. It is the main ingredient of the two south Indian dishes:
sambhar
and
rasam
Rasam
Rasam is a South Indian soup. Traditional preparation involves tamarind juice as base in addition to tomato, chili pepper and other spices as seasonings. Steamed lentils are added by some along with any preferred vegetables. Nowadays all the seasonings required are combined and ground beforehand...
. Coriander seeds are boiled with water and drunk as indigenous medicine for colds.
Outside of Asia, coriander seed is used for
pickling
Pickling
Pickling, also known as brining or corning is the process of preserving food by anaerobic fermentation in brine to produce lactic acid, or marinating and storing it in an acid solution, usually vinegar . The resulting food is called a pickle. This procedure gives the food a salty or sour taste...
vegetables, and making sausages in Germany and South Africa (see
boerewors
Boerewors
Boerewors is a sausage, popular in South African cuisine. The name comes from the Afrikaans words and , and is pronounced , with a trilled .-History:...
). In Russia and Central Europe coriander seed is an occasional ingredient in
rye
Rye
Rye is a grass grown extensively as a grain and as a forage crop. It is a member of the wheat tribe and is closely related to barley and wheat. Rye grain is used for flour, rye bread, rye beer, some whiskeys, some vodkas, and animal fodder...
bread as an alternative to
caraway
Caraway
Caraway also known as meridian fennel, or Persian cumin is a biennial plant in the family Apiaceae, native to western Asia, Europe and Northern Africa....
. Coriander seeds are used in
European cuisine
European cuisine
European cuisine, or alternatively Western cuisine, is a generalised term collectively referring to the cuisines of Europe and other Western countries...
today, though they were more important in former centuries.
Coriander seeds are used in brewing certain styles of beer, particularly some Belgian wheat beers. The coriander seeds are used with orange peel to add a citrus character.
Roots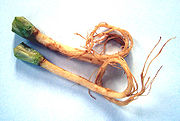 Coriander roots have a deeper, more intense flavor than the leaves. They are used in a variety of Asian cuisines. They are commonly used in Thai dishes, including soups and curry pastes.
History
Coriander grows wild over a wide area of the Near East and southern Europe, prompting the comment, "It is hard to define exactly where this plant is wild and where it only recently established itself." Fifteen desiccated mericarps were found in the
Pre-Pottery Neolithic B
Pre-Pottery Neolithic B
Pre-Pottery Neolithic B is a division of the Neolithic developed by Dame Kathleen Kenyon during her archaeological excavations at Jericho in the southern Levant region....
level of the Nahal Hemel Cave in
Israel
Israel
The State of Israel is a parliamentary republic located in the Middle East, along the eastern shore of the Mediterranean Sea...
, which may be the oldest archeological find of coriander. About half a litre of coriander mericarps were recovered from the tomb of Tutankhamen, and because this plant does not grow wild in Egypt, Zohary and Hopf interpret this find as proof that coriander was cultivated by the ancient
Egyptians
Ancient Egypt
Ancient Egypt was an ancient civilization of Northeastern Africa, concentrated along the lower reaches of the Nile River in what is now the modern country of Egypt. Egyptian civilization coalesced around 3150 BC with the political unification of Upper and Lower Egypt under the first pharaoh...
. The Bible mentions coriander in Exodus 16:31: "And the house of Israel began to call its name
Manna
Manna
Manna or Manna wa Salwa , sometimes or archaically spelled mana, is the name of an edible substance that God provided for the Israelites during their travels in the desert according to the Bible.It was said to be sweet to the taste, like honey....
: and it was round like coriander seed, and its taste was like that of flat cakes made with honey."
Coriander seems to have been cultivated in Greece since at least the second millennium BC. One of the
Linear B
Linear B
Linear B is a syllabic script that was used for writing Mycenaean Greek, an early form of Greek. It pre-dated the Greek alphabet by several centuries and seems to have died out with the fall of Mycenaean civilization...
tablets recovered from
Pylos
Pylos
Pylos , historically known under its Italian name Navarino, is a town and a former municipality in Messenia, Peloponnese, Greece. Since the 2011 local government reform it is part of the municipality Pylos-Nestoras, of which it is the seat and a municipal unit. It was the capital of the former...
refers to the species as being cultivated for the manufacture of perfumes, and it appears that it was used in two forms: as a spice for its seeds and as a herb for the flavor of its leaves. This appears to be confirmed by archaeological evidence from the same period: the large quantities of the species retrieved from an Early Bronze Age layer at
Sitagroi
Sitagroi
Sitagroi is a village and a former municipality in the Drama peripheral unit, East Macedonia and Thrace, Greece. Since the 2011 local government reform it is part of the municipality Prosotsani, of which it is a municipal unit. Population 5,266 . The seat of the municipality was in Fotolivos...
in
Macedonia
Macedonia (region)
Macedonia is a geographical and historical region of the Balkan peninsula in southeastern Europe. Its boundaries have changed considerably over time, but nowadays the region is considered to include parts of five Balkan countries: Greece, the Republic of Macedonia, Bulgaria, Albania, Serbia, as...
could point to cultivation of the species at that time.
Coriander was brought to the British colonies in North America in 1670 and was one of the first spices cultivated by early settlers.
Similar plants
These herbs are used where they grow in much the same way as coriander is used.
Eryngium foetidum

Eryngium foetidum

Eryngium foetidum is a tropical perennial and annual herb in the family Apiaceae. It is native to Mexico and South America but is cultivated worldwide...


has a similar taste and is also known as culantro. Found in South America.
Persicaria odorata is commonly called Vietnamese coriander

Vietnamese coriander

Persicaria odorata, the Vietnamese coriander, is an herb whose leaves are used in Southeast Asian cooking. Other English names for the herb include Vietnamese mint, Vietnamese cilantro, Cambodian mint and hot mint. The Vietnamese name is rau răm, while in Malaysia and Singapore it is called daun...


, or rau răm. The leaves have a similar odour and flavour to coriander. It is a member of the Polygonaceae

Polygonaceae

Polygonaceae is a family of flowering plants known informally as the "knotweed family" or "smartweed family"— "buckwheat family" in the United States. The name is based on the genus Polygonum and was first used by Antoine Laurent de Jussieu in 1789 in his book, Genera Plantarum. The name refers...


, or Buckwheat Family.
Papaloquelite is one common name for Porophyllum ruderale subsp. macrocephalum, a member of the Compositae or Asteraceae

Asteraceae

The Asteraceae or Compositae , is an exceedingly large and widespread family of vascular plants. The group has more than 22,750 currently accepted species, spread across 1620 genera and 12 subfamilies...


, the Sunflower Family. This species is found growing wild from Texas to Argentina.
Health effects and medicinal uses
Coriander, like many spices, contains antioxidants, which can delay or prevent the spoilage of food seasoned with this spice. A study found both the leaves and seed to contain antioxidants, but the leaves were found to have a stronger effect.
Chemicals derived from coriander leaves were found to have antibacterial activity against
Salmonella choleraesuis
, and this activity was found to be caused in part by these chemicals acting as nonionic surfactants.
Coriander has been used as a
folk medicine
Folk medicine
-Description:Refers to healing practices and ideas of body physiology and health preservation known to a limited segment of the population in a culture, transmitted informally as general knowledge, and practiced or applied by anyone in the culture having prior experience.All cultures and societies...
for the relief of anxiety and insomnia in Iran. Experiments in mice support its use as an
anxiolytic
Anxiolytic
An anxiolytic is a drug used for the treatment of anxiety, and its related psychological and physical symptoms...
. Coriander seeds are used in traditional Indian medicine as a
diuretic
Diuretic
A diuretic provides a means of forced diuresis which elevates the rate of urination. There are several categories of diuretics. All diuretics increase the excretion of water from bodies, although each class does so in a distinct way.- Medical uses :...
by boiling equal amounts of coriander seeds and cumin seeds, then cooling and consuming the resulting liquid. In holistic and traditional medicine, it is used as a
carminative
Carminative
A carminative, also known as carminativum , is a herb or preparation that either prevents formation of gas in the gastrointestinal tract or facilitates the expulsion of said gas, thereby combating flatulence...
and as a digestive aid.
Coriander has been documented as a traditional treatment for diabetes. A study on mice found that coriander extract had both insulin-releasing and insulin-like activity.
Coriander seeds were found in a study on rats to have a significant hypolipidemic effect, resulting in lowering of levels of total
cholesterol
Cholesterol
Cholesterol is a complex isoprenoid. Specifically, it is a waxy steroid of fat that is produced in the liver or intestines. It is used to produce hormones and cell membranes and is transported in the blood plasma of all mammals. It is an essential structural component of mammalian cell membranes...
and triglycerides, and increasing levels of high-density lipoprotein. This effect appeared to be caused by increasing synthesis of
bile
Bile
Bile or gall is a bitter-tasting, dark green to yellowish brown fluid, produced by the liver of most vertebrates, that aids the process of digestion of lipids in the small intestine. In many species, bile is stored in the gallbladder and upon eating is discharged into the duodenum...
by the liver and increasing the breakdown of cholesterol into other compounds.
Coriander juice (mixed with
turmeric
Turmeric
Turmeric is a rhizomatous herbaceous perennial plant of the ginger family, Zingiberaceae. It is native to tropical South Asia and needs temperatures between 20 °C and 30 °C and a considerable amount of annual rainfall to thrive...
powder or mint juice) is used as a treatment for
acne
Acne
Acne is a general term used for acneiform eruptions. It is usually used as a synonym for acne vulgaris, but may also refer to:*Acne aestivalis*Acne conglobata*Acne cosmetica*Acne fulminans*Acne keloidalis nuchae*Acne mechanica...
, applied to the face in the manner of toner.
Coriander leaves (Cilantro) contain aldehydes, which are also found in soaps and lotions, leading some to complain of a mild to highly irritating soapy flavor. There appears to be a genetic component to the detection of "soapy" versus "herby" tastes.
Coriander can produce an allergic reaction in some people.
Further reading
External links