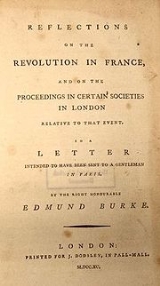 Reflections on the Revolution in France
Reflections on the Revolution in France
(1790), by
Edmund Burke
Edmund Burke
Edmund Burke PC was an Irish statesman, author, orator, political theorist and philosopher who, after moving to England, served for many years in the House of Commons of Great Britain as a member of the Whig party....
, is one of the best-known intellectual attacks against the (then-infant)
French Revolution
French Revolution
The French Revolution , sometimes distinguished as the 'Great French Revolution' , was a period of radical social and political upheaval in France and Europe. The absolute monarchy that had ruled France for centuries collapsed in three years...
. In the twentieth century, it much influenced
conservative
Conservatism
Conservatism is a political and social philosophy that promotes the maintenance of traditional institutions and supports, at the most, minimal and gradual change in society. Some conservatives seek to preserve things as they are, emphasizing stability and continuity, while others oppose modernism...
and
classical liberal
Classical liberalism
Classical liberalism is the philosophy committed to the ideal of limited government, constitutionalism, rule of law, due process, and liberty of individuals including freedom of religion, speech, press, assembly, and free markets....
intellectuals, who recast Burke's Whig arguments as a critique of Communism and Socialist revolutionary programmes.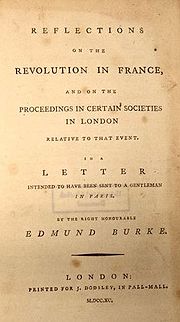 Background
Edmund Burke served in the
British House of Commons
British House of Commons
The House of Commons is the lower house of the Parliament of the United Kingdom, which also comprises the Sovereign and the House of Lords . Both Commons and Lords meet in the Palace of Westminster. The Commons is a democratically elected body, consisting of 650 members , who are known as Members...
, representing the
Whig
British Whig Party
The Whigs were a party in the Parliament of England, Parliament of Great Britain, and Parliament of the United Kingdom, who contested power with the rival Tories from the 1680s to the 1850s. The Whigs' origin lay in constitutional monarchism and opposition to absolute rule...
party, in close alliance with liberal politician
Lord Rockingham
Charles Watson-Wentworth, 2nd Marquess of Rockingham
Charles Watson-Wentworth, 2nd Marquess of Rockingham, KG, PC , styled The Hon. Charles Watson-Wentworth before 1733, Viscount Higham between 1733 and 1746, Earl of Malton between 1746 and 1750 and The Earl Malton in 1750, was a British Whig statesman, most notable for his two terms as Prime...
. In Burke's political career, he vigorously defended constitutional limitation of the Crown's authority, denounced the religious persecution of Catholics in his native Ireland, voiced the grievances of Britain's American colonies, supported
American Independence
American Revolution
The American Revolution was the political upheaval during the last half of the 18th century in which thirteen colonies in North America joined together to break free from the British Empire, combining to become the United States of America...
, and vigorously pursued
impeachment of Warren Hastings
Impeachment of Warren Hastings
The Impeachment of Warren Hastings was a failed attempt to impeach the former Governor-General of India Warren Hastings in the Parliament of Great Britain between 1788 and 1795. Hastings was accused of misconduct during his time in Calcutta particularly relating to mismanagement and personal...
, the
Governor-General
Governor-General of India
The Governor-General of India was the head of the British administration in India, and later, after Indian independence, the representative of the monarch and de facto head of state. The office was created in 1773, with the title of Governor-General of the Presidency of Fort William...
of British India, for corruption and abuse of power. For these actions, Burke was widely respected by liberals in Great Britain, the United States, and the European continent.
In 1789, soon after the fall of the Bastille, the French aristocrat Charles-Jean-François Depont asked his impressions of the Revolution; Burke replied with two letters. The longer, second letter became
Reflections on the Revolution in France
, published in 1790.
Arguments
In the
Reflections
, Burke argued that the French Revolution would end disastrously because its abstract foundations, purportedly rational, ignored the complexities of human nature and society. Further, he focused on the practicality of solutions instead of the metaphysics, writing 'What is the use of discussing a man's abstract right to food or to medicine? The question is upon the method of procuring and administering them. In this deliberation I shall always advise to call in the aid of the farmer and the physician, rather than the professor." Following
St. Augustine
St. Augustine
-People:* Augustine of Hippo or Augustine of Hippo , father of the Latin church* Augustine of Canterbury , first Archbishop of Canterbury* Augustine Webster, an English Catholic martyr.-Places:*St. Augustine, Florida, United States...
and
Cicero
Cicero
Marcus Tullius Cicero , was a Roman philosopher, statesman, lawyer, political theorist, and Roman constitutionalist. He came from a wealthy municipal family of the equestrian order, and is widely considered one of Rome's greatest orators and prose stylists.He introduced the Romans to the chief...
, he believed in "human heart"-based government. Nevertheless, he was contemptuous and afraid of the
Enlightenment
Age of Enlightenment
The Age of Enlightenment was an elite cultural movement of intellectuals in 18th century Europe that sought to mobilize the power of reason in order to reform society and advance knowledge. It promoted intellectual interchange and opposed intolerance and abuses in church and state...
, led by intellectuals such as
Rousseau
Jean-Jacques Rousseau
Jean-Jacques Rousseau was a Genevan philosopher, writer, and composer of 18th-century Romanticism. His political philosophy influenced the French Revolution as well as the overall development of modern political, sociological and educational thought.His novel Émile: or, On Education is a treatise...
,
Voltaire
Voltaire
François-Marie Arouet , better known by the pen name Voltaire , was a French Enlightenment writer, historian and philosopher famous for his wit and for his advocacy of civil liberties, including freedom of religion, free trade and separation of church and state...
, and Turgot, who disbelieved in divine moral order and
original sin
Original sin
Original sin is, according to a Christian theological doctrine, humanity's state of sin resulting from the Fall of Man. This condition has been characterized in many ways, ranging from something as insignificant as a slight deficiency, or a tendency toward sin yet without collective guilt, referred...
, saying that society should be handled like a living organism, that people and society are limitlessly complicated, thus, leading him to conflict with
Thomas Hobbes
Thomas Hobbes
Thomas Hobbes of Malmesbury , in some older texts Thomas Hobbs of Malmsbury, was an English philosopher, best known today for his work on political philosophy...
's assertion that politics might be reducible to a
deductive system
Deductive system
A deductive system consists of the axioms and rules of inference that can be used to derive the theorems of the system....
akin to
mathematics
Mathematics
Mathematics is the study of quantity, space, structure, and change. Mathematicians seek out patterns and formulate new conjectures. Mathematicians resolve the truth or falsity of conjectures by mathematical proofs, which are arguments sufficient to convince other mathematicians of their validity...
.
As a Protestant and Whig, he expressly repudiated the belief in divinely-appointed monarchic authority
and
the idea that a people have no right to depose an oppressive government; however, he advocated central roles for private property, tradition, and 'prejudice' (adherence to values regardless of their rational basis) to give citizens a stake in their nation's social order. He argued for gradual, constitutional reform, not revolution (in every case except the most qualified case), emphasizing that a political doctrine founded upon abstractions such as
liberty
and the
rights of man
could be easily abused to justify tyranny. He saw inherited rights, restated in England from the
Magna Carta
Magna Carta
Magna Carta is an English charter, originally issued in the year 1215 and reissued later in the 13th century in modified versions, which included the most direct challenges to the monarch's authority to date. The charter first passed into law in 1225...
to the
Declaration of Right
Bill of Rights 1689
The Bill of Rights or the Bill of Rights 1688 is an Act of the Parliament of England.The Bill of Rights was passed by Parliament on 16 December 1689. It was a re-statement in statutory form of the Declaration of Right presented by the Convention Parliament to William and Mary in March 1689 ,...
, as firm and concrete providing continuity (like tradition, 'prejudice,' inheritable private property,) by contrast enforcement of 'speculative' abstract rights might waver and be subject to change based on currents of politics. Instead, he called for the constitutional enactment of specific, concrete rights and liberties as protection against governmental oppression.
In the phrase, "[prejudice] renders a man's virtue his habit," he defends people's cherished, but untaught, irrational prejudices (the greater it behooved them, the more they cherished it). Because a person's moral estimation is limited, people are better off drawing from the "general bank and capital of nations and of ages" than from their own intellects.
He predicted that the Revolution's concomitant disorder would make the army "mutinous and full of faction," and then a "popular general," commanding the soldiery's allegiance, would become "master of your assembly, the master of your whole republic." Though he may have been thinking of Lafayette, Napoleon fulfilled this prophecy on the
18th Brumaire
18 Brumaire
The coup of 18 Brumaire was the coup d'état by which General Napoleon Bonaparte overthrew the French Directory, replacing it with the French Consulate...
, two years after Burke's death.
Most of the House of Commons disagreed with Burke and his popularity declined. As the French Revolution broke into factions, the Whig Party broke in two: the New Whig party and the Old Whig party. As founder of the Old Whigs, Burke always took the opportunity to engage in debate with the New Whigs about French Jacobinism.
After trying to loosen the Protestant minority's control of Irish government, he was voted out of the House of Commons with a great pension. He later adopted French and Irish children, believing himself correct in rescuing them from government oppression. Before dying, he ordered his family to bury him secretly, believing his cadaver would be a political target for desecration should the Jacobins prevail in England.
Intellectual influence
Reflections on the Revolution in France
was read widely on publication, though not every Briton approved of Burke's kind treatment of their historic enemy or its royal family. His English enemies speculated he either had become mentally unbalanced or was a secret Catholic, outraged by the democratic French government's anti-clerical policies and expropriation of Church land. The publication of this work drew a swift response, first with
Rights of Man
Rights of Man
Rights of Man , a book by Thomas Paine, posits that popular political revolution is permissible when a government does not safeguard its people, their natural rights, and their national interests. Using these points as a base it defends the French Revolution against Edmund Burke's attack in...
(1791-2) by
Thomas Paine
Thomas Paine
Thomas "Tom" Paine was an English author, pamphleteer, radical, inventor, intellectual, revolutionary, and one of the Founding Fathers of the United States...
, and then with
A Vindication of the Rights of Man
(1792) by
Mary Wollstonecraft
Mary Wollstonecraft
Mary Wollstonecraft was an eighteenth-century British writer, philosopher, and advocate of women's rights. During her brief career, she wrote novels, treatises, a travel narrative, a history of the French Revolution, a conduct book, and a children's book...
. Nonetheless, Burke's work became popular with reactionaries such as King
George III
George III of the United Kingdom
George III was King of Great Britain and King of Ireland from 25 October 1760 until the union of these two countries on 1 January 1801, after which he was King of the United Kingdom of Great Britain and Ireland until his death...
and the
Savoy
Savoy
Savoy is a region of France. It comprises roughly the territory of the Western Alps situated between Lake Geneva in the north and Monaco and the Mediterranean coast in the south....
ard philosopher
Joseph de Maistre
Joseph de Maistre
Joseph-Marie, comte de Maistre was a French-speaking Savoyard philosopher, writer, lawyer, and diplomat. He defended hierarchical societies and a monarchical State in the period immediately following the French Revolution...
.
Historically,
Reflections on the Revolution in France
became the founding philosophic opus of Conservatism when some predictions occurred: the
Reign of Terror
Reign of Terror
The Reign of Terror , also known simply as The Terror , was a period of violence that occurred after the onset of the French Revolution, incited by conflict between rival political factions, the Girondins and the Jacobins, and marked by mass executions of "enemies of...
succeeded the execution of King Louis XVI and his wife, to purge anti-revolutionary enemies of the people. That, in turn, led to the political reaction of Gen. Napoleon Bonaparte's government, which appeared to some to be a military dictatorship. Burke had predicted the rise of a military dictatorship and that the revolutionary government instead of protecting the rights of the people would be corrupt and violent.
In the nineteenth century,
positivist
Positivism
Positivism is a a view of scientific methods and a philosophical approach, theory, or system based on the view that, in the social as well as natural sciences, sensory experiences and their logical and mathematical treatment are together the exclusive source of all worthwhile information....
French historian
Hippolyte Taine
Hippolyte Taine
Hippolyte Adolphe Taine was a French critic and historian. He was the chief theoretical influence of French naturalism, a major proponent of sociological positivism, and one of the first practitioners of historicist criticism. Literary historicism as a critical movement has been said to originate...
repeated the Englishman's arguments in
Origins of Contemporary France
(1876–1885): that centralisation of power is the essential fault of the Revolutionary French government system; that it does not promote democratic control; and that the Revolution transferred power from the divinely-chosen
aristocracy
Aristocracy
Aristocracy , is a form of government in which a few elite citizens rule. The term derives from the Greek aristokratia, meaning "rule of the best". In origin in Ancient Greece, it was conceived of as rule by the best qualified citizens, and contrasted with monarchy...
to an "
enlightened
Age of Enlightenment
The Age of Enlightenment was an elite cultural movement of intellectuals in 18th century Europe that sought to mobilize the power of reason in order to reform society and advance knowledge. It promoted intellectual interchange and opposed intolerance and abuses in church and state...
" heartless elite more incompetent and tyrannical than the aristocrats.
In the twentieth century, Western conservatives applied Burke's anti-revolutionary
Reflections
to popular socialist revolutions, thus establishing Burke's iconic political value to conservatives and classical liberals. For example, an important classical economic liberal,
Friedrich Hayek
Friedrich Hayek
Friedrich August Hayek CH , born in Austria-Hungary as Friedrich August von Hayek, was an economist and philosopher best known for his defense of classical liberalism and free-market capitalism against socialist and collectivist thought...
, acknowledged an intellectual debt to Burke.
External links