 Hippolyte Taine
Hippolyte Adolphe Taine
was a French
critic
Critic
A critic is anyone who expresses a value judgement. Informally, criticism is a common aspect of all human expression and need not necessarily imply skilled or accurate expressions of judgement. Critical judgements, good or bad, may be positive , negative , or balanced...
and
historian
Historian
A historian is a person who studies and writes about the past and is regarded as an authority on it. Historians are concerned with the continuous, methodical narrative and research of past events as relating to the human race; as well as the study of all history in time. If the individual is...
. He was the chief theoretical influence of French
naturalism
Naturalism (literature)
Naturalism was a literary movement taking place from the 1880s to 1940s that used detailed realism to suggest that social conditions, heredity, and environment had inescapable force in shaping human character...
, a major proponent of sociological positivism, and one of the first practitioners of
historicist
Historicism
Historicism is a mode of thinking that assigns a central and basic significance to a specific context, such as historical period, geographical place and local culture. As such it is in contrast to individualist theories of knowledges such as empiricism and rationalism, which neglect the role of...
criticism. Literary historicism as a critical movement has been said to originate with him. Taine is particularly remembered for his three-pronged approach to the contextual study of a work of art, based on the aspects of what he called "race, milieu, and moment".
Taine had a profound effect on
French literature
French literature
French literature is, generally speaking, literature written in the French language, particularly by citizens of France; it may also refer to literature written by people living in France who speak traditional languages of France other than French. Literature written in French language, by citizens...
; the 1911
Encyclopædia Britannica
asserted that "the tone which pervades the works of
Zola
Émile Zola
Émile François Zola was a French writer, the most important exemplar of the literary school of naturalism and an important contributor to the development of theatrical naturalism...
,
Bourget
Paul Bourget
Paul Charles Joseph Bourget , was a French novelist and critic.-Biography:He was born in Amiens in the Somme département of Picardie, France. His father, a professor of mathematics, was later appointed to a post in the college at Clermont-Ferrand, where Bourget received his early education...
and
Maupassant
Guy de Maupassant
Henri René Albert Guy de Maupassant was a popular 19th-century French writer, considered one of the fathers of the modern short story and one of the form's finest exponents....
can be immediately attributed to the influence we call Taine's."
Early life and education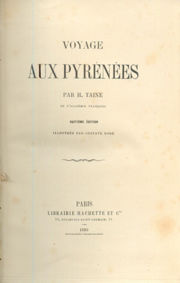 Taine was born in
Vouziers
Vouziers
Vouziers is a commune of the Ardennes department in northern France.Vouziers is the burial place of the pioneer First World War fighter pilot Roland Garros, from whom the tennis location is named....
, but entered a boarding school, the Institution Mathé, whose classes were conducted at the Collège Bourbon, at the age of 13 in 1841, after the death of his father. He excelled as a student, receiving a number of prizes in both scientific and humanistic subjects, and taking two
Baccalauréat
Baccalauréat
The baccalauréat , often known in France colloquially as le bac, is an academic qualification which French and international students take at the end of the lycée . It was introduced by Napoleon I in 1808. It is the main diploma required to pursue university studies...
degrees at the
École Normale
École Normale Supérieure
The École normale supérieure is one of the most prestigious French grandes écoles...
before he was 20. Taine's contrarian politics led to difficulties keeping teaching posts, and his early academic career was decidedly mixed; he failed the exam for the national
Concours d'Agrégation
in 1851. After his dissertation on
sensation
Sense
Senses are physiological capacities of organisms that provide inputs for perception. The senses and their operation, classification, and theory are overlapping topics studied by a variety of fields, most notably neuroscience, cognitive psychology , and philosophy of perception...
was rejected, he abandoned his studies in the
social sciences
Social sciences
Social science is the field of study concerned with society. "Social science" is commonly used as an umbrella term to refer to a plurality of fields outside of the natural sciences usually exclusive of the administrative or managerial sciences...
, feeling that literature was safer. He completed a doctorate at the
Sorbonne
Sorbonne
The Sorbonne is an edifice of the Latin Quarter, in Paris, France, which has been the historical house of the former University of Paris...
in 1853, with considerably more success in his new field; his dissertation,
Essai sur les fables de La Fontaine

Jean de La Fontaine

Jean de La Fontaine was the most famous French fabulist and one of the most widely read French poets of the 17th century. He is known above all for his Fables, which provided a model for subsequent fabulists across Europe and numerous alternative versions in France, and in French regional...



, won him a prize from the
Académie française
Académie française
L'Académie française , also called the French Academy, is the pre-eminent French learned body on matters pertaining to the French language. The Académie was officially established in 1635 by Cardinal Richelieu, the chief minister to King Louis XIII. Suppressed in 1793 during the French Revolution,...
.
Politics
Taine was criticized, in his own time and after, by both conservatives and liberals; his politics were idiosyncratic, but had a consistent streak of skepticism toward the left; at the age of 20, he wrote that "the right of property is absolute."
Peter Gay
Peter Gay
Peter Gay is Sterling Professor of History Emeritus at Yale University and former director of the New York Public Library's Center for Scholars and Writers . Gay received the American Historical Association's Award for Scholarly Distinction in 2004...
describes Taine's reaction to the
Jacobin
Jacobin Club
The Jacobin Club was the most famous and influential political club in the development of the French Revolution, so-named because of the Dominican convent where they met, located in the Rue St. Jacques , Paris. The club originated as the Club Benthorn, formed at Versailles from a group of Breton...
s as stigmatization, drawing on
The French Revolution
, in which Taine argues:
This reaction led Taine to reject the
French Constitution of 1793
French Constitution of 1793
The Constitution of 24 June 1793 , also known as the Constitution of the Year I, or the The Montagnard Constitution , was the constitution instated by the Montagnards and by popular referendum under the First Republic during the French Revolution...
as a Jacobin document, dishonestly presented to the French people. Taine rejected the principles of the Revolution in favor of the individualism of his concepts of regionalism and race, to the point that one writer calls him one of "the most articulate exponents of both French nationalism and conservatism."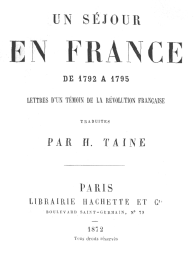 Other writers, however, have argued that, though Taine displayed increasing conservatism throughout his career, he also formulated an alternative to
rationalist
Rationalism
In epistemology and in its modern sense, rationalism is "any view appealing to reason as a source of knowledge or justification" . In more technical terms, it is a method or a theory "in which the criterion of the truth is not sensory but intellectual and deductive"...
liberalism
Liberalism
Liberalism is the belief in the importance of liberty and equal rights. Liberals espouse a wide array of views depending on their understanding of these principles, but generally, liberals support ideas such as constitutionalism, liberal democracy, free and fair elections, human rights,...
that was influential for the social policies of the
Third Republic
French Third Republic
The French Third Republic was the republican government of France from 1870, when the Second French Empire collapsed due to the French defeat in the Franco-Prussian War, to 1940, when France was overrun by Nazi Germany during World War II, resulting in the German and Italian occupations of France...
. Taine's complex politics have remained hard to read; though admired by liberals like
Anatole France
Anatole France
Anatole France , born François-Anatole Thibault, , was a French poet, journalist, and novelist. He was born in Paris, and died in Saint-Cyr-sur-Loire. He was a successful novelist, with several best-sellers. Ironic and skeptical, he was considered in his day the ideal French man of letters...
, he has been the object of considerable disdain in the twentieth century, with a few historians working to revive his reputation.
Race, milieu and moment
Taine is best known now for his attempt at a
scientific
Scientific method
Scientific method refers to a body of techniques for investigating phenomena, acquiring new knowledge, or correcting and integrating previous knowledge. To be termed scientific, a method of inquiry must be based on gathering empirical and measurable evidence subject to specific principles of...
account of
literature
Literature
Literature is the art of written works, and is not bound to published sources...
, based on the categories of race, milieu, and moment. Taine used these words in French (
race, milieu et moment
); the terms have become widespread in literary criticism in English, but are used in this context in senses closer to the French meanings of the words than the English meanings, which are, roughly, "
nation
Nation
A nation may refer to a community of people who share a common language, culture, ethnicity, descent, and/or history. In this definition, a nation has no physical borders. However, it can also refer to people who share a common territory and government irrespective of their ethnic make-up...
", "
environment
Social environment
The social environment of an individual, also called social context or milieu, is the culture that s/he was educated or lives in, and the people and institutions with whom the person interacts....
" or "situation", and "
time
Time
Time is a part of the measuring system used to sequence events, to compare the durations of events and the intervals between them, and to quantify rates of change such as the motions of objects....
".
Taine argued that literature was largely the product of the author's environment, and that an analysis of that environment could yield a perfect understanding of the work of literature. In this sense he was a sociological positivist (see
Auguste Comte
Auguste Comte
Isidore Auguste Marie François Xavier Comte , better known as Auguste Comte , was a French philosopher, a founder of the discipline of sociology and of the doctrine of positivism...
), though with important differences. Taine did not mean
race
in the specific sense now common, but rather the collective cultural dispositions that govern everyone without their knowledge or consent. What differentiates individuals within this collective "race", for Taine, was
milieu
: the particular circumstances that distorted or developed the dispositions of a particular person. The "moment" is the accumulated experiences of that person, which Taine often expressed as
momentum
Momentum
In classical mechanics, linear momentum or translational momentum is the product of the mass and velocity of an object...
; to some later critics, however, Taine's conception of moment seemed to have more in common with
Zeitgeist
Zeitgeist
Zeitgeist is "the spirit of the times" or "the spirit of the age."Zeitgeist is the general cultural, intellectual, ethical, spiritual or political climate within a nation or even specific groups, along with the general ambiance, morals, sociocultural direction, and mood associated with an era.The...
.
Though Taine coined and popularized the phrase "
race, milieu, et moment,"
the theory itself has roots in earlier attempts to understand the aesthetic object as a social product rather than a spontaneous creation of genius. Taine seems to have drawn heavily on the philosopher
Johann Gottfried Herder
Johann Gottfried Herder
Johann Gottfried von Herder was a German philosopher, theologian, poet, and literary critic. He is associated with the periods of Enlightenment, Sturm und Drang, and Weimar Classicism.-Biography:...
's ideas of
volk
(people) and
nation
Nation
A nation may refer to a community of people who share a common language, culture, ethnicity, descent, and/or history. In this definition, a nation has no physical borders. However, it can also refer to people who share a common territory and government irrespective of their ethnic make-up...
in his own concept of race; the Spanish writer
Emilia Pardo Bazán
Emilia Pardo Bazán
Emilia Pardo Bazán was a Spanish author and scholar from Galicia.-Life:...
has suggested that a crucial predecessor to Taine's idea was the work of
Germaine de Staël
Anne Louise Germaine de Staël
Anne Louise Germaine de Staël-Holstein , commonly known as Madame de Staël, was a French-speaking Swiss author living in Paris and abroad. She influenced literary tastes in Europe at the turn of the 19th century.- Childhood :...
on the relationship between art and society.
Influence
Taine's influence on French intellectual culture and literature was enormous. He had a special relationship, in particular, with
Émile Zola
Émile Zola
Émile François Zola was a French writer, the most important exemplar of the literary school of naturalism and an important contributor to the development of theatrical naturalism...
. As critic Philip Walker says of Zola, "In page after page, including many of his most memorable writings, we are presented with what amounts to a
mimesis
Mimesis
Mimesis , from μιμεῖσθαι , "to imitate," from μῖμος , "imitator, actor") is a critical and philosophical term that carries a wide range of meanings, which include imitation, representation, mimicry, imitatio, receptivity, nonsensuous similarity, the act of resembling, the act of expression, and the...
of the interplay between sensation and
imagination
Imagination
Imagination, also called the faculty of imagining, is the ability of forming mental images, sensations and concepts, in a moment when they are not perceived through sight, hearing or other senses...
which Taine studied at great length and out of which, he believed, emerges the world of the mind." Zola's reliance on Taine, however, was occasionally seen as a fault;
Miguel de Unamuno
Miguel de Unamuno
Miguel de Unamuno y Jugo was a Spanish essayist, novelist, poet, playwright and philosopher.-Biography:...
, after an early fascination with both Zola and Taine, eventually concluded that Taine's influence on literature was, all in all, negative.
Taine also influenced a number of
nationalist
Nationalism
Nationalism is a political ideology that involves a strong identification of a group of individuals with a political entity defined in national terms, i.e. a nation. In the 'modernist' image of the nation, it is nationalism that creates national identity. There are various definitions for what...
literary movements throughout the world, who used his ideas to argue that their particular countries had a distinct literature and thus a distinct place in literary history. In addition,
post-modern
Postmodernism
Postmodernism is a philosophical movement evolved in reaction to modernism, the tendency in contemporary culture to accept only objective truth and to be inherently suspicious towards a global cultural narrative or meta-narrative. Postmodernist thought is an intentional departure from the...
literary critics concerned with the relationship between literature and
social history
Social history
Social history, often called the new social history, is a branch of History that includes history of ordinary people and their strategies of coping with life. In its "golden age" it was a major growth field in the 1960s and 1970s among scholars, and still is well represented in history departments...
(including the
New Historicists
New Historicism
New Historicism is a school of literary theory, grounded in critical theory, that developed in the 1980s, primarily through the work of the critic Stephen Greenblatt, and gained widespread influence in the 1990s....
) continue to cite Taine's work, and to make use of the idea of race, milieu, and moment. The critic John Chapple, for example, has used the term as an illustration of his own concept of "composite history."
Taine was the subject of
Stefan Zweig
Stefan Zweig
Stefan Zweig was an Austrian novelist, playwright, journalist and biographer. At the height of his literary career, in the 1920s and 1930s, he was one of the most famous writers in the world.- Biography :...
's doctoral thesis, "The Philosophy of Hippolyte Taine."
Criticism
The chief criticism of race, milieu, and moment at the time the idea was created was that it did not sufficiently take into account the individuality of the artist, central to the creative genius of
Romanticism
Romanticism
Romanticism was an artistic, literary and intellectual movement that originated in the second half of the 18th century in Europe, and gained strength in reaction to the Industrial Revolution...
. Even Zola, who owed so much to Taine, made this objection, arguing that an artist's
temperament
Temperament
In psychology, temperament refers to those aspects of an individual's personality, such as introversion or extroversion, that are often regarded as innate rather than learned...
could lead him to make unique artistic choices distinct from the environment that shaped his general viewpoint; Zola's principal example was the painter
Édouard Manet
Édouard Manet
Édouard Manet was a French painter. One of the first 19th-century artists to approach modern-life subjects, he was a pivotal figure in the transition from Realism to Impressionism....
. Similarly,
Gustave Lanson
Gustave Lanson
Gustave Lanson was a French historian and literary critic. He taught at the Sorbonne in Paris.-Biography:...
argued that race, milieu, and moment could not among themselves account for
genius
Genius
Genius is something or someone embodying exceptional intellectual ability, creativity, or originality, typically to a degree that is associated with the achievement of unprecedented insight....
; Taine, he felt, explained mediocrity better than he explained greatness.
A distinct criticism concerns the possible sloppiness of the logic and scientific basis of the three concepts. As
Leo Spitzer
Leo Spitzer
Leo Spitzer was an Austrian Romanist and Hispanist, and an influential and prolific literary critic. He was known for his emphasis on stylistics....
has written, the actual science of the idea, which is vaguely
Darwinian
Charles Darwin
Charles Robert Darwin FRS was an English naturalist. He established that all species of life have descended over time from common ancestry, and proposed the scientific theory that this branching pattern of evolution resulted from a process that he called natural selection.He published his theory...
, is rather tenuous, and shortly after Taine's work was published a number of objections were made on scientific grounds. Spitzer also points out, again citing period sources, that the relationship between the three terms themselves was never well understood, and that it is possible to argue that moment is an unnecessary addition implied by the other two.
Major works
Taine's principal works, in chronological order, are:
De personis Platonicis. Essai sur les fables de La Fontaine (1853)
Essai sur Tite-Live (1854)
Voyage aux eaux des Pyrénées (1855)
Les philosophes français du XIXe siècle (1856)
Essais de critique et d'histoire (1857)
La Fontaine et ses fables (1860)
Histoire de la littérature anglaise, 4 vol. L'idéalisme anglais, étude sur Carlyle. Le positivisme anglais, étude sur Stuart Mill (1864)
Les écrivains anglais contemporains. Nouveaux essais de critique et d'histoire. *Philosophie de l'art (1865)
Philosophie de l'art en Italie. Voyage en Italie (1866)
Notes sur Paris. L'idéal dans l'art (1867)
Philosophie de l'art dans les Pays-Bas (1868)
Philosophie de l'art en Grèce (1869)
De l'intelligence (2 vol., 1870)
Du suffrage universel et de la manière de voter. Un séjour en France de 1792 à 1795. Notes sur l'Angleterre (1871)
Origines de la France contemporaine (1876–1894):

Vol. I: L'ancien régime
Vols. II through IV: La Révolution
Vols. V and VI: Le Régime moderne

Derniers essais de critique et d'histoire (1894)
Sources
Marshall Brown, "Why Style Matters: The Lessons of Taine's History of English Literature", Turning Points: Essays in the History of Cultural Expressions, Stanford: Stanford University Press, 1997, 33-87
External links