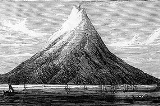 Krakatoa
Krakatoa
is a volcanic island made of a'a lava in the
Sunda Strait
Sunda Strait
The Sunda Strait is the strait between the Indonesian islands of Java and Sumatra. It connects the Java Sea to the Indian Ocean...
between the islands of Java and
Sumatra
Sumatra
Sumatra is an island in western Indonesia, westernmost of the Sunda Islands. It is the largest island entirely in Indonesia , and the sixth largest island in the world at 473,481 km2 with a population of 50,365,538...
in
Indonesia
Indonesia
Indonesia , officially the Republic of Indonesia , is a country in Southeast Asia and Oceania. Indonesia is an archipelago comprising approximately 13,000 islands. It has 33 provinces with over 238 million people, and is the world's fourth most populous country. Indonesia is a republic, with an...
. The name is used for the island group, the main
island
Island
An island or isle is any piece of sub-continental land that is surrounded by water. Very small islands such as emergent land features on atolls can be called islets, cays or keys. An island in a river or lake may be called an eyot , or holm...
(also called
Rakata
Rakata
Rakata is a collapsed stratovolcano of the Indonesian island of Krakatoa in the Sunda Strait between the islands of Sumatra and Java. Standing tall, it was the largest and southernmost of three volcanoes that formed the island Krakatoa and the only one not totally destroyed in the eruption of 1883...
), and the
volcano
Volcano
2. Bedrock3. Conduit 4. Base5. Sill6. Dike7. Layers of ash emitted by the volcano8. Flank| 9. Layers of lava emitted by the volcano10. Throat11. Parasitic cone12. Lava flow13. Vent14. Crater15...
as a whole. The island exploded in 1883, killing approximately 40,000 people, although some estimates put the death toll much higher. The explosion is considered to be the loudest sound ever heard in modern history, with reports of it being heard nearly 3000 miles (4,828 km) from its point of origin.