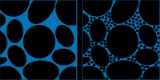 Porosity
Porosity
or
void fraction
is a measure of the void (i.e., "empty") spaces in a material, and is a fraction of the volume of voids over the total volume, between 0–1, or as a
percentage
Percentage
In mathematics, a percentage is a way of expressing a number as a fraction of 100 . It is often denoted using the percent sign, "%", or the abbreviation "pct". For example, 45% is equal to 45/100, or 0.45.Percentages are used to express how large/small one quantity is, relative to another quantity...
between 0–100%. The term is used in multiple fields including
pharmaceutics
Pharmaceutics
Pharmaceutics is the discipline of pharmacy that deals with all facets of the process of turning a new chemical entity into a medication able to be safely and effectively used by patients in the community. Pharmaceutics is the science of dosage form design...
, ceramics,
metallurgy
Metallurgy
Metallurgy is a domain of materials science that studies the physical and chemical behavior of metallic elements, their intermetallic compounds, and their mixtures, which are called alloys. It is also the technology of metals: the way in which science is applied to their practical use...
, materials,
manufacturing
Manufacturing
Manufacturing is the use of machines, tools and labor to produce goods for use or sale. The term may refer to a range of human activity, from handicraft to high tech, but is most commonly applied to industrial production, in which raw materials are transformed into finished goods on a large scale...
, earth sciences and
construction
Construction
In the fields of architecture and civil engineering, construction is a process that consists of the building or assembling of infrastructure. Far from being a single activity, large scale construction is a feat of human multitasking...
.
In gas-liquid two-phase flow, the void fraction is defined as the fraction of the flow-channel volume that is occupied by the gas phase or, alternatively, as the fraction of the cross-sectional area of the channel that is occupied by the gas phase.