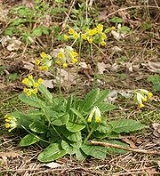 Primula veris
Primula veris
is a
flowering plant
Flowering plant
The flowering plants , also known as Angiospermae or Magnoliophyta, are the most diverse group of land plants. Angiosperms are seed-producing plants like the gymnosperms and can be distinguished from the gymnosperms by a series of synapomorphies...
in the
genus
Genus
In biology, a genus is a low-level taxonomic rank used in the biological classification of living and fossil organisms, which is an example of definition by genus and differentia...
Primula
Primula
Primula is a genus of 400–500 species of low-growing herbs in the family Primulaceae. They include primrose, auricula, cowslip and oxlip. Many species are grown for their ornamental flowers...
. The species is found throughout most of temperate
Europe
Europe
Europe is, by convention, one of the world's seven continents. Comprising the westernmost peninsula of Eurasia, Europe is generally 'divided' from Asia to its east by the watershed divides of the Ural and Caucasus Mountains, the Ural River, the Caspian and Black Seas, and the waterways connecting...
and
Asia
Asia
Asia is the world's largest and most populous continent, located primarily in the eastern and northern hemispheres. It covers 8.7% of the Earth's total surface area and with approximately 3.879 billion people, it hosts 60% of the world's current human population...
, and although absent from more northerly areas including much of northwest
Scotland
Scotland
Scotland is a country that is part of the United Kingdom. Occupying the northern third of the island of Great Britain, it shares a border with England to the south and is bounded by the North Sea to the east, the Atlantic Ocean to the north and west, and the North Channel and Irish Sea to the...
, it reappears in northernmost
Sutherland
Sutherland
Sutherland is a registration county, lieutenancy area and historic administrative county of Scotland. It is now within the Highland local government area. In Gaelic the area is referred to according to its traditional areas: Dùthaich 'IcAoidh , Asainte , and Cataibh...
and Orkney.
Names
The common name
cowslip
derives from the Old English
cūslyppe
meaning "cow dung", probably because the plant was often found growing amongst the manure in cow pastures.
The species name
vēris
means "of spring".
Folk names include Cowslip, Cuy lippe, Herb Peter, Paigle, Peggle, Key Flower, Key of Heaven, Fairy Cups, Petty Mulleins, Crewel, Buckles, Palsywort, Plumrocks.
Description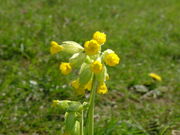 Primula veris
is a low growing
herbaceous
Herbaceous
A herbaceous plant is a plant that has leaves and stems that die down at the end of the growing season to the soil level. They have no persistent woody stem above ground...
perennial plant
Perennial plant
A perennial plant or simply perennial is a plant that lives for more than two years. The term is often used to differentiate a plant from shorter lived annuals and biennials. The term is sometimes misused by commercial gardeners or horticulturalists to describe only herbaceous perennials...
with a rosette of
leaves
Leaf
A leaf is an organ of a vascular plant, as defined in botanical terms, and in particular in plant morphology. Foliage is a mass noun that refers to leaves as a feature of plants....
5–15 cm long and 2–6 cm broad. The deep yellow
flower
Flower
A flower, sometimes known as a bloom or blossom, is the reproductive structure found in flowering plants . The biological function of a flower is to effect reproduction, usually by providing a mechanism for the union of sperm with eggs...
s are produced in the
spring
Spring (season)
Spring is one of the four temperate seasons, the transition period between winter and summer. Spring and "springtime" refer to the season, and broadly to ideas of rebirth, renewal and regrowth. The specific definition of the exact timing of "spring" varies according to local climate, cultures and...
between April and May; they are in clusters of 10-30 together on a single stem 5–20 cm tall, each flower 9–15 mm broad. Red-flowered plants occur rarely.
Habitat
Cowslip is frequently found on more open ground than
Primula vulgaris
Primula vulgaris
Primula vulgaris is a species of Primula native to western and southern Europe , northwest Africa , and southwest Asia...
(primrose) including open fields, meadows, and coastal
dune
Dune
In physical geography, a dune is a hill of sand built by wind. Dunes occur in different forms and sizes, formed by interaction with the wind. Most kinds of dunes are longer on the windward side where the sand is pushed up the dune and have a shorter "slip face" in the lee of the wind...
s and
cliff
Cliff
In geography and geology, a cliff is a significant vertical, or near vertical, rock exposure. Cliffs are formed as erosion landforms due to the processes of erosion and weathering that produce them. Cliffs are common on coasts, in mountainous areas, escarpments and along rivers. Cliffs are usually...
tops. The seeds are often included in wild-flower seed mixes used to landscape motorway banks and similar civil engineering earth-works where the plants may be seen in dense stands.
Similar species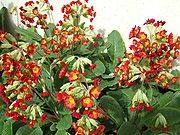 It may be confused with the closely related
Primula elatior
Primula elatior
Primula elatior, the oxlip , is a flowering plant in the genus Primula, found in nutrient- and calcium-rich damp woods and meadows throughout Europe with northern bordes in Denmark and southern parts of Sweden, eastwards to Altai Mountains and on the Kola Peninsula in Russia...
(oxlip) which has a similar general appearance although the oxlip has larger, pale yellow flowers more like a primrose, and a corolla tube without folds.
Chemical constituents
Primula veris
contains
glycoside
Glycoside
In chemistry, a glycoside is a molecule in which a sugar is bound to a non-carbohydrate moiety, usually a small organic molecule. Glycosides play numerous important roles in living organisms. Many plants store chemicals in the form of inactive glycosides. These can be activated by enzyme...
s, primeverin, primulaverin and the
saponin
Saponin
Saponins are a class of chemical compounds, one of many secondary metabolites found in natural sources, with saponins found in particular abundance in various plant species...
primula acid A. It can have irritant effects in those who are
allergic
Allergy
An Allergy is a hypersensitivity disorder of the immune system. Allergic reactions occur when a person's immune system reacts to normally harmless substances in the environment. A substance that causes a reaction is called an allergen. These reactions are acquired, predictable, and rapid...
to it.
Cuisine
Cowslip leaves have been traditionally used in
Spanish
Spain
Spain , officially the Kingdom of Spain languages]] under the European Charter for Regional or Minority Languages. In each of these, Spain's official name is as follows:;;;;;;), is a country and member state of the European Union located in southwestern Europe on the Iberian Peninsula...
cooking as a salad green. Uses in
English
England
England is a country that is part of the United Kingdom. It shares land borders with Scotland to the north and Wales to the west; the Irish Sea is to the north west, the Celtic Sea to the south west, with the North Sea to the east and the English Channel to the south separating it from continental...
cookery includes using the flowers to flavour country wine and vinegars; sugared to be a sweet or eaten as part of a composed salad while the juice of the cowslip is used to prepare
tansy
Tansy
Tansy is a perennial, herbaceous flowering plant of the aster family, native to temperate Europe and Asia. It has been introduced to other parts of the world and in some areas has become invasive...
for frying. The close cousin of the cowslip, the
primrose
Primrose
-Botany:* Primulaceae, a family of flowering plants* Primula vulgaris, commonly known as the Primrose * Oenothera, commonly known as Evening Primrose, a plant genus...
(
P. vulgaris
), has often been confused with the cowslip and its uses in cuisine are similar with the addition of its flowers being used as a colouring agent in desserts.
External links