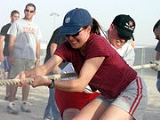 Game
A
game
is structured
playing
Play (activity)
Play is a term employed in ethology and psychology to describe to a range of voluntary, intrinsically motivated activities normally associated with pleasure and enjoyment...
, usually undertaken for enjoyment and sometimes used as an
education
Education
Education in its broadest, general sense is the means through which the aims and habits of a group of people lives on from one generation to the next. Generally, it occurs through any experience that has a formative effect on the way one thinks, feels, or acts...
al tool. Games are distinct from
work
Manual labour
Manual labour , manual or manual work is physical work done by people, most especially in contrast to that done by machines, and also to that done by working animals...
, which is usually carried out for remuneration, and from
art
Art
Art is the product or process of deliberately arranging items in a way that influences and affects one or more of the senses, emotions, and intellect....
, which is more often an expression of aesthetic or ideological elements. However, the distinction is not clear-cut, and many games are also considered to be work (such as professional players of spectator sports/games) or art (such as
jigsaw puzzle
Jigsaw puzzle
A jigsaw puzzle is a tiling puzzle that requires the assembly of numerous small, often oddly shaped, interlocking and tessellating pieces.Each piece usually has a small part of a picture on it; when complete, a jigsaw puzzle produces a complete picture...
s or games involving an artistic layout such as
Mahjong
Mahjong
Mahjong, sometimes spelled Mah Jongg, is a game that originated in China, commonly played by four players...
,
solitaire
Solitaire
Solitaire is any tabletop game which one can play by oneself or with other people. The solitaire card game Klondike is often known as simply Solitaire....
, or some video games).
Key components of games are goals, rules, challenge, and
interaction
Interaction
Interaction is a kind of action that occurs as two or more objects have an effect upon one another. The idea of a two-way effect is essential in the concept of interaction, as opposed to a one-way causal effect...
.