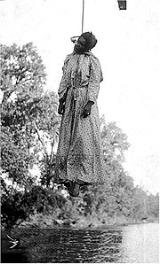 Lynching
Lynching
is an extrajudicial execution carried out by a mob, often by
hanging
Hanging
Hanging is the lethal suspension of a person by a ligature. The Oxford English Dictionary states that hanging in this sense is "specifically to put to death by suspension by the neck", though it formerly also referred to crucifixion and death by impalement in which the body would remain...
, but also by burning at the stake or shooting, in order to punish an alleged transgressor, or to intimidate, control, or otherwise manipulate a population of people. It is related to other means of social control that arise in communities, such as
charivari
Charivari
Charivari is the term for a French folk custom in which the community gave a noisy, discordant mock serenade, also pounding on pots and pans, at the home of newlyweds. The loud, public ritual evolved to a form of social coercion, for instance, to force an as-yet-unmarried couple to wed...
,
riding the rail
Riding the rail
Riding the rail was a punishment in Colonial America in which a man was made to straddle a fence rail held on the shoulders of at least two men, with other men on either side to keep him upright...
, and
tarring and feathering
Tarring and feathering
Tarring and feathering is a physical punishment, used to enforce unofficial justice or revenge. It was used in feudal Europe and its colonies in the early modern period, as well as the early American frontier, mostly as a type of mob vengeance .-Description:In a typical tar-and-feathers attack, the...
. Lynchings have been more frequent in times of social and economic tension, and have often been the means used by the politically dominant population to oppress social challengers.
Violence in the United States against African Americans, especially in
the South
Southern United States
The Southern United States—commonly referred to as the American South, Dixie, or simply the South—constitutes a large distinctive area in the southeastern and south-central United States...
, rose in the aftermath of the
Civil War
American Civil War
The American Civil War was a civil war fought in the United States of America. In response to the election of Abraham Lincoln as President of the United States, 11 southern slave states declared their secession from the United States and formed the Confederate States of America ; the other 25...
, after slavery had been abolished and recently freed black men were given the right to vote.