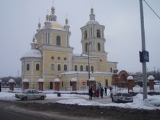 Novokuznetsk
Novokuznetsk
is a city in
Kemerovo Oblast
Kemerovo Oblast
Kemerovo Oblast , also known as Kuzbass after the Kuznetsk Basin, is a federal subject of Russia , located in southwestern Siberia, where the West Siberian Plain meets the South Siberian mountains...
,
Russia
Russia
Russia or , officially known as both Russia and the Russian Federation , is a country in northern Eurasia. It is a federal semi-presidential republic, comprising 83 federal subjects...
. It serves as the administrative center of
Novokuznetsky District
Novokuznetsky District
Novokuznetsky District is an administrative district , one of the 19 in Kemerovo Oblast, Russia....
, but it is not administratively a part of it. Population:
The Novokuznetsk urban agglomeration, which includes the towns of
Kiselyovsk
Kiselyovsk
Kiselyovsk is a town in Kemerovo Oblast, Russia. Population: -External links:*...
,
Mezhdurechensk
Mezhdurechensk, Kemerovo Oblast
Mezhdurechensk is a city in Kemerovo Oblast, Russia. Population: -Administrative and municipal status:Administratively, it is incorporated as the city of oblast significance of Mezhdurechensk—an administrative unit with a status equal to that of the districts.Municipally, the territories of the...
, and
Prokopyevsk
Prokopyevsk
Prokopyevsk is a city in Kemerovo Oblast, Russia. Population: It was founded in 1918 as the settlement of Prokopyevsky from the existing villages of Monastyrskoye and Prokopyevskoye, and was granted town status and renamed in 1931....
, has a population of 1.13 million people.
Founded in 1618 by men from
Tomsk
Tomsk
Tomsk is a city and the administrative center of Tomsk Oblast, Russia, located on the Tom River. One of the oldest towns in Siberia, Tomsk celebrated its 400th anniversary in 2004...
as a Cossack
ostrog
Ostrog (fortress)
Ostrog was a Russian term for a small fort, typically wooden and often non-permanently manned. Ostrogs were encircled by 4-6 metres high palisade walls made from sharpened trunks. The name derives from the Russian word строгать , "to shave the wood". Ostrogs were smaller and exclusively military...
(fort) on the
Tom River
Tom River
Tom is a river in Russia, a right tributary of the Ob. Its length is 540 miles . Its source is in the Abakan mountains , and it flows northward through the Kuznetsk Basin...
, it was initially called
Kuznetsk
. It was granted town status in 1622. It was here that
Fyodor Dostoevsky
Fyodor Dostoevsky
Fyodor Mikhaylovich Dostoyevsky was a Russian writer of novels, short stories and essays. He is best known for his novels Crime and Punishment, The Idiot and The Brothers Karamazov....
married his first wife, Maria Isayeva (1857).
Joseph Stalin
Joseph Stalin
Joseph Vissarionovich Stalin was the Premier of the Soviet Union from 6 May 1941 to 5 March 1953. He was among the Bolshevik revolutionaries who brought about the October Revolution and had held the position of first General Secretary of the Communist Party of the Soviet Union's Central Committee...
's rapid industrialization of the
Soviet Union
Soviet Union
The Soviet Union , officially the Union of Soviet Socialist Republics , was a constitutionally socialist state that existed in Eurasia between 1922 and 1991....
transformed the sleepy town into a major
coal mining
Coal mining
The goal of coal mining is to obtain coal from the ground. Coal is valued for its energy content, and since the 1880s has been widely used to generate electricity. Steel and cement industries use coal as a fuel for extraction of iron from iron ore and for cement production. In the United States,...
and industrial center in the 1930s. It merged with Sad Gorod in 1931. In 1931–1932 the city was known as Novokuznetsk and between 1932–1961 as
Stalinsk
, after Stalin.
On March 19, 2007 a
massive methane explosion
Ulyanovskaya Mine disaster
The Ulyanovskaya Mine disaster was caused by a methane explosion that occurred on March 19, 2007 in the Ulyanovskaya longwall coal mine in the Kemerovo Oblast. At least 108 people were reported to have been killed by the blast, which occurred at a depth of about 270 meters at 10:19 local time...
ripped through the Ulyanovskaya mine in Novokuznetsk killing over 100 people. The mine was the largest coal producing center in the Kemerovo Region, located in a coal rich area of south central Russia known as the Kuzbass region. It is the deadliest mining accident in recent history.
Twin towns/sister cities
Novokuznetsk is
twinned
Town twinning
Twin towns and sister cities are two of many terms used to describe the cooperative agreements between towns, cities, and even counties in geographically and politically distinct areas to promote cultural and commercial ties.- Terminology :...
with:
Nizhny Tagil
Nizhny Tagil
Nizhny Tagil is a city in Sverdlovsk Oblast, Russia, situated east of the virtual border between Europe and Asia. Population: -History:...
, Russia
Zaporizhia
Zaporizhia
Zaporizhia or Zaporozhye [formerly Alexandrovsk ] is a city in southeastern Ukraine, situated on the banks of the Dnieper River. It is the administrative center of the Zaporizhia Oblast...
,
Ukraine
Ukraine
Ukraine is a country in Eastern Europe. It has an area of 603,628 km², making it the second largest contiguous country on the European continent, after Russia...
Pittsburgh,
United States
United States
The United States of America is a federal constitutional republic comprising fifty states and a federal district...
City districts
Kuybyshevsky
Kuznetsky
Novoilyinsky
Ordzhonikidzevsky
Tsentralny
Zavodsky
Education
Novokuznesk branch of Kemerovo State University

Kemerovo State University

The Kemerovo State University was established in 1973 as a successor to Kemerovo Pedagogical Institute. It is a leading educational and scientific center of Kemerovo Oblast with five branches throughout the region in Belovo, Anzhero-Sudzhensk, Novokuznetsk, Prokopyevsk, and in Ulan Bator...



Siberian State Industrial University
Novokuznetsk State University of Pedagogy
State Institute for Postgraduate Training of Physicians of Russian Ministry of Health known also as Novokuznetsk Postgraduate Physician Institute
Novokuznetsk Scientific Center of Medicosocial Expert Evaluation and Rehabilitation of Invalids, Federal Agency for Public Health and Social welfare
Institute of General Problems of Hygiene and Occupational Diseases, Russian Academy of Medical Sciences
Industry
Novokuznetsk is a heavily industrial city and is located in the heart of the
Kuzbass region
Kuznetsk Basin
The Kuznetsk Basin in southwestern Siberia, Russia, is one of the largest coal mining areas in the world, covering an area of around . It lies in the Kuznetsk Depression between Tomsk and Novokuznetsk in the basin of the Tom River...
factories in the city include:
West-Siberian Metal Plant

West-Siberian Metal Plant

West-Siberian Metal Plant is a metal plant in the city of Novokuznetsk in Kemerovo Oblast in southwestern Siberia. Founded 27 July 1964. The company's name is abbreviated to ZSMK . One of the largest smelters of CIS, the fifth-largest metallurgical plant in Russia....



Novokuznetsk Metal Plant
Sports
Metallurg Novokuznetsk
Metallurg Novokuznetsk
Metallurg Novokuznetsk is a professional ice hockey team from Siberia based in Novokuznetsk, Kemerovo Oblast, Russia. They are members of the Chernyshev Division in the Kontinental Hockey League.-History:-Champions:...
is an
ice hockey
Ice hockey
Ice hockey, often referred to as hockey, is a team sport played on ice, in which skaters use wooden or composite sticks to shoot a hard rubber puck into their opponent's net. The game is played between two teams of six players each. Five members of each team skate up and down the ice trying to take...
team based in Novokuznetsk, playing in the
Kontinental Hockey League
Kontinental Hockey League
The Kontinental Hockey League is an international professional ice hockey league in Eurasia founded in 2008. As of 2009, it is ranked as the strongest hockey league in Europe....
.
RC Novokuznetsk
RC Novokuznetsk
RC Novokuznetsk is a Russian rugby club from Kemerovo Oblast. They participate in the Professional Rugby League, the top division of Russian rugby.- Current squad :...
compete in the
Professional Rugby League
Professional Rugby League
Professional Rugby League is the premier rugby union competition in Russia. The Professional League was formed in 2005 and succeeds the Superleague. The Superleague, in turn, was active from 1992 to 2004 and succeeded the Soviet Championship....
, the highest division of
rugby union
Rugby union
Rugby union, often simply referred to as rugby, is a full contact team sport which originated in England in the early 19th century. One of the two codes of rugby football, it is based on running with the ball in hand...
in Russia.
Transport
The main airport is Novokuznetsk Spichenkovo Airport. The city is also a major railway junction with both local and long distance trains. Local public transport is provided by trams buses and trolleybuses.
External links
Novokuznetsk City Administration official website