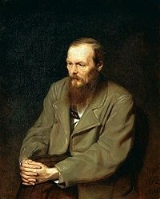 Fyodor Dostoevsky
Fyodor Mikhaylovich Dostoyevsky
was a
Russia
Russia
Russia or , officially known as both Russia and the Russian Federation , is a country in northern Eurasia. It is a federal semi-presidential republic, comprising 83 federal subjects...
n writer of
novel
Novel
A novel is a book of long narrative in literary prose. The genre has historical roots both in the fields of the medieval and early modern romance and in the tradition of the novella. The latter supplied the present generic term in the late 18th century....
s,
short stories
Short story
A short story is a work of fiction that is usually written in prose, often in narrative format. This format tends to be more pointed than longer works of fiction, such as novellas and novels. Short story definitions based on length differ somewhat, even among professional writers, in part because...
and
essay
Essay
An essay is a piece of writing which is often written from an author's personal point of view. Essays can consist of a number of elements, including: literary criticism, political manifestos, learned arguments, observations of daily life, recollections, and reflections of the author. The definition...
s. He is best known for his novels
Crime and Punishment
Crime and Punishment
Crime and Punishment is a novel by the Russian author Fyodor Dostoyevsky. It was first published in the literary journal The Russian Messenger in twelve monthly installments during 1866. It was later published in a single volume. This is the second of Dostoyevsky's full-length novels following his...
, The Idiot and
The Brothers Karamazov
The Brothers Karamazov
The Brothers Karamazov is the final novel by the Russian author Fyodor Dostoyevsky. Dostoyevsky spent nearly two years writing The Brothers Karamazov, which was published as a serial in The Russian Messenger and completed in November 1880...
.
His name has been variously transcribed in English, his first name sometimes being rendered as Theodore. This is because, before the post-revolutionary orthographic reform which, amongst other things, replaced the cyrillic letter Ѳ ('th') with the cyrillic letter Ф ('f'), Dostoyevsky's name was written Ѳеодоръ (Theodor) Михайловичъ Достоевскій.
Dostoyevsky's literary works explore human psychology in the troubled political, social and spiritual context of 19th-century Russian society.
To study the meaning of man and of life — I am making significant progress here. I have faith in myself. Man is a mystery: if you spend your entire life trying to puzzle it out, then do not say that you have wasted your time. I occupy myself with this mystery, because I want to be a man.

Personal correspondence (1839), as quoted in Dostoevsky : His Life and Work (1971) by Konstantin Mochulski, as translated by Michael A. Minihan, p. 17
If anyone could prove to me that Christ is outside the truth, and if the truth really did exclude Christ, I should prefer to stay with Christ and not with truth.

Letter To Mme. N. D. Fonvisin (1854), as published in Letters of Fyodor Michailovitch Dostoevsky to his Family and Friends (1914), translated by Ethel Golburn Mayne, Letter XXI, p. 71
The degree of civilization in a society can be judged by entering its prisons.

The House of the Dead (1862) as translated by Constance Garnett|Constance Garnett
It is not as a child that I believe and confess Jesus Christ|Christ. My hosanna is born of a furnace of doubt.

As quoted in Kierkegaard, the Melancholy Dane (1950) by Harold Victor Martin.
The second half of a man's life is made up of nothing but the habits he has acquired during the first half.

As quoted in Peter's Quotations : Ideas for Our Time (1979) by Laurence J. Peter, p. 299.
Russia was a slave in Europe but would be a master in Asia.

As quoted in "Dilemmas of Empire 1850-1918: Power, Territory, Identity" by Dominic Livien in Journal of Contemporary History, Vol. 34, No.2 (April 1999), pp. 180.
If you want to be respected by others the great thing is to respect yourself. Only by that, only by self-respect will you compel others to respect you.

I am a sick man… I am a spiteful man. I am an unpleasant man. I think my liver is diseased.

To be acutely conscious is a disease, a real, honest-to-goodness disease.