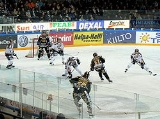 Ice hockey
Ice hockey
, often referred to as
hockey
, is a team sport played on ice, in which
skater
Ice skating
Ice skating is moving on ice by using ice skates. It can be done for a variety of reasons, including leisure, traveling, and various sports. Ice skating occurs both on specially prepared indoor and outdoor tracks, as well as on naturally occurring bodies of frozen water, such as lakes and...
s use wooden or
composite
Composite material
Composite materials, often shortened to composites or called composition materials, are engineered or naturally occurring materials made from two or more constituent materials with significantly different physical or chemical properties which remain separate and distinct at the macroscopic or...
sticks to
shoot
Shot (ice hockey)
A shot in ice hockey is an attempt by a player to score a goal by striking the puck with their stick in the direction of the net.-Shovel:The shovel shot is the simplest most basic shot in a shooter's arsenal. Its execution is simply a shoveling motion to push the puck in the desired direction...
a hard rubber
puck
Hockey puck
A puck is a disk used in various games serving the same functions as a ball does in ball games. The best-known use of pucks is in ice hockey, a major international sport.- Etymology :The origin of the word "puck" is obscure...
into their opponent's net. The game is played between two teams of six players each. Five members of each team skate up and down the ice trying to take the puck and score a
goal
Goal (ice hockey)
In ice hockey, a goal is scored when the puck completely crosses the goal line between the two goal posts and below the goal crossbar. A goal awards one point to the team attacking the goal scored upon, regardless of which team the player who actually deflected the puck into the goal belongs to...
against the opposing team. Each team has a
goalie
Goaltender
In ice hockey, the goaltender is the player who defends his team's goal net by stopping shots of the puck from entering his team's net, thus preventing the opposing team from scoring...
who tries to stop the puck from going into the goal or "net".