 Nonbuilding structure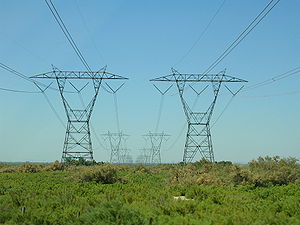 Nonbuilding structures
, also referred to simply as
structures
, are those not designed for continuous human
occupancy
Occupancy
Occupancy in building construction and building codes is the use or intended use of a building or part thereof for the shelter or support of persons, animals or property. A closely related meaning is the number of units in such a building that are rented or leased, or otherwise in-use...
. The term is used by
architect
Architect
An architect is a person trained in the planning, design and oversight of the construction of buildings. To practice architecture means to offer or render services in connection with the design and construction of a building, or group of buildings and the space within the site surrounding the...
s and structural engineers to distinctly identify structures that are not
buildings
.
Examples of nonbuilding structures:
Steam Generators
Aerial lift pylon
Boat lift

Boat lift

A boat lift, ship lift, or lift lock is a machine for transporting boats between water at two different elevations, and is an alternative to the canal lock and the canal inclined plane....


s
Bridge

Bridge

A bridge is a structure built to span physical obstacles such as a body of water, valley, or road, for the purpose of providing passage over the obstacle...


s and bridge-like structures (aqueduct

Aqueduct

An aqueduct is a water supply or navigable channel constructed to convey water. In modern engineering, the term is used for any system of pipes, ditches, canals, tunnels, and other structures used for this purpose....


s, overpass

Overpass

An overpass is a bridge, road, railway or similar structure that crosses over another road or railway...


es, trestle

Trestle

A trestle is a rigid frame used as a support, especially referring to a bridge composed of a number of short spans supported by such frames. In the context of trestle bridges, each supporting frame is generally referred to as a bent...


s, viaduct

Viaduct

A viaduct is a bridge composed of several small spans. The term viaduct is derived from the Latin via for road and ducere to lead something. However, the Ancient Romans did not use that term per se; it is a modern derivation from an analogy with aqueduct. Like the Roman aqueducts, many early...


s, etc.)
Building canopies

Canopy (building)

A canopy is an overhead roof or else a structure over which a fabric or metal covering is attached, able to provide shade or shelter. A canopy can also be a tent, generally without a floor....



Chimney

Chimney

A chimney is a structure for venting hot flue gases or smoke from a boiler, stove, furnace or fireplace to the outside atmosphere. Chimneys are typically vertical, or as near as possible to vertical, to ensure that the gases flow smoothly, drawing air into the combustion in what is known as the...


s and smokestacks
Dam

Dam

A dam is a barrier that impounds water or underground streams. Dams generally serve the primary purpose of retaining water, while other structures such as floodgates or levees are used to manage or prevent water flow into specific land regions. Hydropower and pumped-storage hydroelectricity are...


s
Water tower

Water tower

A water tower or elevated water tower is a large elevated drinking water storage container constructed to hold a water supply at a height sufficient to pressurize a water distribution system....


s
Electric power transmission towers

Electricity pylon

A transmission tower is a tall structure, usually a steel lattice tower, used to support an overhead power line. They are used in high-voltage AC and DC systems, and come in a wide variety of shapes and sizes...



Ferris wheels and observation wheels

Ferris wheel

A Ferris wheel is a nonbuilding structure consisting of a rotating upright wheel with passenger cars attached to the rim in such a way that as the wheel turns, the cars are kept upright, usually by gravity.Some of the largest and most modern Ferris wheels have cars mounted on...



Furniture

Furniture

Furniture is the mass noun for the movable objects intended to support various human activities such as seating and sleeping in beds, to hold objects at a convenient height for work using horizontal surfaces above the ground, or to store things...



Monuments

Monument

A monument is a type of structure either explicitly created to commemorate a person or important event or which has become important to a social group as a part of their remembrance of historic times or cultural heritage, or simply as an example of historic architecture...



Parking structures

Multi-storey car park

A multi-storey car-park is a building designed specifically to be for car parking and where there are a number of floors or levels on which parking takes place...



Offshore oil platform

Oil platform

An oil platform, also referred to as an offshore platform or, somewhat incorrectly, oil rig, is a lаrge structure with facilities to drill wells, to extract and process oil and natural gas, and to temporarily store product until it can be brought to shore for refining and marketing...


s (except for the production and housing facilities)
Packaging
Pallet rack

Pallet rack

Pallet racking, is a material handling storage aid system designed to store materials on pallets . Although there are many varieties of pallet racking, all types allow for the storage of palletized materials in horizontal rows with multiple levels...



Pier

Pier

A pier is a raised structure, including bridge and building supports and walkways, over water, typically supported by widely spread piles or pillars...


s
Roller coaster

Roller coaster

The roller coaster is a popular amusement ride developed for amusement parks and modern theme parks. LaMarcus Adna Thompson patented the first coasters on January 20, 1885...


s
Retaining wall

Retaining wall

Retaining walls are built in order to hold back earth which would otherwise move downwards. Their purpose is to stabilize slopes and provide useful areas at different elevations, e.g...


s
Sewers

Sewerage

Sewerage refers to the infrastructure that conveys sewage. It encompasses receiving drains, manholes, pumping stations, storm overflows, screening chambers, etc. of the sanitary sewer...



Ship

Ship

Since the end of the age of sail a ship has been any large buoyant marine vessel. Ships are generally distinguished from boats based on size and cargo or passenger capacity. Ships are used on lakes, seas, and rivers for a variety of activities, such as the transport of people or goods, fishing,...


s and boat

Boat

A boat is a watercraft of any size designed to float or plane, to provide passage across water. Usually this water will be inland or in protected coastal areas. However, boats such as the whaleboat were designed to be operated from a ship in an offshore environment. In naval terms, a boat is a...


s
Sports equipment

Sports equipment

Sports equipment is a general term for any object used for sport or exercise. Examples of sports equipment include:-Exercise equipment:Examples for exercise include swiss balls, weights, equipment for the gym...



Crane

Crane (machine)

A crane is a type of machine, generally equipped with a hoist, wire ropes or chains, and sheaves, that can be used both to lift and lower materials and to move them horizontally. It uses one or more simple machines to create mechanical advantage and thus move loads beyond the normal capability of...


s
Automobile

Automobile

An automobile, autocar, motor car or car is a wheeled motor vehicle used for transporting passengers, which also carries its own engine or motor...


s
Machinery
Structures designed to support, contain or convey liquid or gaseous matter, including

Cooling tower

Cooling tower

Cooling towers are heat removal devices used to transfer process waste heat to the atmosphere. Cooling towers may either use the evaporation of water to remove process heat and cool the working fluid to near the wet-bulb air temperature or in the case of closed circuit dry cooling towers rely...


s
Pipelines

Pipeline transport

Pipeline transport is the transportation of goods through a pipe. Most commonly, liquids and gases are sent, but pneumatic tubes that transport solid capsules using compressed air are also used....



Distillation equipment

Fractional distillation

Fractional distillation is the separation of a mixture into its component parts, or fractions, such as in separating chemical compounds by their boiling point by heating them to a temperature at which several fractions of the compound will evaporate. It is a special type of distillation...


and structural supports at chemical and petrochemical plants and oil refineries

Oil refinery

An oil refinery or petroleum refinery is an industrial process plant where crude oil is processed and refined into more useful petroleum products, such as gasoline, diesel fuel, asphalt base, heating oil, kerosene, and liquefied petroleum gas...



Storage tanks

Television and radio masts and towers

Radio masts and towers

Radio masts and towers are, typically, tall structures designed to support antennas for telecommunications and broadcasting, including television. They are among the tallest man-made structures...



Tunnel

Tunnel

A tunnel is an underground passageway, completely enclosed except for openings for egress, commonly at each end.A tunnel may be for foot or vehicular road traffic, for rail traffic, or for a canal. Some tunnels are aqueducts to supply water for consumption or for hydroelectric stations or are sewers...


s
Wharves

Wharf

A wharf or quay is a structure on the shore of a harbor where ships may dock to load and unload cargo or passengers.Such a structure includes one or more berths , and may also include piers, warehouses, or other facilities necessary for handling the ships.A wharf commonly comprises a fixed...



Exceptions
Some structures that are occupied periodically and would otherwise be considered
nonbuilding structures
are categorized as "buildings" for fire and life safety purposes:
See also
Architectural structure

Architectural structure

An architectural structure is a free-standing, immobile outdoor constructed element. The structure may be temporary or permanent.Structures include buildings and nonbuilding structures . Examples of building structures include houses, town halls, libraries, and skyscrapers...



Building

Building

In architecture, construction, engineering, real estate development and technology the word building may refer to one of the following:...



Fire safety

Fire safety

Fire safety refers to precautions that are taken to prevent or reduce the likelihood of a fire that may result in death, injury, or property damage, alert those in a structure to the presence of a fire in the event one occurs, better enable those threatened by a fire to survive, or to reduce the...



Hyperboloid structure

Hyperboloid structure

Hyperboloid structures are architectural structures designed with hyperboloid geometry. Often these are tall structures such as towers where the hyperboloid geometry's structural strength is used to support an object high off the ground, but hyperboloid geometry is also often used for decorative...



List of masts