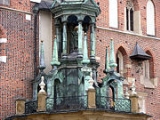 Canopy (building)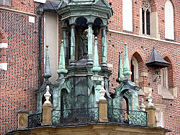 A
canopy
is an overhead
roof
Roof
A roof is the covering on the uppermost part of a building. A roof protects the building and its contents from the effects of weather. Structures that require roofs range from a letter box to a cathedral or stadium, dwellings being the most numerous....
or else a structure over which a fabric or metal covering is attached, able to provide
shade
Shade
Shade is the blocking of sunlight by any object, and also the shadow created by that object. Shade also consists of the colors grey, black, white, etc...
or shelter. A canopy can also be a
tent
Tent
A tent is a shelter consisting of sheets of fabric or other material draped over or attached to a frame of poles or attached to a supporting rope. While smaller tents may be free-standing or attached to the ground, large tents are usually anchored using guy ropes tied to stakes or tent pegs...
, generally without a
floor
Floor
A floor is the walking surface of a room or vehicle. Floors vary from simple dirt in a cave to many-layered surfaces using modern technology...
.
The word comes from the
Ancient Greek
Ancient Greek
Ancient Greek is the stage of the Greek language in the periods spanning the times c. 9th–6th centuries BC, , c. 5th–4th centuries BC , and the c. 3rd century BC – 6th century AD of ancient Greece and the ancient world; being predated in the 2nd millennium BC by Mycenaean Greek...
κωνώπειον = "cover to keep insects off", from κώνωψ = "cone-face", which is a
bahuvrihi
Bahuvrihi
A bahuvrihi compound is a type of compound that denotes a referent by specifying a certain characteristic or quality the referent possesses. A bahuvrihi is exocentric, so that the compound is not a hyponym of its head...
compound meaning "
mosquito
Mosquito
Mosquitoes are members of a family of nematocerid flies: the Culicidae . The word Mosquito is from the Spanish and Portuguese for little fly...
". The first 'o' changing into 'a' may be due to influence from the place name
Canopus, Egypt
Canopus, Egypt
Canopus was an Ancient Egyptian coastal town, located in the Nile Delta. Its site is in the eastern outskirts of modern-day Alexandria, around 25 kilometres from the centre of that city....
thought of as a place of luxuries.
Architectural canopies include projections giving protection from the weather, or merely decoration. Such canopies are supported by the building to which they are attached and often also by a ground mounting provided by not less than two
stanchion
Stanchion
A stanchion is an upright bar or post, often providing support for some other object.* An architectural term applied to the upright iron bars in windows that pass through the eyes of the saddle bars or horizontal irons to steady the leadlight. A stanchion is an upright bar or post, often...
s, or upright support posts.
Canopies can also stand alone, such as a fabric covered
gazebo
Gazebo
A gazebo is a pavilion structure, sometimes octagonal, that may be built, in parks, gardens, and spacious public areas. Gazebos are freestanding or attached to a garden wall, roofed, and open on all sides; they provide shade, shelter, ornamental features in a landscape, and a place to rest...
or
cabana
Cabana (structure)
A cabana or cabaña is a structure of either of these types: an 'indigenous hut' or a 'recreational structure'.-Indigenous hut:A small hut built with a thatched roof, most commonly built in tropical climates near natural bodies of water....
. Fabric canopies can meet various design needs. Many modern fabrics are long-lasting, bright, easily cleaned, strong and flame-retardant. Modern frame materials offer high strength-to-weight ratios and corrosion resistance. The proper combination of these properties can result in safe, strong, economical and attractive products.