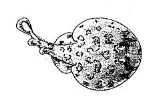 Narcinidae
The
numbfishes
are a group of
electric ray
Electric ray
The electric rays are a group of rays, flattened cartilaginous fish with enlarged pectoral fins, comprising the order Torpediniformes. They are known for being capable of producing an electric discharge, ranging from as little as 8 volts up to 220 volts depending on species, used to stun prey and...
s (order Torpediniformes) in the family
Narcinidae
. They are bottom-dwelling cartilaginous fishes with large, rounded pectoral fin discs and long tails. They can produce an
electric discharge
Electric discharge
Electric discharge describes any flow of electric charge through a gas, liquid or solid. Electric discharges include:*Electric glow discharge*Electric arc*Electrostatic discharge*Electric discharge in gases*Leader *Partial discharge...
for defense, from which their scientific name is derived (
Greek
Greek language
Greek is an independent branch of the Indo-European family of languages. Native to the southern Balkans, it has the longest documented history of any Indo-European language, spanning 34 centuries of written records. Its writing system has been the Greek alphabet for the majority of its history;...
narke
, meaning "paralysis").
Members of this family are commonly known as the numbfishes, and are found almost worldwide in warm temperate and tropical continental and continental insular waters. They are strictly marine and are absent from
river
River
A river is a natural watercourse, usually freshwater, flowing towards an ocean, a lake, a sea, or another river. In a few cases, a river simply flows into the ground or dries up completely before reaching another body of water. Small rivers may also be called by several other names, including...
s and
lake
Lake
A lake is a body of relatively still fresh or salt water of considerable size, localized in a basin, that is surrounded by land. Lakes are inland and not part of the ocean and therefore are distinct from lagoons, and are larger and deeper than ponds. Lakes can be contrasted with rivers or streams,...
s. They occur in
sand
Sand
Sand is a naturally occurring granular material composed of finely divided rock and mineral particles.The composition of sand is highly variable, depending on the local rock sources and conditions, but the most common constituent of sand in inland continental settings and non-tropical coastal...
y
beach
Beach
A beach is a geological landform along the shoreline of an ocean, sea, lake or river. It usually consists of loose particles which are often composed of rock, such as sand, gravel, shingle, pebbles or cobblestones...
es, muddy enclosed
bay
Bay
A bay is an area of water mostly surrounded by land. Bays generally have calmer waters than the surrounding sea, due to the surrounding land blocking some waves and often reducing winds. Bays also exist as an inlet in a lake or pond. A large bay may be called a gulf, a sea, a sound, or a bight...
s, estuaries, off
coral reef
Coral reef
Coral reefs are underwater structures made from calcium carbonate secreted by corals. Coral reefs are colonies of tiny living animals found in marine waters that contain few nutrients. Most coral reefs are built from stony corals, which in turn consist of polyps that cluster in groups. The polyps...
s and river mouths, and on the upper continental slope to a depth of 1,071 meters.
Description
Small to medium-sized rays, adult numbfishes range from 15 to 66 cm long, though most are less than 50 cm. They have oval, rounded, or
shovel
Shovel
A shovel is a tool for digging, lifting, and moving bulk materials, such as soil, coal, gravel, snow, sand, or ore. Shovels are extremely common tools that are used extensively in agriculture, construction, and gardening....
-shaped pectoral discs and stout tails of equal or longer length. The snout is moderately elongated, rounded or rounded-angular, differing from the narkids in being supported by broad rostral
cartilage
Cartilage
Cartilage is a flexible connective tissue found in many areas in the bodies of humans and other animals, including the joints between bones, the rib cage, the ear, the nose, the elbow, the knee, the ankle, the bronchial tubes and the intervertebral discs...
s. The mouth is straight, with stout, elongated, and highly protrusible jaws and a prominent groove around its periphery. The
nostril
Nostril
A nostril is one of the two channels of the nose, from the point where they bifurcate to the external opening. In birds and mammals, they contain branched bones or cartilages called turbinates, whose function is to warm air on inhalation and remove moisture on exhalation...
s are just forward of the mouth and connected to it by a broad groove; the nasal flaps are short but merged into a broad nasal curtain that overlaps the mouth. The teeth are small have a single moderate cusp; the teeth and tooth bands are exposed when the mouth is closed (except in
Diplobatis
). There are two prominent
dorsal fin
Dorsal fin
A dorsal fin is a fin located on the backs of various unrelated marine and freshwater vertebrates, including most fishes, marine mammals , and the ichthyosaurs...
s of roughly equal size, and a large caudal fin.
Numbfishes vary in color from whitish, yellowish, brownish, grey-brown, greenish, reddish, or black above, either plain or with small to large spots, blotches, bars or lines, sometimes forming complex eye-shaped spots or ocelli on the pectoral fins. They are usually white underneath, or black in deep-water species. The large,
kidney
Kidney
The kidneys, organs with several functions, serve essential regulatory roles in most animals, including vertebrates and some invertebrates. They are essential in the urinary system and also serve homeostatic functions such as the regulation of electrolytes, maintenance of acid–base balance, and...
-shaped electric organs are at the base of the pectoral fins and visible through the skin.
Biology and ecology
Numbfishes are slow-swimming bottom-dwellers that feed on small
fish
Fish
Fish are a paraphyletic group of organisms that consist of all gill-bearing aquatic vertebrate animals that lack limbs with digits. Included in this definition are the living hagfish, lampreys, and cartilaginous and bony fish, as well as various extinct related groups...
es and
invertebrate
Invertebrate
An invertebrate is an animal without a backbone. The group includes 97% of all animal species – all animals except those in the chordate subphylum Vertebrata .Invertebrates form a paraphyletic group...
s off the bottom; their protrusible jaws aid in removing prey from the substrate. They can generate a moderate shock if disturbed and contact is made with the electric organs; the electrical discharges of narcinids have been measured at 8-37
volt
Volt
The volt is the SI derived unit for electric potential, electric potential difference, and electromotive force. The volt is named in honor of the Italian physicist Alessandro Volta , who invented the voltaic pile, possibly the first chemical battery.- Definition :A single volt is defined as the...
s, much less than the electric rays of the genus
Torpedo
Torpedo (genus)
Torpedo is a genus of rays, commonly known as electric rays, torpedo rays, or torpedoes. It is the sole genus of the family Torpedinidae. They are slow-moving bottom-dwellers capable of generating electricity as a defense and feeding mechanism...
. All species are ovoviviparous, with eggs hatching inside the mother.
Species