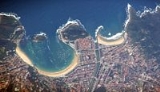 Bay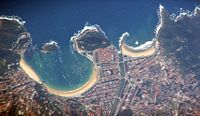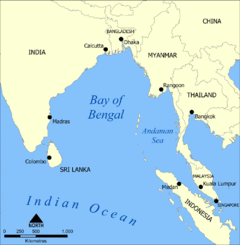 A
bay
is an area of
water
Water
Water is a chemical substance with the chemical formula H2O. A water molecule contains one oxygen and two hydrogen atoms connected by covalent bonds. Water is a liquid at ambient conditions, but it often co-exists on Earth with its solid state, ice, and gaseous state . Water also exists in a...
mostly surrounded by land. Bays generally have calmer waters than the surrounding sea, due to the surrounding land blocking some
waves
Ocean surface wave
In fluid dynamics, wind waves or, more precisely, wind-generated waves are surface waves that occur on the free surface of oceans, seas, lakes, rivers, and canals or even on small puddles and ponds. They usually result from the wind blowing over a vast enough stretch of fluid surface. Waves in the...
and often reducing
winds
WINDS
WINDS , is a Japanese communication satellite. Launch was originally scheduled for 2007. The launch date was eventually set for 15 February 2008, however a problem detected in a second stage manoeuvring thruster delayed it to 23 February...
. Bays also exist as an inlet in a
lake
Lake
A lake is a body of relatively still fresh or salt water of considerable size, localized in a basin, that is surrounded by land. Lakes are inland and not part of the ocean and therefore are distinct from lagoons, and are larger and deeper than ponds. Lakes can be contrasted with rivers or streams,...
or
pond
Pond
A pond is a body of standing water, either natural or man-made, that is usually smaller than a lake. A wide variety of man-made bodies of water are classified as ponds, including water gardens, water features and koi ponds; all designed for aesthetic ornamentation as landscape or architectural...
. A large bay may be called a
gulf
, a
sea
Sea
A sea generally refers to a large body of salt water, but the term is used in other contexts as well. Most commonly, it means a large expanse of saline water connected with an ocean, and is commonly used as a synonym for ocean...
, a
sound
Sound (geography)
In geography a sound or seaway is a large sea or ocean inlet larger than a bay, deeper than a bight and wider than a fjord; or it may be defined as a narrow sea or ocean channel between two bodies of land ....
, or a
bight
Bight (geography)
In geography, bight has two meanings. A bight can be simply a bend or curve in any geographical feature—usually a bend or curve in the line between land and water....
. A
cove
Cove
A cove is a small type of bay or coastal inlet. They usually have narrow, restricted entrances, are often circular or oval, and are often inside a larger bay. Small, narrow, sheltered bays, inlets, creeks, or recesses in a coast are often considered coves...
is a circular or
oval
Oval
An oval is any curve resembling an egg or an ellipse, such as a Cassini oval. The term does not have a precise mathematical definition except in one area oval , but it may also refer to:* A sporting arena of oval shape** a cricket field...
coast
Coast
A coastline or seashore is the area where land meets the sea or ocean. A precise line that can be called a coastline cannot be determined due to the dynamic nature of tides. The term "coastal zone" can be used instead, which is a spatial zone where interaction of the sea and land processes occurs...
al
inlet
Inlet
An inlet is a narrow body of water between islands or leading inland from a larger body of water, often leading to an enclosed body of water, such as a sound, bay, lagoon or marsh. In sea coasts an inlet usually refers to the actual connection between a bay and the ocean and is often called an...
with a narrow entrance; some coves may be referred to as bays.
Bays were significant in the history of human settlement because they can provide a safe place for
fishing
Fishing
Fishing is the activity of trying to catch wild fish. Fish are normally caught in the wild. Techniques for catching fish include hand gathering, spearing, netting, angling and trapping....
. Later they were important in the development of sea
trade
Trade
Trade is the transfer of ownership of goods and services from one person or entity to another. Trade is sometimes loosely called commerce or financial transaction or barter. A network that allows trade is called a market. The original form of trade was barter, the direct exchange of goods and...
as the safe
anchorage
Anchor
An anchor is a device, normally made of metal, that is used to connect a vessel to the bed of a body of water to prevent the vessel from drifting due to wind or current. The word derives from Latin ancora, which itself comes from the Greek ἄγκυρα .Anchors can either be temporary or permanent...
they provide encouraged their selection as
port
Port
A port is a location on a coast or shore containing one or more harbors where ships can dock and transfer people or cargo to or from land....
s. Any bay may contain
fish
Fish
Fish are a paraphyletic group of organisms that consist of all gill-bearing aquatic vertebrate animals that lack limbs with digits. Included in this definition are the living hagfish, lampreys, and cartilaginous and bony fish, as well as various extinct related groups...
and other sea creatures or be adjacent to other bays. For example,
James Bay
James Bay
James Bay is a large body of water on the southern end of Hudson Bay in Canada. Both bodies of water extend from the Arctic Ocean. James Bay borders the provinces of Quebec and Ontario; islands within the bay are part of Nunavut...
is adjacent to
Hudson Bay
Hudson Bay
Hudson Bay , sometimes called Hudson's Bay, is a large body of saltwater in northeastern Canada. It drains a very large area, about , that includes parts of Ontario, Quebec, Saskatchewan, Alberta, most of Manitoba, southeastern Nunavut, as well as parts of North Dakota, South Dakota, Minnesota,...
. Large bays, such as the
Bay of Bengal
Bay of Bengal
The Bay of Bengal , the largest bay in the world, forms the northeastern part of the Indian Ocean. It resembles a triangle in shape, and is bordered mostly by the Eastern Coast of India, southern coast of Bangladesh and Sri Lanka to the west and Burma and the Andaman and Nicobar Islands to the...
and the Hudson Bay, have varied
marine geology
Marine geology
Marine geology or geological oceanography involves geophysical, geochemical, sedimentological and paleontological investigations of the ocean floor and coastal margins...
.
Formation
There are various ways that bays can be created. The largest bays have developed as a result of
continental drift
Continental drift
Continental drift is the movement of the Earth's continents relative to each other. The hypothesis that continents 'drift' was first put forward by Abraham Ortelius in 1596 and was fully developed by Alfred Wegener in 1912...
. As the super-continent
Gondwana
Gondwana
In paleogeography, Gondwana , originally Gondwanaland, was the southernmost of two supercontinents that later became parts of the Pangaea supercontinent. It existed from approximately 510 to 180 million years ago . Gondwana is believed to have sutured between ca. 570 and 510 Mya,...
broke up along curved and indented fault lines, the continents moved apart and the world's largest bays formed. These include the
Gulf of Guinea
Gulf of Guinea
The Gulf of Guinea is the northeasternmost part of the tropical Atlantic Ocean between Cape Lopez in Gabon, north and west to Cape Palmas in Liberia. The intersection of the Equator and Prime Meridian is in the gulf....
,
Persian Gulf
Persian Gulf
The Persian Gulf, in Southwest Asia, is an extension of the Indian Ocean located between Iran and the Arabian Peninsula.The Persian Gulf was the focus of the 1980–1988 Iran-Iraq War, in which each side attacked the other's oil tankers...
,
Gulf of Alaska
Gulf of Alaska
The Gulf of Alaska is an arm of the Pacific Ocean defined by the curve of the southern coast of Alaska, stretching from the Alaska Peninsula and Kodiak Island in the west to the Alexander Archipelago in the east, where Glacier Bay and the Inside Passage are found.The entire shoreline of the Gulf is...
,
Gulf of Mexico
Gulf of Mexico
The Gulf of Mexico is a partially landlocked ocean basin largely surrounded by the North American continent and the island of Cuba. It is bounded on the northeast, north and northwest by the Gulf Coast of the United States, on the southwest and south by Mexico, and on the southeast by Cuba. In...
and the
Bay of Bengal
Bay of Bengal
The Bay of Bengal , the largest bay in the world, forms the northeastern part of the Indian Ocean. It resembles a triangle in shape, and is bordered mostly by the Eastern Coast of India, southern coast of Bangladesh and Sri Lanka to the west and Burma and the Andaman and Nicobar Islands to the...
which is the largest bay in the world.
Another way bays are formed is via glacial and river erosion. If formed by glaciers a bay is known as a
fjord
Fjord
Geologically, a fjord is a long, narrow inlet with steep sides or cliffs, created in a valley carved by glacial activity.-Formation:A fjord is formed when a glacier cuts a U-shaped valley by abrasion of the surrounding bedrock. Glacial melting is accompanied by rebound of Earth's crust as the ice...
.
Ria

Ria

A ria is a coastal inlet formed by the partial submergence of an unglaciated river valley. It is a drowned river valley that remains open to the sea. Typically, rias have a dendritic, treelike outline although they can be straight and without significant branches. This pattern is inherited from the...


s
are created by rivers and are characterised by more gradual slopes. Most gulf and bays are formed by the
folding
Fold (geology)
The term fold is used in geology when one or a stack of originally flat and planar surfaces, such as sedimentary strata, are bent or curved as a result of permanent deformation. Synsedimentary folds are those due to slumping of sedimentary material before it is lithified. Folds in rocks vary in...
of the earth's
crust
Crust (geology)
In geology, the crust is the outermost solid shell of a rocky planet or natural satellite, which is chemically distinct from the underlying mantle...
as well as coastal erosion due to waves and
currents
Current (stream)
A current, in a river or stream, is the flow of water influenced by gravity as the water moves downhill to reduce its potential energy. The current varies spatially as well as temporally within the stream, dependent upon the flow volume of water, stream gradient, and channel geometrics...
. Currents can make waves more constant, while soft rocks will allow erosion to have a stronger effect. Any hard rock is eroded less quickly, leaving
headland
Headland
A headland is a point of land, usually high and often with a sheer drop, that extends out into a body of water.Headland can also refer to:*Headlands and bays*headLand, an Australian television series...
s. The
Gulf of California
Gulf of California
The Gulf of California is a body of water that separates the Baja California Peninsula from the Mexican mainland...
is an example of a bay created by the geological process of folding.