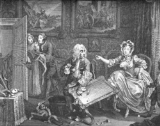 Mistress (lover)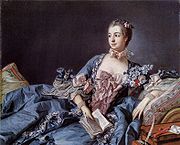 A
mistress
is a long-term female lover and companion who is not
married
Marriage
Marriage is a social union or legal contract between people that creates kinship. It is an institution in which interpersonal relationships, usually intimate and sexual, are acknowledged in a variety of ways, depending on the culture or subculture in which it is found...
to her partner; the term is used especially when her partner is married. The relationship generally is stable and at least semi-permanent; however, the couple does not live together openly. Also the relationship is usually, but not always, secret. There is an implication that a mistress may be "kept"—i.e., that the lover is paying for some of the woman's living expenses.
Definition
Historically, the term has denoted a "kept woman", who was maintained in a comfortable (or even lavish) lifestyle by a wealthy man so that she will be available for his sexual pleasure. Such a woman could move between the roles of a mistress and a
courtesan
Courtesan
A courtesan was originally a female courtier, which means a person who attends the court of a monarch or other powerful person.In feudal society, the court was the centre of government as well as the residence of the monarch, and social and political life were often completely mixed together...
depending on her situation and environment. In modern times, however, the word "mistress" is used primarily to refer to the female lover of a man who is married to another woman; in the case of an unmarried man, it is usual to speak of a "
girlfriend
Girlfriend
Girlfriend is a term that can refer to either a female partner in a non-marital romantic relationship or a female non-romantic friend that is closer than other friends....
" or "partner." Historically, a man "kept" a mistress. As the term implies, he was responsible for her debts and provided for her in much the same way as he did his wife, although not legally bound to do so. In more recent times, it is more likely that the mistress has a job of her own, and is less, if at all, financially dependent on the man.
A mistress is not a prostitute: while a mistress, if "kept", may essentially be exchanging sex for money, the principal difference is that a mistress keeps herself exclusively reserved for one man, in much the same way as a wife, and there is not so much of a direct
quid pro quo
Quid pro quo
Quid pro quo most often means a more-or-less equal exchange or substitution of goods or services. English speakers often use the term to mean "a favour for a favour" and the phrases with almost identical meaning include: "give and take", "tit for tat", "this for that", and "you scratch my back,...
between the money and the sex act. There is usually an emotional and possibly social relationship between a man and his mistress, whereas the relationship to a prostitute is predominantly sexual. It is also important that the "kept" status follows the establishment of a relationship of indefinite term as opposed to the agreement on price and terms established prior to any activity with a prostitute.
History
The historically best known and most-researched mistresses are the
royal mistress
Royal mistress
A royal mistress is the historical position of a mistress to a monarch or senior Royal. Some mistresses have had considerable power. The prevalence of the institution can be attributed to the fact that royal marriages were until recent times conducted solely on the basis of political and dynastic...
es of European
monarch
Monarch
A monarch is the person who heads a monarchy. This is a form of government in which a state or polity is ruled or controlled by an individual who typically inherits the throne by birth and occasionally rules for life or until abdication...
s, for example,
Agnes Sorel
Agnès Sorel
Agnès Sorel , known by the sobriquet Dame de beauté, was a favourite mistress of King Charles VII of France, for whom she bore three daughters....
,
Diane de Poitiers
Diane de Poitiers
Diane de Poitiers was a French noblewoman and a prominent courtier at the courts of kings Francis I and his son, Henry II of France. She became notorious as the latter's favourite mistress...
, Barbara Villiers,
Nell Gwyn
Nell Gwyn
Eleanor "Nell" Gwyn was a long-time mistress of King Charles II of England. Called "pretty, witty Nell" by Samuel Pepys, she has been regarded as a living embodiment of the spirit of Restoration England and has come to be considered a folk heroine, with a story echoing the rags-to-royalty tale of...
and
Madame de Pompadour
Madame de Pompadour
Jeanne Antoinette Poisson, Marquise de Pompadour, also known as Madame de Pompadour was a member of the French court, and was the official chief mistress of Louis XV from 1745 to her death.-Biography:...
. The keeping of a mistress in Europe was not confined to
royalty
Royal family
A royal family is the extended family of a king or queen regnant. The term imperial family appropriately describes the extended family of an emperor or empress, while the terms "ducal family", "grand ducal family" or "princely family" are more appropriate to describe the relatives of a reigning...
and
nobility
Nobility
Nobility is a social class which possesses more acknowledged privileges or eminence than members of most other classes in a society, membership therein typically being hereditary. The privileges associated with nobility may constitute substantial advantages over or relative to non-nobles, or may be...
but permeated down through the social ranks, essentially to any man who could afford to do so. Any man who could afford a mistress could have one (or more), regardless of social position. A wealthy
merchant
Merchant
A merchant is a businessperson who trades in commodities that were produced by others, in order to earn a profit.Merchants can be one of two types:# A wholesale merchant operates in the chain between producer and retail merchant...
or a young noble might have a kept woman. Being a mistress was typically an occupation for a younger woman who, if she were fortunate, might go on to marry her lover or another man of rank. The ballad "
The Three Ravens
The Three Ravens
"The Three Ravens" is an English folk ballad, printed in the song book Melismata compiled by Thomas Ravenscroft and published in 1611, but it is perhaps older than that. More recent versions were recorded right up through the 19th century. Francis James Child recorded several versions in his...
" (published in 1611, but possibly older) extolls the loyal mistress of a slain
knight
Knight
A knight was a member of a class of lower nobility in the High Middle Ages.By the Late Middle Ages, the rank had become associated with the ideals of chivalry, a code of conduct for the perfect courtly Christian warrior....
, who buries her dead lover and then dies of the exertion, as she was in an advanced stage of pregnancy. It is noteworthy that the ballad-maker assigned this role to the knight's mistress ("leman" was the term common at the time) rather than to his wife.
In the
courts
Royal court
Royal court, as distinguished from a court of law, may refer to:* The Royal Court , Timbaland's production company*Court , the household and entourage of a monarch or other ruler, the princely court...
of Europe, particularly
Versailles
Versailles
Versailles , a city renowned for its château, the Palace of Versailles, was the de facto capital of the kingdom of France for over a century, from 1682 to 1789. It is now a wealthy suburb of Paris and remains an important administrative and judicial centre...
and
Whitehall
Whitehall
Whitehall is a road in Westminster, in London, England. It is the main artery running north from Parliament Square, towards Charing Cross at the southern end of Trafalgar Square...
in the 17th and 18th centuries, a mistress often wielded great power and influence. A king might have numerous mistresses but have a single "favourite mistress" or "official mistress" (in French, "maîtresse en titre"), as with
Louis XV
Louis XV of France
Louis XV was a Bourbon monarch who ruled as King of France and of Navarre from 1 September 1715 until his death. He succeeded his great-grandfather at the age of five, his first cousin Philippe II, Duke of Orléans, served as Regent of the kingdom until Louis's majority in 1723...
and
Madame de Pompadour
Madame de Pompadour
Jeanne Antoinette Poisson, Marquise de Pompadour, also known as Madame de Pompadour was a member of the French court, and was the official chief mistress of Louis XV from 1745 to her death.-Biography:...
. The mistresses of both
Louis XV
Louis XV of France
Louis XV was a Bourbon monarch who ruled as King of France and of Navarre from 1 September 1715 until his death. He succeeded his great-grandfather at the age of five, his first cousin Philippe II, Duke of Orléans, served as Regent of the kingdom until Louis's majority in 1723...
(especially
Madame de Pompadour
Madame de Pompadour
Jeanne Antoinette Poisson, Marquise de Pompadour, also known as Madame de Pompadour was a member of the French court, and was the official chief mistress of Louis XV from 1745 to her death.-Biography:...
) and
Charles II
Charles II of England
Charles II was monarch of the three kingdoms of England, Scotland, and Ireland.Charles II's father, King Charles I, was executed at Whitehall on 30 January 1649, at the climax of the English Civil War...
were often considered to exert great influence over their lovers, the relationships being
open secrets
Open secret
An open secret is a concept or idea that is "officially" secret or restricted in knowledge, but is actually widely known; or refers to something which is widely known to be true, but which none of the people most intimately concerned are willing to categorically acknowledge in public.Examples of...
. Other than wealthy merchants and kings, Alexander VI is but one example of a
Pope
Pope
The Pope is the Bishop of Rome, a position that makes him the leader of the worldwide Catholic Church . In the Catholic Church, the Pope is regarded as the successor of Saint Peter, the Apostle...
who kept mistresses, in violation of the
celibacy
Celibacy
Celibacy is a personal commitment to avoiding sexual relations, in particular a vow from marriage. Typically celibacy involves avoiding all romantic relationships of any kind. An individual may choose celibacy for religious reasons, such as is the case for priests in some religions, for reasons of...
vows required of clergy by the Catholic church. While the extremely wealthy might keep a mistress for life (as George II of England did with "
Mrs Howard
Henrietta Howard, Countess of Suffolk
Henrietta Howard was a mistress of King George II of Great Britain.She was the daughter of Sir Henry Hobart, 4th Baronet, a Norfolk landowner who was killed in a duel when Henrietta was aged eight...
", even after they were no longer romantically linked), such was not the case for most kept women. In 1736, when George II was newly ascendant,
Henry Fielding
Henry Fielding
Henry Fielding was an English novelist and dramatist known for his rich earthy humour and satirical prowess, and as the author of the novel Tom Jones....
(in
Pasquin
) has his Lord Place say, "…but, miss, every one now keeps and is kept; there are no such things as marriages now-a-days, unless merely Smithfield contracts, and that for the support of families; but then the husband and wife both take into keeping within a fortnight."
Occasionally the mistress is in a superior position both financially and socially to her lover. As a widow, Catherine the Great was known to have been involved with several successive men during her reign; but, like many powerful women of her era, in spite of being a widow free to marry, she chose not to share her power with a husband, preferring to maintain absolute power alone. In literature,
D. H. Lawrence
D. H. Lawrence
David Herbert Richards Lawrence was an English novelist, poet, playwright, essayist, literary critic and painter who published as D. H. Lawrence. His collected works represent an extended reflection upon the dehumanising effects of modernity and industrialisation...
's work
Lady Chatterley's Lover
Lady Chatterley's Lover
Lady Chatterley's Lover is a novel by D. H. Lawrence, first published in 1928. The first edition was printed privately in Florence, Italy with assistance from Pino Orioli; it could not be published openly in the United Kingdom until 1960...
portrays a situation where a woman becomes the mistress of her husband's
gamekeeper
Gamekeeper
A gamekeeper is a person who manages an area of countryside to make sure there is enough game for shooting, or fish for angling, and who actively manages areas of woodland, moorland, waterway or farmland for the benefit of game birds, deer, fish and wildlife in general.Typically, a gamekeeper is...
. Until recently, a woman's taking a socially inferior lover was considered much more shocking than the reverse situation.
20th century
During the 20th century, as many women became better educated and more able to support themselves, fewer women found satisfaction in the position of being a mistress and were more likely to pursue relationships with unmarried men. As divorce became more socially acceptable, it was easier for men to divorce their wives and marry the women who, in earlier eras, would have been their mistresses. The practice of having a mistress continued among some married men, especially the wealthy. In Europe, for example, many cultures continued to acknowledge and condone the practice of men keeping mistresses. Occasionally, men married their mistresses. The late Sir
James Goldsmith
James Goldsmith
Sir James Michael "Jimmy" Goldsmith was an Anglo-French billionaire financier and tycoon. Towards the end of his life, he became a magazine publisher and a politician. In 1994, he was elected to represent France as a Member of the European Parliament and he subsequently founded the short-lived...
, on marrying his mistress, Lady
Annabel Birley
Lady Annabel Goldsmith
Lady Annabel Goldsmith is a British socialite and the eponym for a celebrated London nightclub of the late 20th century, Annabel's. She was first married for two decades to entrepreneur Mark Birley, the creator of Annabel's, which she helped make a glamorous success as her husband's inaugural...
, declared, "When you marry your mistress, you create a job vacancy."
Male equivalent
There is no specific word in English for a "male mistress", a man in the same relationship to a woman as a mistress is to a man, except for the more general term "lover", which does not carry the same implications. "Paramour" is sometimes used, but this term can apply to either partner in an illicit relationship, so it is not exclusively male. In 18th- and 19th-century
Venice
Venice
Venice is a city in northern Italy which is renowned for the beauty of its setting, its architecture and its artworks. It is the capital of the Veneto region...
, the terms
cicisbeo
Cicisbeo
In 18th- and 19th-century Italy, the cicisbeo , or Cavalier Servente, was the professed gallant and lover of a married woman, who attended her at public entertainments, to church and other occasions and had privileged access to his mistress. The arrangement is comparable to the Spanish cortejo or...
and
cavalier servente
were used to describe a man who was the professed gallant and lover of a married woman. Another word that has been used for a male mistress is
gigolo
Gigolo
Gigolo may refer to:* A male prostitute, escort, or dancer, who offers services to women* Gigolo , a 2006 single by Helena Paparizou* Gigolo , a 2003 single by Nick Cannon...
, though this carries connotations of payment and
prostitution
Prostitution
Prostitution is the act or practice of providing sexual services to another person in return for payment. The person who receives payment for sexual services is called a prostitute and the person who receives such services is known by a multitude of terms, including a "john". Prostitution is one of...
. Since the late 20th century, the terms "Pool boy," "Fitness trainer" or "Tennis instructor," were each used to designated males in the role, with the implication of lower social and financial relationship to the married woman.
In literature
In both
John Cleland
John Cleland
John Cleland was an English novelist most famous and infamous as the author of Fanny Hill: or, the Memoirs of a Woman of Pleasure....
's
Fanny Hill
Fanny Hill
Memoirs of a Woman of Pleasure is an erotic novel by John Cleland first published in England in 1748...
and
Daniel Defoe
Daniel Defoe
Daniel Defoe , born Daniel Foe, was an English trader, writer, journalist, and pamphleteer, who gained fame for his novel Robinson Crusoe. Defoe is notable for being one of the earliest proponents of the novel, as he helped to popularise the form in Britain and along with others such as Richardson,...
's
Moll Flanders
Moll Flanders
The Fortunes and Misfortunes of the Famous Moll Flanders is a novel written by Daniel Defoe in 1722, after his work as a journalist and pamphleteer. By 1722, Defoe had become a recognised novelist, with the success of Robinson Crusoe in 1719...
, as well as in countless novels of feminine peril, the distinction between a "kept woman" and a prostitute is all-important. Apologists for the practice of mistresses referred to the practice in the ancient
Near East
Near East
The Near East is a geographical term that covers different countries for geographers, archeologists, and historians, on the one hand, and for political scientists, economists, and journalists, on the other...
of keeping a concubine; they frequently quoted verses from the
Old Testament
Old Testament
The Old Testament, of which Christians hold different views, is a Christian term for the religious writings of ancient Israel held sacred and inspired by Christians which overlaps with the 24-book canon of the Masoretic Text of Judaism...
to show that mistress-keeping was an ancient practice that was, if not acceptable, at least understandable.
John Dryden
John Dryden
John Dryden was an influential English poet, literary critic, translator, and playwright who dominated the literary life of Restoration England to such a point that the period came to be known in literary circles as the Age of Dryden.Walter Scott called him "Glorious John." He was made Poet...
, in
Annus Mirabilis

Annus mirabilis

Annus mirabilis is a Latin phrase meaning "wonderful year" or "year of wonders" . It was used originally to refer to the year 1666, but is today also used to refer to different years with events of major importance...


,
suggested that the king's keeping of mistresses and production of bastards was a result of his abundance of generosity and spirit. In its more sinister form, the theme of being "kept" is never far from the surface in novels about women as victims in the 18th century in
England
England
England is a country that is part of the United Kingdom. It shares land borders with Scotland to the north and Wales to the west; the Irish Sea is to the north west, the Celtic Sea to the south west, with the North Sea to the east and the English Channel to the south separating it from continental...
, whether in the novels of
Eliza Haywood
Eliza Haywood
Eliza Haywood , born Elizabeth Fowler, was an English writer, actress and publisher. Since the 1980s, Eliza Haywood's literary works have been gaining in recognition and interest...
or
Samuel Richardson
Samuel Richardson
Samuel Richardson was an 18th-century English writer and printer. He is best known for his three epistolary novels: Pamela: Or, Virtue Rewarded , Clarissa: Or the History of a Young Lady and The History of Sir Charles Grandison...
(whose heroines in
Pamela
and
Clarissa
Clarissa
Clarissa, or, the History of a Young Lady is an epistolary novel by Samuel Richardson, published in 1748. It tells the tragic story of a heroine whose quest for virtue is continually thwarted by her family, and is the longest real novelA completed work that has been released by a publisher in...
are both put in a position of being threatened with sexual degradation and being reduced to the status of a kept object).
With the
Romantics
Romanticism
Romanticism was an artistic, literary and intellectual movement that originated in the second half of the 18th century in Europe, and gained strength in reaction to the Industrial Revolution...
of the early 19th century, the subject of "keeping" becomes more problematic, in that a non-marital sexual union can occasionally be celebrated as a woman's free choice and a noble alternative. Maryann Evans (better known as
George Eliot
George Eliot
Mary Anne Evans , better known by her pen name George Eliot, was an English novelist, journalist and translator, and one of the leading writers of the Victorian era...
) defiantly lived "in sin" with a married man, partially as a sign of her independence of middle-class morality. Her independence required that she not be "kept."
Charlotte Brontë
Charlotte Brontë
Charlotte Brontë was an English novelist and poet, the eldest of the three Brontë sisters who survived into adulthood, whose novels are English literature standards...
's novel
Jane Eyre
Jane Eyre
Jane Eyre is a novel by English writer Charlotte Brontë. It was published in London, England, in 1847 by Smith, Elder & Co. with the title Jane Eyre. An Autobiography under the pen name "Currer Bell." The first American edition was released the following year by Harper & Brothers of New York...
(1848) presents impassioned arguments on both sides of this question, as Rochester, unable to be free of his insane wife, tries to persuade Jane Eyre to live with him, which she resists.
See also
External links