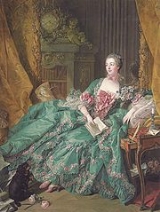 Madame de Pompadour
Jeanne Antoinette Poisson, Marquise de Pompadour
, also known as
Madame de Pompadour
(29 December 1721 – 15 April 1764, pɔ̃.pa.duːʁ) was a member of the French court, and was the official
chief mistress
Maîtresse-en-titre
The maîtresse-en-titre was the chief mistress of the king of France. It was a semi-official position which came with its own apartments. The title really came into use during the reign of Henry IV and continued until the reign of Louis XV....
of Louis XV from 1745 to her death.
Jeanne Antoinette Poisson, otherwise known as Reinette to her friends, was born on 29 December 1721 in Paris to François Poisson and his wife Madeleine de La Motte.
Après nous, le déluge.

After us, the deluge. I care not what happens when I am dead and gone.