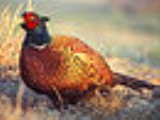 Gamekeeper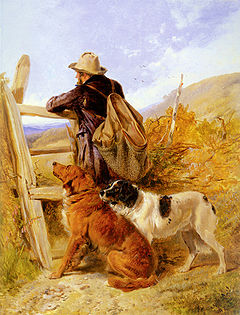 A
gamekeeper
(often abbreviated to
keeper
) is a person who manages an area of countryside to make sure there is enough
game
Game (food)
Game is any animal hunted for food or not normally domesticated. Game animals are also hunted for sport.The type and range of animals hunted for food varies in different parts of the world. This will be influenced by climate, animal diversity, local taste and locally accepted view about what can or...
for shooting, or fish for angling, and who actively manages areas of
woodland
Woodland
Ecologically, a woodland is a low-density forest forming open habitats with plenty of sunlight and limited shade. Woodlands may support an understory of shrubs and herbaceous plants including grasses. Woodland may form a transition to shrubland under drier conditions or during early stages of...
,
moorland
Moorland
Moorland or moor is a type of habitat, in the temperate grasslands, savannas, and shrublands biome, found in upland areas, characterised by low-growing vegetation on acidic soils and heavy fog...
,
waterway
Waterway
A waterway is any navigable body of water. Waterways can include rivers, lakes, seas, oceans, and canals. In order for a waterway to be navigable, it must meet several criteria:...
or farmland for the benefit of game birds,
deer
Deer
Deer are the ruminant mammals forming the family Cervidae. Species in the Cervidae family include white-tailed deer, elk, moose, red deer, reindeer, fallow deer, roe deer and chital. Male deer of all species and female reindeer grow and shed new antlers each year...
, fish and
wildlife
Wildlife
Wildlife includes all non-domesticated plants, animals and other organisms. Domesticating wild plant and animal species for human benefit has occurred many times all over the planet, and has a major impact on the environment, both positive and negative....
in general.
Typically, a gamekeeper is employed by a landowner, and often in the UK by a country
estate
Estate (house)
An estate comprises the houses and outbuildings and supporting farmland and woods that surround the gardens and grounds of a very large property, such as a country house or mansion. It is the modern term for a manor, but lacks the latter's now abolished jurisdictional authority...
, to prevent
poaching
Poaching
Poaching is the illegal taking of wild plants or animals contrary to local and international conservation and wildlife management laws. Violations of hunting laws and regulations are normally punishable by law and, collectively, such violations are known as poaching.It may be illegal and in...
, to rear and release game birds such as
pheasant
Common Pheasant
The Common Pheasant , is a bird in the pheasant family . It is native to Georgia and has been widely introduced elsewhere as a game bird. In parts of its range, namely in places where none of its relatives occur such as in Europe , it is simply known as the "pheasant"...
s and partridge,eradicate pests, encourage and manage wild red grouse, and to control predators such as
fox
Red Fox
The red fox is the largest of the true foxes, as well as being the most geographically spread member of the Carnivora, being distributed across the entire northern hemisphere from the Arctic Circle to North Africa, Central America, and the steppes of Asia...
es, to manage habitats to suit game, and to monitor the health of the game.
The United Kingdom
Today, some five thousand full-time gamekeepers are employed in the UK, compared to as many as 10,000 at the beginning of the 20th century. In addition, there are many people who spend their leisure time and money rearing game and maintaining habitats on their own small shoots. There are several variations in gamekeeping:
The
League Against Cruel Sports
League Against Cruel Sports
The League Against Cruel Sports are an animal welfare organisation that campaigns against all blood sports including bull fighting, fox hunting and hare coursing. It also campaigns to ban the manufacture, sale and use of snares, for the regulation of greyhound racing and for an end to commercial...
estimates some 12,300 wild mammals and birds are killed on UK shooting estates every day and sees gamekeepers as playing a key role in the destruction of wildlife. On the other hand, the shooting industry says that gamekeepers are vital
wildlife conservation
Wildlife conservation
Wildlife conservation is the preservation, protection, or restoration of wildlife and their environment, especially in relation to endangered and vulnerable species. All living non-domesticated animals, even if bred, hatched or born in captivity, are considered wild animals. Wildlife represents all...
workers in the countryside. The National Gamekeeper's Organisation (NGO) claims that nine times as much of the British countryside is looked after by gamekeepers as is in nature reserves and National Parks.
The
Royal Society for the Protection of Birds
Royal Society for the Protection of Birds
Bird Notes and News was first published in April 1903.The title changed to 'Bird Notes' in 1947. In the 1950s, there were four copies per year . Each volume covered two years, spread over three calendar years...
has criticised the poisoning of birds of prey on some shooting estates. This is probably the most controversial of all topics surrounding the gamekeeper. However, this is now much rarer than in its heyday, due to better knowledge of the
ecology
Ecology
Ecology is the scientific study of the relations that living organisms have with respect to each other and their natural environment. Variables of interest to ecologists include the composition, distribution, amount , number, and changing states of organisms within and among ecosystems...
of birds of prey, and cases are generally condemned by the shooting community.
Scottish Gamekeepers Association
In 1997, as a result of months of adverse media criticism of gamekeepers, the Scottish Gamekeepers Association (SGA) was formed with a goal of promoting the work of gamekeepers and developing training in the area of law and best practices in the field of game management. The SGA chairman is Alex Hogg, a gamekeeper from Scotland .
The National Gamekeepers Organisation
In the same year
http://www.nationalgamekeepers.org.uk
The National Gamekeepers Organisation (NGO)was set up for the same reasons and in addition they felt that the main shooting Association was not representing the keepers properly. The NGO now has some 15,000 members.
The NGO run industry based training for keepers and were the first organisation to react to EU legislation with regards to game meat hygiene producing a course for experienced keepers & stalkers which had approval from the Food Standard Agency.
The NGO continue to promote gamekeeping, stalking, shooting and fishing. Its chairman is Lindsay Waddell, a gamekeeper from
Co. Durham.
Training
Some colleges in the UK now offer courses in gamekeeping up to and including diploma level. One of these is the Northern School of Game and Wildlife at Newton Rigg,
Cumbria
Cumbria
Cumbria , is a non-metropolitan county in North West England. The county and Cumbria County Council, its local authority, came into existence in 1974 after the passage of the Local Government Act 1972. Cumbria's largest settlement and county town is Carlisle. It consists of six districts, and in...
,
England
England
England is a country that is part of the United Kingdom. It shares land borders with Scotland to the north and Wales to the west; the Irish Sea is to the north west, the Celtic Sea to the south west, with the North Sea to the east and the English Channel to the south separating it from continental...
.
Elmwood College
Elmwood College
Elmwood College is located in Cupar, Fife, Scotland. Elmwood College was officially declared open in 1972, after a few years of holding classes on borrowed premises. The college had started classes about twenty years earlier. There are full-time as well as part-time courses, work based courses, and...
in
Cupar
Cupar
Cupar is a town and former royal burgh in Fife, Scotland. The town is situated between Dundee and the New Town of Glenrothes.According to a recent population estimate , Cupar had a population around 8,980 making the town the ninth largest settlement in Fife.-History:The town is believed to have...
,
Fife
Fife
Fife is a council area and former county of Scotland. It is situated between the Firth of Tay and the Firth of Forth, with inland boundaries to Perth and Kinross and Clackmannanshire...
is
Scotland
Scotland
Scotland is a country that is part of the United Kingdom. Occupying the northern third of the island of Great Britain, it shares a border with England to the south and is bounded by the North Sea to the east, the Atlantic Ocean to the north and west, and the North Channel and Irish Sea to the...
's main gamekeeping college.
See also
In fiction
Alec Scudder in Maurice

Maurice (novel)

Maurice is a novel by E. M. Forster. A tale of homosexual love in early 20th century England, it follows Maurice Hall from his schooldays, through university and beyond. It was written from 1913 onwards...


by E. M. Forster

E. M. Forster

Edward Morgan Forster OM, CH was an English novelist, short story writer, essayist and librettist. He is known best for his ironic and well-plotted novels examining class difference and hypocrisy in early 20th-century British society...



Mellors in Lady Chatterley's Lover

Lady Chatterley's Lover

Lady Chatterley's Lover is a novel by D. H. Lawrence, first published in 1928. The first edition was printed privately in Florence, Italy with assistance from Pino Orioli; it could not be published openly in the United Kingdom until 1960...


by D. H. Lawrence

D. H. Lawrence

David Herbert Richards Lawrence was an English novelist, poet, playwright, essayist, literary critic and painter who published as D. H. Lawrence. His collected works represent an extended reflection upon the dehumanising effects of modernity and industrialisation...



Rubeus Hagrid

Rubeus Hagrid

Rubeus Hagrid is a fictional character in the Harry Potter book series written by J. K. Rowling. Hagrid is introduced in Harry Potter and the Philosopher's Stone as a half-giant who is the gamekeeper and Keeper of Keys and Grounds of Hogwarts, the primary setting for the first six novels...


in the Harry Potter

Harry Potter

Harry Potter is a series of seven fantasy novels written by the British author J. K. Rowling. The books chronicle the adventures of the adolescent wizard Harry Potter and his best friends Ron Weasley and Hermione Granger, all of whom are students at Hogwarts School of Witchcraft and Wizardry...


series
Tom Redruth in Treasure Island

Treasure Island

Treasure Island is an adventure novel by Scottish author Robert Louis Stevenson, narrating a tale of "pirates and buried gold". First published as a book on May 23, 1883, it was originally serialized in the children's magazine Young Folks between 1881–82 under the title Treasure Island; or, the...


by Robert Louis Stevenson

Robert Louis Stevenson

Robert Louis Balfour Stevenson was a Scottish novelist, poet, essayist and travel writer. His best-known books include Treasure Island, Kidnapped, and Strange Case of Dr Jekyll and Mr Hyde....



Phillip White in Lark Rise to Candleford

Lark Rise to Candleford (TV series)

Lark Rise to Candleford is a British television costume drama series, adapted by the BBC from Flora Thompson's trilogy of semi-autobiographical novels about the English countryside, published between 1939 and 1943. The first episode aired on 13 January 2008 on BBC One and BBC HD in the UK. In the...



Several characters past and present in the BBC Radio 4

BBC Radio 4

BBC Radio 4 is a British domestic radio station, operated and owned by the BBC, that broadcasts a wide variety of spoken-word programmes, including news, drama, comedy, science and history. It replaced the BBC Home Service in 1967. The station controller is currently Gwyneth Williams, and the...


e.g. Andrew Gach soap opera The Archers

The Archers

The Archers is a long-running British soap opera broadcast on the BBC's main spoken-word channel, Radio 4. It was originally billed as "an everyday story of country folk", but is now described on its Radio 4 web site as "contemporary drama in a rural setting"...



Joseph in Hautot and His Son by Guy de Maupassant

Guy de Maupassant

Henri René Albert Guy de Maupassant was a popular 19th-century French writer, considered one of the fathers of the modern short story and one of the form's finest exponents....



William Crowder in The Boscombe Valley Mystery"" by Sir Arthur Conan Doyle
The Gamekeeper by Barry Hines

Barry Hines

Melvin Barry Hines, FRSL is a British author who has written several popular novels and television scripts.-Early life:Born in the mining village of Hoyland Common near Barnsley, England, he attended Ecclesfield Grammar School and played football for the England Grammar Schools team...



External links