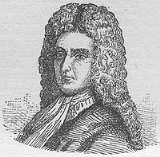 Daniel Defoe
Daniel Defoe (ˌdænjəl dɨˈfoʊ; ca. 1659–1661 to 24 April 1731), born Daniel Foe, was an English trader, writer, journalist, and
pamphleteer
Pamphleteer
A pamphleteer is a historical term for someone who creates or distributes pamphlets. Pamphlets were used to broadcast the writer's opinions on an issue, for example, in order to get people to vote for their favorite politician or to articulate a particular political ideology.A famous pamphleteer...
, who gained fame for his novel
Robinson Crusoe
Robinson Crusoe
Robinson Crusoe is a novel by Daniel Defoe that was first published in 1719. Epistolary, confessional, and didactic in form, the book is a fictional autobiography of the title character—a castaway who spends 28 years on a remote tropical island near Trinidad, encountering cannibals, captives, and...
. Defoe is notable for being one of the earliest proponents of the
novel
Novel
A novel is a book of long narrative in literary prose. The genre has historical roots both in the fields of the medieval and early modern romance and in the tradition of the novella. The latter supplied the present generic term in the late 18th century....
, as he helped to popularise the form in Britain and along with others such as
Richardson
Samuel Richardson
Samuel Richardson was an 18th-century English writer and printer. He is best known for his three epistolary novels: Pamela: Or, Virtue Rewarded , Clarissa: Or the History of a Young Lady and The History of Sir Charles Grandison...
, is among the founders of the
English novel
English novel
The English novel is an important part of English literature.-Early novels in English:A number of works of literature have each been claimed as the first novel in English. See the article First novel in English.-Romantic novel:...
. A prolific and versatile writer, he wrote more than 500 books, pamphlets and journals on various topics (including politics, crime, religion, marriage, psychology and the supernatural).
Alas the Church of England! What with Popery on one hand, and schismatics on the other, how has she been crucified between two thieves!

s:The Shortest Way with the Dissenters|The Shortest Way with the Dissenters (1702)
Reason, it is true, is DICTATOR in the Society of Mankind; from her there ought to lie no Appeal; But here we want a Pope in our Philosophy, to be the infallible Judge of what is or is not Reason.

An Essay upon Publick Credit (1710)
All men would be tyrants if they could.

The Kentish Petition (1712-1713)
The best of men cannot suspend their fate:The good die early, and the bad die late.

Character of the Late Dr. S. Annesley (1715)
'Tis very strange Men should be so fond of being thought wickeder than they are.

A System of Magick (1726)
Wherever God erects a house of prayer,The Devil always builds a chapel there;And 'twill be found, upon examination,The latter has the largest congregation.

Pt. I, l. 1. Compare: "Where God hath a temple, the Devil will have a chapel", Robert Burton, Anatomy of Melancholy, part iii, section 4, Memb. 1, Subsect. 1.
From this amphibious ill-born mob beganThat vain, ill-natured thing, an Englishman.

Pt. I, l. 132.
The royal refugee our breed restoresWith foreign courtiers and with foreign whores,And carefully repeopled us again,Throughout his lazy, long, lascivious reign.

Pt. I, l. 233-236
Wealth, howsoever got, in England makesLords of mechanics, gentlemen of rakes;Antiquity and birth are needless here;'Tis impudence and money makes a peer.

Pt. I, l. 360-363
Great families of yesterday we show,And lords whose parents were the Lord knows who.

Pt. I, l. 374.