 Midden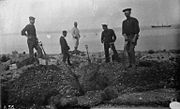 A
midden
, is an old
dump for domestic waste
Landfill
A landfill site , is a site for the disposal of waste materials by burial and is the oldest form of waste treatment...
which may consist of animal
bone
Bone
Bones are rigid organs that constitute part of the endoskeleton of vertebrates. They support, and protect the various organs of the body, produce red and white blood cells and store minerals. Bone tissue is a type of dense connective tissue...
,
human excrement
Feces
Feces, faeces, or fæces is a waste product from an animal's digestive tract expelled through the anus or cloaca during defecation.-Etymology:...
, botanical material,
vermin
Vermin
Vermin is a term applied to various animal species regarded by some as pests or nuisances and especially to those associated with the carrying of disease. Since the term is defined in relation to human activities, which species are included will vary from area to area and even person to person...
, shells,
sherd
Sherd
In archaeology, a sherd is commonly a historic or prehistoric fragment of pottery, although the term is occasionally used to refer to fragments of stone and glass vessels as well....
s,
lithics
Lithic flake
In archaeology, a lithic flake is a "portion of rock removed from an objective piece by percussion or pressure," and may also be referred to as a chip or spall, or collectively as debitage. The objective piece, or the rock being reduced by the removal of flakes, is known as a core. Once the proper...
(especially
debitage
Debitage
The term debitage refers to all the waste material produced during lithic reduction and the production of chipped stone tools. This assemblage includes, but is not limited to, different kinds of lithic flakes, shatter, and production errors and rejects....
), and other
artifact
Artifact (archaeology)
An artifact or artefact is "something made or given shape by man, such as a tool or a work of art, esp an object of archaeological interest"...
s and ecofacts associated with past human occupation. The word is of
Scandinavia
Scandinavia
Scandinavia is a cultural, historical and ethno-linguistic region in northern Europe that includes the three kingdoms of Denmark, Norway and Sweden, characterized by their common ethno-cultural heritage and language. Modern Norway and Sweden proper are situated on the Scandinavian Peninsula,...
n via
Middle English
Middle English
Middle English is the stage in the history of the English language during the High and Late Middle Ages, or roughly during the four centuries between the late 11th and the late 15th century....
derivation, but is used by
archaeologists
Archaeology
Archaeology, or archeology , is the study of human society, primarily through the recovery and analysis of the material culture and environmental data that they have left behind, which includes artifacts, architecture, biofacts and cultural landscapes...
worldwide to describe any kind of feature containing waste products relating to day-to-day human life. They may be convenient, single-use pits created by nomadic groups or long-term, designated dumps used by
sedentary
Sedentism
In evolutionary anthropology and archaeology, sedentism , is a term applied to the transition from nomadic to permanent, year-round settlement.- Requirements for permanent settlements :...
communities that accumulate over several generations.
These
features
Feature (archaeology)
Feature in archaeology and especially excavation has several different but allied meanings. A feature is a collection of one or more contexts representing some human non-portable activity that generally has a vertical characteristic to it in relation to site stratigraphy. Examples of features are...
, therefore, provide a useful resource for archaeologists who wish to study the
diet
Diet (nutrition)
In nutrition, diet is the sum of food consumed by a person or other organism. Dietary habits are the habitual decisions an individual or culture makes when choosing what foods to eat. With the word diet, it is often implied the use of specific intake of nutrition for health or weight-management...
and habits of past societies. Middens with damp,
anaerobic
Hypoxia (environmental)
Hypoxia, or oxygen depletion, is a phenomenon that occurs in aquatic environments as dissolved oxygen becomes reduced in concentration to a point where it becomes detrimental to aquatic organisms living in the system...
conditions can even preserve organic remains in deposits as the debris of daily life are tossed on the pile. Each individual toss will contribute a different mix of materials depending upon the activity associated with that particular toss. During the course of deposition sedimentary material is deposited as well. Different mechanisms, from wind and water to animal digs, create a matrix which can also be analyzed to provide seasonal and climatic information. In some middens individual dumps of material can be discerned and analysed.
Shell middens
A
shell midden
or
shell mound
is an archaeological feature consisting mainly of mollusk shells. A midden, by definition, contains the debris of human activity, and should not be confused with wind or tide created beach mounds. Some shell middens are processing remains: areas where aquatic resources were processed directly after harvest and prior to use or storage in a distant location. Some shell middens are directly associated with villages, as a designated village dump site. In other middens, the material is directly associated with a house in the village; each household would dump its garbage directly outside the house. In all cases, shell middens are extremely complex and very difficult to excavate fully and exactly. However, the fact that they contain a detailed record of what food was eaten or processed and many fragments of stone tools and household goods makes them invaluable objects of archaeological study.
Shells have a high
calcium carbonate
Calcium carbonate
Calcium carbonate is a chemical compound with the formula CaCO3. It is a common substance found in rocks in all parts of the world, and is the main component of shells of marine organisms, snails, coal balls, pearls, and eggshells. Calcium carbonate is the active ingredient in agricultural lime,...
content, which tends to make the middens alkaline. This slows the normal rate of decay caused by soil acidity, leaving a relatively high proportion of organic material (food remnants, organic tools, clothing, human remains) available for archaeologists to find.
The
archaeological
Archaeology
Archaeology, or archeology , is the study of human society, primarily through the recovery and analysis of the material culture and environmental data that they have left behind, which includes artifacts, architecture, biofacts and cultural landscapes...
study of shell middens began in
Denmark
Denmark
Denmark is a Scandinavian country in Northern Europe. The countries of Denmark and Greenland, as well as the Faroe Islands, constitute the Kingdom of Denmark . It is the southernmost of the Nordic countries, southwest of Sweden and south of Norway, and bordered to the south by Germany. Denmark...
in the latter half of the 19th century. The Danish word
køkkenmødding
(kitchen mound) is now used internationally. The English word "midden" (waste mound) derives from the Danish word
mødding
which in turn derives from
møg
(muck) and
dynge
(heap).
Examples
Shell middens are found in coastal zones all over the world. Consisting mostly of mollusc shells, they are interpreted as being the waste products of meals eaten by nomadic groups or hunting parties. Some are small examples relating to meals had by a handful of individuals, others are many metres in length and width and represent centuries of shell deposition. In
Brazil
Brazil
Brazil , officially the Federative Republic of Brazil , is the largest country in South America. It is the world's fifth largest country, both by geographical area and by population with over 192 million people...
, they are known as sambaquis, having been created over a long period between the 6th millennium BC and the beginning of European colonisation.
On
Canada
Canada
Canada is a North American country consisting of ten provinces and three territories. Located in the northern part of the continent, it extends from the Atlantic Ocean in the east to the Pacific Ocean in the west, and northward into the Arctic Ocean...
's west coast there are shell middens that run for more than a kilometer along the coast and are several meters deep. The midden in
Namu, British Columbia
Namu, British Columbia
Namu is a small fishing port, former cannery town and First Nations community on the coast of British Columbia, Canada. It is located about southwest of Bella Coola or SSE of Bella Bella, on the mainland shore of the Inside Passage ferry route directly opposite Hunter Island, and just south of...
is over 9 meters deep and spans over 10,000 years of continuous occupation.
Shell middens created in coastal regions of Australia by
indigenous Australians
Indigenous Australians
Indigenous Australians are the original inhabitants of the Australian continent and nearby islands. The Aboriginal Indigenous Australians migrated from the Indian continent around 75,000 to 100,000 years ago....
hold particular significance in
Australia
Australia
Australia , officially the Commonwealth of Australia, is a country in the Southern Hemisphere comprising the mainland of the Australian continent, the island of Tasmania, and numerous smaller islands in the Indian and Pacific Oceans. It is the world's sixth-largest country by total area...
today.
Aboriginal Australians
Australian Aborigines
Australian Aborigines , also called Aboriginal Australians, from the latin ab originem , are people who are indigenous to most of the Australian continentthat is, to mainland Australia and the island of Tasmania...
were generally hunter-gatherer nomadic peoples who left no permanent structures, and middens provide evidence of prior occupation in native title claims and indigenous cultural assessment of mining and other developments. Again, one must exercise caution in deciding whether one is examining a midden or a beach mound. There are good examples on the
Freycinet Peninsula
Freycinet Peninsula
Freycinet Peninsula is a large peninsula in eastern Tasmania, Australia. It is located north of Schouten Island, at . It is the site of Freycinet National Park....
in Tasmania where wave action currently is combining charcoal from forest fire debris with a mix of shells into masses that storms deposit above high water mark. Shell mounds near
Weipa
Weipa, Queensland
Weipa is the largest town on the Gulf of Carpentaria coast of the Cape York Peninsula in Queensland, Australia. At the 2006 census, Weipa had a population of 2,830; the largest community on Cape York Peninsula. It exists because of the enormous bauxite deposits along the coast...
in far north Queensland that are up to 13 meters high and several hundred meters are considered to be middens, but may also be explained by natural causes.
Shell mounds are also attributed to the creation of tropical hardwood hammocks, one example being the
Otter mound
Otter mound
Otter Mound is located at 1831 Addison Court, Marco Island. The 2.45 acre preserve is located in southwestern Collier County in a residential area of Marco Island, known locally as the Indian Hills section. The preserve is maintained by Collier County....
preserve in
Florida
Florida
Florida is a state in the southeastern United States, located on the nation's Atlantic and Gulf coasts. It is bordered to the west by the Gulf of Mexico, to the north by Alabama and Georgia and to the east by the Atlantic Ocean. With a population of 18,801,310 as measured by the 2010 census, it...
, where shell deposits from
Calusa
Calusa
The Calusa were a Native American people who lived on the coast and along the inner waterways of Florida's southwest coast. Calusa society developed from that of archaic peoples of the Everglades region; at the time of European contact, the Calusa were the people of the Caloosahatchee culture...
natives provided flood free high areas in otherwise large watered areas.
Other definitions
The word "midden" is still in everyday use in
Scotland
Scotland
Scotland is a country that is part of the United Kingdom. Occupying the northern third of the island of Great Britain, it shares a border with England to the south and is bounded by the North Sea to the east, the Atlantic Ocean to the north and west, and the North Channel and Irish Sea to the...
, and has come by extension, to refer to anything that is a mess, including people. This use was also taken to
Northern Ireland
Northern Ireland
Northern Ireland is one of the four countries of the United Kingdom. Situated in the north-east of the island of Ireland, it shares a border with the Republic of Ireland to the south and west...
by Scottish plantation settlers. In
West Yorkshire
West Yorkshire
West Yorkshire is a metropolitan county within the Yorkshire and the Humber region of England with a population of 2.2 million. West Yorkshire came into existence as a metropolitan county in 1974 after the passage of the Local Government Act 1972....
, a midden is an outdoor toilet, typically in the back yards of terraced houses. Often attached to this small building is an outhouse which houses dustbins.
The word is used by farmers in Britain to describe the place where farm yard manure from cows are other animals is collected. Grants are sometimes available to protect these from rain to
avoid runoff and pollution
Agricultural wastewater treatment
Agricultural wastewater treatment relates to the treatment of wastewaters produced in the course of agricultural activities. Agriculture is a highly intensified industry in many parts of the world, producing a range of wastewaters requiring a variety of treatment technologies and management...
.
In the animal kingdom, ground
burrow
Burrow
A burrow is a hole or tunnel dug into the ground by an animal to create a space suitable for habitation, temporary refuge, or as a byproduct of locomotion. Burrows provide a form of shelter against predation and exposure to the elements, so the burrowing way of life is quite popular among the...
s, also known as middens, are used mostly for food storage. For example, the North American Red Squirrel (
Tamiasciurus hudsonicus
) usually has one large active midden in each territory with perhaps an inactive or auxiliary midden. A midden may be a regularly used toilet area or dunghill, created by many mammals, such as the
hyrax
Hyrax
A hyrax is any of four species of fairly small, thickset, herbivorous mammals in the order Hyracoidea. The rock hyrax Procavia capensis, the yellow-spotted rock hyrax Heterohyrax brucei, the western tree hyrax Dendrohyrax dorsalis, and the southern tree hyrax, Dendrohyrax arboreus live in Africa...
, and also serving as a territorial marker.
Octopus
Octopus
The octopus is a cephalopod mollusc of the order Octopoda. Octopuses have two eyes and four pairs of arms, and like other cephalopods they are bilaterally symmetric. An octopus has a hard beak, with its mouth at the center point of the arms...
middens are piles of debris that the octopus piles up to conceal the entrance of its den. Octopus middens are commonly made of rocks, shells, and the bones of prey, although they may contain anything the octopus finds that it can move.
Some more currently widespread used terms include garbage pile, garbage dump, waste pile, waste dump, and waste/garbage disposal site. The material (waste, garbage, refuse, rubbish, etc.) may be placed on a pile/mound on level ground or in a hole/pit dug into the ground which may be consequently covered over with other material, often for sanitary, asthetic or land reclamation reasons.
See also
Packrat midden
Emeryville Shellmound

Emeryville Shellmound

The Emeryville Shellmound, in Emeryville, California, is a once-massive archaeological shell midden deposit...



Green Mound

Green Mound

Green Mound is one of the largest Pre-Columbian shell mounds, or shell middens, in the United States. Located in Ponce Inlet, Florida, the peak of the mound is the highest elevation in the small city...



Tumulus

Tumulus

A tumulus is a mound of earth and stones raised over a grave or graves. Tumuli are also known as barrows, burial mounds, Hügelgrab or kurgans, and can be found throughout much of the world. A tumulus composed largely or entirely of stones is usually referred to as a cairn...



Urban archaeology

Urban archaeology

Urban archaeology is a sub discipline of archaeology specialising in the material past of towns and cities where long-term human habitation has often left a rich record of the past....



Whaleback Shell Midden

Whaleback Shell Midden

Whaleback Shell Midden is a shell midden, or dump, consisting primarily of oyster shells located on the east side of the Damariscotta River in Maine. Other shell middens are located on the estuary in both Damariscotta and Newcastle...



Yachats, Oregon

Yachats, Oregon

Yachats is a small coastal city in Lincoln County, Oregon, United States. According to Oregon Geographic Names, the name comes from the Siletz language, and means "dark water at the foot of the mountain". There is a range of differing etymologies, however. William Bright says the name comes from...



Privy midden

Privy midden

The privy midden was a toilet system that consisted of a privy associated with a midden . They were widely used in rapidly expanding industrial cities such as Manchester in England, but were difficult to empty and clean. A typical comment was that they were of "most objectionable construction" and...