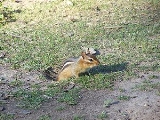 Burrow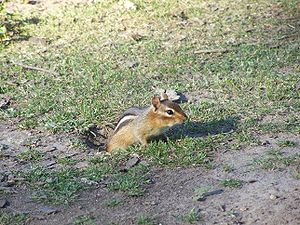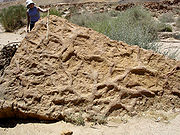 A
burrow
is a hole or tunnel dug into the ground by an
animal
Animal
Animals are a major group of multicellular, eukaryotic organisms of the kingdom Animalia or Metazoa. Their body plan eventually becomes fixed as they develop, although some undergo a process of metamorphosis later on in their life. Most animals are motile, meaning they can move spontaneously and...
to create a space suitable for habitation, temporary refuge, or as a byproduct of
locomotion
Animal locomotion
Animal locomotion, which is the act of self-propulsion by an animal, has many manifestations, including running, swimming, jumping and flying. Animals move for a variety of reasons, such as to find food, a mate, or a suitable microhabitat, and to escape predators...
. Burrows provide a form of shelter against
predation
Predation
In ecology, predation describes a biological interaction where a predator feeds on its prey . Predators may or may not kill their prey prior to feeding on them, but the act of predation always results in the death of its prey and the eventual absorption of the prey's tissue through consumption...
and exposure to the elements, so the burrowing way of life is quite popular among the animals. Burrows are also commonly preserved in the fossil record as a type of
trace fossil
Trace fossil
Trace fossils, also called ichnofossils , are geological records of biological activity. Trace fossils may be impressions made on the substrate by an organism: for example, burrows, borings , urolites , footprints and feeding marks, and root cavities...
.
Examples
Examples of burrowing animals include a number of mammals,
amphibian
Amphibian
Amphibians , are a class of vertebrate animals including animals such as toads, frogs, caecilians, and salamanders. They are characterized as non-amniote ectothermic tetrapods...
s, reptiles, and birds (including small
dinosaur
Dinosaur
Dinosaurs are a diverse group of animals of the clade and superorder Dinosauria. They were the dominant terrestrial vertebrates for over 160 million years, from the late Triassic period until the end of the Cretaceous , when the Cretaceous–Paleogene extinction event led to the extinction of...
s), as well as numerous invertebrates including
insect
Insect
Insects are a class of living creatures within the arthropods that have a chitinous exoskeleton, a three-part body , three pairs of jointed legs, compound eyes, and two antennae...
s, spiders, sea urchins, crustaceans,
clams
CLaMS
CLaMS is a modular chemistry transport model system developed at Forschungszentrum Jülich, Germany. CLaMS was first described by McKenna et al. and was expanded into three dimensions by Konopka et al....
and
worms
Worm
The term worm refers to an obsolete taxon used by Carolus Linnaeus and Jean-Baptiste Lamarck for all non-arthropod invertebrate animals, and stems from the Old English word wyrm. Currently it is used to describe many different distantly-related animals that typically have a long cylindrical...
.
A wide variety of animals construct or use burrows in many different types of substrate. Mammals are perhaps most well-known for burrowing, especially
Insectivora
Insectivora
The order Insectivora is a now-abandoned biological grouping within the class of mammals...
like the voracious
mole
Mole (animal)
Moles are small cylindrical mammals adapted to a subterranean lifestyle. They have velvety fur; tiny or invisible ears and eyes; and short, powerful limbs with large paws oriented for digging. The term is especially and most properly used for the true moles, those of the Talpidae family in the...
, and
rodent
Rodent
Rodentia is an order of mammals also known as rodents, characterised by two continuously growing incisors in the upper and lower jaws which must be kept short by gnawing....
s like the prolific
gopher
Gopher (animal)
The term gopher as it is commonly used does not relate to any one species, but is a generic term used to describe any of several small burrowing rodents endemic to North America, including the pocket gopher , also called true gophers, and the ground squirrel , including Richardson's ground squirrel...
and
groundhog
Groundhog
The groundhog , also known as a woodchuck, whistle-pig, or in some areas as a land-beaver, is a rodent of the family Sciuridae, belonging to the group of large ground squirrels known as marmots. Other marmots, such as the yellow-bellied and hoary marmots, live in rocky and mountainous areas, but...
. The
rabbit
Rabbit
Rabbits are small mammals in the family Leporidae of the order Lagomorpha, found in several parts of the world...
, a member of the family
Lagomorpha
Lagomorpha
The lagomorphs are the members of the taxonomic order Lagomorpha, of which there are two living families, the Leporidae , and the Ochotonidae...
, is a well-known burrower. There are estimations that a single groundhog burrow occupies a full cubic metre, displacing 320 kilograms of dirt. Even
Carnivora
Carnivora
The diverse order Carnivora |Latin]] carō "flesh", + vorāre "to devour") includes over 260 species of placental mammals. Its members are formally referred to as carnivorans, while the word "carnivore" can refer to any meat-eating animal...
like the
meerkat
Meerkat
The meerkat or suricate, Suricata suricatta, is a small mammal belonging to the mongoose family. Meerkats live in all parts of the Kalahari Desert in Botswana, in much of the Namib Desert in Namibia and southwestern Angola, and in South Africa. A group of meerkats is called a "mob", "gang" or "clan"...
, and marsupials, are burrowers. The largest burrowing animal is probably the
polar bear
Polar Bear
The polar bear is a bear native largely within the Arctic Circle encompassing the Arctic Ocean, its surrounding seas and surrounding land masses. It is the world's largest land carnivore and also the largest bear, together with the omnivorous Kodiak Bear, which is approximately the same size...
when it makes its
maternity den
Maternity den
A maternity den, in the animal kingdom, is a lair where the mother gives birth and nurtures the young, when they are in a vulnerable life stage. While such dens are typically subterranean, they may also be snow caves or simply beneath rock ledges. Characteristically there is an entrance, and...
in snow or earth.
Burrows by birds are usually made in soft soils; some penguins and other pelagic seabirds are noted for such burrows. The
Magellanic Penguin
Magellanic Penguin
The Magellanic Penguin, Spheniscus magellanicus, is a South American penguin, breeding in coastal Argentina, Chile and the Falkland Islands, with some migrating to Brazil where they are occasionally seen as far north as Rio de Janeiro. It is the most numerous of the Spheniscus penguins. Its nearest...
is an example of such a burrow constructor, making burrows along coastal Patagonian regions of
Chile
Chile
Chile ,officially the Republic of Chile , is a country in South America occupying a long, narrow coastal strip between the Andes mountains to the east and the Pacific Ocean to the west. It borders Peru to the north, Bolivia to the northeast, Argentina to the east, and the Drake Passage in the far...
and
Argentina
Argentina
Argentina , officially the Argentine Republic , is the second largest country in South America by land area, after Brazil. It is constituted as a federation of 23 provinces and an autonomous city, Buenos Aires...
. Other burrowing birds are
puffin
Puffin
Puffins are any of three small species of auk in the bird genus Fratercula with a brightly coloured beak during the breeding season. These are pelagic seabirds that feed primarily by diving in the water. They breed in large colonies on coastal cliffs or offshore islands, nesting in crevices among...
s,
kingfisher
Kingfisher
Kingfishers are a group of small to medium sized brightly coloured birds in the order Coraciiformes. They have a cosmopolitan distribution, with most species being found in the Old World and Australia...
s, and bee-eaters.
Burrows can be constructed into a wide variety of substrates. Kangaroo mice construct burrows in fine sand.
Scabies
Scabies
Scabies , known colloquially as the seven-year itch, is a contagious skin infection that occurs among humans and other animals. It is caused by a tiny and usually not directly visible parasite, the mite Sarcoptes scabiei, which burrows under the host's skin, causing intense allergic itching...
mites construct their burrows in the skin of the infested animal or human.
Termite
Termite
Termites are a group of eusocial insects that, until recently, were classified at the taxonomic rank of order Isoptera , but are now accepted as the epifamily Termitoidae, of the cockroach order Blattodea...
s construct burrows in wood. Some sea urchins and clams can burrow into rock. Burrows can also range in complexity from a simple tube a few centimetres long to a complex network of interconnecting tunnels and chambers hundreds or thousands of metres in total length, such as a well-developed
rabbit
Rabbit
Rabbits are small mammals in the family Leporidae of the order Lagomorpha, found in several parts of the world...
warren.