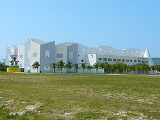 Miami Children's Museum
The Miami Children's Museum is a non-profit
education
Education
Education in its broadest, general sense is the means through which the aims and habits of a group of people lives on from one generation to the next. Generally, it occurs through any experience that has a formative effect on the way one thinks, feels, or acts...
al institution located on Watson Island, in the city of Miami,
Florida
Florida
Florida is a state in the southeastern United States, located on the nation's Atlantic and Gulf coasts. It is bordered to the west by the Gulf of Mexico, to the north by Alabama and Georgia and to the east by the Atlantic Ocean. With a population of 18,801,310 as measured by the 2010 census, it...
.
About the museum

Founded in 1983, the museum opened its current building on Watson Island to the public on September 7, 2003. The museum was originally titled the "Miami Youth Museum" and was originally located in Coral Gables in a building called the Miracle Center.
Visitors of all ages are brought to the museum with different areas with activities for everyone. The 56500 square feet (5,249 m²) facility, designed by
Arquitectonica
Arquitectonica
Arquitectonica is an international architecture, landscape architecture, interior design and urban planning corporation headquartered in Miami, Florida, United States in the Coconut Grove neighborhood, with offices in ten other cities throughout the world...
, includes 12 galleries, classrooms, parent/teacher resource center, Kid Smart educational gift shop, 200-seat
auditorium
Auditorium
An auditorium is a room built to enable an audience to hear and watch performances at venues such as theatres. For movie theaters, the number of auditoriums is expressed as the number of screens.- Etymology :...
and
Subway
Subway (restaurant)
Subway is an American restaurant franchise that primarily sells submarine sandwiches and salads. It is owned and operated by Doctor's Associates, Inc. . Subway is one of the fastest growing franchises in the world with 35,519 restaurants in 98 countries and territories as of October 25th, 2011...
restaurant. The museum offers hundreds of bilingual, interactive exhibits; programs and classes and learning materials related to
arts
ARts
aRts, which stands for analog Real time synthesizer, is an audio framework that is no longer under development. It is best known for previously being used in KDE to simulate an analog synthesizer....
,
culture
Culture
Culture is a term that has many different inter-related meanings. For example, in 1952, Alfred Kroeber and Clyde Kluckhohn compiled a list of 164 definitions of "culture" in Culture: A Critical Review of Concepts and Definitions...
,
community
Community
The term community has two distinct meanings:*a group of interacting people, possibly living in close proximity, and often refers to a group that shares some common values, and is attributed with social cohesion within a shared geographical location, generally in social units larger than a household...
and
communication
Communication
Communication is the activity of conveying meaningful information. Communication requires a sender, a message, and an intended recipient, although the receiver need not be present or aware of the sender's intent to communicate at the time of communication; thus communication can occur across vast...
.
The
museum
Museum
A museum is an institution that cares for a collection of artifacts and other objects of scientific, artistic, cultural, or historical importance and makes them available for public viewing through exhibits that may be permanent or temporary. Most large museums are located in major cities...
's goal is to establish itself as a primary center for the educational enrichment and
entertainment
Entertainment
Entertainment consists of any activity which provides a diversion or permits people to amuse themselves in their leisure time. Entertainment is generally passive, such as watching opera or a movie. Active forms of amusement, such as sports, are more often considered to be recreation...
of all children and their caregivers as well as to build
alliances
Alliances
Alliances may refer to:* The plural of alliance, an agreement between two or more parties* Airline alliances, agreements between two or more airlines to cooperate on a substantial level...
with
families
Family
In human context, a family is a group of people affiliated by consanguinity, affinity, or co-residence. In most societies it is the principal institution for the socialization of children...
, educators, community organizations and promotional
partners
Business partner
Business partner is a term used to denote a commercial entity with which another commercial entity has some form of alliance. This relationship may be a highly contractual, exclusive bond in which both entities commit not to ally with third parties...
to meet the developmental needs of all children in the community.
Location
The MCM is located on a
landfill
Landfill
A landfill site , is a site for the disposal of waste materials by burial and is the oldest form of waste treatment...
island called Watson Island in Miami, on
Biscayne Bay
Biscayne Bay
Biscayne Bay is a lagoon that is approximately 35 miles long and up to 8 miles wide located on the Atlantic coast of South Florida, United States. It is usually divided for purposes of discussion and analysis into three parts: North Bay, Central Bay, and South Bay. Its area is...
. Its neighbor,
Jungle Island
Jungle Island
Jungle Island is an interactive zoological park in Watson Island, Miami, Florida, United States. It was originally Parrot Jungle and moved from its original suburban Pinecrest to its present location just east of Downtown Miami renamed as Parrot Jungle Island...
, is on the other side of the
MacArthur Causeway
MacArthur Causeway
The General Douglas MacArthur Causeway is a six-lane causeway which connects Downtown, Miami, Florida and South Beach, Miami Beach via Biscayne Bay....
on the way to and from the Miami Beach islands. A few hundred feet away is the former location of
Chalk's Ocean Airways
Chalk's Ocean Airways
Chalk's International Airlines, formerly Chalk's Ocean Airways, was an airline with its headquarters on the grounds of Fort Lauderdale-Hollywood International Airport in unincorporated Broward County, near Fort Lauderdale. It operated scheduled seaplane services to the Bahamas...
, a
seaplane
Seaplane
A seaplane is a fixed-wing aircraft capable of taking off and landing on water. Seaplanes that can also take off and land on airfields are a subclass called amphibian aircraft...
charter
Charter
A charter is the grant of authority or rights, stating that the granter formally recognizes the prerogative of the recipient to exercise the rights specified...
company now based in Fort Lauderdale. Across the bay is the
Port of Miami
Port of Miami
The Dante B. Fascell Port of Miami is a seaport located in Biscayne Bay in Miami, Florida, United States. It is connected to Downtown Miami by Port Boulevard, a bridge over the Intracoastal Waterway. The port is located on Dodge Island, which is the combination of three historic islands that have...
and
Downtown Miami
Downtown Miami
Downtown Miami is an urban residential neighborhood, and the central business district of Miami, Miami-Dade County, and South Florida in the United States...
.
Film program
MCM also offers a free annual
film
Film
A film, also called a movie or motion picture, is a series of still or moving images. It is produced by recording photographic images with cameras, or by creating images using animation techniques or visual effects...
program to
Elementary School
Elementary school
An elementary school or primary school is an institution where children receive the first stage of compulsory education known as elementary or primary education. Elementary school is the preferred term in some countries, particularly those in North America, where the terms grade school and grammar...
,
Middle School
Middle school
Middle School and Junior High School are levels of schooling between elementary and high schools. Most school systems use one term or the other, not both. The terms are not interchangeable...
and
High School
High school
High school is a term used in parts of the English speaking world to describe institutions which provide all or part of secondary education. The term is often incorporated into the name of such institutions....
students. The film program has two components: a series of film workshops, and a film competition.
The film workshops include guest speakers with experience in the filmmaking fields as well as volunteers that teach the kids about the trade, with one set of workshops for 4th - 6th graders, and another set for 7th - 12th gradrers.
Volunteer program
The museum has many opportunities for individuals and groups to volunteer. benefits of volunteering includes Community service hours, Working with children, develop skills, working experience and a chance to be around children.