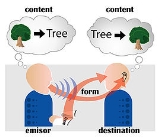 Communication
Communication is the activity of conveying meaningful
information
Information
Information in its most restricted technical sense is a message or collection of messages that consists of an ordered sequence of symbols, or it is the meaning that can be interpreted from such a message or collection of messages. Information can be recorded or transmitted. It can be recorded as...
. Communication requires a sender, a
message
Message
A message in its most general meaning is an object of communication. It is a vessel which provides information. Yet, it can also be this information. Therefore, its meaning is dependent upon the context in which it is used; the term may apply to both the information and its form...
, and an intended recipient, although the receiver need not be present or aware of the sender's intent to communicate at the time of communication; thus communication can occur across vast distances in time and space. Communication requires that the communicating parties share an area of communicative commonality.