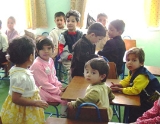 Education
Education
in its broadest, general sense is the means through which the aims and habits of a group of people lives on from one generation to the next. Generally, it occurs through any
experience
Experience
Experience as a general concept comprises knowledge of or skill in or observation of some thing or some event gained through involvement in or exposure to that thing or event....
that has a formative effect on the way one thinks, feels, or acts. In its narrow, technical sense, education is the formal process by which society deliberately transmits its accumulated
knowledge
Knowledge
Knowledge is a familiarity with someone or something unknown, which can include information, facts, descriptions, or skills acquired through experience or education. It can refer to the theoretical or practical understanding of a subject...
,
skill
Skill
A skill is the learned capacity to carry out pre-determined results often with the minimum outlay of time, energy, or both. Skills can often be divided into domain-general and domain-specific skills...
s,
customs
Convention (norm)
A convention is a set of agreed, stipulated or generally accepted standards, norms, social norms or criteria, often taking the form of a custom....
and
values
Value (personal and cultural)
A personal or cultural value is an absolute or relative ethical value, the assumption of which can be the basis for ethical action. A value system is a set of consistent values and measures. A principle value is a foundation upon which other values and measures of integrity are based...
from one generation to another, e.g., instruction in schools.
A right to education has been created and recognized by some jurisdictions: Since 1952, Article 2 of the first Protocol to the
European Convention on Human Rights
European Convention on Human Rights
The Convention for the Protection of Human Rights and Fundamental Freedoms is an international treaty to protect human rights and fundamental freedoms in Europe. Drafted in 1950 by the then newly formed Council of Europe, the convention entered into force on 3 September 1953...
obliges all signatory parties to guarantee the right to education.