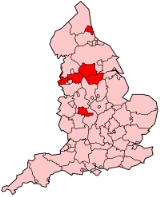 Metropolitan borough
A
metropolitan borough
is a type of
local government district
in England, and is a subdivision of a
metropolitan county
Metropolitan county
The metropolitan counties are a type of county-level administrative division of England. There are six metropolitan counties, which each cover large urban areas, typically with populations of 1.2 to 2.8 million...
. Created in 1974 by the
Local Government Act 1972
Local Government Act 1972
The Local Government Act 1972 is an Act of Parliament in the United Kingdom that reformed local government in England and Wales on 1 April 1974....
, metropolitan boroughs are defined in
English law
English law
English law is the legal system of England and Wales, and is the basis of common law legal systems used in most Commonwealth countries and the United States except Louisiana...
as
metropolitan districts
, however all of them have been granted or regranted
royal charter
Royal Charter
A royal charter is a formal document issued by a monarch as letters patent, granting a right or power to an individual or a body corporate. They were, and are still, used to establish significant organizations such as cities or universities. Charters should be distinguished from warrants and...
s to give them
borough status
Borough status in the United Kingdom
Borough status in the United Kingdom is granted by royal charter to local government districts in England, Wales and Northern Ireland. The status is purely honorary, and does not give any additional powers to the council or inhabitants of the district...
(as well as some with
city status
City status in the United Kingdom
City status in the United Kingdom is granted by the British monarch to a select group of communities. The holding of city status gives a settlement no special rights other than that of calling itself a "city". Nonetheless, this appellation carries its own prestige and, consequently, competitions...
). Metropolitan boroughs are effectively unitary authority areas, since the abolition of metropolitan county councils by the
Local Government Act 1985
Local Government Act 1985
The Local Government Act 1985 is an Act of Parliament in the United Kingdom. Its main effect was to abolish the county councils of the metropolitan counties that had been set up in 1974 by the Local Government Act 1972, along with the Greater London Council that had been established in 1965.The...
.
The term
metropolitan borough
Metropolitan boroughs of the County of London
The term metropolitan borough was used from 1900 to 1965, for the subdivisions of the County of London created by the London Government Act 1899....
was also used for administrative subdivisions of London between 1900 and 1965. The present boroughs in London are known as London Boroughs rather than metropolitan boroughs.
The current metropolitan boroughs were created in 1974 as subdivisions of the new metropolitan counties which were created to cover the six largest urban areas in England outside
Greater London
Greater London
Greater London is the top-level administrative division of England covering London. It was created in 1965 and spans the City of London, including Middle Temple and Inner Temple, and the 32 London boroughs. This territory is coterminate with the London Government Office Region and the London...
. The new districts replaced the previous system of
county borough
County borough
County borough is a term introduced in 1889 in the United Kingdom of Great Britain and Ireland , to refer to a borough or a city independent of county council control. They were abolished by the Local Government Act 1972 in England and Wales, but continue in use for lieutenancy and shrievalty in...
s,
municipal borough
Municipal borough
Municipal boroughs were a type of local government district which existed in England and Wales between 1835 and 1974, in Northern Ireland from 1840 to 1973 and in the Republic of Ireland from 1840 to 2002...
s,
urban
Urban district
In the England, Wales and Ireland, an urban district was a type of local government district that covered an urbanised area. Urban districts had an elected Urban District Council , which shared local government responsibilities with a county council....
and
rural district
Rural district
Rural districts were a type of local government area – now superseded – established at the end of the 19th century in England, Wales, and Ireland for the administration of predominantly rural areas at a level lower than that of the administrative counties.-England and Wales:In England...
s. The districts typically have populations of 174,000 to 1.1 million.
Metropolitan districts were originally part of a two-tier structure of local government, and shared power with the metropolitan county councils (MCCs). They differed from
non-metropolitan district
Non-metropolitan district
Non-metropolitan districts, or colloquially shire districts, are a type of local government district in England. As created, they are sub-divisions of non-metropolitan counties in a so-called "two-tier" arrangement...
s, in the division of powers between district and county councils. Metropolitan districts were
Local Education Authorities
Local Education Authority
A local education authority is a local authority in England and Wales that has responsibility for education within its jurisdiction...
and were responsible for social services and
libraries
Library
In a traditional sense, a library is a large collection of books, and can refer to the place in which the collection is housed. Today, the term can refer to any collection, including digital sources, resources, and services...
; in non-metropolitan counties these services were the responsibility of
county council
County council
A county council is the elected administrative body governing an area known as a county. This term has slightly different meanings in different countries.-United Kingdom:...
s.
In 1986 the metropolitan county councils were abolished by the Local Government Act 1985 and most of their functions were devolved to the boroughs, making them to a large extent
unitary authorities
Unitary authority
A unitary authority is a type of local authority that has a single tier and is responsible for all local government functions within its area or performs additional functions which elsewhere in the relevant country are usually performed by national government or a higher level of sub-national...
. Some of the functions of the abolished county councils were taken over by joint bodies such as
passenger transport authorities
Passenger Transport Executive
In the United Kingdom, passenger transport executives are local government bodies which are responsible for public transport within large urban areas...
, and joint
fire
Fire Authority
In England and Wales a fire authority or fire and rescue authority is a statutory body made up of a committee of local councillors which oversees the policy and service delivery of a fire and rescue service...
,
police
Police authority
A police authority in the United Kingdom, is a body charged with securing efficient and effective policing of a police area served by a territorial police force or the area and/or activity policed by a special police force...
and
waste disposal
Waste disposal authority
Waste disposal authorities were established in the UK following the Environmental Protection Act 1990. WDAs are in charge of the use of funds from Council Tax to facilitate the disposal of municipal waste. WDAs must manage waste which is collected by local councils. In the case of unitary...
authorities.
The 36 metropolitan boroughs are:
Metropolitan county
Metropolitan districts
Number
County population
Greater Manchester

Greater Manchester

Greater Manchester is a metropolitan county in North West England, with a population of 2.6 million. It encompasses one of the largest metropolitan areas in the United Kingdom and comprises ten metropolitan boroughs: Bolton, Bury, Oldham, Rochdale, Stockport, Tameside, Trafford, Wigan, and the...



Manchester

Manchester

Manchester is a city and metropolitan borough in Greater Manchester, England. According to the Office for National Statistics, the 2010 mid-year population estimate for Manchester was 498,800. Manchester lies within one of the UK's largest metropolitan areas, the metropolitan county of Greater...


, Bolton

Metropolitan Borough of Bolton

The Metropolitan Borough of Bolton is a metropolitan borough of Greater Manchester, England. It is named after its largest settlement, Bolton, but covers a far larger area which includes Blackrod, Farnworth, Horwich, Kearsley and Westhoughton, and a suburban and rural element from the West Pennine...


, Bury

Metropolitan Borough of Bury

The Metropolitan Borough of Bury is a metropolitan borough of Greater Manchester, in North West England. Lying to the north of the City of Manchester, the borough is composed of six towns: Bury, Ramsbottom, Tottington, Radcliffe, Whitefield and Prestwich, and has a population of 181,900...


, Oldham

Metropolitan Borough of Oldham

The Metropolitan Borough of Oldham is a metropolitan borough of Greater Manchester, England. It has a population of 219,600, and spans . The borough is named after its largest town, Oldham, but also includes the outlying towns of Chadderton, Failsworth, Royton and Shaw and Crompton, the village of...


, Rochdale

Metropolitan Borough of Rochdale

The Metropolitan Borough of Rochdale is a metropolitan borough of Greater Manchester in North West England. It is named after its largest town, Rochdale, but spans a far larger area which includes the towns of Middleton, Heywood, Littleborough and Milnrow, and the village of Wardle.The borough was...


, Salford

City of Salford

The City of Salford is a city and metropolitan borough of Greater Manchester, England. It is named after its largest settlement, Salford, but covers a far larger area which includes the towns of Eccles, Swinton-Pendlebury, Walkden and Irlam which apart from Irlam each have a population of over...


, Stockport

Metropolitan Borough of Stockport

The Metropolitan Borough of Stockport is a metropolitan borough of Greater Manchester, in north west England, centred around the town of Stockport. It has a population of about 280,600 and includes the outyling areas of Cheadle and Cheadle Hulme, Marple, Bredbury, Reddish and Romiley...


, Tameside

Tameside

The Metropolitan Borough of Tameside is a metropolitan borough of Greater Manchester in North West England. It is named after the River Tame which flows through the borough and spans the towns of Ashton-under-Lyne, Audenshaw, Denton, Droylsden, Dukinfield, Hyde, Mossley and Stalybridge. Its western...


, Trafford

Trafford

The Metropolitan Borough of Trafford is a metropolitan borough of Greater Manchester, England. It has a population of 211,800, covers , and includes the towns of Altrincham, Partington, Sale, Stretford, and Urmston...


, Wigan

Metropolitan Borough of Wigan

The Metropolitan Borough of Wigan is a metropolitan borough of Greater Manchester, in North West England. It is named after its largest component town, Wigan and also includes the towns of Leigh, Ashton-in-Makerfield, Ince-in-Makerfield, and Hindley. The borough was formed in 1974 and is an...



10
2,573,200
Merseyside

Merseyside

Merseyside is a metropolitan county in North West England, with a population of 1,365,900. It encompasses the metropolitan area centred on both banks of the lower reaches of the Mersey Estuary, and comprises five metropolitan boroughs: Knowsley, St Helens, Sefton, Wirral, and the city of Liverpool...



Liverpool

Liverpool

Liverpool is a city and metropolitan borough of Merseyside, England, along the eastern side of the Mersey Estuary. It was founded as a borough in 1207 and was granted city status in 1880...


, Knowsley, St Helens

Metropolitan Borough of St Helens

The Metropolitan Borough of St Helens is a metropolitan borough of Merseyside, in North West England. It is named after its largest town St Helens, and covers an area which includes the settlements of Newton-le-Willows, Earlestown, Haydock, Rainhill, Eccleston, Clock Face, Billinge and...


, Sefton, Wirral

Metropolitan Borough of Wirral

The Metropolitan Borough of Wirral is a metropolitan borough of Merseyside, in North West England. It has a population of 311,200, and encompasses of the northern part of the Wirral Peninsula. Major settlements include Birkenhead, Wallasey, Bebington, Heswall, Hoylake and West Kirby. The city of...



5
1,365,000
South Yorkshire

South Yorkshire

South Yorkshire is a metropolitan county in the Yorkshire and the Humber region of England. It has a population of 1.29 million. It consists of four metropolitan boroughs: Barnsley, Doncaster, Rotherham, and City of Sheffield...



Sheffield

Sheffield

Sheffield is a city and metropolitan borough of South Yorkshire, England. Its name derives from the River Sheaf, which runs through the city. Historically a part of the West Riding of Yorkshire, and with some of its southern suburbs annexed from Derbyshire, the city has grown from its largely...


, Barnsley

Metropolitan Borough of Barnsley

The Metropolitan Borough of Barnsley is a metropolitan borough of the metropolitan county of South Yorkshire, England. Its main town is Barnsley....


, Doncaster

Metropolitan Borough of Doncaster

The Metropolitan Borough of Doncaster is a metropolitan borough of South Yorkshire in Yorkshire and the Humber Region of England.In addition to the town of Doncaster, the borough covers Mexborough, Conisbrough, Thorne and Finningley....


, Rotherham

Metropolitan Borough of Rotherham

The Metropolitan Borough of Rotherham is a metropolitan borough of South Yorkshire, England. It is named for its largest town, Rotherham, but also spans the outlying towns of Maltby, Rawmarsh, Swinton, Wath-upon-Dearne, as well as a suburban and rural element composed of hills, escarpments and...



4
1,290,000
Tyne and Wear

Tyne and Wear

Tyne and Wear is a metropolitan county in north east England around the mouths of the Rivers Tyne and Wear. It came into existence as a metropolitan county in 1974 after the passage of the Local Government Act 1972...



Newcastle upon Tyne

Newcastle upon Tyne

Newcastle upon Tyne is a city and metropolitan borough of Tyne and Wear, in North East England. Historically a part of Northumberland, it is situated on the north bank of the River Tyne...


, Gateshead

Metropolitan Borough of Gateshead

The Metropolitan Borough of Gateshead is a metropolitan borough of Tyne and Wear, in North East England. It is named after its largest town, Gateshead, but also spans the towns of Rowlands Gill, Whickham, Blaydon and Ryton; suburban areas include Felling, Pelaw, Dunston and Low Fell.It is bordered...


, South Tyneside

South Tyneside

South Tyneside is a metropolitan borough in Tyne and Wear in North East England.It is bordered by four other boroughs - Newcastle upon Tyne and Gateshead to the west, Sunderland in the south, and North Tyneside to the north. The border county of Northumberland lies further north...


, North Tyneside

North Tyneside

The Metropolitan Borough of North Tyneside is a metropolitan borough of Tyne and Wear, in North East England and is part of the Tyneside conurbation. Its seat is Wallsend Town Hall....


, Sunderland

City of Sunderland

The City of Sunderland is a local government district of Tyne and Wear, in North East England, with the status of a city and metropolitan borough...



5
1,089,400
West Midlands

West Midlands (county)

The West Midlands is a metropolitan county in western central England with a 2009 estimated population of 2,638,700. It came into existence as a metropolitan county in 1974 after the passage of the Local Government Act 1972, formed from parts of Staffordshire, Worcestershire and Warwickshire. The...



Birmingham

Birmingham

Birmingham is a city and metropolitan borough in the West Midlands of England. It is the most populous British city outside the capital London, with a population of 1,036,900 , and lies at the heart of the West Midlands conurbation, the second most populous urban area in the United Kingdom with a...


, Coventry

Coventry

Coventry is a city and metropolitan borough in the county of West Midlands in England. Coventry is the 9th largest city in England and the 11th largest in the United Kingdom. It is also the second largest city in the English Midlands, after Birmingham, with a population of 300,848, although...


, Dudley

Metropolitan Borough of Dudley

The Metropolitan Borough of Dudley is a metropolitan borough in the West Midlands of England. It was created in 1974, and is made up of the towns of Dudley , Stourbridge , Halesowen, Brierley Hill, Amblecote, Sedgley and Coseley...


, Sandwell

Sandwell

Sandwell is a metropolitan borough of the West Midlands with a population of around 289,100, and an area of . The borough is named after Sandwell Priory, and spans a densely populated part of both the Black Country, and the West Midlands conurbation, encompassing the urban towns of Blackheath,...


, Solihull

Metropolitan Borough of Solihull

The Metropolitan Borough of Solihull is a metropolitan borough of the West Midlands, in west-central England. It is named after its largest town, Solihull, from which Solihull Metropolitan Borough Council is based. For Eurostat purposes it is a NUTS 3 region and is one of five boroughs or unitary...


, Walsall

Metropolitan Borough of Walsall

The Metropolitan Borough of Walsall is a local government district in the Black Country part of the West Midlands, England, with the status of a metropolitan borough. It is named after its largest settlement, Walsall, but covers a larger area which also includes the towns of Aldridge, Brownhills,...


, Wolverhampton

Wolverhampton

Wolverhampton is a city and metropolitan borough in the West Midlands, England. For Eurostat purposes Walsall and Wolverhampton is a NUTS 3 region and is one of five boroughs or unitary districts that comprise the "West Midlands" NUTS 2 region...



7
2,591,300
West Yorkshire

West Yorkshire

West Yorkshire is a metropolitan county within the Yorkshire and the Humber region of England with a population of 2.2 million. West Yorkshire came into existence as a metropolitan county in 1974 after the passage of the Local Government Act 1972....



Leeds

City of Leeds

The City of Leeds is a local government district of West Yorkshire, England, governed by Leeds City Council, with the status of a city and metropolitan borough. The metropolitan district includes Leeds and the towns of Farsley, Garforth, Guiseley, Horsforth, Morley, Otley, Pudsey, Rothwell,...


, Bradford

City of Bradford

The City of Bradford is a local government district of West Yorkshire, England with the status of a city and metropolitan borough. It is named after its largest settlement, Bradford, but covers a far larger area which includes the towns of Keighley, Shipley, Bingley, Ilkley, Haworth, Silsden and...


, Calderdale

Calderdale

The Metropolitan Borough of Calderdale is a metropolitan borough of West Yorkshire, England, through which the upper part of the River Calder flows, and from which it takes its name...


, Kirklees

Kirklees

The Metropolitan Borough of Kirklees is a metropolitan borough of West Yorkshire, England. It has a population of 401,000 and includes the settlements of Batley, Birstall, Cleckheaton, Denby Dale, Dewsbury, Heckmondwike, Holmfirth, Huddersfield, Kirkburton, Marsden, Meltham, Mirfield and Slaithwaite...


, Wakefield

City of Wakefield

The City of Wakefield is a local government district of West Yorkshire, England, with the status of a city and metropolitan borough. Wakefield is the district's administrative centre. The district includes the "Five Towns" of Normanton, Pontefract, Featherstone, Castleford and Knottingley. Other...



5
2,161,200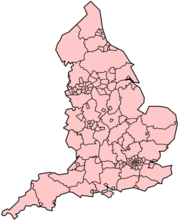 See also
Metropolitan boroughs of the County of London

Metropolitan boroughs of the County of London

The term metropolitan borough was used from 1900 to 1965, for the subdivisions of the County of London created by the London Government Act 1899....



Borough

Borough

A borough is an administrative division in various countries. In principle, the term borough designates a self-governing township although, in practice, official use of the term varies widely....



Non-metropolitan district

Non-metropolitan district

Non-metropolitan districts, or colloquially shire districts, are a type of local government district in England. As created, they are sub-divisions of non-metropolitan counties in a so-called "two-tier" arrangement...



County borough

County borough

County borough is a term introduced in 1889 in the United Kingdom of Great Britain and Ireland , to refer to a borough or a city independent of county council control. They were abolished by the Local Government Act 1972 in England and Wales, but continue in use for lieutenancy and shrievalty in...



Subdivisions of England

Subdivisions of England

The subdivisions of England consist of a hierarchy of administrative divisions, and non-administrative ceremonial areas. All of England is divided into one of nine regions and 48 ceremonial counties, although these have only a limited role in public policy....



ISO 3166-2:GB

ISO 3166-2:GB

ISO 3166-2:GB is the entry for the United Kingdom in ISO 3166-2, part of the ISO 3166 standard published by the International Organization for Standardization , which defines codes for the names of the principal subdivisions of all countries coded in ISO 3166-1.Currently for the United Kingdom,...


, subdivision codes for the United Kingdom
Political make-up of Metropolitan borough councils