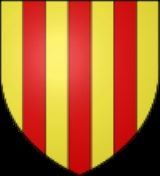 List of Co-Princes of Andorra
This is a list of
Co-Princes of Andorra

Andorra

Andorra , officially the Principality of Andorra , also called the Principality of the Valleys of Andorra, , is a small landlocked country in southwestern Europe, located in the eastern Pyrenees mountains and bordered by Spain and France. It is the sixth smallest nation in Europe having an area of...



. For further information on the origin and development of the unique Andorran monarchial system, together with details concerning the powers and prerogatives of the Andorran co-princes, see the article
Co-Princes of Andorra
Co-Princes of Andorra
The Co-Princes of Andorra are the two rulers of the Principality of Andorra, a tiny landlocked nation lying in the Pyrenees mountains between France and Spain. Founded in 1278 through a treaty between the Spanish Bishop of Urgell and the French Count of Foix, this unique monarchial arrangement has...
.
Episcopal Co-Prince
Reign
French Co-Prince
Reign
Bishops of Urgell
Counts of Foix
House of Foix
Pere d'Urtx
1278–1293
Roger-Bernard III

Roger-Bernard III of Foix

Roger-Bernard III was the Count of Foix from 1265 to his death. He was the son of Roger IV of Foix and Brunissende of Cardona. He entered into conflicts with both Philip III of France and Peter III of Aragon, who held him in captivity for a time...



1278–1302
Guillem of Montcada
1295–1308
House of Foix-Béarn
Gaston I
1302–1315
Ramon Trebaylla
1309–1326
Gaston II of Foix - Bearne

Gaston II of Foix - Bearne

Gaston II of Foix-Béarn , son of Gaston I of Foix-Béarn and Jeanne of Artois, was the 10th Count of Foix.In 1315, after the death of his father Gaston I, he became Count of Foix, and Viscount of Béarn, Marsan, Gabardan, Nébouzan and Lautrec under the regency of his mother, Jeanne of Artois...



1315–1343
Arnau de Llordà
1326–1341
Pere de Narbona
1341–1347
Gaston III Fébus

Gaston III of Foix-Béarn

Gaston III/X of Foix-Béarn, also Gaston Fébus or Gaston Phoebus was the 11th count of Foix, and viscount of Béarn . Officially, he was Gaston III of Foix and Gaston X of Béarn.-Early life:...



1343–1391
Nicolau Capoci
1348–1351
Hugó Desbach
1351–1361
Guillem Arnau de Patau
1362–1364
Pere de Luna
1365–1370
Berenguer d'Erill i de Pallars
1371–1388
Galcerand de Vilanova
1388–1396
Mathieu
1391–1396
First Annexation to Aragon

Aragon

Aragon is a modern autonomous community in Spain, coextensive with the medieval Kingdom of Aragon. Located in northeastern Spain, the Aragonese autonomous community comprises three provinces : Huesca, Zaragoza, and Teruel. Its capital is Zaragoza...



Andorra was briefly annexed to the Crown of Aragon

Crown of Aragon

The Crown of Aragon Corona d'Aragón Corona d'Aragó Corona Aragonum controlling a large portion of the present-day eastern Spain and southeastern France, as well as some of the major islands and mainland possessions stretching across the Mediterranean as far as Greece...


in 1396.
Bishops of Urgell (restored)
Counts of Foix (restored)
House of Foix-Béarn (restored)
Galcerand de Vilanova (restored)
1396–1415
Mathieu (restored)
1396–1398
Isabelle

Isabella, Countess of Foix

Isabella of Foix also known as Isabella of Foix-Castelbon was the daughter of Roger Bernard IV, Viscount of Castelbon and his wife Gerauda of Navailles. She was Countess of Foix in her own right, but shared power with her husband...



1398–1413
House of Foix-Grailly
Jean I
1413–1436
Francesc de Tovia
1416–1436
Gaston IV
1436–1472
Arnau Roger de Pallars
1437–1461
Jaume de Cardona i de Gandia
1462–1466
Roderic de Borja i Escrivà
1467–1472
Pere de Cardona
1472–1512
Kings of Navarre
François-Fébus

Francis I of Navarre

Francis Phoebus of Foix was king of Navarre and count of Foix . He was the son of Gaston de Foix, Prince of Viana, and grandson of Eleanor of Navarre, whom he succeeded.During his brief reign, he was the charge of his mother, the regent, Magdalena of Valois...



1472–1483
Catherine

Catherine of Navarre

Catherine was Queen of Navarre , duchess of Gandia, Montblanc, and Peñafiel, countess of Foix, Bigorre, and Ribagorza, and viscountess of Béarn.- Biography :...



1483–1512
Second Annexation to Aragon

Aragon

Aragon is a modern autonomous community in Spain, coextensive with the medieval Kingdom of Aragon. Located in northeastern Spain, the Aragonese autonomous community comprises three provinces : Huesca, Zaragoza, and Teruel. Its capital is Zaragoza...



Andorra was briefly annexed to the Crown of Aragon

Crown of Aragon

The Crown of Aragon Corona d'Aragón Corona d'Aragó Corona Aragonum controlling a large portion of the present-day eastern Spain and southeastern France, as well as some of the major islands and mainland possessions stretching across the Mediterranean as far as Greece...


in 1512–1513.
Bishops of Urgell (restored)
Kings of Navarre (restored)
House of Foix-Grailly (restored)
Pere de Cardona (restored)
1513–1515
Catherine

Catherine of Navarre

Catherine was Queen of Navarre , duchess of Gandia, Montblanc, and Peñafiel, countess of Foix, Bigorre, and Ribagorza, and viscountess of Béarn.- Biography :...


(restored)
1513–1517
Joan Despés
1515–1530
House of Albret

Albret

The lordship of Albret , situated in the Landes, gave its name to one of the most powerful feudal families of France in the Middle Ages...



Henry II

Henry II of Navarre

Henry II was the eldest son of John III of Navarre and Catherine I of Navarre, sister and heiress of Francis Phoebus, King of Navarre; he was born at Sangüesa.-King of Navarre:...



1517–1555
Pedro Jordà de Urríes
1532–1533
Francesc de Urríes
1534–1551
Miquel Despuig
1552–1556
Jeanne III
1555–1572
Joan Pérez García de Oliván
1556–1560
Pere de Castellet
1561–1571
Joan Dimas Loris
1572–1576
House of Bourbon

House of Bourbon

The House of Bourbon is a European royal house, a branch of the Capetian dynasty . Bourbon kings first ruled Navarre and France in the 16th century. By the 18th century, members of the Bourbon dynasty also held thrones in Spain, Naples, Sicily, and Parma...



Henry III

Henry IV of France

Henry IV , Henri-Quatre, was King of France from 1589 to 1610 and King of Navarre from 1572 to 1610. He was the first monarch of the Bourbon branch of the Capetian dynasty in France....



Henry IV of France
1572–1610
Miquel Jeroni Morell
1577–1579
Hugó Ambrós de Montcada
1580–1586
Andreu Capella
1587–1609
Bernat de Salbà i de Salbà
1610–1620
Louis II

Louis XIII of France

Louis XIII was a Bourbon monarch who ruled as King of France and of Navarre from 1610 to 1643.Louis was only eight years old when he succeeded his father. His mother, Marie de Medici, acted as regent during Louis' minority...



Louis XIII of France
1610–1620
Luís Díes Aux de Armendáriz
1621–1627
Kings of France
Louis XIII

Louis XIII of France

Louis XIII was a Bourbon monarch who ruled as King of France and of Navarre from 1610 to 1643.Louis was only eight years old when he succeeded his father. His mother, Marie de Medici, acted as regent during Louis' minority...



1620–1643
Antoni Pérez
1627–1633
Pau Duran
1634–1651
Louis XIV

Louis XIV of France

Louis XIV , known as Louis the Great or the Sun King , was a Bourbon monarch who ruled as King of France and Navarre. His reign, from 1643 to his death in 1715, began at the age of four and lasted seventy-two years, three months, and eighteen days...



1643–1715
Joan Manuel de Espinosa
1655–1663
Melcior Palau i Boscà
1664–1670
Pere de Copons i de Teixidor
1671–1681
Joan Desbach Martorell
1682–1688
Oleguer de Montserrat Rufet
1689–1694
Julià Cano Thebar
1695–1714
Simeó de Guinda y Apeztegui
1714–1737
Louis XV

Louis XV of France

Louis XV was a Bourbon monarch who ruled as King of France and of Navarre from 1 September 1715 until his death. He succeeded his great-grandfather at the age of five, his first cousin Philippe II, Duke of Orléans, served as Regent of the kingdom until Louis's majority in 1723...



1715–1774
Jordi Curado y Torreblanca
1738–1747
Sebastià de Victoria Emparán y Loyola
1747–1756
Francesc Josep Catalán de Ocón
1757–1762
Francesc Fernández de Xátiva y Contreras
1763–1771
Joaquín de Santiyán y Valdivielso
1772–1779
Louis XVI

Louis XVI of France

Louis XVI was a Bourbon monarch who ruled as King of France and Navarre until 1791, and then as King of the French from 1791 to 1792, before being executed in 1793....



1774–1792
Juan de García y Montenegro
1780–1783
Josep de Boltas
1785–1795
French First Republic

French First Republic

The French First Republic was founded on 22 September 1792, by the newly established National Convention. The First Republic lasted until the declaration of the First French Empire in 1804 under Napoleon I...



France renounces the position of co-prince.
Francesc Antoni de la Dueña y Cisneros

Francesc Antoni de la Dueña y Cisneros

Francisco Antonio de la Dueña y Cisneros , was the Bishop of Urgell from October 29, 1797 to September 23, 1816....



1797–1816
Emperors of the French
House of Bonaparte

Bonaparte

The House of Bonaparte is an imperial and royal European dynasty founded by Napoleon I of France in 1804, a French military leader who rose to notability out of the French Revolution and transformed the French Republic into the First French Empire within five years of his coup d'état...



Napoleon I

Napoleon I

Napoleon Bonaparte was a French military and political leader during the latter stages of the French Revolution.As Napoleon I, he was Emperor of the French from 1804 to 1815...



1806–1814
Kings of France (restored)
House of Bourbon (restored)
Louis XVIII

Louis XVIII of France

Louis XVIII , known as "the Unavoidable", was King of France and of Navarre from 1814 to 1824, omitting the Hundred Days in 1815...



1814–1815
Emperors of the French (restored)
House of Bonaparte (restored)
Napoleon I

Napoleon I

Napoleon Bonaparte was a French military and political leader during the latter stages of the French Revolution.As Napoleon I, he was Emperor of the French from 1804 to 1815...


(restored)
1815
Napoleon II
1815
Bernat Francés y Caballero
1817–1824
Kings of France (restored)
House of Bourbon (restored)
Louis XVIII

Louis XVIII of France

Louis XVIII , known as "the Unavoidable", was King of France and of Navarre from 1814 to 1824, omitting the Hundred Days in 1815...


(restored)
1815–1824
Bonifaci López y Pulido
1824–1827
Charles X

Charles X of France

Charles X was known for most of his life as the Comte d'Artois before he reigned as King of France and of Navarre from 16 September 1824 until 2 August 1830. A younger brother to Kings Louis XVI and Louis XVIII, he supported the latter in exile and eventually succeeded him...



1824–1830
Simó de Guardiola y Hortoneda
1827–1851
House of Orléans

House of Orleans

Orléans is the name used by several branches of the Royal House of France, all descended in the legitimate male line from the dynasty's founder, Hugh Capet. It became a tradition during France's ancien régime for the duchy of Orléans to be granted as an appanage to a younger son of the king...



Louis Philippe

Louis-Philippe of France

Louis Philippe I was King of the French from 1830 to 1848 in what was known as the July Monarchy. His father was a duke who supported the French Revolution but was nevertheless guillotined. Louis Philippe fled France as a young man and spent 21 years in exile, including considerable time in the...



1830–1848
Presidents of the French Second Republic
Louis-Napoléon Bonaparte

Napoleon III of France

Louis-Napoléon Bonaparte was the President of the French Second Republic and as Napoleon III, the ruler of the Second French Empire. He was the nephew and heir of Napoleon I, christened as Charles Louis Napoléon Bonaparte...



1848–1852
Emperors of the French (restored)
House of Bonaparte (restored)
Napoleon III
1852–1870
Josep Caixal i Estradé

Josep Caixal i Estradé

Josep Caixal i Estradé was Bishop of Urgell from 1853 until his death and co-prince of Andorra during the New Reform period....



1853–1879
Presidents of the French Third Republic
Louis-Adolphe Thiers
1871–1873
Patrice MacMahon
1873–1879
Salvador Casañas i Pagés
1879–1901
Jules Grévy

Jules Grévy

François Paul Jules Grévy was a President of the French Third Republic and one of the leaders of the Opportunist Republicans faction. Given that his predecessors were monarchists who tried without success to restore the French monarchy, Grévy is seen as the first real republican President of...



1879–1887
Sadi Carnot

Marie François Sadi Carnot

Marie François Sadi Carnot was a French statesman and the fourth president of the Third French Republic. He served as the President of France from 1887 until his assassination in 1894.-Early life:...



1887–1894
Jean Casimir-Perier

Jean Casimir-Perier

Jean Paul Pierre Casimir-Perier was a French politician, fifth president of the French Third Republic.-Biography:He was born in Paris, the son of Auguste Casimir-Perier and the grandson of Casimir Pierre Perier, premier of Louis Philippe...



1894–1895
Félix Faure

Félix Faure

Félix François Faure was President of France from 1895 until his death.-Biography:Félix François Faure was born in Paris, the son of a small furniture maker...



1895–1899
Émile Loubet

Émile Loubet

Émile François Loubet was a French politician and the 8th President of France.-Early life:He was born the son of a peasant proprietor and mayor of Marsanne . Admitted to the Parisian bar in 1862, he took his doctorate in law the next year...



1899–1906
Ramon Riu i Cabanes
1901
Toribio Martín (acting)
1902
Joan Josep Laguarda i Fenollera
1902–1906
Josep Pujargimzú (acting)
1907
Clément Armand Fallières
1906–1913
Juan Benlloch y Vivó

Juan Benlloch y Vivó

Joan Baptista Benlloch i Vivó was a Valencian Cardinal of the Roman Catholic Church who served as Archbishop of Burgos from 1919 until his death, and was elevated to the cardinalate in 1921.- Biography :...



1907–1919
Raymond Poincaré

Raymond Poincaré

Raymond Poincaré was a French statesman who served as Prime Minister of France on five separate occasions and as President of France from 1913 to 1920. Poincaré was a conservative leader primarily committed to political and social stability...



1913–1920
Jaume Viladrich i Gaspa (acting)
1919–1920
Justí Guitart i Vilardebó

Justí Guitart i Vilardebó

Justí Guitart i Vilardebó reigned as the Bishop of Urgell and Episcopal Co-Prince of Andorra from 1920 to 1940....



1920–1940
Paul Deschanel

Paul Deschanel

Paul Eugène Louis Deschanel was a French statesman. He served as President of France from 18 February 1920 to 21 September 1920.-Biography:...



1920
Alexandre Millerand

Alexandre Millerand

Alexandre Millerand was a French socialist politician. He was President of France from 23 September 1920 to 11 June 1924 and Prime Minister of France 20 January to 23 September 1920...



1920–1924
Gaston Doumergue

Gaston Doumergue

Pierre-Paul-Henri-Gaston Doumergue was a French politician of the Third Republic.Doumergue came from a Protestant family. Beginning as a Radical, he turned more towards the political right in his old age. He served as Prime Minister from 9 December 1913 to 2 June 1914...



1924–1931
Paul Doumer

Paul Doumer

Joseph Athanase Paul Doumer, commonly known as Paul Doumer was the President of France from 13 June 1931 until his assassination.-Biography:...



1931–1932
Albert Lebrun

Albert Lebrun

Albert François Lebrun was a French politician, President of France from 1932 to 1940. He was the last president of the Third Republic. He was a member of the center-right Democratic Republican Alliance .-Biography:...



1932–1940
Ricard Fornesa (acting)
1940–1943
Heads of the French State
Philippe Pétain

Philippe Pétain

Henri Philippe Benoni Omer Joseph Pétain , generally known as Philippe Pétain or Marshal Pétain , was a French general who reached the distinction of Marshal of France, and was later Chief of State of Vichy France , from 1940 to 1944...



1940–1944
Ramon Iglesias i Navarri

Ramon Iglesias i Navarri

Ramon Iglesias i Navarri was the Bishop of Urgell and Episcopal Co-Prince of Andorra from 4 April 1943, until 29 April 1969. Navarri was first ordained as a priest on 14 July 1912, at the age of 23....



1943–1969
Chairmen of the Provisional Government
Charles de Gaulle

Charles de Gaulle

Charles André Joseph Marie de Gaulle was a French general and statesman who led the Free French Forces during World War II. He later founded the French Fifth Republic in 1958 and served as its first President from 1959 to 1969....



1944–1946
Félix Gouin

Félix Gouin

Félix Gouin was a French Socialist politician, member of the French Section of the Workers' International .-Personal life:Félix Gouin was born in Peypin, Bouches-du-Rhône, the son of school teachers...



1946
Georges Bidault

Georges Bidault

Georges-Augustin Bidault was a French politician. During World War II, he was active in the French Resistance. After the war, he served as foreign minister and prime minister on several occasions before he joined the Organisation armée secrète.-Early life:...



1946–1947
Presidents of the French Fourth Republic
Vincent Auriol

Vincent Auriol

Vincent Jules Auriol was a French politician who served as the first President of the Fourth Republic from 1947 to 1954. He also served as interim President of the Provisional Government from November to December 1946, making him one of only three people who were heads of state of the French...



1947–1954
René Coty

René Coty

René Jules Gustave Coty was President of France from 1954 to 1959. He was the second and last president under the French Fourth Republic.-Early life and politics:...



1954–1959
Presidents of the French Fifth Republic
Charles de Gaulle

Charles de Gaulle

Charles André Joseph Marie de Gaulle was a French general and statesman who led the Free French Forces during World War II. He later founded the French Fifth Republic in 1958 and served as its first President from 1959 to 1969....



1959–1969
Ramón Malla Call

Ramón Malla Call

Ramon Malla i Call is Emeritus Bishop of Lleida. From 1969 until 1971 he was Apostolic Administrator of the Diocese of Urgell during a sede vacante and therefore acting Episcopal Co-Prince of Andorra....


(acting)
1969–1971
Georges Pompidou

Georges Pompidou

Georges Jean Raymond Pompidou was a French politician. He was Prime Minister of France from 1962 to 1968, holding the longest tenure in this position, and later President of the French Republic from 1969 until his death in 1974.-Biography:...



1969–1974
Joan Martí Alanis

Joan Martí Alanis

Joan Martí i Alanis was a former Bishop of Urgell and hence former co-Prince of Andorra. He was Bishop of Urgell from 1971 to 2003. He was a co-signatory, along with François Mitterrand, of Andorra's new constitution in 1993....



1971–2003
Valéry Giscard d'Estaing

Valéry Giscard d'Estaing

Valéry Marie René Georges Giscard d'Estaing is a French centre-right politician who was President of the French Republic from 1974 until 1981...



1974–1981
François Mitterrand

François Mitterrand

François Maurice Adrien Marie Mitterrand was the 21st President of the French Republic and ex officio Co-Prince of Andorra, serving from 1981 until 1995. He is the longest-serving President of France and, as leader of the Socialist Party, the only figure from the left so far elected President...



1981–1995
Jacques Chirac

Jacques Chirac

Jacques René Chirac is a French politician who served as President of France from 1995 to 2007. He previously served as Prime Minister of France from 1974 to 1976 and from 1986 to 1988 , and as Mayor of Paris from 1977 to 1995.After completing his studies of the DEA's degree at the...



1995–2007
Joan Enric Vives Sicília

Joan Enric Vives Sicília

Archbishop Joan Enric Vives i Sicília is the current Bishop of Urgell, a Roman Catholic diocese, and ex officio Co-Prince of Andorra...



2003–
Nicolas Sarkozy

Nicolas Sarkozy

Nicolas Sarkozy is the 23rd and current President of the French Republic and ex officio Co-Prince of Andorra. He assumed the office on 16 May 2007 after defeating the Socialist Party candidate Ségolène Royal 10 days earlier....



2007–
External links