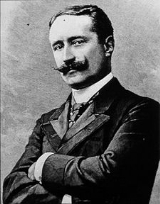 Paul Deschanel
Paul Eugène Louis Deschanel
(pɔl deʃanɛl; 13 February 1855, Schaerbeek – 28 April 1922) was a French statesman. He served as President of France from 18 February 1920 to 21 September 1920.
Biography
Paul Deschanel, the son of
Émile Deschanel
Émile Deschanel
Émile Auguste Étienne Martin Deschanel was a French author and politician, the father of Paul Deschanel, the 11th President of the French Republic....
(1819–1904), professor at the
Collège de France
Collège de France
The Collège de France is a higher education and research establishment located in Paris, France, in the 5th arrondissement, or Latin Quarter, across the street from the historical campus of La Sorbonne at the intersection of Rue Saint-Jacques and Rue des Écoles...
and senator, was born at
Brussels
Brussels
Brussels , officially the Brussels Region or Brussels-Capital Region , is the capital of Belgium and the de facto capital of the European Union...
, where his father was living in exile (1851–1859), owing to his opposition to Napoleon III. He is one of only two French Presidents (the other is
Valéry Giscard d'Estaing
Valéry Giscard d'Estaing
Valéry Marie René Georges Giscard d'Estaing is a French centre-right politician who was President of the French Republic from 1974 until 1981...
) who were born outside France (Deschanel in Belgium, Giscard in
Koblenz
Koblenz
Koblenz is a German city situated on both banks of the Rhine at its confluence with the Moselle, where the Deutsches Eck and its monument are situated.As Koblenz was one of the military posts established by Drusus about 8 BC, the...
, Germany).
Education
Paul Deschanel studied law, and began his career as secretary to Deshayes de Marcère (1876) and to
Jules Simon
Jules Simon
Jules François Simon was a French statesman and philosopher, and one of the leader of the Opportunist Republicans faction.-Biography:Simon was born at Lorient. His father was a linen-draper from Lorraine, who renounced Protestantism before his second marriage with a Catholic Breton. Jules Simon...
(1876–1877). In October 1885, he was elected deputy for
Eure-et-Loir
Eure-et-Loir
Eure-et-Loir is a French department, named after the Eure and Loir rivers.-History:Eure-et-Loir is one of the original 83 departments created during the French Revolution on March 4, 1790 pursuant to the Act of December 22, 1789...
. From the first, he took an important place in the chamber, as one of the most notable orators of the Progressist Republican group. In January 1896, he was elected vice-president of the chamber, and henceforth devoted himself to the struggle against the
Left
Left-wing politics
In politics, Left, left-wing and leftist generally refer to support for social change to create a more egalitarian society...
, not only in parliament, but also in public meetings throughout France.
His addresses at
Marseille
Marseille
Marseille , known in antiquity as Massalia , is the second largest city in France, after Paris, with a population of 852,395 within its administrative limits on a land area of . The urban area of Marseille extends beyond the city limits with a population of over 1,420,000 on an area of...
on 26 October 1896, at
Carmaux
Carmaux
Carmaux is a commune in the Tarn department in southern France.Carmaux was famous for its important coal mining and its glassworks . "In 1892, Jean Jaurès supported the miners of Carmaux when they went on strike over the dismissal of their leader, Jean Baptiste Calvignac."...
on 27 December 1896, and at
Roubaix
Roubaix
Roubaix is a commune in the Nord department in northern France. It is located between the cities of Lille and Tourcoing.The Gare de Roubaix railway station offers connections to Lille, Tourcoing, Antwerp, Ostend and Paris.-Culture:...
on 10 April 1897, were triumphs of clear and eloquent exposition of the political and social aims of the Progressist party.
Presidency
In June 1898, he was elected president of the chamber and was re-elected in 1901, but rejected in 1902. Nevertheless he came forward brilliantly in 1904 and 1905 as a supporter of the law on the
separation of church and state
Separation of church and state
The concept of the separation of church and state refers to the distance in the relationship between organized religion and the nation state....
. He was elected President of France on 17 January 1920.
Deschanel aspired to a much more active role as president than had been
de rigueur
under the
Third Republic
French Third Republic
The French Third Republic was the republican government of France from 1870, when the Second French Empire collapsed due to the French defeat in the Franco-Prussian War, to 1940, when France was overrun by Nazi Germany during World War II, resulting in the German and Italian occupations of France...
; but, for reasons of his own mental health, was unable to put his ideas to the test.
As president, his eccentric behaviour caused some consternation; on one occasion, after a delegation of schoolgirls had presented him with a bouquet, he tossed the flowers back at them one by one. It all culminated when, late one night, 24 May 1920, he fell out of a large window of the presidential train near
Montargis
Montargis
Montargis is a commune in the Loiret department in north-central France. The town is located about south of Paris and east of Orléans in the Gâtinais....
after taking some sleeping pills and was found wandering in his nightshirt by a platelayer, who took him to the nearest level-crossing keeper's cottage. Soon afterwards, Deschanel walked out of a state meeting, straight into a lake, fully clothed. His resignation was offered on 21 September 1920. He was placed in an institution.
He was the only French head of state during whose term in office no persons in France were executed (the
death penalty
Capital punishment in France
Capital punishment was practiced in France from the Middle Ages until 1977, when the last execution took place by guillotine, being the only legal method since the French Revolution. The last person to be executed in France was Hamida Djandoubi, who was put to death in September 1977. The death...
was abolished in 1981 with support of President
François Mitterrand
François Mitterrand
François Maurice Adrien Marie Mitterrand was the 21st President of the French Republic and ex officio Co-Prince of Andorra, serving from 1981 until 1995. He is the longest-serving President of France and, as leader of the Socialist Party, the only figure from the left so far elected President...
). Deschanel himself was a longtime death penalty opponent.
Works
He was elected a member of the
Académie française
Académie française
L'Académie française , also called the French Academy, is the pre-eminent French learned body on matters pertaining to the French language. The Académie was officially established in 1635 by Cardinal Richelieu, the chief minister to King Louis XIII. Suppressed in 1793 during the French Revolution,...
in 1899, his most notable works being:
Orateurs et hommes d'état – Frédéric II – M. de Bismarck – Fox et Pitt – Lord Grey – Talleyrand – Berryer – Gladstone, Calmann Lévy, Paris, 1889
Figures de femmes (1889)
La Décentralisation (1895), La Question sociale (1898).