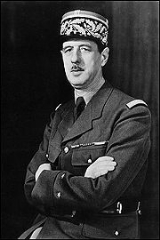 Charles de Gaulle
Charles André Joseph Marie de Gaulle (ˈtʃɑrlz or ˈʃɑrl dəˈɡɔːl; ʃaʁl də ɡol; 22
November
November
November is the 11th month of the year in the Julian and Gregorian Calendars and one of four months with the length of 30 days. November was the ninth month of the ancient Roman calendar...
1890 – 9 November 1970) was a French general and statesman who led the
Free French Forces
Free French Forces
The Free French Forces were French partisans in World War II who decided to continue fighting against the forces of the Axis powers after the surrender of France and subsequent German occupation and, in the case of Vichy France, collaboration with the Germans.-Definition:In many sources, Free...
during
World War II
World War II
World War II, or the Second World War , was a global conflict lasting from 1939 to 1945, involving most of the world's nations—including all of the great powers—eventually forming two opposing military alliances: the Allies and the Axis...
. He later founded the
French Fifth Republic
French Fifth Republic
The Fifth Republic is the fifth and current republican constitution of France, introduced on 4 October 1958. The Fifth Republic emerged from the collapse of the French Fourth Republic, replacing the prior parliamentary government with a semi-presidential system...
in 1958 and served as its first President from 1959 to 1969.
A veteran of
World War I
World War I
World War I , which was predominantly called the World War or the Great War from its occurrence until 1939, and the First World War or World War I thereafter, was a major war centred in Europe that began on 28 July 1914 and lasted until 11 November 1918...
, in the 1920s and 1930s de Gaulle came to the fore as a proponent of mobile armoured divisions, which he considered would become central in modern warfare.
1940 Appeal of June 18 by Charles de Gaulle.
1944 World War II: Charles de Gaulle enters Paris.
1958 May 1958 crisis: a group of French military officers lead a coup in Algiers demanding that a government of national unity be formed with Charles de Gaulle at its head in order to defend French control of Algeria.
1958 Charles de Gaulle comes out of retirement to lead France by decree for six months.
1959 General Charles de Gaulle, President of France, declares in a speech in Strasbourg his vision for a "Europe, "from the Atlantic to the Urals."
1960 French forces crack down in a violent clash with protesters in French Algeria during a visit by French president Charles de Gaulle.
1961 In France a referendum supports Charles de Gaulle's policies in Algeria.
1962 French President Charles De Gaulle calls for Algeria to be granted independence.
1962 An attempt to assassinate French president Charles de Gaulle fails.
1963 The Elysée treaty of cooperation between France and Germany is signed by Charles de Gaulle and Konrad Adenauer.
I have understood you!

Je vous ai compris !
Long live free Quebec!

Vive le Québec libre!
France has no friends, only interests.

Clementine Churchill: "General, you must not hate your friends more than you hate your enemies"
Yes, it is Europe, from the Atlantic to the Urals, it is Europe, it is the whole of Europe, that will decide the fate of the world.

Oui, c'est l'Europe, depuis l'Atlantique jusqu'à l'Oural, c'est toute l'Europe, qui décidera du destin du monde.
Now she is like the others.

Maintenant, elle est comme les autres.
France has lost a battle, but France has not lost the war.

La France a perdu une bataille, mais la France n'a pas perdu la guerre.
At the root of our civilization, there is the freedom of each person of thought, of belief, of opinion, of work, of leisure.

A la base de notre civilisation, il y a la liberté de chacun dans sa pensée, ses croyances, ses opinions, son travail, ses loisirs.
Let us be firm, pure and faithful; at the end of our sorrow, there is the greatest glory of the world, that of the men who did not give in.

Soyons fermes, purs et fidèles ; au bout de nos peines, il y a la plus grande gloire du monde, celle des hommes qui n'ont pas cédé.
"A foreign military leader whose daring was feared by those who profited by it." De Gaulle said that MacArthur's critics should "pay deserved tribute to the legendary service of a great soldier".

from William Manchester's "American Caesar".
I am a man who belongs to no-one and who belongs to everyone.

Je suis un homme qui n'appartient à personne et qui appartient à tout le monde.