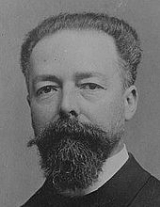 Paul Doumer
Joseph Athanase Paul Doumer
, commonly known as
Paul Doumer
(pɔl dume; 22 March 1857 7 May 1932) was the President of France from 13 June 1931 until his assassination.
Biography
He was born in
Aurillac
Aurillac
Aurillac is a commune in the Auvergne region in south-central France, capital of the Cantal department.Aurillac's inhabitants are called Aurillacois, and are also Cantaliens or Cantalous in Occitan....
, in the
Cantal
Cantal
Cantal is a department in south-central France. It is named after the Cantal mountain range, a group of extinct, eroded volcanic peaks, which covers much of the department. Residents are known as Cantaliens or Cantalous....
département
, in France on 22 March 1857. Alumnus of the
Conservatoire National des Arts et Métiers
Conservatoire National des Arts et Métiers
The Conservatoire National des Arts et Métiers , or National Conservatory of Arts and Crafts, is a doctoral degree-granting higher education establishment operated by the French government, dedicated to providing education and conducting research for the promotion of science and industry...
. Professor of mathematics.
He was
Governor-General of French Indochina
Governor-General of French Indochina
-External links:*...
from 1897 to 1902. After returning from French Indochina, Doumer served as President of the Chamber of Deputies (a post equivalent to the speaker of parliament) from 1902 to 1905.
The
Long Bien Bridge
Long Bien Bridge
Long Bien Bridge is a historic cantilever bridge across the Red River that connects two parts of the city of Hanoi, Vietnam. It was originally called Paul Doumer Bridge.- History :...
was built during his term as Governor-General and was named for him. It became a well-known landmark and target for US pilots during the
Vietnam War
Vietnam War
The Vietnam War was a Cold War-era military conflict that occurred in Vietnam, Laos, and Cambodia from 1 November 1955 to the fall of Saigon on 30 April 1975. This war followed the First Indochina War and was fought between North Vietnam, supported by its communist allies, and the government of...
.
He became Minister of Finance of France in 1925 when
Louis Loucheur
Louis Loucheur
Louis Loucheur was a French politician in the Third Republic, at first a member of the conservative Republican Federation, then of the Democratic Republican Alliance and of the Independent Radicals.-Life:Coming from a background in the arms industry, Loucheur became Minister of Munitions in...
resigned.
He was elected President of the French Republic on 13 May 1931, defeating the better known
Aristide Briand
Aristide Briand
Aristide Briand was a French statesman who served eleven terms as Prime Minister of France during the French Third Republic and received the 1926 Nobel Peace Prize.- Early life :...
, and replacing
Gaston Doumergue
Gaston Doumergue
Pierre-Paul-Henri-Gaston Doumergue was a French politician of the Third Republic.Doumergue came from a Protestant family. Beginning as a Radical, he turned more towards the political right in his old age. He served as Prime Minister from 9 December 1913 to 2 June 1914...
.
On 6 May 1932, he was shot in Paris at the opening of a book fair by
Paul Gorguloff
Paul Gorguloff
Paul Gorguloff, originally Pavel Timofeyevich Gorgulov was a Russian emigre who assassinated French President Paul Doumer at a book fair in 1932. Gorgulov was born in Labinskaya, Russia and died at La Santé prison in Paris, France by guillotine. His defence of insanity was rejected...
, a
mentally unstable
Insanity
Insanity, craziness or madness is a spectrum of behaviors characterized by certain abnormal mental or behavioral patterns. Insanity may manifest as violations of societal norms, including becoming a danger to themselves and others, though not all such acts are considered insanity...
Russia
Russia
Russia or , officially known as both Russia and the Russian Federation , is a country in northern Eurasia. It is a federal semi-presidential republic, comprising 83 federal subjects...
n émigré. He died at 04:37 a.m. on 7 May.