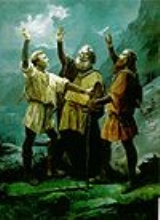 Legend

A
legend
is a
narrative
Narrative
A narrative is a constructive format that describes a sequence of non-fictional or fictional events. The word derives from the Latin verb narrare, "to recount", and is related to the adjective gnarus, "knowing" or "skilled"...
of human actions that are perceived both by teller and listeners to take place within human history and to possess certain qualities that give the tale
verisimilitude
Verisimilitude (literature)
Verisimilitude, with the meaning "of being true or real" is a likeness or resemblance of the truth, reality or a fact's probability. It comes from Latin verum meaning truth and similis meaning similar.-Original roots:...
. Legend, for its active and passive participants includes no happenings that are outside the realm of "possibility", defined by a highly flexible set of parameters, which may include
miracle
Miracle
A miracle often denotes an event attributed to divine intervention. Alternatively, it may be an event attributed to a miracle worker, saint, or religious leader. A miracle is sometimes thought of as a perceptible interruption of the laws of nature. Others suggest that a god may work with the laws...
s that are perceived as actually having happened, within the specific tradition of
indoctrination
Indoctrination
Indoctrination is the process of inculcating ideas, attitudes, cognitive strategies or a professional methodology . It is often distinguished from education by the fact that the indoctrinated person is expected not to question or critically examine the doctrine they have learned...
where the legend arises, and within which it may be transformed over time, in order to keep it fresh and vital, and
realistic
Realism (arts)
Realism in the visual arts and literature refers to the general attempt to depict subjects "in accordance with secular, empirical rules", as they are considered to exist in third person objective reality, without embellishment or interpretation...
.
The
Brothers Grimm
Brothers Grimm
The Brothers Grimm , Jacob Grimm and Wilhelm Grimm , were German academics, linguists, cultural researchers, and authors who collected folklore and published several collections of it as Grimm's Fairy Tales, which became very popular...
defined legend as folktale historically grounded. A modern
folklorist
Folklore
Folklore consists of legends, music, oral history, proverbs, jokes, popular beliefs, fairy tales and customs that are the traditions of a culture, subculture, or group. It is also the set of practices through which those expressive genres are shared. The study of folklore is sometimes called...
's professional definition of
legend
was proposed by Timothy R. Tangherlini in 1990:
Legend, typically, is a short (mono-) episodic, traditional, highly ecotypified historicized narrative performed in a conversational mode, reflecting on a psychological level a symbolic representation of folk belief and collective experiences and serving as a reaffirmation of commonly held values of the group to whose tradition it belongs."
Etymology and origin
The word
"legend"
appeared in the
English language
English language
English is a West Germanic language that arose in the Anglo-Saxon kingdoms of England and spread into what was to become south-east Scotland under the influence of the Anglian medieval kingdom of Northumbria...
circa 1340, transmitted from mediaeval Latin language through French. Its blurred (and essentially Protestant) sense of a non-historical narrative or myth was first recorded in 1613. By emphasizing the
un
realistic character of "legends" of the saints, English-speaking Protestants were able to introduce a note of contrast to the
"real"
saints and martyrs of the
Reformation
Protestant Reformation
The Protestant Reformation was a 16th-century split within Western Christianity initiated by Martin Luther, John Calvin and other early Protestants. The efforts of the self-described "reformers", who objected to the doctrines, rituals and ecclesiastical structure of the Roman Catholic Church, led...
, whose authentic narratives, they were sure, could be found in
Foxe's Book of Martyrs
John Foxe
John Foxe was an English historian and martyrologist, the author of what is popularly known as Foxe's Book of Martyrs, , an account of Christian martyrs throughout Western history but emphasizing the sufferings of English Protestants and proto-Protestants from the fourteenth century through the...
. Thus "legend" gained its modern connotations of "undocumented" and "spurious".
Before the invention of the
printing press
Printing press
A printing press is a device for applying pressure to an inked surface resting upon a print medium , thereby transferring the ink...
, stories were passed on via
oral tradition
Oral history
Oral history is the collection and study of historical information about individuals, families, important events, or everyday life using audiotapes, videotapes, or transcriptions of planned interviews...
.
Storytellers
Storytelling
Storytelling is the conveying of events in words, images and sounds, often by improvisation or embellishment. Stories or narratives have been shared in every culture as a means of entertainment, education, cultural preservation and in order to instill moral values...
learned their stock in trade: their stories, typically received from an older storyteller, who might, though more likely not, have claimed to have actually known a witness, rendered the narrative as "history". Legend is distinguished from the
genre
Genre
Genre , Greek: genos, γένος) is the term for any category of literature or other forms of art or culture, e.g. music, and in general, any type of discourse, whether written or spoken, audial or visual, based on some set of stylistic criteria. Genres are formed by conventions that change over time...
of
chronicle
Chronicle
Generally a chronicle is a historical account of facts and events ranged in chronological order, as in a time line. Typically, equal weight is given for historically important events and local events, the purpose being the recording of events that occurred, seen from the perspective of the...
by the fact that legends apply structures that reveal a moral definition to events, providing meaning that lifts them above the repetitions and constraints of average human lives and giving them a universality that makes them worth repeating through many generations. In German-speaking and northern European countries, "legend", which involves Christian origins, is distinguished from "
Saga
Saga
Sagas, are stories in Old Norse about ancient Scandinavian and Germanic history, etc.Saga may also refer to:Business*Saga DAB radio, a British radio station*Saga Airlines, a Turkish airline*Saga Falabella, a department store chain in Peru...
", being from any other (usually, but not necessarily older) origin.
The modern characterisation of what may be termed a "legend" may be said to begin 1866 with
Jacob Grimm
Jacob Grimm
Jacob Ludwig Carl Grimm was a German philologist, jurist and mythologist. He is best known as the discoverer of Grimm's Law, the author of the monumental Deutsches Wörterbuch, the author of Deutsche Mythologie and, more popularly, as one of the Brothers Grimm, as the editor of Grimm's Fairy...
's observation, "The
fairy tale
Fairy tale
A fairy tale is a type of short story that typically features such folkloric characters, such as fairies, goblins, elves, trolls, dwarves, giants or gnomes, and usually magic or enchantments. However, only a small number of the stories refer to fairies...
is poetic, legend, historic." Early scholars such as Karl Wehrhahn Friedrich Ranke and Will-Erich Peukert followed Grimm's example in focussing solely on the literary narrative, an approach that was enriched particularly after the 1960s , by addressing questions of performance and the anthropological and psychological insights provided in considering legends' social context. Questions of categorising legends, in hopes of compiling a content-based series of categories on the line of the Aarne-Thompson folktale index, provoked a search for a broader new synthesis.
In an early attempt at defining some basic questions operative in examining folk tales, Friedrich Ranke in 1925 characterised the folk legend as "a popular narrative with an objectively untrue imaginary content" a dismissive position that was subsequently largely abandoned.
Compared to the highly-structured folktale, legend is comparatively amorphous,
Helmut de Boor
Helmut de Boor
Helmut de Boor was a German medievalist.-Life and career:Helmut de Boor was the third child of the Byzantine studies scholar Carl Gotthard de Boor. He was educated in Breslau and attended the Universities of Freiburg, Marburg and Leipzig...
noted in 1928. The narrative content of legend is in realistic mode, rather than the wry irony of folktale; Wilhelm Heiske remarked on the similarity of motifs in legend and folktale and concluded that, in spite of its realistic mode, legend is not more historical than folktale.
Legend is often considered in connection with rumour, also believable and concentrating on a single episode. Ernst Bernheim suggested that legend is simply the survival of rumour.
Gordon Allport
Gordon Allport
Gordon Willard Allport was an American psychologist. Allport was one of the first psychologists to focus on the study of the personality, and is often referred to as one of the founding figures of personality psychology...
credited the staying-power of certain rumours to the persistent cultural state-of-mind that they embody and capsulise; thus "
Urban legend
Urban legend
An urban legend, urban myth, urban tale, or contemporary legend, is a form of modern folklore consisting of stories that may or may not have been believed by their tellers to be true...
s" are a feature of rumour. When Willian Jansen suggested that legends that disappear quickly were "short-term legends" and the persistent ones be termed "long-term legends", the distinction between legend and rumour was effectively obliterated, Tangherlini concluded.
Christian legenda
In the narrow Christian sense,
legenda
, "things to be read [on a certain day, in church]")
hagiographical account
Hagiography
Hagiography is the study of saints.From the Greek and , it refers literally to writings on the subject of such holy people, and specifically to the biographies of saints and ecclesiastical leaders. The term hagiology, the study of hagiography, is also current in English, though less common...
, often collected in a
legendary
(
legendarium
).
Because saints' lives are often embellished with many miracle stories, "legend" in a wider sense came to refer to any story that is set in a historical context but that contains non-historical or fantastic elements.
Related concepts
Legends are tales that, because of the tie to a historical event or location, are believable, although not necessarily believed. For the purpose of the study of legends, in the academic discipline of
folkloristics
Folkloristics
Folkloristics is the formal academic study of folklore. The term derives from a nineteenth century German designation of folkloristik to distinguish between folklore as the content and folkloristics as its study, much as language is distinguished from linguistics...
, the truth value of legends is irrelevant because, whether the story told is true or not, the fact that the story is being told at all allows scholars to use it as commentary upon the cultures that produce or circulate the legends.
Hippolyte Delehaye
Hippolyte Delehaye
Hippolyte Delehaye was a Belgian Jesuit who was a hagiographic scholar and an outstanding member of the Bollandists, who established critical editions of texts relating to the Christian saints and martyrs that were based on applying the critical method of sound archaeological and documentary...
, (in his Preface to
The Legends of the Saints: An Introduction to Hagiography
, 1907) distinguished legend from
myth
Mythology
The term mythology can refer either to the study of myths, or to a body or collection of myths. As examples, comparative mythology is the study of connections between myths from different cultures, whereas Greek mythology is the body of myths from ancient Greece...
: "The
legend
, on the other hand, has, of necessity, some historical or topographical connection. It refers imaginary events to some real personage, or it localizes romantic stories in some definite spot."
From the moment a legend is retold as fiction its authentic legendary qualities begin to fade and recede: in
The Legend of Sleepy Hollow
The Legend of Sleepy Hollow
"The Legend of Sleepy Hollow" is a short story by Washington Irving contained in his collection The Sketch Book of Geoffrey Crayon, Gent., written while he was living in Birmingham, England, and first published in 1820...
,
Washington Irving
Washington Irving
Washington Irving was an American author, essayist, biographer and historian of the early 19th century. He was best known for his short stories "The Legend of Sleepy Hollow" and "Rip Van Winkle", both of which appear in his book The Sketch Book of Geoffrey Crayon, Gent. His historical works...
transformed a local Hudson River Valley legend into a literary anecdote with "Gothic" overtones, which actually tended to diminish its character as genuine legend.
Stories that exceed these boundaries of "
realism
Realism (arts)
Realism in the visual arts and literature refers to the general attempt to depict subjects "in accordance with secular, empirical rules", as they are considered to exist in third person objective reality, without embellishment or interpretation...
" are called "
fable
Fable
A fable is a succinct fictional story, in prose or verse, that features animals, mythical creatures, plants, inanimate objects or forces of nature which are anthropomorphized , and that illustrates a moral lesson , which may at the end be expressed explicitly in a pithy maxim.A fable differs from...
s". For example, the
talking animal
Talking animal
A talking animal or speaking animal refers to any form of non-human animal which can produce sounds resembling those of a human language. Many species or groups of animals have developed forms of Animal Communication Systems which to some appear to be a non-verbal language...
formula of
Aesop
Aesop
Aesop was a Greek writer credited with a number of popular fables. Older spellings of his name have included Esop and Isope. Although his existence remains uncertain and no writings by him survive, numerous tales credited to him were gathered across the centuries and in many languages in a...
identifies his brief stories as fables, not legends. The parable of the Prodigal Son would be a legend if it were told as having actually happened to a specific son of a historical father. If it included an
ass
Donkey
The donkey or ass, Equus africanus asinus, is a domesticated member of the Equidae or horse family. The wild ancestor of the donkey is the African Wild Ass, E...
that gave sage advice to the Prodigal Son it would be a fable.
Legend may be transmitted orally, passed on person-to-person, or, in the original sense, through written text. Jacob de Voragine's
Legenda Aurea
or "The Golden Legend" comprises a series of
vitae
or instructive biographical narratives, tied to the liturgical calendar of the
Roman Catholic Church
Roman Catholic Church
The Catholic Church, also known as the Roman Catholic Church, is the world's largest Christian church, with over a billion members. Led by the Pope, it defines its mission as spreading the gospel of Jesus Christ, administering the sacraments and exercising charity...
. They are presented as lives of the saints, but the profusion of miraculous happenings and above all their uncritical context are characteristics of
hagiography
Hagiography
Hagiography is the study of saints.From the Greek and , it refers literally to writings on the subject of such holy people, and specifically to the biographies of saints and ecclesiastical leaders. The term hagiology, the study of hagiography, is also current in English, though less common...
. The
Legenda
was intended to inspire extemporized homilies and sermons appropriate to the
saint
Saint
A saint is a holy person. In various religions, saints are people who are believed to have exceptional holiness.In Christian usage, "saint" refers to any believer who is "in Christ", and in whom Christ dwells, whether in heaven or in earth...
of the day.
Examples of famous legends
Atlantis

Atlantis

Atlantis is a legendary island first mentioned in Plato's dialogues Timaeus and Critias, written about 360 BC....



Big Foot
Cenodoxus

Cenodoxus

Cenodoxus is one of several medieval miracle plays by Jacob Bidermann, an early 17th century German Jesuit and prolific playwright. Jacob Bidermann's treatment of the Legend of the Doctor of Paris is generally regarded as one of the inspirations for Goethe's Faust.-Performance history:Published in...


, or the Damnation of the Good Doctor of Paris, told as an event justifying the sanctification of St. Bruno

Bruno

Bruno is a male given name. It is derived from the Germanic word brun meaning "brown". It is also one of the most frequent Italian surnames. It also occurs very frequently in continental Europe and parts of Brazil as a given name for men and boys...



Celtic Legends
El Dorado

El Dorado

El Dorado is the name of a Muisca tribal chief who covered himself with gold dust and, as an initiation rite, dived into a highland lake.Later it became the name of a legendary "Lost City of Gold" that has fascinated – and so far eluded – explorers since the days of the Spanish Conquistadors...



Fountain of Youth

Fountain of Youth

The Fountain of Youth is a legendary spring that reputedly restores the youth of anyone who drinks of its waters. Tales of such a fountain have been recounted across the world for thousands of years, appearing in writings by Herodotus, the Alexander romance, and the stories of Prester John...



Helen of Troy and the Trojan War

Trojan War

In Greek mythology, the Trojan War was waged against the city of Troy by the Achaeans after Paris of Troy took Helen from her husband Menelaus, the king of Sparta. The war is among the most important events in Greek mythology and was narrated in many works of Greek literature, including the Iliad...



King Arthur

King Arthur

King Arthur is a legendary British leader of the late 5th and early 6th centuries, who, according to Medieval histories and romances, led the defence of Britain against Saxon invaders in the early 6th century. The details of Arthur's story are mainly composed of folklore and literary invention, and...


and the Knights of the Round Table
Legends of Africa

Legends of Africa

Africa has a wealth of history which is largely unrecorded. Myths, fables and legends abound.-Imhotep of Egypt:The father of medicine, the first architect, the builder of first pyramid....



Odysseus

Odysseus

Odysseus or Ulysses was a legendary Greek king of Ithaca and the hero of Homer's epic poem the Odyssey. Odysseus also plays a key role in Homer's Iliad and other works in the Epic Cycle....



Philosopher's stone

Philosopher's stone

The philosopher's stone is a legendary alchemical substance said to be capable of turning base metals into gold or silver. It was also sometimes believed to be an elixir of life, useful for rejuvenation and possibly for achieving immortality. For many centuries, it was the most sought-after goal...



Robin Hood

Robin Hood

Robin Hood was a heroic outlaw in English folklore. A highly skilled archer and swordsman, he is known for "robbing from the rich and giving to the poor", assisted by a group of fellow outlaws known as his "Merry Men". Traditionally, Robin Hood and his men are depicted wearing Lincoln green clothes....



Romulus and Remus

Romulus and Remus

Romulus and Remus are Rome's twin founders in its traditional foundation myth, although the former is sometimes said to be the sole founder...


and the founding of Rome
Shangri-La

Shangri-La

Shangri-La is a fictional place described in the 1933 novel Lost Horizon by British author James Hilton. Hilton describes Shangri-La as a mystical, harmonious valley, gently guided from a lamasery, enclosed in the western end of the Kunlun Mountains...



Táin Bó Flidhais

Táin Bó Flidhais

Táin Bó Flidhais, also known as the Mayo Táin, is a tale from the Ulster Cycle of early Irish literature. It is one of a group of works known as Táin Bó, or "cattle raid" stories, the best known of which is Táin Bó Cúailnge...



Vlad the Impaler; stories of his cruelty have attained legendary status, most likely spread after his death by his enemies.
William Tell

William Tell

William Tell is a folk hero of Switzerland. His legend is recorded in a late 15th century Swiss chronicle....