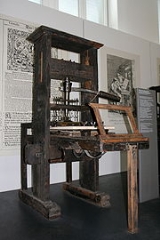 Printing press
A
printing press
is a device for applying pressure to an
ink
Ink
Ink is a liquid or paste that contains pigments and/or dyes and is used to color a surface to produce an image, text, or design. Ink is used for drawing and/or writing with a pen, brush, or quill...
ed surface resting upon a
print
Printing
Printing is a process for reproducing text and image, typically with ink on paper using a printing press. It is often carried out as a large-scale industrial process, and is an essential part of publishing and transaction printing....
medium (such as paper or cloth), thereby transferring the ink. Typically used for texts, the invention and spread of the printing press are widely regarded as the most influential events in the second millennium AD, revolutionizing the way people conceive and describe the world they live in, and ushering in the period of modernity.
The printing press was invented in the
Holy Roman Empire
Holy Roman Empire
The Holy Roman Empire was a realm that existed from 962 to 1806 in Central Europe.It was ruled by the Holy Roman Emperor. Its character changed during the Middle Ages and the Early Modern period, when the power of the emperor gradually weakened in favour of the princes...
by the
German
Germany
Germany , officially the Federal Republic of Germany , is a federal parliamentary republic in Europe. The country consists of 16 states while the capital and largest city is Berlin. Germany covers an area of 357,021 km2 and has a largely temperate seasonal climate...
Johannes Gutenberg
around 1440, based on existing
screw press
Screw press
A screw press is a type of machine press in which the ram is driven up and down by a screw. The screw shaft can be driven by a handle, or a wheel. It works by using a coarse screw to convert the rotation of the handle or drive-wheel into a small downward movement of greater force. The overhead...
es.