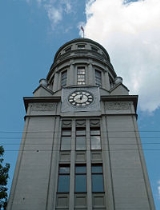 Ivan Rerberg
Ivan Ivanovich Rerberg
was a Russian
civil engineer
Civil engineer
A civil engineer is a person who practices civil engineering; the application of planning, designing, constructing, maintaining, and operating infrastructures while protecting the public and environmental health, as well as improving existing infrastructures that have been neglected.Originally, a...
,
architect
Architect
An architect is a person trained in the planning, design and oversight of the construction of buildings. To practice architecture means to offer or render services in connection with the design and construction of a building, or group of buildings and the space within the site surrounding the...
and educator active in
Moscow
Moscow
Moscow is the capital, the most populous city, and the most populous federal subject of Russia. The city is a major political, economic, cultural, scientific, religious, financial, educational, and transportation centre of Russia and the continent...
in 1897–1932. Rerberg's input to present-day Moscow include Kiyevsky Rail Terminal, Central Telegraph building and the Administration building of
Moscow Kremlin
Moscow Kremlin
The Moscow Kremlin , sometimes referred to as simply The Kremlin, is a historic fortified complex at the heart of Moscow, overlooking the Moskva River , Saint Basil's Cathedral and Red Square and the Alexander Garden...
. Rerberg, a fourth member in a dynasty of engineers, was credited with innovative approach to
structural frames
Steel frame
Steel frame usually refers to a building technique with a "skeleton frame" of vertical steel columns and horizontal -beams, constructed in a rectangular grid to support the floors, roof and walls of a building which are all attached to the frame...
and despised the title of an
architect
, always signing his drafts
Engineer Rerberg
.
Biography
Rerberg's father, Ivan Fyodorovich Rerberg (1831—1917), was a railroad engineer who became executive director of Moscow-
Nizhny Novgorod
Nizhny Novgorod
Nizhny Novgorod , colloquially shortened to Nizhny, is, with the population of 1,250,615, the fifth largest city in Russia, ranking after Moscow, St. Petersburg, Novosibirsk, and Yekaterinburg...
railroad. Founder of Rerberg dynasty came to Russia from
Denmark
Denmark
Denmark is a Scandinavian country in Northern Europe. The countries of Denmark and Greenland, as well as the Faroe Islands, constitute the Kingdom of Denmark . It is the southernmost of the Nordic countries, southwest of Sweden and south of Norway, and bordered to the south by Germany. Denmark...
in
Petrine period
Peter I of Russia
Peter the Great, Peter I or Pyotr Alexeyevich Romanov Dates indicated by the letters "O.S." are Old Style. All other dates in this article are New Style. ruled the Tsardom of Russia and later the Russian Empire from until his death, jointly ruling before 1696 with his half-brother, Ivan V...
, and since then first-born sons in the family always were named either
Ivan
or
Fyodor
. Ivan's elder brother, Fyodor (1863—1938), became a painter.
Ivan was educated in a
Cadet Corps
Cadet Corps (Russia)
The Cadet Corps is an admissions-based all boys military academy which prepared boys to become commissioned officers. Boys between the ages of 8 and 15 were enrolled. It was founded in Saint Petersburg, Russian Empire in 1731 by Tsarina Anne. The term of education was seven years...
, was commissioned into
military engineer
Military engineer
In military science, engineering refers to the practice of designing, building, maintaining and dismantling military works, including offensive, defensive and logistical structures, to shape the physical operating environment in war...
s, and graduated from
Saint Petersburg
Saint Petersburg
Saint Petersburg is a city and a federal subject of Russia located on the Neva River at the head of the Gulf of Finland on the Baltic Sea...
Academy of military engineers in 1896. By this time he had solid practical experience in building
dam
Dam
A dam is a barrier that impounds water or underground streams. Dams generally serve the primary purpose of retaining water, while other structures such as floodgates or levees are used to manage or prevent water flow into specific land regions. Hydropower and pumped-storage hydroelectricity are...
s and roads. In the same 1896 he dropped out of military service and joined the construction team of
Kharkov locomotive works
Malyshev Factory
- External links :* *...
. Next year Rerberg was hired by
Roman Klein
Roman Klein
Roman Ivanovich Klein , born Robert Julius Klein, was a Russian architect and educator, best known for his Neoclassical Pushkin Museum in Moscow. Klein, an eclectic, was one of the most prolific architects of his period, second only to Fyodor Schechtel...
as Klein's deputy for structural engineering on the site of
Museum of Fine Arts
Pushkin Museum
The Pushkin Museum of Fine Arts is the largest museum of European art in Moscow, located in Volkhonka street, just opposite the Cathedral of Christ the Saviour....
in Moscow. Rerberg worked on the museum site for 12 years (1897—1909) and was awarded an honorary title of its
lifetime architect
. Simultaneously Rerberg managed other projects of Klein's firm —
Muir & Mirrielees
Muir & Mirrielees
TsUM – Central Universal Department Store – is one of the most renowned department stores in Moscow. It is located in a six-story historical building at Petrovka street. TSUM is a part of Mercury group.- TSUM today :...
department store (1907—1908),
Moscow State University
Moscow State University
Lomonosov Moscow State University , previously known as Lomonosov University or MSU , is the largest university in Russia. Founded in 1755, it also claims to be one of the oldest university in Russia and to have the tallest educational building in the world. Its current rector is Viktor Sadovnichiy...
expansion,
Devichye Pole
Devichye Pole
Devichye Pole is a historical medical campus, built in 1887-1897 in Khamovniki District of Moscow, Russia, to the master plan of Konstantin Bykovski. It is located between the Garden Ring and Novodevichy Convent...
clinics (1897—1900s), Miusskaya Square college (1903).
In 1906—1909 Rerberg, still an associate of Klein, was gradually switching to independent work. In 1906 he won a contest for the first stage of a large apartment building in
Meshchansky District
Meshchansky District
Meschansky District is a district of Central Administrative Okrug of Moscow, Russia. Population: The district extends due north from Kitai-gorod to Kamer-Kollezhsky Val. Western boundary with Tverskoy District follows the track of Neglinnaya River...
funded by the estate of the late G. G. Solodovnikov. The second stage was designed by
Marian Peretyatkovich
Marian Peretyatkovich
Marian Marianovich Peretyatkovich was a Ukrainian-born Russian architect. His premature death at the age of 43 limited his career to only eight years of independent practice , however, he managed to excel in a rational variety of late Art Nouveau, Renaissance Revival and Russian Revival in Saint...
; construction was managed by Traugott Bardt who completed the project in 1909. This building was styled in a mix of
Victorian architecture
Victorian architecture
The term Victorian architecture refers collectively to several architectural styles employed predominantly during the middle and late 19th century. The period that it indicates may slightly overlap the actual reign, 20 June 1837 – 22 January 1901, of Queen Victoria. This represents the British and...
and
Art Nouveau
Art Nouveau
Art Nouveau is an international philosophy and style of art, architecture and applied art—especially the decorative arts—that were most popular during 1890–1910. The name "Art Nouveau" is French for "new art"...
; all subsequent work by Rerberg belonged to the school of
Russian neoclassical revival
Russian neoclassical revival
Russian neoclassical revival was a trend in Russian culture, mostly pronounced in architecture, that briefly replaced eclecticism and Art Nouveau as the leading architectural style between the Revolution of 1905 and the outbreak of World War I, coexisting with the Silver Age of Russian Poetry...
.
In March 1909 Peretyatkovich and Rerberg teamed together to design the Northern Insurance buildings in
Kitai-Gorod
Kitai-gorod
Kitay-gorod , earlier also known as Great Posad , is a business district within Moscow, Russia, encircled by mostly-reconstructed medieval walls. It is separated from the Moscow Kremlin by Red Square. It does not constitute a district , as there are no resident voters, thus, municipal elections...
. Peretyatkovich soon left Moscow, and final, as-build, exterior of the building was shaped by Rerberg alone. This
modernized neoclassicism
project, completed in 1911, also employed
Vyacheslav Oltarzhevsky
Vyacheslav Oltarzhevsky
Vyacheslav Konstantinovich Oltarzhevsky was a Russian Soviet architect. He was one of the first Soviet experts in skyscraper construction, notable for his collaboration with Arkady Mordvinov on Hotel Ukraina...
and then unknown trainee
Ilya Golosov
Ilya Golosov
Ilya Alexandrovich Golosov was a Russian Soviet architect. A leader of Constructivism in 1925-1931, Ilya Golosov later developed his own style of early stalinist architecture known as postconstructivism...
. Rerberg's career peaked in the five years that preceded World War I. He designed private residences (present-day
Embassy of Indonesia
Embassy of Indonesia in Moscow
The Embassy of the Republic of Indonesia in Moscow is the diplomatic mission of Indonesia in the Russian Federation. It is located at 12 Novokuznetskaya Street in the Zamoskvorechye District of Moscow....
), hospitals, colleges, a high school and a shopping arcade. His last work conceived before World War I,
Kievsky Rail Terminal
Kievsky Rail Terminal
The Kiyevsky Rail Terminal is one of the nine rail terminals of Moscow, Russia. It is the only railway station in Moscow to have a frontage on the Moskva River....
, was substantially completed in 1917; interiors were completed in 1920—1921.
In the period of economic collapse that accompanied Civil War in Russia Rerberg was employed by three major theaters of Moscow —
Bolshoi
Bolshoi Theatre
The Bolshoi Theatre is a historic theatre in Moscow, Russia, designed by architect Joseph Bové, which holds performances of ballet and opera. The Bolshoi Ballet and Bolshoi Opera are amongst the oldest and most renowned ballet and opera companies in the world...
, Maly and
Moscow Art Theatre
Moscow Art Theatre
The Moscow Art Theatre is a theatre company in Moscow that the seminal Russian theatre practitioner Constantin Stanislavski, together with the playwright and director Vladimir Nemirovich-Danchenko, founded in 1898. It was conceived as a venue for naturalistic theatre, in contrast to the melodramas...
. In 1921—1923 he supervised emergency works on reinforcement of Bolshoi Theater foundations that were flooded by a wash from underground
Neglinnaya River
Neglinnaya River
The Neglinnaya River , also known as Neglimna, Neglinna, Neglinka , is a 7.5-km long underground river in the central part of Moscow and a tributary of the Moskva River. It flows in the tunnels under Samotechnaya Street, Tsvetnoy Boulevard, Neglinnaya Street and Alexander Garden and Zaryadye...
. Rerberg published proposals for a thorough renovation of Bolshoy, and these were slowly implemented under his supervision until Rerberg's death.
In 1925 Rerberg secured a contract to design Central Telegraph building in
Tverskaya Street
Tverskaya Street
Tverskaya Street , known as Gorky Street between 1935 and 1990, is the main and probably best-known radial street of Moscow, Russia. The street runs from the central Manege Square north-west in the direction of Saint Petersburg and terminated at the Garden Ring, giving its name to Tverskoy District...
; the state clients initially opted for a public contest, but were dissatisfied with
avant-garde
Avant-garde
Avant-garde means "advance guard" or "vanguard". The adjective form is used in English to refer to people or works that are experimental or innovative, particularly with respect to art, culture, and politics....
entries and preferred to hire an old school professional. Rerberg's draft was authorized in March 1926, and the building was completed in 1927. Rerberg used
reinforced concrete
Reinforced concrete
Reinforced concrete is concrete in which reinforcement bars , reinforcement grids, plates or fibers have been incorporated to strengthen the concrete in tension. It was invented by French gardener Joseph Monier in 1849 and patented in 1867. The term Ferro Concrete refers only to concrete that is...
frame and moved all staircases outside of main building shell; this resulted in unusually spacious and well-lit open space offices, new to Moscow construction. Large public area actually accounted for only 4% of its 35,000 meters; most of the space was occupied by actual telegraph and mail-sorting equipment, while 20% were allocated to house the Comissar of Communications with his staff. Later, the space taken by equipment was gradually reduced in favor of offices.
Externally, the Telegraph mixed modernist structure of glass panes and
granite
Granite
Granite is a common and widely occurring type of intrusive, felsic, igneous rock. Granite usually has a medium- to coarse-grained texture. Occasionally some individual crystals are larger than the groundmass, in which case the texture is known as porphyritic. A granitic rock with a porphyritic...
-clad columns with classical
symmetry
Symmetry
Symmetry generally conveys two primary meanings. The first is an imprecise sense of harmonious or aesthetically pleasing proportionality and balance; such that it reflects beauty or perfection...
and quality workmanship and attention to detail associated with
Art Deco
Art Deco
Art deco , or deco, is an eclectic artistic and design style that began in Paris in the 1920s and flourished internationally throughout the 1930s, into the World War II era. The style influenced all areas of design, including architecture and interior design, industrial design, fashion and...
. The building caused an uproar of avant-garde critics but was praised by mainstream press.
Rerberg's last project, Military College in Kremlin (present-day Administrative Building of Moscow Kremlin) was completed after his death, in 1934.
His grandson
Georgy Rerberg
Georgy Rerberg
Georgy Ivanovich Rerberg Soviet Union, – July 28, 1999, Moscow, Russia) was a Russian cinematographer.He is known for his work on Andrey Tarkovsky's Zerkalo...
is known as a cinematographer.
Further reading
William Craft Brumfield. The Origins of Modernism in Russian Architecture (Berkeley: University of California Press, 1991) ISBN 0520069293