 Muir & Mirrielees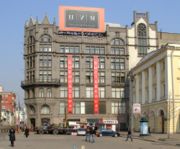 TsUM – Central Universal Department Store
– is one of the most renowned
department store
Department store
A department store is a retail establishment which satisfies a wide range of the consumer's personal and residential durable goods product needs; and at the same time offering the consumer a choice of multiple merchandise lines, at variable price points, in all product categories...
s in
Moscow
Moscow
Moscow is the capital, the most populous city, and the most populous federal subject of Russia. The city is a major political, economic, cultural, scientific, religious, financial, educational, and transportation centre of Russia and the continent...
. It is located in a six-story historical building at Petrovka street. TSUM is a part of Mercury group.
TSUM today
Nowadays TSUM is one of the most
fashion
Fashion
Fashion, a general term for a currently popular style or practice, especially in clothing, foot wear, or accessories. Fashion references to anything that is the current trend in look and dress up of a person...
able and trendiest places in the city, the largest fashion department store in
Eastern Europe
Eastern Europe
Eastern Europe is the eastern part of Europe. The term has widely disparate geopolitical, geographical, cultural and socioeconomic readings, which makes it highly context-dependent and even volatile, and there are "almost as many definitions of Eastern Europe as there are scholars of the region"...
. It carries in its stock more than 1000 brands of fashionable apparel,
perfume
Perfume
Perfume is a mixture of fragrant essential oils and/or aroma compounds, fixatives, and solvents used to give the human body, animals, objects, and living spaces "a pleasant scent"...
ry and jewelry, as well as "TSUM Globus Gourmet" gastronome, a
fusion
Fusion cuisine
Fusion cuisine combines elements of various culinary traditions while not being categorized per any one particular cuisine style, and can pertain to innovations in many contemporary restaurant cuisines since the 1970s.-Categories and types:...
restaurant, a cigar room, a café and Champagne-bar "
Veuve Clicquot
Veuve Clicquot
Veuve Clicquot Ponsardin is both a champagne house in Reims, France, and a brand of premium champagne. Founded in 1772 by Philippe Clicquot-Muiron, Veuve Clicquot played an important role in establishing champagne as a favored drink of haute bourgeoisie and nobility throughout Europe...
".
TSUM new seasonal collections appearance is supported by sound
advertising campaign
Advertising campaign
An advertising campaign is a series of advertisement messages that share a single idea and theme which make up an integrated marketing communication...
s with world-famous fashion stars –
Cindy Crawford
Cindy Crawford
Cynthia Ann "Cindy" Crawford is an American model. Known for her trademark mole just above her lip, Crawford has adorned hundreds of magazine covers throughout her career. She was named #3 on VH1's 40 Hottest Hotties of the 90s...
,
Milla Jovovich
Milla Jovovich
Milla Jovovich December 17, 1975)is an American model, actress, musician, and fashion designer. Over her career, she has appeared in a number of science fiction and action-themed films, for which music channel VH1 has referred to her as the "reigning queen of kick-butt".Milla Jovovich began...
,
Naomi Campbell
Naomi Campbell
Naomi Campbell is a British model. Scouted at the age of 15, she established herself among the top three most recognisable and in-demand models of the late 1980s and early 1990s, and she was one of six models of her generation declared "supermodels" by the fashion world...
,
Daria Werbowy
Daria Werbowy
Daria Werbowy is a Ukrainian Canadian model. She is perhaps best known as a spokesperson for the French beauty brand Lancôme.-Personal life:...
,
Malgosia Bela
Malgosia Bela
Małgosia Bela is a Polish fashion model and actress.Bela became a successful runway and editorial model in the late nineties, appearing on the covers of many international editions of Vogue, including Vogue Italia and Vogue Paris...
,
Mathias Lauridsen
Mathias Lauridsen
Mathias Lauridsen is a Danish model from Copenhagen, Denmark and has been featured in numerous ad campaigns including Jil Sander, Gucci, Hugo Boss, Lacoste, Louis Vuitton and Hermès....
.
The world renowned couturieres –
Roland Mouret
Roland Mouret
Roland Mouret is a French fashion designer.-Training and early career:His fashion training consisted of three months in a Parisian fashion college in 1979. In the 1980s Mouret worked as creative director with Gai Pied Hebdo, a Paris-based gay publication, and was an Act Up activist...
, Ralph Rucci,
Carolina Herrera
Carolina Herrera (fashion designer)
Carolina Herrera Carolina Herrera Carolina Herrera (born María Carolina Josefina Pacanins y Niño (born January 8, 1939) is a Venezuelan and naturalized American fashion designer and entrepreneur who founded her eponymous company in 1980.-Early life:...
,
Dennis Basso
Dennis Basso
Dennis Basso is an American fashion designer and one of America's premier couture fur designers. He started his business in 1983.-Education:...
,
Michael Kors
Michael Kors
Michael Kors is an American fashion designer. He is best known for designing classic American sportswear for women.-Personal life:...
and
Victoria Beckham
Victoria Beckham
Victoria Caroline Beckham is an English singer-songwriter, dancer, model, actress, fashion designer and businesswoman. In the late 1990s, Beckham rose to fame with the all-female pop group Spice Girls and was dubbed Posh Spice by the July 1996 issue of the British pop music magazine Top of the Pops...
– participate in TSUM events introducing to the guests and clients of TSUM their newest collections in person.
TSUM clients enjoy European service and a number of unique facilities: VIP-shopping and professional stylists' advice, cosmetic procedures, lectures on
modern art
Modern art
Modern art includes artistic works produced during the period extending roughly from the 1860s to the 1970s, and denotes the style and philosophy of the art produced during that era. The term is usually associated with art in which the traditions of the past have been thrown aside in a spirit of...
.
TSUM history
In 1857 merchants Andrew Muir and Archibald Mirrielees founded "Muir and Mirrielees" Trade Company. In 1880-s the Company acquired a building for the shop in Theatre Square. The new building was erected in 1908 in the style of European gothic with some modern touch. The project was implemented by the famous Russian architect
Roman Klein
Roman Klein
Roman Ivanovich Klein , born Robert Julius Klein, was a Russian architect and educator, best known for his Neoclassical Pushkin Museum in Moscow. Klein, an eclectic, was one of the most prolific architects of his period, second only to Fyodor Schechtel...
. "Muir and Mirrielees" was the first and the largest department store in those days
Russian Empire
Russian Empire
The Russian Empire was a state that existed from 1721 until the Russian Revolution of 1917. It was the successor to the Tsardom of Russia and the predecessor of the Soviet Union...
(one could buy clothes, shoes, jewelry, perfumery and toys there). The store attracted highest public interest: "In the eyes of the Moscovites "Muir and Mirrielees" is a kind of exhibition of all that the capital trades, be that for the rich and secular, or the middle-class customers" – wrote one of the contemporaries. TSUM new modern look was created in different periods. The last reconstruction took place in 2007.
TSUM branches
TSUM branch in
Barvikha
Barvikha
Barvikha is a village in Odintsovsky District of Moscow Oblast, Russia. It is the site of the Barvikha Sanatorium, the health resort of the President of Russia...
Luxury Village began its work in April 2008; in June 2009 TSUM Outlet opened its doors in Mega Teply Stan (a
discount
Discount
Discounting is a financial mechanism in which a debtor obtains the right to delay payments to a creditor, for a defined period of time, in exchange for a charge or fee. Essentially, the party that owes money in the present purchases the right to delay the payment until some future date...
store carrying last season's collections of TSUM brands).
Charitable and cultural activity
TSUM has participated in a number of beneficial projects: in September 2009 TSUM organized an action to support
orphan
Orphan
An orphan is a child permanently bereaved of or abandoned by his or her parents. In common usage, only a child who has lost both parents is called an orphan...
s, in March 2010 a photo-project to support the struggle against
cancer
Cancer
Cancer , known medically as a malignant neoplasm, is a large group of different diseases, all involving unregulated cell growth. In cancer, cells divide and grow uncontrollably, forming malignant tumors, and invade nearby parts of the body. The cancer may also spread to more distant parts of the...
was presented.
Exhibitions and art-projects are supported by TSUM Art Foundation (specializing in modern art). As a part of the II Moscow Biennale of Contemporary Art in 2007 TSUM presented the "American video-art" project. It was followed by
Yoko Ono
Yoko Ono
is a Japanese artist, musician, author and peace activist, known for her work in avant-garde art, music and filmmaking as well as her marriage to John Lennon...
's monographic exhibition "The Odyssey of Cockroach", the exhibition of
Chinese art
Chinese art
Chinese art is visual art that, whether ancient or modern, originated in or is practiced in China or by Chinese artists or performers. Early so-called "stone age art" dates back to 10,000 BC, mostly consisting of simple pottery and sculptures. This early period was followed by a series of art...
"China, forward!" and
Oleg Kulik
Oleg Kulik
Oleg Kulik is a Russian performance artist of Ukrainian ethnicity, sculptor, photographer and curator.Kulik was born in Kiev, graduated from Kiev Art School and Kiev Geological Survey College , and was awarded a scholarship by the Berlin Senate in 1996...
's "MOSCOW. TSUM" installation project in 2009.