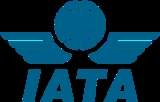 International Air Transport Association
The
International Air Transport Association
(
IATA
) is an
international
International
----International mostly means something that involves more than one country. The term international as a word means involvement of, interaction between or encompassing more than one nation, or generally beyond national boundaries...
industry trade group
Industry trade group
A trade association, also known as an industry trade group, business association or sector association, is an organization founded and funded by businesses that operate in a specific industry...
of
airline
Airline
An airline provides air transport services for traveling passengers and freight. Airlines lease or own their aircraft with which to supply these services and may form partnerships or alliances with other airlines for mutual benefit...
s headquartered in
Montreal
Montreal
Montreal is a city in Canada. It is the largest city in the province of Quebec, the second-largest city in Canada and the seventh largest in North America...
,
Quebec
Quebec
Quebec or is a province in east-central Canada. It is the only Canadian province with a predominantly French-speaking population and the only one whose sole official language is French at the provincial level....
,
Canada
Canada
Canada is a North American country consisting of ten provinces and three territories. Located in the northern part of the continent, it extends from the Atlantic Ocean in the east to the Pacific Ocean in the west, and northward into the Arctic Ocean...
, where the
International Civil Aviation Organization
International Civil Aviation Organization
The International Civil Aviation Organization , pronounced , , is a specialized agency of the United Nations. It codifies the principles and techniques of international air navigation and fosters the planning and development of international air transport to ensure safe and orderly growth...
is also headquartered. The executive offices are at the Geneva Airport in
Switzerland
Switzerland
Switzerland name of one of the Swiss cantons. ; ; ; or ), in its full name the Swiss Confederation , is a federal republic consisting of 26 cantons, with Bern as the seat of the federal authorities. The country is situated in Western Europe,Or Central Europe depending on the definition....
IATA's mission is to represent, lead, and serve the airline industry. IATA represents some 230 airlines comprising 93% of scheduled international air traffic. The Director General and Chief Executive Officer is Tony Tyler.
Currently, IATA is present in over 150 countries covered through 101 offices around the globe.
History
IATA was formed on 19 April 1945, in
Havana
Havana
Havana is the capital city, province, major port, and leading commercial centre of Cuba. The city proper has a population of 2.1 million inhabitants, and it spans a total of — making it the largest city in the Caribbean region, and the most populous...
,
Cuba
Cuba
The Republic of Cuba is an island nation in the Caribbean. The nation of Cuba consists of the main island of Cuba, the Isla de la Juventud, and several archipelagos. Havana is the largest city in Cuba and the country's capital. Santiago de Cuba is the second largest city...
. It is the successor to the International Air Traffic Association, founded in
The Hague
The Hague
The Hague is the capital city of the province of South Holland in the Netherlands. With a population of 500,000 inhabitants , it is the third largest city of the Netherlands, after Amsterdam and Rotterdam...
in 1919, the year of the world's first international scheduled services. At its founding, IATA had 57 members from 31 nations, mostly in
Europe
Europe
Europe is, by convention, one of the world's seven continents. Comprising the westernmost peninsula of Eurasia, Europe is generally 'divided' from Asia to its east by the watershed divides of the Ural and Caucasus Mountains, the Ural River, the Caspian and Black Seas, and the waterways connecting...
and
North America
North America
North America is a continent wholly within the Northern Hemisphere and almost wholly within the Western Hemisphere. It is also considered a northern subcontinent of the Americas...
. Today it has about 230 members from more than 140 nations in every part of the world.
Mission
IATA's started mission is to represent, lead and serve the airline industry. All the Airline rules and regulations are defined by IATA. The main aim of IATA is to provide safe and secure transportation to its passengers.
Price setting
One of its core functions was to act as a price setting body for international airfare.
In an arrangement going back to 1944, international fare prices have been set through bilateral governmental agreements rather than through market mechanisms.
Airlines had been granted a special exemption by each of the main
regulatory authorities
Competition regulator
A competition regulator is a government agency, typically a statutory authority, sometimes called an economic regulator, which regulates and enforces competition laws, and may sometimes also enforce consumer protection laws...
in the world to consult prices with each other through this body.
Originally both domestic and international aviation were highly regulated by IATA. Since 1978 in US and later in Europe, domestic deregulation highlighted the benefits of open markets to consumers in terms of lower fares and companies in terms of more efficient networks. This led to the formation of bilateral "open skies" agreements that weakened IATA's price fixing role. Negotiations are underway since 2003 to create a completely deregulated aviation market covering European and US airspace.
In recent years the organisation has been accused of acting as a
cartel
Cartel
A cartel is a formal agreement among competing firms. It is a formal organization of producers and manufacturers that agree to fix prices, marketing, and production. Cartels usually occur in an oligopolistic industry, where there is a small number of sellers and usually involve homogeneous products...
, and many low cost carriers are not full IATA members. The
European Union
European Union
The European Union is an economic and political union of 27 independent member states which are located primarily in Europe. The EU traces its origins from the European Coal and Steel Community and the European Economic Community , formed by six countries in 1958...
's competition authorities are currently investigating the IATA. In 2005,
Neelie Kroes
Neelie Kroes
Neelie Kroes is a Dutch politician of the People's Party for Freedom and Democracy . She served as a Member of the House of Representatives from 3 August 1971 until 28 December 1977 when she became State Secretary for Transport, Public Works and Water Management from 28 December 1977 until 11...
, the
European Commissioner
European Commissioner
A European Commissioner is a member of the 27-member European Commission. Each Member within the college holds a specific portfolio and are led by the President of the European Commission...
for Competition, made a proposal to lift the exception to consult prices. In July 2006, the
United States Department of Transportation
United States Department of Transportation
The United States Department of Transportation is a federal Cabinet department of the United States government concerned with transportation. It was established by an act of Congress on October 15, 1966, and began operation on April 1, 1967...
also proposed to withdraw
antitrust
Antitrust
The United States antitrust law is a body of laws that prohibits anti-competitive behavior and unfair business practices. Antitrust laws are intended to encourage competition in the marketplace. These competition laws make illegal certain practices deemed to hurt businesses or consumers or both,...
immunity. IATA teamed with SITA for an electronic ticketing solution.
The effect of the antitrust investigations has been that 'IATA fares' have been withdrawn
http://www.iata.org/pressroom/facts_figures/fact_sheets/flexfares.htm
-
Within EU at the end of 2006
Between EU-USA and between EU-Australia at the end of June 2007
Between EU and the rest of the world ended the end of October 2007
Australian competition authority ACCC ended immunity in June 2008 for markets to/from Australia
IATA has responded to the demise of the IATA fares by introducing a new fareclass - Flexfares
http://www.iata.org/pressroom/facts_figures/fact_sheets/flexfares.htm
. However, these new fares are not replacement of the earlier full IATA fare, and a number of airlines (including Lufthansa
http://www.flyertalk.com/forum/miles-more-lufthansa-austrian-swiss-other-partners/723020-lh-finalises-abandon-iata-fares.html
) are not participating in this.
For fare calculations IATA has divided the world in three regions:
South, Central and North America.
Europe, Middle East and Africa. IATA Europe includes the geographical Europe and Turkey

Turkey

Turkey , known officially as the Republic of Turkey , is a Eurasian country located in Western Asia and in East Thrace in Southeastern Europe...


, Israel

Israel

The State of Israel is a parliamentary republic located in the Middle East, along the eastern shore of the Mediterranean Sea...


, Morocco

Morocco

Morocco , officially the Kingdom of Morocco , is a country located in North Africa. It has a population of more than 32 million and an area of 710,850 km², and also primarily administers the disputed region of the Western Sahara...


, Algeria

Algeria

Algeria , officially the People's Democratic Republic of Algeria , also formally referred to as the Democratic and Popular Republic of Algeria, is a country in the Maghreb region of Northwest Africa with Algiers as its capital.In terms of land area, it is the largest country in Africa and the Arab...


and Tunisia

Tunisia

Tunisia , officially the Tunisian RepublicThe long name of Tunisia in other languages used in the country is: , is the northernmost country in Africa. It is a Maghreb country and is bordered by Algeria to the west, Libya to the southeast, and the Mediterranean Sea to the north and east. Its area...


.
Asia, Australia, New Zealand and the islands of the Pacific Ocean.
Other activities
IATA assigns 3-letter
IATA Airport Code
IATA airport code
An IATA airport code, also known an IATA location identifier, IATA station code or simply a location identifier, is a three-letter code designating many airports around the world, defined by the International Air Transport Association...
s and 2-letter
IATA airline designators
Airline codes
This is a list of airline codes. The table lists the IATA airline designators, the ICAO airline designators and the airline call signs...
, which are commonly used worldwide. ICAO also assigns airport and airline codes. For
Rail&Fly
Code sharing
A codeshare agreement, sometimes simply codeshare, is an aviation business arrangement where two or more airlines share the same flight. A seat can be purchased on one airline but is actually operated by a cooperating airline under a different flight number or code...
systems, IATA also assigns
IATA train station codes
. For delay codes, IATA assigns
IATA Delay Codes
IATA Delay Codes
IATA Delay Codes were created to help airlines standardize why a commercial flight left late from its departure airport.Previously every airline had its own system, thus IATA standardized the format of transmission of delay information into delay codes. These delay codes express who is responsible...
.
IATA is pivotal in the worldwide accreditation of travel agents. In the
U.S.
United States
The United States of America is a federal constitutional republic comprising fifty states and a federal district...
, agents who wish to sell airline tickets must also achieve accreditation with the Airlines Reporting Corporation. Over 80% of airlines' sales come from IATA accredited agents. The IATA / IATAN ID Card is a globally recognized industry credential for travel professionals.
IATA administrates worldwide the Billing and Settlement Plan (BSP) and Cargo Accounts Settlement Systems (CASS) that serve as a facilitator of the sales, reporting and remittance of accredited travel and cargo agencies. Both settlement programmes are ruled by standards and resolutions.
IATA regulates the shipping of
dangerous goods
Dangerous goods
Dangerous goods are solids, liquids, or gases that can harm people, other living organisms, property, or the environment. They are often subject to chemical regulations. "HazMat teams" are personnel specially trained to handle dangerous goods...
and publishes the
IATA Dangerous Goods Regulations
manual (DGR) yearly, a globally accepted (
de facto
) field source reference for airlines' shipping of hazardous materials.
IATA coordinates the
Scheduling process
which governs the allocation and exchange of slots at congested airports worldwide, applying fair, transparent and non-discriminatory principles. In consultation with the airline and airport coordinator communities, IATA manages and publishes the industry standards in the Worldwide Scheduling Guidelines (WSG) intended to provide guidance on managing the allocation of slots at airports.
IATA maintains the
Timatic
Timatic
Timatic is the database containing cross border passenger documentation requirements. It is used by airlines to determine whether a passenger can be carried, as well as by airlines and travel agents to provide this information to travellers at the time of booking...
database containing cross border passenger documentation requirements. It is used by airlines to determine whether a passenger can be carried, as well as by airlines and travel agents to provide this information to travelers at the time of booking.
IATA publishes standards for use in the airline industry. The Bar Coded Boarding Pass (BCBP) standard defines the 2-dimensional (2D) bar code printed on paper boarding passes or sent to mobiles phones as electronic boarding passes.
IATA publishes the
IATA Rates of Exchange
(IROE) four times per year, used with the Neutral Unit of Construction (NUC) fare currency-neutral construction system that superseded the older Fare Construction Unit (FCU) system in 1989.
In 2004, IATA launched Simplifying the Business - a set of five initiatives which it says will save the industry US$6.5 billion every year. These projects are BCBP,
IATA e-freight
IATA e-freight
IATA e-freight is taking the paper out of the air cargo supply chain and replacing it with cheaper, more accurate and more reliable electronic messaging. As of January 2010, 24 locations that account for 64% of international air cargo volumes are e-freight capable...
,
CUSS
Common Use Self Service
Common Use Self Service or CUSS is a shared kiosk offering check-in facilities to passengers without the need for ground staff. The CUSS can be used by several participating airlines in a single terminal....
(common use self-service), Baggage Improvement Programme (BIP) and the Fast Travel Programme.
In 2003, the IATA Operational Safety Audit (
IOSA
IATA Operational Safety Audit
The IATA Operational Safety Audit programme is an internationally recognised and accepted evaluation system designed to assess the operational management and control systems of an airline. IOSA uses internationally recognised quality audit principles and is designed to conduct audits in a...
) was launched with the aim to serve as a standard and worldwide recognized certification of airlines' operational management. The
IOSA
IATA Operational Safety Audit
The IATA Operational Safety Audit programme is an internationally recognised and accepted evaluation system designed to assess the operational management and control systems of an airline. IOSA uses internationally recognised quality audit principles and is designed to conduct audits in a...
certification has now become a mandatory requisite for all IATA member airlines.
IATA is member of the
Air Transport Action Group
Air Transport Action Group
The Air Transport Action Group is a coalition of aviation industry experts focusing on sustainable development issues. Its Board of Directors is composed of senior representatives from Airbus, Airports Council International, Boeing, Bombardier Aerospace, Civil Air Navigation Services Organisation,...
(ATAG).
Criticism
In 2011, the election of
James Hogan (CEO)
James Hogan (CEO)
James Hogan is an Australian expatriate executive based in Abu Dhabi, United Arab Emirates...
, the serving CEO of Etihad, to IATA's board was criticized by CEOs of regional carriers
Qatar Airways
Qatar Airways
Qatar Airways Company Q.C.S.C. , operating as Qatar Airways, is the flag carrier of Qatar. Headquartered in the Qatar Airways Tower in Doha, it operates a hub-and-spoke network, linking over 100 international destinations from its base in Doha, using a fleet of over 100 aircraft...
and Emirates. The election was considered indicative of IATA's prevailing image as "an entity run by the very few" without due consultation from participants.
See also