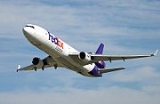 Airline
An
airline
provides
air transport services
Civil aviation
Civil aviation is one of two major categories of flying, representing all non-military aviation, both private and commercial. Most of the countries in the world are members of the International Civil Aviation Organization and work together to establish common standards and recommended practices...
for
travel
Travel
Travel is the movement of people or objects between relatively distant geographical locations. 'Travel' can also include relatively short stays between successive movements.-Etymology:...
ing
passenger
Passenger
A passenger is a term broadly used to describe any person who travels in a vehicle, but bears little or no responsibility for the tasks required for that vehicle to arrive at its destination....
s and freight. Airlines
lease
Leasing
Leasing is a process by which a firm can obtain the use of a certain fixed assets for which it must pay a series of contractual, periodic, tax deductible payments....
or own their
aircraft
Aircraft
An aircraft is a vehicle that is able to fly by gaining support from the air, or, in general, the atmosphere of a planet. An aircraft counters the force of gravity by using either static lift or by using the dynamic lift of an airfoil, or in a few cases the downward thrust from jet engines.Although...
with which to supply these services and may form
partnership
Partnership
A partnership is an arrangement where parties agree to cooperate to advance their mutual interests.Since humans are social beings, partnerships between individuals, businesses, interest-based organizations, schools, governments, and varied combinations thereof, have always been and remain commonplace...
s or
alliances
Airline alliance
An airline alliance is an agreement between two or more airlines to cooperate on a substantial level. The three largest passenger alliances are the Star Alliance, SkyTeam and Oneworld. Alliances also form between cargo airlines, such as that of WOW Alliance, SkyTeam Cargo and ANA/UPS Alliance...
with other airlines for mutual benefit. Generally, airline companies are recognized with an
air operating certificate
Air Operator's Certificate
An air operator's certificate is the approval granted from a national aviation authority to an aircraft operator to allow it to use aircraft for commercial purposes. This requires the operator to have personnel, assets and system in place to ensure the safety of its employees and the general public...
or license issued by a governmental aviation body.
Airlines vary from those with a single aircraft carrying
mail
Mail
Mail, or post, is a system for transporting letters and other tangible objects: written documents, typically enclosed in envelopes, and also small packages are delivered to destinations around the world. Anything sent through the postal system is called mail or post.In principle, a postal service...
or
cargo
Cargo
Cargo is goods or produce transported, generally for commercial gain, by ship, aircraft, train, van or truck. In modern times, containers are used in most intermodal long-haul cargo transport.-Marine:...
, through full-service international airlines operating hundreds of aircraft.