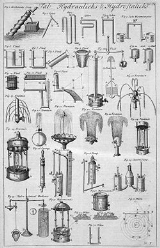 Hydraulics
Hydraulics
is a topic in
applied science
Applied science
Applied science is the application of scientific knowledge transferred into a physical environment. Examples include testing a theoretical model through the use of formal science or solving a practical problem through the use of natural science....
and
engineering
Engineering
Engineering is the discipline, art, skill and profession of acquiring and applying scientific, mathematical, economic, social, and practical knowledge, in order to design and build structures, machines, devices, systems, materials and processes that safely realize improvements to the lives of...
dealing with the mechanical properties of
liquid
Liquid
Liquid is one of the three classical states of matter . Like a gas, a liquid is able to flow and take the shape of a container. Some liquids resist compression, while others can be compressed. Unlike a gas, a liquid does not disperse to fill every space of a container, and maintains a fairly...
s.
Fluid mechanics
Fluid mechanics
Fluid mechanics is the study of fluids and the forces on them. Fluid mechanics can be divided into fluid statics, the study of fluids at rest; fluid kinematics, the study of fluids in motion; and fluid dynamics, the study of the effect of forces on fluid motion...
provides the theoretical foundation for hydraulics, which focuses on the engineering uses of fluid properties. In
fluid power
Fluid power
Fluid power is the use of fluids under pressure to generate, control, and transmit power. Fluid power is subdivided into hydraulics using a liquid such as mineral oil or water, and pneumatics using a gas such as air or other gases...
, hydraulics is used for the generation, control, and transmission of power by the use of
pressurized
Pressure
Pressure is the force per unit area applied in a direction perpendicular to the surface of an object. Gauge pressure is the pressure relative to the local atmospheric or ambient pressure.- Definition :...
liquids. Hydraulic topics range through most science and engineering disciplines, and cover concepts such as pipe
flow
Volumetric flow rate
The volumetric flow rate in fluid dynamics and hydrometry, is the volume of fluid which passes through a given surface per unit time...
,
dam
Dam
A dam is a barrier that impounds water or underground streams. Dams generally serve the primary purpose of retaining water, while other structures such as floodgates or levees are used to manage or prevent water flow into specific land regions. Hydropower and pumped-storage hydroelectricity are...
design,
fluidics
Fluidics
Fluidics or Fluidic logic is the use of a fluid to perform analog or digital operations similar to those performed with electronics.The physical basis of fluidics is pneumatics and hydraulics, based on the theoretical foundation of fluid dynamics...
and fluid control circuitry,
pump
Pump
A pump is a device used to move fluids, such as liquids, gases or slurries.A pump displaces a volume by physical or mechanical action. Pumps fall into three major groups: direct lift, displacement, and gravity pumps...
s,
turbines
Water turbine
A water turbine is a rotary engine that takes energy from moving water.Water turbines were developed in the 19th century and were widely used for industrial power prior to electrical grids. Now they are mostly used for electric power generation. They harness a clean and renewable energy...
,
hydropower
Hydropower
Hydropower, hydraulic power, hydrokinetic power or water power is power that is derived from the force or energy of falling water, which may be harnessed for useful purposes. Since ancient times, hydropower has been used for irrigation and the operation of various mechanical devices, such as...
,
computational fluid dynamics
Computational fluid dynamics
Computational fluid dynamics, usually abbreviated as CFD, is a branch of fluid mechanics that uses numerical methods and algorithms to solve and analyze problems that involve fluid flows. Computers are used to perform the calculations required to simulate the interaction of liquids and gases with...
, flow measurement, river channel behavior and erosion.
Free surface hydraulics
is the branch of hydraulics dealing with
free surface
Free surface
In physics, a free surface is the surface of a fluid that is subject to constant perpendicular normal stress and zero parallel shear stress,such as the boundary between two homogenous fluids,for example liquid water and the air in the Earth's atmosphere...
flow, such as occurring in
river
River
A river is a natural watercourse, usually freshwater, flowing towards an ocean, a lake, a sea, or another river. In a few cases, a river simply flows into the ground or dries up completely before reaching another body of water. Small rivers may also be called by several other names, including...
s,
canal
Canal
Canals are man-made channels for water. There are two types of canal:#Waterways: navigable transportation canals used for carrying ships and boats shipping goods and conveying people, further subdivided into two kinds:...
s,
lake
Lake
A lake is a body of relatively still fresh or salt water of considerable size, localized in a basin, that is surrounded by land. Lakes are inland and not part of the ocean and therefore are distinct from lagoons, and are larger and deeper than ponds. Lakes can be contrasted with rivers or streams,...
s,
estuaries
Estuary
An estuary is a partly enclosed coastal body of water with one or more rivers or streams flowing into it, and with a free connection to the open sea....
and
sea
Sea
A sea generally refers to a large body of salt water, but the term is used in other contexts as well. Most commonly, it means a large expanse of saline water connected with an ocean, and is commonly used as a synonym for ocean...
s.