 Honeydew (secretion)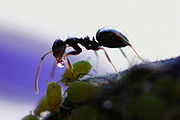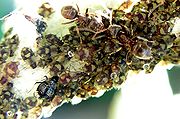 Honeydew
is a
sugar
Sugar
Sugar is a class of edible crystalline carbohydrates, mainly sucrose, lactose, and fructose, characterized by a sweet flavor.Sucrose in its refined form primarily comes from sugar cane and sugar beet...
-rich sticky liquid, secreted by aphids and some
scale insect
Scale insect
The scale insects are small insects of the order Hemiptera, generally classified as the superfamily Coccoidea. There are about 8,000 species of scale insects.-Ecology:...
s as they feed on
plant sap
Plant sap
Sap is a fluid transported in xylem cells or phloem sieve tube elements of a plant. It transports water and nutrients throughout the plant....
. When their mouthpart penetrates the
phloem
Phloem
In vascular plants, phloem is the living tissue that carries organic nutrients , in particular, glucose, a sugar, to all parts of the plant where needed. In trees, the phloem is the innermost layer of the bark, hence the name, derived from the Greek word "bark"...
, the sugary, high-pressure liquid is forced out of the gut's terminal opening. Honeydew is particularly common as a secretion in the
Hemiptera
Hemiptera
Hemiptera is an order of insects most often known as the true bugs , comprising around 50,000–80,000 species of cicadas, aphids, planthoppers, leafhoppers, shield bugs, and others...
n insects and is often the basis for
trophobiosis
Trophobiosis
Trophobiosis is a symbiotic association between organisms where food is obtained or provided. The provider of food in the association is referred to as a trophobiont....
. Some
caterpillar
Caterpillar
Caterpillars are the larval form of members of the order Lepidoptera . They are mostly herbivorous in food habit, although some species are insectivorous. Caterpillars are voracious feeders and many of them are considered to be pests in agriculture...
s of
lycaenidae
Lycaenidae
The Lycaenidae are the second-largest family of butterflies, with about 6000 species worldwide, whose members are also called gossamer-winged butterflies...
butterflies and some moths also produce honeydew. Honeydew can cause
sooty mold
Sooty mold
Sooty molds are Ascomycete fungi which grow on plant exudates and the sugary honeydew secreted by insects such as aphids, scales, the whitefly, and other insects which suck sap from their host plants. The name itself is descriptive, as sooty mold is a black, powdery coating adhering to the leaves...
—a bane of gardeners—on many
ornamental plant
Ornamental plant
Ornamental plants are plants that are grown for decorative purposes in gardens and landscape design projects, as house plants, for cut flowers and specimen display...
s. Honeydew is also secreted by certain fungi, particularly
ergot
Ergot
Ergot or ergot fungi refers to a group of fungi of the genus Claviceps. The most prominent member of this group is Claviceps purpurea. This fungus grows on rye and related plants, and produces alkaloids that can cause ergotism in humans and other mammals who consume grains contaminated with its...
.
Honeydew is collected by certain species of birds,
wasp
Wasp
The term wasp is typically defined as any insect of the order Hymenoptera and suborder Apocrita that is neither a bee nor an ant. Almost every pest insect species has at least one wasp species that preys upon it or parasitizes it, making wasps critically important in natural control of their...
s,
stingless bee
Stingless bee
Stingless bees, sometimes called stingless honey bees or simply meliponines, are a large group of bees, comprising the tribe Meliponini . They belong in the family Apidae, and are closely related to common honey bees, carpenter bees, orchid bees and bumblebees...
s and
honey bee
Honey bee
Honey bees are a subset of bees in the genus Apis, primarily distinguished by the production and storage of honey and the construction of perennial, colonial nests out of wax. Honey bees are the only extant members of the tribe Apini, all in the genus Apis...
s, which process it into a dark, strong
honey
Honey
Honey is a sweet food made by bees using nectar from flowers. The variety produced by honey bees is the one most commonly referred to and is the type of honey collected by beekeepers and consumed by humans...
(honeydew honey). This is highly prized in parts of
Europe
Europe
Europe is, by convention, one of the world's seven continents. Comprising the westernmost peninsula of Eurasia, Europe is generally 'divided' from Asia to its east by the watershed divides of the Ural and Caucasus Mountains, the Ural River, the Caspian and Black Seas, and the waterways connecting...
and
Asia
Asia
Asia is the world's largest and most populous continent, located primarily in the eastern and northern hemispheres. It covers 8.7% of the Earth's total surface area and with approximately 3.879 billion people, it hosts 60% of the world's current human population...
for its reputed medicinal value.
Ant
Ant
Ants are social insects of the family Formicidae and, along with the related wasps and bees, belong to the order Hymenoptera. Ants evolved from wasp-like ancestors in the mid-Cretaceous period between 110 and 130 million years ago and diversified after the rise of flowering plants. More than...
s may even collect, or "milk," honeydew directly from aphids, which benefit from their presence due to their ability to drive away predators such as
lady beetles
Coccinellidae
Coccinellidae is a family of beetles, known variously as ladybirds , or ladybugs . Scientists increasingly prefer the names ladybird beetles or lady beetles as these insects are not true bugs...
.
In Madagascar, some gecko species in the genera
Phelsuma
Phelsuma
The genus Phelsuma consists of several lizards in the gecko family, commonly referred to as Day Geckos.-Description:In contrast to most other gecko species, day geckos are active mainly during the day. Other diurnal geckos are members of the genus Lygodactylus and the genus Gonatodes...
and
Lygodactylus
Lygodactylus
Lygodactylus is a genus of diurnal geckos with approximately 60 species. They are commonly referred to as Dwarf Geckos. They are mainly found in Africa and Madagascar although two species are found in South America. Lygodactylus picturatus, the best known species, is found in Kenya and commonly...
are known to approach
Flatid
Flatidae
Flatidae are a family of Fulgoroid plant-hoppers. They are cosmopolitan in distribution and are distinguished from others in the superfamily by a combination of characters...
plant-hoppers on tree-trunks from below and induce them to excrete honeydew by head nodding behaviour. The plant-hopper then raises its abdomen and excretes a drop of honeydew almost right onto the snout of the gecko.
Religion and mythology
In
Norse mythology
Norse mythology
Norse mythology, a subset of Germanic mythology, is the overall term for the myths, legends and beliefs about supernatural beings of Norse pagans. It flourished prior to the Christianization of Scandinavia, during the Early Middle Ages, and passed into Nordic folklore, with some aspects surviving...
,
dew
Dew
[Image:Dew on a flower.jpg|right|220px|thumb|Some dew on an iris in Sequoia National Park]]Dew is water in the form of droplets that appears on thin, exposed objects in the morning or evening...
falls from the ash tree
Yggdrasil
Yggdrasil
In Norse mythology, Yggdrasil is an immense tree that is central in Norse cosmology. It was said to be the world tree around which the nine worlds existed...
to the earth, and according to the
Prose Edda
Prose Edda
The Prose Edda, also known as the Younger Edda, Snorri's Edda or simply Edda, is an Icelandic collection of four sections interspersed with excerpts from earlier skaldic and Eddic poetry containing tales from Nordic mythology...
book
Gylfaginning
Gylfaginning
Gylfaginning, or the Tricking of Gylfi , is the first part of Snorri Sturluson's Prose Edda after Prologue. The Gylfaginning deals with the creation and destruction of the world of the Norse gods, and many other aspects of Norse mythology...
, "this is what people call honeydew and from it bees feed."
In
Greek mythology
Greek mythology
Greek mythology is the body of myths and legends belonging to the ancient Greeks, concerning their gods and heroes, the nature of the world, and the origins and significance of their own cult and ritual practices. They were a part of religion in ancient Greece...
,
méli
, or "honey", drips from the Manna–ash, (
Fraxinus ornus
Fraxinus ornus
Fraxinus ornus is a species of Fraxinus native to southern Europe and southwestern Asia, from Spain and Italy north to Austria and the Czech Republic, and east through the Balkans, Turkey, and western Syria to the Lebanon.It is a medium-sized deciduous tree growing to 15–25 m tall with a trunk up...
), with which the
Meliae
Meliae
In Greek mythology, the Meliae or Meliai were nymphs of the ash tree, whose name they shared. They appeared from the drops of blood spilled when Cronus castrated Uranus, according to Hesiod, Theogony 187. From the same blood sprang the Erinyes, suggesting that the ash-tree nymphs represented the...
, or "ash tree
nymph
Nymph
A nymph in Greek mythology is a female minor nature deity typically associated with a particular location or landform. Different from gods, nymphs are generally regarded as divine spirits who animate nature, and are usually depicted as beautiful, young nubile maidens who love to dance and sing;...
s", nursed the infant god
Zeus
Zeus
In the ancient Greek religion, Zeus was the "Father of Gods and men" who ruled the Olympians of Mount Olympus as a father ruled the family. He was the god of sky and thunder in Greek mythology. His Roman counterpart is Jupiter and his Etruscan counterpart is Tinia.Zeus was the child of Cronus...
on the island of
Crete
Crete
Crete is the largest and most populous of the Greek islands, the fifth largest island in the Mediterranean Sea, and one of the thirteen administrative regions of Greece. It forms a significant part of the economy and cultural heritage of Greece while retaining its own local cultural traits...
, (as in the
Hymn to Zeus
by
Callimachus
Callimachus
Callimachus was a native of the Greek colony of Cyrene, Libya. He was a noted poet, critic and scholar at the Library of Alexandria and enjoyed the patronage of the Egyptian–Greek Pharaohs Ptolemy II Philadelphus and Ptolemy III Euergetes...
).
Honey-dew is referenced in the last lines of Samuel Coleridge's poem
Kubla Khan
Kubla Khan
Kubla Khan is a poem by Samuel Taylor Coleridge, completed in 1797 and published in Christabel, Kubla Khan, and the Pains of Sleep in 1816...
, perhaps because of its mythological connotations:
And all who heard should see them there,
And all should cry, Beware! Beware!
His flashing eyes, his floating hair!
Weave a circle round him thrice,
And close your eyes with holy dread,
For he on honey-dew hath fed,
And drunk the milk of Paradise.