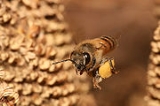 Honey bee
This article refers collectively to all true honey bees; for the "common" domesticated honey bee, see European honey bee

European honey bee

The Western honey bee or European honey bee is a species of honey bee. The genus Apis is Latin for "bee", and mellifera comes from Latin melli- "honey" and ferre "to bear"—hence the scientific name means "honey-bearing bee"...


.
Honey bees
(or
honeybees
) are a subset of
bee
Bee
Bees are flying insects closely related to wasps and ants, and are known for their role in pollination and for producing honey and beeswax. Bees are a monophyletic lineage within the superfamily Apoidea, presently classified by the unranked taxon name Anthophila...
s in the genus
Apis
, primarily distinguished by the production and storage of
honey
Honey
Honey is a sweet food made by bees using nectar from flowers. The variety produced by honey bees is the one most commonly referred to and is the type of honey collected by beekeepers and consumed by humans...
and the construction of perennial,
colonial
Colony (biology)
In biology, a colony reference to several individual organisms of the same species living closely together, usually for mutual benefit, such as stronger defense or the ability to attack bigger prey. Some insects live only in colonies...
nests out of
wax
Beeswax
Beeswax is a natural wax produced in the bee hive of honey bees of the genus Apis. It is mainly esters of fatty acids and various long chain alcohols...
. Honey bees are the only extant members of the tribe Apini, all in the genus
Apis
.