 Hematophagy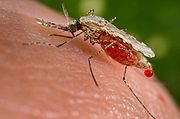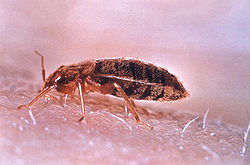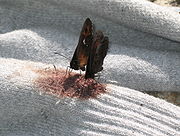 Hematophagy
is the practice of certain
animal
Animal
Animals are a major group of multicellular, eukaryotic organisms of the kingdom Animalia or Metazoa. Their body plan eventually becomes fixed as they develop, although some undergo a process of metamorphosis later on in their life. Most animals are motile, meaning they can move spontaneously and...
s of
feeding
Feeding
Feeding is the process by which organisms, typically animals, obtain food. Terminology often uses either the suffix -vore from Latin vorare, meaning 'to devour', or phagy, from Greek φαγειν, meaning 'to eat'.-Evolutionary history:...
on
blood
Blood
Blood is a specialized bodily fluid in animals that delivers necessary substances such as nutrients and oxygen to the cells and transports metabolic waste products away from those same cells....
(from the
Greek
Greek language
Greek is an independent branch of the Indo-European family of languages. Native to the southern Balkans, it has the longest documented history of any Indo-European language, spanning 34 centuries of written records. Its writing system has been the Greek alphabet for the majority of its history;...
words,
haima
"blood" and
phagein
"to eat"). Since blood is a fluid tissue rich in nutritious
protein
Protein
Proteins are biochemical compounds consisting of one or more polypeptides typically folded into a globular or fibrous form, facilitating a biological function. A polypeptide is a single linear polymer chain of amino acids bonded together by peptide bonds between the carboxyl and amino groups of...
s and
lipid
Lipid
Lipids constitute a broad group of naturally occurring molecules that include fats, waxes, sterols, fat-soluble vitamins , monoglycerides, diglycerides, triglycerides, phospholipids, and others...
s that can be taken without enormous effort, hematophagy has
evolved
Evolution
Evolution is any change across successive generations in the heritable characteristics of biological populations. Evolutionary processes give rise to diversity at every level of biological organisation, including species, individual organisms and molecules such as DNA and proteins.Life on Earth...
as a preferred form of feeding in many small animals such as
worm
Worm
The term worm refers to an obsolete taxon used by Carolus Linnaeus and Jean-Baptiste Lamarck for all non-arthropod invertebrate animals, and stems from the Old English word wyrm. Currently it is used to describe many different distantly-related animals that typically have a long cylindrical...
s and
arthropod
Arthropod
An arthropod is an invertebrate animal having an exoskeleton , a segmented body, and jointed appendages. Arthropods are members of the phylum Arthropoda , and include the insects, arachnids, crustaceans, and others...
s. Some intestinal
nematodes
Parasitic worm
Parasitic worms or helminths are a division of eukaryoticparasites that, unlike external parasites such as lice and fleas, live inside their host. They are worm-like organisms that live and feed off living hosts, receiving nourishment and protection while disrupting their hosts' nutrient...
, such as Ancylostomids, feed on blood extracted from the capillaries of the gut and about 75% of all species of
leech
Leech
Leeches are segmented worms that belong to the phylum Annelida and comprise the subclass Hirudinea. Like other oligochaetes such as earthworms, leeches share a clitellum and are hermaphrodites. Nevertheless, they differ from other oligochaetes in significant ways...
es (e.g.
Hirudo medicinalis
), a free-living worm, are hematophagous. Some
fish
Fish
Fish are a paraphyletic group of organisms that consist of all gill-bearing aquatic vertebrate animals that lack limbs with digits. Included in this definition are the living hagfish, lampreys, and cartilaginous and bony fish, as well as various extinct related groups...
, such as
lamprey
Lamprey
Lampreys are a family of jawless fish, whose adults are characterized by a toothed, funnel-like sucking mouth. Translated from an admixture of Latin and Greek, lamprey means stone lickers...
s, and
mammal
Mammal
Mammals are members of a class of air-breathing vertebrate animals characterised by the possession of endothermy, hair, three middle ear bones, and mammary glands functional in mothers with young...
s, especially the
vampire bat
Vampire bat
Vampire bats are bats whose food source is blood, a dietary trait called hematophagy. There are three bat species that feed solely on blood: the Common Vampire Bat , the Hairy-legged Vampire Bat , and the White-winged Vampire Bat .All three species are native to the Americas, ranging from Mexico to...
s, also practice hematophagy.
Mechanism and evolution
These hematophagous animals have
mouth
Mouth
The mouth is the first portion of the alimentary canal that receives food andsaliva. The oral mucosa is the mucous membrane epithelium lining the inside of the mouth....
parts and chemical agents for penetrating vascular structures in the
skin
Skin
-Dermis:The dermis is the layer of skin beneath the epidermis that consists of connective tissue and cushions the body from stress and strain. The dermis is tightly connected to the epidermis by a basement membrane. It also harbors many Mechanoreceptors that provide the sense of touch and heat...
of
hosts
Host (biology)
In biology, a host is an organism that harbors a parasite, or a mutual or commensal symbiont, typically providing nourishment and shelter. In botany, a host plant is one that supplies food resources and substrate for certain insects or other fauna...
, mostly of mammals,
bird
Bird
Birds are feathered, winged, bipedal, endothermic , egg-laying, vertebrate animals. Around 10,000 living species and 188 families makes them the most speciose class of tetrapod vertebrates. They inhabit ecosystems across the globe, from the Arctic to the Antarctic. Extant birds range in size from...
s, and
fish
Fish
Fish are a paraphyletic group of organisms that consist of all gill-bearing aquatic vertebrate animals that lack limbs with digits. Included in this definition are the living hagfish, lampreys, and cartilaginous and bony fish, as well as various extinct related groups...
. This type of feeding is known as phlebotomy (from the Greek words,
phleps
"vein" and
tomos
"cutting").
Once phlebotomy is performed (in most insects by a specialized fine hollow "needle" called
proboscis
Proboscis
A proboscis is an elongated appendage from the head of an animal, either a vertebrate or an invertebrate. In simpler terms, a proboscis is the straw-like mouth found in several varieties of species.-Etymology:...
which perforates skin and
capillaries
Capillary
Capillaries are the smallest of a body's blood vessels and are parts of the microcirculation. They are only 1 cell thick. These microvessels, measuring 5-10 μm in diameter, connect arterioles and venules, and enable the exchange of water, oxygen, carbon dioxide, and many other nutrient and waste...
; in bats by sharp
incisor teeth
Incisor
Incisors are the first kind of tooth in heterodont mammals. They are located in the premaxilla above and mandible below.-Function:...
that act as a razor to cut the skin), blood is acquired either by sucking action directly from the vases, from a pool of escaped blood, or by lapping (again, in bats). In order to overcome natural
hemostasis
Hemostasis
Hemostasis or haemostasis is a process which causes bleeding to stop, meaning to keep blood within a damaged blood vessel . Most of the time this includes blood changing from a liquid to a solid state. Intact blood vessels are central to moderating blood's tendency to clot...
(blood coagulation),
vasoconstriction
Vasoconstriction
Vasoconstriction is the narrowing of the blood vessels resulting from contraction of the muscular wall of the vessels, particularly the large arteries, small arterioles and veins. The process is the opposite of vasodilation, the widening of blood vessels. The process is particularly important in...
,
inflammation
Inflammation
Inflammation is part of the complex biological response of vascular tissues to harmful stimuli, such as pathogens, damaged cells, or irritants. Inflammation is a protective attempt by the organism to remove the injurious stimuli and to initiate the healing process...
, and
pain
Pain
Pain is an unpleasant sensation often caused by intense or damaging stimuli such as stubbing a toe, burning a finger, putting iodine on a cut, and bumping the "funny bone."...
sensation in the host, biochemical solutions in the
saliva
Saliva
Saliva , referred to in various contexts as spit, spittle, drivel, drool, or slobber, is the watery substance produced in the mouths of humans and most other animals. Saliva is a component of oral fluid. In mammals, saliva is produced in and secreted from the three pairs of major salivary glands,...
for instance, for pre-injection,
anesthesia
Anesthesia
Anesthesia, or anaesthesia , traditionally meant the condition of having sensation blocked or temporarily taken away...
and capillary dilation have evolved in different hematophagous species.
Anticoagulant
Anticoagulant
An anticoagulant is a substance that prevents coagulation of blood. A group of pharmaceuticals called anticoagulants can be used in vivo as a medication for thrombotic disorders. Some anticoagulants are used in medical equipment, such as test tubes, blood transfusion bags, and renal dialysis...
medicines have been developed on the basis of substances found in the saliva of several hematophagous species such as leeches (
hirudin
Hirudin
Hirudin is a naturally occurring peptide in the salivary glands of medicinal leeches that has a blood anticoagulant property...
).
Hematophagy can be classified into
obligatory
and
optional
practice. Obligatory hematophagous animals do not have any other type of food besides blood; one such species is
Rhodnius prolixus
Rhodnius prolixus
Rhodnius prolixus is the second most important triatomine vector of the Chagas parasite due to its efficient adaptation to the human domicile in northern South America, where sylvatic populations also exist, and in Central America where it is exclusively domestic...
(an assassin bug from South America). This contrasts with optional hematophages, like the many
mosquito
Mosquito
Mosquitoes are members of a family of nematocerid flies: the Culicidae . The word Mosquito is from the Spanish and Portuguese for little fly...
es species, such as
Aedes aegypti
Aedes aegypti
The yellow fever mosquito, Aedes aegypti is a mosquito that can spread the dengue fever, Chikungunya and yellow fever viruses, and other diseases. The mosquito can be recognized by white markings on legs and a marking in the form of a lyre on the thorax...
, which may also feed on
pollen
Pollen
Pollen is a fine to coarse powder containing the microgametophytes of seed plants, which produce the male gametes . Pollen grains have a hard coat that protects the sperm cells during the process of their movement from the stamens to the pistil of flowering plants or from the male cone to the...
,
fruit
Fruit
In broad terms, a fruit is a structure of a plant that contains its seeds.The term has different meanings dependent on context. In non-technical usage, such as food preparation, fruit normally means the fleshy seed-associated structures of certain plants that are sweet and edible in the raw state,...
juice, and other biological fluids. Sometimes only the female of the species is a hematophage (this is essential for
egg
Ovum
An ovum is a haploid female reproductive cell or gamete. Both animals and embryophytes have ova. The term ovule is used for the young ovum of an animal, as well as the plant structure that carries the female gametophyte and egg cell and develops into a seed after fertilization...
production and reproduction). Coyotes, wolves, and other canids may lick blood.
Hematophagy has apparently evolved independently in many disparate arthropod,
annelid
Annelid
The annelids , formally called Annelida , are a large phylum of segmented worms, with over 17,000 modern species including ragworms, earthworms and leeches...
,
nematode
Nematode
The nematodes or roundworms are the most diverse phylum of pseudocoelomates, and one of the most diverse of all animals. Nematode species are very difficult to distinguish; over 28,000 have been described, of which over 16,000 are parasitic. It has been estimated that the total number of nematode...
and mammalian taxa. For example
Diptera
Diptera
Diptera , or true flies, is the order of insects possessing only a single pair of wings on the mesothorax; the metathorax bears a pair of drumstick like structures called the halteres, the remnants of the hind wings. It is a large order, containing an estimated 240,000 species, although under half...
(insects with two
wing
Wing
A wing is an appendage with a surface that produces lift for flight or propulsion through the atmosphere, or through another gaseous or liquid fluid...
s, such as
flies
Fly
True flies are insects of the order Diptera . They possess a pair of wings on the mesothorax and a pair of halteres, derived from the hind wings, on the metathorax...
) have eleven families with hematophagous habits (more than half of the 19 hematophagous arthropod taxa). About 14,000 species of arthropods are hematophagous, even including some genera that were not previously thought to be, such as
moth
Moth
A moth is an insect closely related to the butterfly, both being of the order Lepidoptera. Moths form the majority of this order; there are thought to be 150,000 to 250,000 different species of moth , with thousands of species yet to be described...
s of the genus
Calyptra
Calyptra (moth)
The genus Calyptra is a group of moths in subfamily Calpinae of the family Noctuidae. They are a member of the Calpini tribe. whose precise circumscription is uncertain but includes a number of other fruit-piercing or eye-frequenting genera currently classified in Calpinae.The common name of many...
. Several complementary biological adaptations for locating the hosts (usually in the dark, as most hematophagous species are nocturnal and silent, in order to avoid detection and destruction by the host) have also evolved, such as special physical or chemical detectors (for
sweat
SWEAT
SWEAT is an OLN/TSN show hosted by Julie Zwillich that aired in 2003-2004.Each of the 13 half-hour episodes of SWEAT features a different outdoor sport: kayaking, mountain biking, ice hockey, beach volleyball, soccer, windsurfing, rowing, Ultimate, triathlon, wakeboarding, snowboarding, telemark...
components,
CO2
Carbon dioxide
Carbon dioxide is a naturally occurring chemical compound composed of two oxygen atoms covalently bonded to a single carbon atom...
,
heat
Heat
In physics and thermodynamics, heat is energy transferred from one body, region, or thermodynamic system to another due to thermal contact or thermal radiation when the systems are at different temperatures. It is often described as one of the fundamental processes of energy transfer between...
,
light
Light
Light or visible light is electromagnetic radiation that is visible to the human eye, and is responsible for the sense of sight. Visible light has wavelength in a range from about 380 nanometres to about 740 nm, with a frequency range of about 405 THz to 790 THz...
, movement, etc.).
Medical importance
The phlebotomic action opens a channel for contamination of the host species with
bacteria
Bacteria
Bacteria are a large domain of prokaryotic microorganisms. Typically a few micrometres in length, bacteria have a wide range of shapes, ranging from spheres to rods and spirals...
, viruses and blood-borne parasites contained in the hematophagous organism. Thus, many animal and human
infectious disease
Infectious disease
Infectious diseases, also known as communicable diseases, contagious diseases or transmissible diseases comprise clinically evident illness resulting from the infection, presence and growth of pathogenic biological agents in an individual host organism...
s are transmitted by hematophagous species, such as the
bubonic plague
Bubonic plague
Plague is a deadly infectious disease that is caused by the enterobacteria Yersinia pestis, named after the French-Swiss bacteriologist Alexandre Yersin. Primarily carried by rodents and spread to humans via fleas, the disease is notorious throughout history, due to the unrivaled scale of death...
,
Chagas disease
Chagas disease
Chagas disease is a tropical parasitic disease caused by the flagellate protozoan Trypanosoma cruzi. T. cruzi is commonly transmitted to humans and other mammals by an insect vector, the blood-sucking insects of the subfamily Triatominae most commonly species belonging to the Triatoma, Rhodnius,...
,
dengue fever
Dengue fever
Dengue fever , also known as breakbone fever, is an infectious tropical disease caused by the dengue virus. Symptoms include fever, headache, muscle and joint pains, and a characteristic skin rash that is similar to measles...
,
filariasis
Filariasis
Filariasis is a parasitic disease and is considered an infectious tropical disease, that is caused by thread-like nematodes belonging to the superfamily Filarioidea, also known as "filariae"....
,
leishmaniasis
Leishmaniasis
Leishmaniasis is a disease caused by protozoan parasites that belong to the genus Leishmania and is transmitted by the bite of certain species of sand fly...
,
Lyme disease
Lyme disease
Lyme disease, or Lyme borreliosis, is an emerging infectious disease caused by at least three species of bacteria belonging to the genus Borrelia. Borrelia burgdorferi sensu stricto is the main cause of Lyme disease in the United States, whereas Borrelia afzelii and Borrelia garinii cause most...
,
malaria
Malaria
Malaria is a mosquito-borne infectious disease of humans and other animals caused by eukaryotic protists of the genus Plasmodium. The disease results from the multiplication of Plasmodium parasites within red blood cells, causing symptoms that typically include fever and headache, in severe cases...
,
rabies
Rabies
Rabies is a viral disease that causes acute encephalitis in warm-blooded animals. It is zoonotic , most commonly by a bite from an infected animal. For a human, rabies is almost invariably fatal if post-exposure prophylaxis is not administered prior to the onset of severe symptoms...
, sleeping sickness,
St. Louis encephalitis
St. Louis Encephalitis
St. Louis Encephalitis is a disease caused by the Culex mosquito borne St. Louis Encephalitis virus. St. Louis encephalitis virus is related to Japanese encephalitis virus and is a member of the Flaviviridae subgroup. This disease mainly affects the United States...
,
tularemia
Tularemia
Tularemia is a serious infectious disease caused by the bacterium Francisella tularensis. A Gram-negative, nonmotile coccobacillus, the bacterium has several subspecies with varying degrees of virulence. The most important of those is F...
,
typhus
Typhus
Epidemic typhus is a form of typhus so named because the disease often causes epidemics following wars and natural disasters...
,
Rocky Mountain spotted fever
Rocky Mountain spotted fever
Rocky Mountain spotted fever is the most lethal and most frequently reported rickettsial illness in the United States. It has been diagnosed throughout the Americas. Some synonyms for Rocky Mountain spotted fever in other countries include "tick typhus," "Tobia fever" , "São Paulo fever" or "febre...
, West Nile fever, and many others.
Insects and arachnids of medical importance for being hematophagous, at least in some species, include the
sandfly
Sandfly
thumb|Sandfly biting a human's little fingerthumb|Sandfly biteSandfly is a colloquial name for any species or genus of flying, biting, blood-sucking Dipteran encountered in sandy areas...
,
blackfly
Blackfly
Blackfly, black-fly, or black fly may refer to:*Black fly, a fly of the family Simuliidae*Blackfly , a 2001 Canadian comedy series*Aphid or blackfly...
,
tsetse fly
Tsetse fly
Tsetse , sometimes spelled tzetze and also known as tik-tik flies, are large biting flies that inhabit much of mid-continental Africa between the Sahara and the Kalahari deserts. They live by feeding on the blood of vertebrate animals and are the primary biological vectors of trypanosomes, which...
,
bedbug
Bedbug
Cimicidae are small parasitic insects. The most common type is Cimex lectularius. The term usually refers to species that prefer to feed on human blood...
, assassin bug,
mosquito
Mosquito
Mosquitoes are members of a family of nematocerid flies: the Culicidae . The word Mosquito is from the Spanish and Portuguese for little fly...
,
tick
Tick
Ticks are small arachnids in the order Ixodida, along with mites, constitute the subclass Acarina. Ticks are ectoparasites , living by hematophagy on the blood of mammals, birds, and sometimes reptiles and amphibians...
,
louse
Louse
Lice is the common name for over 3,000 species of wingless insects of the order Phthiraptera; three of which are classified as human disease agents...
,
mite
Mite
Mites, along with ticks, are small arthropods belonging to the subclass Acari and the class Arachnida. The scientific discipline devoted to the study of ticks and mites is called acarology.-Diversity and systematics:...
,
midge
Midge (insect)
Midges comprise many kinds of very small two-winged flies found world-wide. The term does not encapsulate a well-defined taxonomic group, but includes animals in several families of Nematoceran Diptera. While some midges are vectors for disease, many others play useful roles as prey items for...
, and
flea
Flea
Flea is the common name for insects of the order Siphonaptera which are wingless insects with mouthparts adapted for piercing skin and sucking blood...
.
Hematophagous organisms have been used by physicians for beneficial purposes (hirudotherapy). Some doctors now use leeches to prevent the clotting of blood on some wounds following surgery or trauma. The anticoagulants in the laboratory-raised leeches'
saliva
Saliva
Saliva , referred to in various contexts as spit, spittle, drivel, drool, or slobber, is the watery substance produced in the mouths of humans and most other animals. Saliva is a component of oral fluid. In mammals, saliva is produced in and secreted from the three pairs of major salivary glands,...
keeps fresh blood flowing to the site of an injury, actually preventing infection and increasing chances of full recovery. In a recent study a genetically engineered drug called
desmoteplase
Desmoteplase
Desmoteplase is a novel, highly fibrin-specific thrombolytic agent in phase III of clinical development. In 2009, 2 large trials were started, and the results of these studies will determine whether desmoteplase will gain marketing authorization as a safe and effective treatment for patients with...
based on the saliva of
Desmodus rotundus
(the vampire bat) was shown to improve
stroke
Stroke
A stroke, previously known medically as a cerebrovascular accident , is the rapidly developing loss of brain function due to disturbance in the blood supply to the brain. This can be due to ischemia caused by blockage , or a hemorrhage...
patients.
Human hematophagy
Drinking blood and manufacturing foodstuffs and delicacies with animal blood is also a feeding behavior in many societies. Cow blood mixed with
milk
Milk
Milk is a white liquid produced by the mammary glands of mammals. It is the primary source of nutrition for young mammals before they are able to digest other types of food. Early-lactation milk contains colostrum, which carries the mother's antibodies to the baby and can reduce the risk of many...
, for example, is a mainstay food of the African Maasai. Some sources say that
Mongols
Mongols
Mongols ) are a Central-East Asian ethnic group that lives mainly in the countries of Mongolia, China, and Russia. In China, ethnic Mongols can be found mainly in the central north region of China such as Inner Mongolia...
would drink blood from one of their horses if it became a necessity. Black pudding is eaten in many places around the world. Some societies, such as the
Moche
Moche
'The Moche civilization flourished in northern Peru from about 100 AD to 800 AD, during the Regional Development Epoch. While this issue is the subject of some debate, many scholars contend that the Moche were not politically organized as a monolithic empire or state...
, had ritual hematophagy, as well as the
Scythia
Scythia
In antiquity, Scythian or Scyths were terms used by the Greeks to refer to certain Iranian groups of horse-riding nomadic pastoralists who dwelt on the Pontic-Caspian steppe...
ns, a nomadic people of
Russia
Russia
Russia or , officially known as both Russia and the Russian Federation , is a country in northern Eurasia. It is a federal semi-presidential republic, comprising 83 federal subjects...
, who had the habit of drinking the blood of the first enemy they would kill in
battle
War
War is a state of organized, armed, and often prolonged conflict carried on between states, nations, or other parties typified by extreme aggression, social disruption, and usually high mortality. War should be understood as an actual, intentional and widespread armed conflict between political...
. Some religious rituals and symbols seemingly mirror hematophagy, such as in the
transubstantiation
Transubstantiation
In Roman Catholic theology, transubstantiation means the change, in the Eucharist, of the substance of wheat bread and grape wine into the substance of the Body and Blood, respectively, of Jesus, while all that is accessible to the senses remains as before.The Eastern Orthodox...
of wine as the blood of Jesus Christ during
Christian
Christian
A Christian is a person who adheres to Christianity, an Abrahamic, monotheistic religion based on the life and teachings of Jesus of Nazareth as recorded in the Canonical gospels and the letters of the New Testament...
eucharist
Eucharist
The Eucharist , also called Holy Communion, the Sacrament of the Altar, the Blessed Sacrament, the Lord's Supper, and other names, is a Christian sacrament or ordinance...
. Psychiatric cases of patients performing hematophagy also exist. Sucking or licking one's own blood from a wound is also a behavior commonly seen in humans, and in small enough quantities is not considered taboo. Finally, human
vampirism
Vampire
Vampires are mythological or folkloric beings who subsist by feeding on the life essence of living creatures, regardless of whether they are undead or a living person...
has been a persistent object of literary and cultural attention.
See also
Consumer-resource systems

Consumer-resource systems

Consumer-resource interactions are the core motif of ecological food chains or food webs, and are an umbrella term for a variety of more specialized types of biological species interactions including prey-predator , host-parasite , plant-herbivore and victim-exploiter systems...



Natural reservoir

Natural reservoir

Natural reservoir or nidus, refers to the long-term host of the pathogen of an infectious disease. It is often the case that hosts do not get the disease carried by the pathogen or it is carried as a subclinical infection and so asymptomatic and non-lethal...



Tick-borne disease

Tick-borne disease

Tick-borne diseases are diseases or illnesses transmitted by ticks. As the incidence of tick-borne illnesses increases and the geographic areas in which they are found expand, it becomes increasingly important that health professionals be able to distinguish the diverse, and often overlapping,...



Transmission (medicine)

Transmission (medicine)

In medicine and biology, transmission is the passing of a communicable disease from an infected host individual or group to a conspecific individual or group, regardless of whether the other individual was previously infected...



Zoonosis

Zoonosis

A zoonosis or zoonoseis any infectious disease that can be transmitted from non-human animals to humans or from humans to non-human animals . In a study of 1415 pathogens known to affect humans, 61% were zoonotic...



Chupacabras
External links