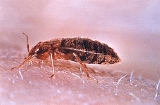 Bedbug
Cimicidae
are small parasitic insects. The most common type is
Cimex lectularius
. The term usually refers to species that prefer to feed on human
blood
Blood
Blood is a specialized bodily fluid in animals that delivers necessary substances such as nutrients and oxygen to the cells and transports metabolic waste products away from those same cells....
. All insects in this family live by feeding exclusively on the blood of warm-blooded animals.
A number of health effects may occur due to bed bugs, including skin rashes, psychological effects, and allergic symptoms. Diagnosis involves both finding bed bugs and the occurrence of compatible symptoms. Treatment is otherwise symptomatic.
In the developed world, bed bugs were largely eradicated as pests in the early 1940s, but have increased in prevalence since about 1995. Because infestation of human habitats has been on the increase, bed bug bites and related conditions have been on the rise as well. The exact causes of this resurgence remain unclear; it is variously ascribed to greater foreign travel, more frequent exchange of second-hand furnishings among homes, a greater focus on control of other pests resulting in neglect of bed bug countermeasures, and increasing resistance to pesticides. Bed bugs have been known as human parasites for thousands of years.
The name "bed bug" is derived from the insect's preferred habitat of houses and especially beds or other areas where people sleep. Bed bugs, though not strictly nocturnal, are mainly active at night and are capable of feeding unnoticed on their
host
Host (biology)
In biology, a host is an organism that harbors a parasite, or a mutual or commensal symbiont, typically providing nourishment and shelter. In botany, a host plant is one that supplies food resources and substrate for certain insects or other fauna...
s. They have however been known by a variety of names, including wall louse, mahogany flat, crimson rambler, heavy dragoon, chinche and redcoat.
Physical
Adult bed bugs are light brown to reddish-brown, flattened, oval shaped and have no hind wings but front wings are vestigial and reduced to pad-like structures. Bed bugs have segmented abdomens with microscopic hairs that give them a banded appearance. Adults grow to 4–5 mm in length and 1.5–3 mm wide. Newly hatched
nymphs
Nymph (biology)
In biology, a nymph is the immature form of some invertebrates, particularly insects, which undergoes gradual metamorphosis before reaching its adult stage. Unlike a typical larva, a nymph's overall form already resembles that of the adult. In addition, while a nymph moults it never enters a...
are translucent, lighter in colour and become browner as they
moult
Ecdysis
Ecdysis is the moulting of the cuticula in many invertebrates. This process of moulting is the defining feature of the clade Ecdysozoa, comprising the arthropods, nematodes, velvet worms, horsehair worms, rotifers, tardigrades and Cephalorhyncha...
and reach
maturity
Sexual maturity
Sexual maturity is the age or stage when an organism can reproduce. It is sometimes considered synonymous with adulthood, though the two are distinct...
. Bed bugs may be mistaken for other insects such as booklice and carpet beetles, or vice-versa.
Bed bugs use pheromones and kairomones to communicate regarding nesting locations, feeding and reproduction.
The life span of bed bugs varies by species and is also dependent on feeding.
Bed bugs can survive a wide range of temperatures and atmospheric compositions. Below 16.1 °C (61 °F), adults enter semi-hibernation and can survive longer.
Bed bugs can survive for at least five days at -10 C but will die
after 15 minutes of exposure to -32 C. They show high
desiccation tolerance
Desiccation tolerance
Desiccation tolerance refers to the ability of an organism to withstand or endure extreme dryness, or drought-like conditions. Plants and animals living in arid or periodically arid environments such as temporary streams or ponds may face the challenge of desiccation, therefore physiological or...
, surviving low humidity and a 35–40 °C range even with loss of one-third of body weight; earlier life stages are more susceptible to drying out than later ones. The thermal death point for
C. lectularius
is high: 45 °C (113 °F), and all stages of life are killed by 7 minutes of exposure to 46 °C (114.8 °F). Bed bugs apparently cannot survive high concentrations of
carbon dioxide
Carbon dioxide
Carbon dioxide is a naturally occurring chemical compound composed of two oxygen atoms covalently bonded to a single carbon atom...
for very long; exposure to nearly pure nitrogen atmospheres, however, appears to have relatively little effect even after 72 hours.
Feeding habits
Bed bugs are obligatory
hematophagous
Hematophagy
Hematophagy is the practice of certain animals of feeding on blood...
(bloodsucking) insects. Most species feed on humans only when other prey are unavailable. Bed bugs are attracted to their hosts primarily by
carbon dioxide
Carbon dioxide
Carbon dioxide is a naturally occurring chemical compound composed of two oxygen atoms covalently bonded to a single carbon atom...
, secondarily by warmth, and also by certain chemicals.
A bed bug pierces the skin of its host with what is called a stylet fascicle. This is a unit composed of the maxillae and mandibles which have been modified into elongate shapes from a basic, ancestral style. The right and left maxillary stylets are connected at their midline and a section at the centerline forms a large food canal and a smaller salivary canal. The entire maxillary and mandibular bundle penetrates the skin. The tips of the right and left maxillary stylets are not the same: the right is hook-like and curved, the left straight. The right and left mandibular stylets extend along the outer sides of their respective maxillary stylets and do not reach anywhere near the tip of the fused maxillary stylets. The stylets are retained in a groove in the labium and during feeding they are freed from the groove as the jointed labium is bent or folded out of the way: its tip never enters the wound. The mandibular stylet tips have small teeth and through alternately moving these stylets back and forth, the insect cuts a path through tissue for the maxillary bundle to reach an appropriate sized blood vessel. Feeding by sucking for about three to five minutes or more, the bug then withdraws the stylet bundle from the feeding position and retracts it back into the labial groove, folds the entire unit back under the head, and returns to its hiding place. It takes between five to ten minutes for a bed bug to become completely engorged with blood."
Although bed bugs can live for a year without feeding, they normally try to feed every five to ten days. In cold weather, bed bugs can live for about a year; at temperatures more conducive to activity and feeding, about 5 months.
At the 57th Annual Meeting of the
Entomological Society of America
Entomological Society of America
The Entomological Society of America was founded in 1889 and today has more than 6,000 members, including educators, extension personnel, consultants, students, researchers, and scientists from agricultural departments, health agencies, private industries, colleges and universities, and state and...
in 2009, newer generations of pesticide-resistant bed bugs in Virginia were reported to survive only two months without feeding.
DNA from human blood meals from bed bugs can be recovered for up to 90 days, which may allow them to be used for
forensic
Use of DNA in forensic entomology
Forensic entomology contains three aspects: medicocriminal entomology, urban entomology, and stored product entomology. This article focuses more on the medicocriminal aspect and how DNA is analyzed with various blood feeding insects.- Blood meal extraction :...
purposes for identifying on whom the bed bugs have been feeding.
Reproduction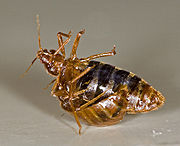 All bed bugs
mate
Mating
In biology, mating is the pairing of opposite-sex or hermaphroditic organisms for copulation. In social animals, it also includes the raising of their offspring. Copulation is the union of the sex organs of two sexually reproducing animals for insemination and subsequent internal fertilization...
by
traumatic insemination
Traumatic insemination
Traumatic insemination, also known as hypodermic insemination, is the mating practice in some species of invertebrates in which the male pierces the female's abdomen with his penis and injects his sperm through the wound into her abdominal cavity . The sperm diffuse through the female's hemolymph,...
. Female bed bugs possess a reproductive tract that functions during
oviposition
Oviposition
Oviposition is the process of laying eggs by oviparous animals.Some arthropods, for example, lay their eggs with an organ called the ovipositor.Fish , amphibians, reptiles, birds and monetremata also lay eggs....
, but the male doesn't use this tract for
sperm insemination
Insemination
Insemination is the deliberate introduction of sperm into the uterus of a mammal or the oviduct of an oviparous animal for the objective of impregnating a female for reproduction...
. Instead, the male pierces the female's
abdomen
Abdomen
In vertebrates such as mammals the abdomen constitutes the part of the body between the thorax and pelvis. The region enclosed by the abdomen is termed the abdominal cavity...
with his hypodermic genitalia and
ejaculates
Ejaculation
Ejaculation is the ejecting of semen from the male reproductory tract, and is usually accompanied by orgasm. It is usually the final stage and natural objective of male sexual stimulation, and an essential component of natural conception. In rare cases ejaculation occurs because of prostatic disease...
into the body cavity. In all bed bug species except
Primicimex cavernis,
sperm are injected into the mesospermalege, a component of the
spermalege
Spermalege
The spermalege is a special-purpose organ found in bed bugs that appears to have evolved to mitigate the effects of traumatic insemination. The spermalege has two embryologically distinct parts, known as the ectospermalege and mesospermalege...
, a secondary genital structure that reduces the wounding and immunological costs of traumatic insemination. Injected sperm travel via the haemolymph (blood) to
sperm storage
Female sperm storage
Female sperm storage is a biological process in which sperm cells transferred to a female during mating are temporarily retained within a specific part of the reproductive tract before the oocyte, or egg, is fertilized...
structures called seminal conceptacles, with fertilisation eventually taking place at the ovaries.
Male bed bugs sometimes attempt to mate with other males and pierce the latter in the abdomen. This behaviour occurs because
sexual attraction
Sexual attraction
Sexual attractiveness or sex appeal refers to an individual's ability to attract the sexual or erotic interest of another person, and is a factor in sexual selection or mate choice. The attraction can be to the physical or other qualities or traits of a person, or to such qualities in the context...
in bed bugs is based primarily on size, and males will mount any freshly fed partner regardless of sex. The "bed bug alarm pheromone" consists of (
E
)-2-octenal and (
E
)-2-hexenal. It is released when a bed bug is disturbed, as during an attack by a predator. A 2009 study demonstrated that the alarm pheromone is also released by male bed bugs to repel other males who attempt to mate with them.
C. lectularius
and
C. hemipterus
will mate with each other given the opportunity, but the eggs then produced are usually sterile. In a 1988 study, 1 egg out of 479 was fertile and resulted in a hybrid,
C. hemipterus
×
lectularius
.
Life stages
Bed bugs have six life stages (five immature and an adult stage). They will shed their skins through a molting process (
ecdysis
Ecdysis
Ecdysis is the moulting of the cuticula in many invertebrates. This process of moulting is the defining feature of the clade Ecdysozoa, comprising the arthropods, nematodes, velvet worms, horsehair worms, rotifers, tardigrades and Cephalorhyncha...
) throughout multiple stages of their lives. The discarded outer shells look like clear, empty exoskeletons of the bugs themselves. Bed bugs must molt six times before becoming fertile adults.
Infestation
Bed bugs can cause a number of health effects including skin rashes, psychological effects and allergic symptoms. They are able to be infected by at least 28 human pathogens, but no study has clearly found that the insect is able to transmit the pathogen to a human being. Bed bug bites or cimicosis may lead to a range of skin manifestations from no visible effects to prominent blisters. Diagnosis involves both finding bed bugs and the occurrence of compatible symptoms. Treatment involves the elimination of the insect but is otherwise symptomatic. They have been found with methicillin-resistant
Staphylococcus aureus
MRSA and with
vancomycin
Vancomycin
Vancomycin INN is a glycopeptide antibiotic used in the prophylaxis and treatment of infections caused by Gram-positive bacteria. It has traditionally been reserved as a drug of "last resort", used only after treatment with other antibiotics had failed, although the emergence of...
-resistant
Enterococcus faecium
(
VRE
Vancomycin-Resistant Enterococcus
Vancomycin-resistant Enterococcus, or vancomycin-resistant enterococci , are bacterial strains of the genus Enterococcus that are resistant to the antibiotic vancomycin. To become VRE, vancomycin-sensitive enterococci typically obtain new DNA in the form of plasmids or transposons which encode...
) but the significance of this is still unknown.
Cause
Dwellings can become infested with bed bugs in a variety of ways, from:
Bugs and eggs that "hitchhiked in" on pets, or on clothing and luggage
Infested items (such as furniture or clothing) brought in
Nearby dwellings or infested items, if there are easy routes (through duct work or false ceilings)
Wild animals (such as bats or birds)
People visiting from a source of infestation; bed bugs, like roaches, are transferred by clothing, luggage, or a person's body.
Detection
Bed bugs are elusive and usually nocturnal, which can make them hard to spot. They often lodge unnoticed in dark crevices, and eggs can be nestled in fabric seams. Aside from bite symptoms, signs include fecal spots, blood smears on sheets, and molts.
Bed bugs can be found singly, but often congregate once established. They usually remain close to hosts, commonly in or near beds or couches. Harborage areas can vary greatly, however, including luggage, vehicles, furniture and bedside clutter. Bed bugs may also nest near animals that have nested within a dwelling, such as bats, birds, or rodents. The eggs of bed bugs are found in similar places where the bed bugs themselves are found, and are attached to surfaces by a sticky substance.
Attractant devices for detection use heat and/or
carbon dioxide
Carbon dioxide
Carbon dioxide is a naturally occurring chemical compound composed of two oxygen atoms covalently bonded to a single carbon atom...
.
Bed bugs can be detected by their characteristic smell of cilantro, coriander, almonds or over-ripe raspberries. Bed bug detection dogs are trained to pinpoint infestations, with a possible accuracy rate of 97.5%, based upon tests conducted under controlled conditions by researchers. The success rates in these tests may not reflect real world success rates of a pest companies' dogs, operating with many more variables in the field. Dog detection can often occur in minutes where a pest control practitioner might need an hour. In the United States, about 100 dogs are used to find bed bugs as of mid-2009. A few companies are experimenting with high speed gas chromatography to detect bed bugs and other insect vermin.
Management
Eradication of bed bugs frequently requires a combination of
pesticide
Pesticide
Pesticides are substances or mixture of substances intended for preventing, destroying, repelling or mitigating any pest.A pesticide may be a chemical unicycle, biological agent , antimicrobial, disinfectant or device used against any pest...
and non-pesticide approaches. Pesticides that have historically been found to be effective include:
pyrethroid
Pyrethroid
A pyrethroid is an organic compound similar to the natural pyrethrins produced by the flowers of pyrethrums . Pyrethroids now constitute a major commercial household insecticides...
s,
dichlorvos
Dichlorvos
Dichlorvos or 2,2-dichlorovinyl dimethyl phosphate is a highly volatile organophosphate, widely used as a insecticide to control household pests, in public health, and protecting stored product from insects. It is effective against mushroom flies, aphids, spider mites, caterpillars, thrips, and...
and
malathion
Malathion
Malathion is an organophosphate parasympathomimetic which binds irreversibly to cholinesterase. Malathion is an insecticide of relatively low human toxicity, however one recent study has shown that children with higher levels of organophosphate pesticide metabolites in their urine are more likely...
. Resistance to pesticides has increased significantly over time and there are concerns of
negative health effects
Health effects of pesticides
Health effects of pesticides may be acute or delayed in those who are exposed. A 2007 systematic review found that "most studies on non-Hodgkin lymphoma and leukemia showed positive associations with pesticide exposure" and thus concluded that cosmetic use of pesticides should be decreased...
from their use. Mechanical approaches such as vacuuming up the insects and heat treating or wrapping mattresses have been recommended.
The
carbamate
Carbamate
Carbamates are organic compounds derived from carbamic acid . A carbamate group, carbamate ester, and carbamic acids are functional groups that are inter-related structurally and often are interconverted chemically. Carbamate esters are also called urethanes.-Synthesis:Carbamic acids are derived...
insecticide
propoxur
Propoxur
Propoxur is a carbamate insecticide and was introduced in 1959. Propoxur is a non-systemic insecticide with a fast knockdown and long residual effect used against turf, forestry, and household pests and fleas. It is also used in pest control for other domestic animals, Anopheles mosquitoes, ants,...
is highly toxic to bed bugs, but in the United States the Environmental Protection Agency (EPA) has been reluctant to approve such an indoor use because of its potential toxicity to children after chronic exposure.
Predators
Natural enemies of bed bugs include the
masked hunter
Masked hunter
The masked hunter is an insect, belonging to the assassin bug family. The name refers to the fact that its nymph camouflages itself with dust. The masked hunter is a predator of small arthropods, including woodlice, lacewings, earwigs, and bed bugs...
(also known as "masked bed bug hunter"),
cockroach
Cockroach
Cockroaches are insects of the order Blattaria or Blattodea, of which about 30 species out of 4,500 total are associated with human habitations...
es,
ant
Ant
Ants are social insects of the family Formicidae and, along with the related wasps and bees, belong to the order Hymenoptera. Ants evolved from wasp-like ancestors in the mid-Cretaceous period between 110 and 130 million years ago and diversified after the rise of flowering plants. More than...
s,
spider
Spider
Spiders are air-breathing arthropods that have eight legs, and chelicerae with fangs that inject venom. They are the largest order of arachnids and rank seventh in total species diversity among all other groups of organisms...
s (particularly
Thanatus flavidus
),
mite
Mite
Mites, along with ticks, are small arthropods belonging to the subclass Acari and the class Arachnida. The scientific discipline devoted to the study of ticks and mites is called acarology.-Diversity and systematics:...
s and
centipede
Centipede
Centipedes are arthropods belonging to the class Chilopoda of the subphylum Myriapoda. They are elongated metameric animals with one pair of legs per body segment. Despite the name, centipedes can have a varying number of legs from under 20 to over 300. Centipedes have an odd number of pairs of...
s. The
Pharaoh ant
Pharaoh ant
The pharaoh ant is a small yellow or light brown, almost transparent ant notorious for being a major indoor nuisance pest, especially in hospitals. The origin of this "tramp" ant is uncertain, although favoured alternatives include West Africa and Indonesia...
's (
Monomorium pharaonis
)
venom
Venom
Venom is the general term referring to any variety of toxins used by certain types of animals that inject it into their victims by the means of a bite or a sting...
is lethal to bed bugs.
Biological pest control
Biological pest control
Biological control of pests in agriculture is a method of controlling pests that relies on predation, parasitism, herbivory, or other natural mechanisms...
is not very practical for eliminating bed bugs from human dwellings.
Epidemiology
Bed bugs occur around the world. Rates of infestations in developed countries, while decreasing from the 1930s to the 1980s, have increased dramatically since the 1980s. Previously, they were common in the developing world, but rare in the developed world. The increase in the developed world may have been caused by increased international travel, resistance to insecticides, and the use of new pest-control methods that do not affect bed bugs. The fall in bed bug populations after the 1930s in the developed world is believed to be partly due to the use of
DDT
DDT
DDT is one of the most well-known synthetic insecticides. It is a chemical with a long, unique, and controversial history....
to kill
cockroaches
Cockroaches
A cockroach is an insect of the order Blattaria. "Cockroach" may also refer to:*Cockroach , a 2001 album by Danger Danger*Cockroach , a 2008 novel by Rawi Hage...
. The invention of the
vacuum cleaner
Vacuum cleaner
A vacuum cleaner, commonly referred to as a "vacuum," is a device that uses an air pump to create a partial vacuum to suck up dust and dirt, usually from floors, and optionally from other surfaces as well. The dirt is collected by either a dustbag or a cyclone for later disposal...
and simplification of furniture design may have also played a role. Others believe it might simply be the cyclical nature of the organism.
The common bed bug (
Cimex lectularius
) is the species best adapted to human environments. It is found in
temperate
Temperate
In geography, temperate or tepid latitudes of the globe lie between the tropics and the polar circles. The changes in these regions between summer and winter are generally relatively moderate, rather than extreme hot or cold...
climates throughout the world. Other species include
Cimex hemipterus
, found in
tropical regions
Tropics
The tropics is a region of the Earth surrounding the Equator. It is limited in latitude by the Tropic of Cancer in the northern hemisphere at approximately N and the Tropic of Capricorn in the southern hemisphere at S; these latitudes correspond to the axial tilt of the Earth...
, which also infests
poultry
Poultry
Poultry are domesticated birds kept by humans for the purpose of producing eggs, meat, and/or feathers. These most typically are members of the superorder Galloanserae , especially the order Galliformes and the family Anatidae , commonly known as "waterfowl"...
and
bat
Bat
Bats are mammals of the order Chiroptera "hand" and pteron "wing") whose forelimbs form webbed wings, making them the only mammals naturally capable of true and sustained flight. By contrast, other mammals said to fly, such as flying squirrels, gliding possums, and colugos, glide rather than fly,...
s, and
Leptocimex boueti
, found in the tropics of
West Africa
West Africa
West Africa or Western Africa is the westernmost region of the African continent. Geopolitically, the UN definition of Western Africa includes the following 16 countries and an area of approximately 5 million square km:-Flags of West Africa:...
and South America, which infests bats and humans.
Cimex pilosellus
and
Cimex pipistrella
primarily infest
bat
Bat
Bats are mammals of the order Chiroptera "hand" and pteron "wing") whose forelimbs form webbed wings, making them the only mammals naturally capable of true and sustained flight. By contrast, other mammals said to fly, such as flying squirrels, gliding possums, and colugos, glide rather than fly,...
s, while
Haematosiphon inodora
, a species of North America, primarily infests poultry.
History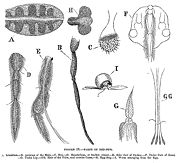 C. lectularius
may have originated in the Middle East, in caves inhabited by
bat
Bat
Bats are mammals of the order Chiroptera "hand" and pteron "wing") whose forelimbs form webbed wings, making them the only mammals naturally capable of true and sustained flight. By contrast, other mammals said to fly, such as flying squirrels, gliding possums, and colugos, glide rather than fly,...
s and humans.
Bed bugs were mentioned in ancient Greece as early as 400 BC, and were later mentioned by
Aristotle
Aristotle
Aristotle was a Greek philosopher and polymath, a student of Plato and teacher of Alexander the Great. His writings cover many subjects, including physics, metaphysics, poetry, theater, music, logic, rhetoric, linguistics, politics, government, ethics, biology, and zoology...
. Pliny's
Natural History
, first published circa 77 AD in Rome, claimed bed bugs had medicinal value in treating ailments such as snake bites and ear infections. (Belief in the medicinal use of bed bugs persisted until at least the 18th century, when Guettard recommended their use in the treatment of
hysteria
Hysteria
Hysteria, in its colloquial use, describes unmanageable emotional excesses. People who are "hysterical" often lose self-control due to an overwhelming fear that may be caused by multiple events in one's past that involved some sort of severe conflict; the fear can be centered on a body part, or,...
.) Bed bugs were first mentioned in Germany in the 11th century, in France in the 13th century and in England in 1583, though they remained rare in England until 1670. Some in the 18th century believed bed bugs had been brought to London with supplies of wood to rebuild the city after the
Great Fire of London
Great Fire of London
The Great Fire of London was a major conflagration that swept through the central parts of the English city of London, from Sunday, 2 September to Wednesday, 5 September 1666. The fire gutted the medieval City of London inside the old Roman City Wall...
(1666).
Giovanni Antonio Scopoli
Giovanni Antonio Scopoli
Giovanni Antonio Scopoli was an Italian physician and naturalist.-Biography:...
noted their presence in
Carniola
Carniola
Carniola was a historical region that comprised parts of what is now Slovenia. As part of Austria-Hungary, the region was a crown land officially known as the Duchy of Carniola until 1918. In 1849, the region was subdivided into Upper Carniola, Lower Carniola, and Inner Carniola...
(roughly equivalent to present-day Slovenia) in the 18th century.
Traditional methods of repelling and/or killing bed bugs include the use of plants, fungi, and insects (or their extracts), such as
black pepper
Black pepper
Black pepper is a flowering vine in the family Piperaceae, cultivated for its fruit, which is usually dried and used as a spice and seasoning. The fruit, known as a peppercorn when dried, is approximately in diameter, dark red when fully mature, and, like all drupes, contains a single seed...
, black cohosh (
Actaea racemosa
),
Pseudarthria hookeri
,
Laggera alata
(Chinese
yángmáo cǎo
| 羊毛草),
Eucalyptus saligna
Eucalyptus saligna
Eucalyptus saligna, known as the Sydney Blue Gum, is a large Australian hardwood tree common along the New South Wales seaboard and into Queensland, reaching about 65 metres in height...
oil,
henna
Henna
Henna is a flowering plant used since antiquity to dye skin, hair, fingernails, leather and wool. The name is also used for dye preparations derived from the plant, and for the art of temporary tattooing based on those dyes...
(
Lawsonia inermis
or camphire), "infused oil of
Melolontha

Melolontha

Melolontha is a genus of beetles in the family Scarabaeidae. The European cockchafers belong to this genus.-Taxonomy:Linnaeus called the European cockchafer Scarabaeus melolontha...


vulgaris
" (presumably
cockchafer
Cockchafer
The cockchafer is a European beetle of the genus Melolontha, in the family Scarabaeidae....
), fly agaric (
Amanita muscaria
),
Actaea
Actaea
Actaea, commonly called baneberry or bugbane, is a genus of flowering plants belonging to the family Ranunculaceae, native to temperate regions of the Northern Hemisphere....
spp. (e.g. black cohosh),
tobacco
Tobacco
Tobacco is an agricultural product processed from the leaves of plants in the genus Nicotiana. It can be consumed, used as a pesticide and, in the form of nicotine tartrate, used in some medicines...
, "heated oil of
Terebinth
Terebinth
Pistacia terebinthus, known commonly as terebinth and turpentine tree, is a species of Pistacia, native to the Canary Islands, and the Mediterranean region from the western regions of Morocco, and Portugal to Greece and western Turkey...
ina" (i.e. true
turpentine
Turpentine
Turpentine is a fluid obtained by the distillation of resin obtained from trees, mainly pine trees. It is composed of terpenes, mainly the monoterpenes alpha-pinene and beta-pinene...
),
wild mint
(
Mentha arvensis
),
narrow-leaved pepperwort
Lepidium
Lepidium is a genus of plants in the mustard family Brassicaceae. It includes about 175 species found worldwide, including cress and pepperweed; additional common names include peppercress, peppergrass, and pepperwort...
(
Lepidium ruderale
),
Myrica
Myrica
Myrica is a genus of about 35–50 species of small trees and shrubs in the family Myricaceae, order Fagales. The genus has a wide distribution, including Africa, Asia, Europe, North America and South America, and missing only from Australasia...
spp. (e.g. bayberry), Robert geranium (
Geranium robertianum
),
bugbane
Cimicifuga
Cimicifuga is a genus of between 12-18 species of flowering plants belonging to the family Ranunculaceae, native to temperate regions of the Northern Hemisphere....
(
Cimicifuga
spp.), "herb and seeds of
Cannabis
Cannabis
Cannabis is a genus of flowering plants that includes three putative species, Cannabis sativa, Cannabis indica, and Cannabis ruderalis. These three taxa are indigenous to Central Asia, and South Asia. Cannabis has long been used for fibre , for seed and seed oils, for medicinal purposes, and as a...
", "opulus" berries (possibly
maple
Maple
Acer is a genus of trees or shrubs commonly known as maple.Maples are variously classified in a family of their own, the Aceraceae, or together with the Hippocastanaceae included in the family Sapindaceae. Modern classifications, including the Angiosperm Phylogeny Group system, favour inclusion in...
or
European cranberrybush
Viburnum opulus
Viburnum opulus is a species of Viburnum, native to Europe and Asia. Some botanists also treat the closely related North American species Viburnum trilobum as a variety of it , or a subspecies, Viburnum opulus subsp...
),
masked hunter
Masked hunter
The masked hunter is an insect, belonging to the assassin bug family. The name refers to the fact that its nymph camouflages itself with dust. The masked hunter is a predator of small arthropods, including woodlice, lacewings, earwigs, and bed bugs...
bugs (
Reduvius personatus
), "and many others".
In the mid-19th century, smoke from
peat
Peat
Peat is an accumulation of partially decayed vegetation matter or histosol. Peat forms in wetland bogs, moors, muskegs, pocosins, mires, and peat swamp forests. Peat is harvested as an important source of fuel in certain parts of the world...
fires was recommended.
Dusts have been used to ward off insects from grain storage for centuries, including "plant ash, lime, dolomite, certain types of soil, and
diatomaceous earth
Diatomaceous earth
Diatomaceous earth also known as diatomite or kieselgur/kieselguhr, is a naturally occurring, soft, siliceous sedimentary rock that is easily crumbled into a fine white to off-white powder. It has a particle size ranging from less than 1 micrometre to more than 1 millimetre, but typically 10 to...
(DE) or Kieselguhr". Of these, diatomaceous earth in particular has seen a revival as a nontoxic (when in amorphous form) residual pesticide for bed bug abatement. Insects exposed to diatomaceous earth may take several days to die.
Basket-work panels were put around beds and shaken out in the morning, in the UK and in France in the 19th century. Scattering leaves of plants with microscopic hooked hairs around a bed at night, then sweeping them up in the morning and burning them, was a technique reportedly used in southern Rhodesia and in the Balkans.
Prior to the mid-twentieth century, bed bugs were very common. According to a report by the UK Ministry of Health, in 1933 there were many areas where all the houses had some degree of bed bug infestation.
Bed bugs were a serious problem during
World War II
World War II
World War II, or the Second World War , was a global conflict lasting from 1939 to 1945, involving most of the world's nations—including all of the great powers—eventually forming two opposing military alliances: the Allies and the Axis...
.
General MacArthur
Douglas MacArthur
General of the Army Douglas MacArthur was an American general and field marshal of the Philippine Army. He was a Chief of Staff of the United States Army during the 1930s and played a prominent role in the Pacific theater during World War II. He received the Medal of Honor for his service in the...
commented that bed bugs are the "greatest nuisance insect problem ... at bases in the U.S"
With the arrival of potent pesticides, famously
DDT
DDT
DDT is one of the most well-known synthetic insecticides. It is a chemical with a long, unique, and controversial history....
in the 1940s, bed bugs almost disappeared in Western countries. However, bed bug infestations have resurged in recent years, for reasons which are not clear, but contributing factors may be complacency, increased resistance, bans on pesticides and increased international travel. The current wave of bed bug infestations across America has spawned an industry for bed bug prevention, eradication and the reporting of infestations.
Society and culture
The saying "Good night, sleep tight, don't let the bed bugs bite." is common for parents to say to young children before they go to sleep.
Further reading
Stephen Doggett. A Code of Practice for the Control of Bed Bugs in Australia. 3rd edition, ICPMR & AEPMA, Sydney Australia, May 2010. ISBN 1-74080-122-9. This is free from www.bedbug.org.au.
Stephen Doggett. A Bed Bug Management Policy for Accommodation Providers. Draft first ed, ICPMR, Sydney Australia, May 2010. This is free from www.bedbug.org.au.
David Cain, Richard Strand. Bed Bug Beware: An easy to understand guide to bed bugs, their prevention and control. Loughborough, United Kingdom: Foxhill Publishing, March 2009. ISBN 978-0-9562617-0-0
Larry Pinto, Richard Cooper, Sandy Kraft. Bed Bug Handbook: The Complete Guide to Bed Bugs and Their Control. Mechanicsville, Maryland: Pinto & Associates, December 2007. ISBN 978-0-9788878-1-0
Forsyth, Adrian. A Natural History of Sex: The Ecology and Evolution of Mating Behavior. Richmond Hill, Ontario: Firefly Books, 2001. ISBN 1-55209-481-2.
MacQuitty, Miranda, and Lawrence Mound. Megabugs: The Natural History Museum Book of Insects. New York: Random House Children's Books, 1995. ISBN 1-898304-37-8, ISBN 1-85868-045-X.
Goddard, Jerome A. The Physician's Guide to Arthropods of Medical Importance (second edition).
External links
bed bug on the University of Florida

University of Florida

The University of Florida is an American public land-grant, sea-grant, and space-grant research university located on a campus in Gainesville, Florida. The university traces its historical origins to 1853, and has operated continuously on its present Gainesville campus since September 1906...


/IFAS

Institute of Food and Agricultural Sciences

The University of Florida's Institute of Food and Agricultural Sciences is a federal-state-county partnership dedicated to developing knowledge in agriculture, human and natural resources, and the life sciences, and enhancing and sustaining the quality of human life by making that information...


Featured Creatures Web site
Bed bugs - University of Sydney and Westmead Hospital Department of Medical Entomology
Bed Bug Registry Database of bed bug reports for the US and Canada
"Vector surveillance and control: Bed bug fact sheet" NYC Department of Health and Mental Hygiene 12 January 2008
Bed Bug Infestations in an Urban Environment, Stephen W. Hwang, Tomislav J. Svoboda, Iain J. De Jong, Karl J. Kabasele, and Evie Gogosis : Emerging Infectious Diseases, Vol. 11, No. 4, April 2005.
CISR: Center for Invasive Species Research More information on Bed Bugs, with lots of photos and video