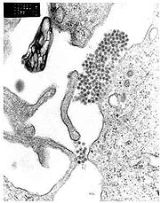 Dengue fever
Dengue fever
(ˈdɛŋɡeɪ, ˈdɛŋɡiː), also known as
breakbone fever
, is an infectious
tropical disease
Tropical disease
Tropical diseases are diseases that are prevalent in or unique to tropical and subtropical regions. The diseases are less prevalent in temperate climates, due in part to the occurrence of a cold season, which controls the insect population by forcing hibernation. Insects such as mosquitoes and...
caused by the
dengue virus
Dengue virus
Dengue virus in one of four serotypes is the cause of dengue fever. It is a mosquito-borne single positive-stranded RNA virus of the family Flaviviridae; genus Flavivirus...
. Symptoms include
fever
Fever
Fever is a common medical sign characterized by an elevation of temperature above the normal range of due to an increase in the body temperature regulatory set-point. This increase in set-point triggers increased muscle tone and shivering.As a person's temperature increases, there is, in...
,
headache
Headache
A headache or cephalalgia is pain anywhere in the region of the head or neck. It can be a symptom of a number of different conditions of the head and neck. The brain tissue itself is not sensitive to pain because it lacks pain receptors. Rather, the pain is caused by disturbance of the...
,
muscle
Myalgia
Myalgia means "muscle pain" and is a symptom of many diseases and disorders. The most common causes are the overuse or over-stretching of a muscle or group of muscles. Myalgia without a traumatic history is often due to viral infections...
and
joint pains
Arthralgia
Arthralgia literally means joint pain; it is a symptom of injury, infection, illnesses or an allergic reaction to medication....
, and a characteristic skin rash that is
similar to measles
Morbilliform
The term morbilliform refers to a rash that looks like measles. The rash consists of macular lesions that are red and usually 2-10 mm in diameter but may be confluent in places...
. In a small proportion of cases the disease develops into the life-threatening
dengue hemorrhagic fever
, resulting in
bleeding
Bleeding
Bleeding, technically known as hemorrhaging or haemorrhaging is the loss of blood or blood escape from the circulatory system...
,
low levels of blood platelets
Thrombocytopenia
Thrombocytopenia is a relative decrease of platelets in blood.A normal human platelet count ranges from 150,000 to 450,000 platelets per microliter of blood. These limits are determined by the 2.5th lower and upper percentile, so values outside this range do not necessarily indicate disease...
and blood plasma leakage, or into
dengue shock syndrome
, where dangerously low blood pressure occurs.
Dengue is transmitted by several species of
mosquito
Mosquito
Mosquitoes are members of a family of nematocerid flies: the Culicidae . The word Mosquito is from the Spanish and Portuguese for little fly...
within the
genus
Genus
In biology, a genus is a low-level taxonomic rank used in the biological classification of living and fossil organisms, which is an example of definition by genus and differentia...
Aedes
Aedes
Aedes is a genus of mosquito originally found in tropical and subtropical zones, but now found on all continents excluding Antarctica. Some species have been spread by human activity. Aedes albopictus, a most invasive species was recently spread to the New World, including the U.S., by the used...
, principally
A. aegypti
Aedes aegypti
The yellow fever mosquito, Aedes aegypti is a mosquito that can spread the dengue fever, Chikungunya and yellow fever viruses, and other diseases. The mosquito can be recognized by white markings on legs and a marking in the form of a lyre on the thorax...
.