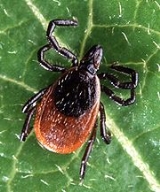 Tick
Ticks
are small
arachnid
Arachnid
Arachnids are a class of joint-legged invertebrate animals in the subphylum Chelicerata. All arachnids have eight legs, although in some species the front pair may convert to a sensory function. The term is derived from the Greek words , meaning "spider".Almost all extant arachnids are terrestrial...
s in the
order
Order (biology)
In scientific classification used in biology, the order is# a taxonomic rank used in the classification of organisms. Other well-known ranks are life, domain, kingdom, phylum, class, family, genus, and species, with order fitting in between class and family...
Ixodida
, along with
mite
Mite
Mites, along with ticks, are small arthropods belonging to the subclass Acari and the class Arachnida. The scientific discipline devoted to the study of ticks and mites is called acarology.-Diversity and systematics:...
s, constitute the subclass
Acarina
Acarina
Acari are a taxon of arachnids that contains mites and ticks. The diversity of the Acari is extraordinary and its fossil history goes back to at least the early Devonian period. As a result, acarologists have proposed a complex set of taxonomic ranks to classify mites...
. Ticks are ectoparasites (external parasites), living by
hematophagy
Hematophagy
Hematophagy is the practice of certain animals of feeding on blood...
on the
blood
Blood
Blood is a specialized bodily fluid in animals that delivers necessary substances such as nutrients and oxygen to the cells and transports metabolic waste products away from those same cells....
of
mammal
Mammal
Mammals are members of a class of air-breathing vertebrate animals characterised by the possession of endothermy, hair, three middle ear bones, and mammary glands functional in mothers with young...
s,
bird
Bird
Birds are feathered, winged, bipedal, endothermic , egg-laying, vertebrate animals. Around 10,000 living species and 188 families makes them the most speciose class of tetrapod vertebrates. They inhabit ecosystems across the globe, from the Arctic to the Antarctic. Extant birds range in size from...
s, and sometimes
reptile
Reptile
Reptiles are members of a class of air-breathing, ectothermic vertebrates which are characterized by laying shelled eggs , and having skin covered in scales and/or scutes. They are tetrapods, either having four limbs or being descended from four-limbed ancestors...
s and
amphibian
Amphibian
Amphibians , are a class of vertebrate animals including animals such as toads, frogs, caecilians, and salamanders. They are characterized as non-amniote ectothermic tetrapods...
s. Ticks are vectors of a number of diseases, including
Lyme disease
Lyme disease
Lyme disease, or Lyme borreliosis, is an emerging infectious disease caused by at least three species of bacteria belonging to the genus Borrelia. Borrelia burgdorferi sensu stricto is the main cause of Lyme disease in the United States, whereas Borrelia afzelii and Borrelia garinii cause most...
,
Q fever
Q fever
Q fever is a disease caused by infection with Coxiella burnetii, a bacterium that affects humans and other animals. This organism is uncommon but may be found in cattle, sheep, goats and other domestic mammals, including cats and dogs...
(rare; more commonly transmitted by infected excreta),
Colorado tick fever
Colorado tick fever
Colorado Tick Fever is an obtuse viral infection transmitted from the bite of an infected tick...
,
Rocky Mountain Spotted Fever
Rocky Mountain spotted fever
Rocky Mountain spotted fever is the most lethal and most frequently reported rickettsial illness in the United States. It has been diagnosed throughout the Americas. Some synonyms for Rocky Mountain spotted fever in other countries include "tick typhus," "Tobia fever" , "São Paulo fever" or "febre...
,
tularemia
Tularemia
Tularemia is a serious infectious disease caused by the bacterium Francisella tularensis. A Gram-negative, nonmotile coccobacillus, the bacterium has several subspecies with varying degrees of virulence. The most important of those is F...
, tick-borne
relapsing fever
Relapsing fever
Relapsing fever is an infection caused by certain bacteria in the genus Borrelia. It is a vector-borne disease that is transmitted through the bites of lice or soft-bodied ticks.-Louse-borne relapsing fever:...
,
babesiosis
Babesiosis
Babesiosis is a malaria-like parasitic disease caused by infection with Babesia, a genus of protozoal piroplasms. After trypanosomes, Babesia are thought to be the second most common blood parasites of mammals and they can have a major impact on health of domestic animals in areas without severe...
,
ehrlichiosis
Ehrlichiosis
Ehrlichiosis is a tick-borne disease of dogs usually caused by the organism Ehrlichia canis. Ehrlichia canis is the pathogen of animals. Humans can become infected by E. canis and other species after tick exposure. German Shepherd dogs are thought to be particularly affected by the disease, other...
,
Tick paralysis
Tick paralysis
Tick paralysis is the only tick-borne disease that is not caused by an infectious organism. The illness is caused by a neurotoxin produced in the tick's salivary gland. After prolonged attachment, the engorged tick transmits the toxin to its host...
and
tick-borne meningoencephalitis
Tick-borne meningoencephalitis
Tick-borne encephalitis is a viral infectious disease involving the central nervous system. The disease most often manifests as meningitis, encephalitis, or meningoencephalitis. Although TBE is most commonly recognized as a neurological disorder, mild fever can also occur...
, as well as bovine
anaplasmosis
Anaplasmosis
Anaplasmosis is a disease caused by a rickettsial parasite of ruminants, Anaplasma spp. The organism occurs in the white blood cells and is transmitted by natural means through a number of haematophagous species of ticks...
.
There are three
families
Family (biology)
In biological classification, family is* a taxonomic rank. Other well-known ranks are life, domain, kingdom, phylum, class, order, genus, and species, with family fitting between order and genus. As for the other well-known ranks, there is the option of an immediately lower rank, indicated by the...
of ticks, one of which –
Nuttalliellidae
Nuttalliellidae
Nuttalliella namaqua is a tick found in southern Africa from Tanzania to Namibia and South Africa, which is placed in its own family, Nuttalliellidae. It can be distinguished from ixodid ticks and argasid ticks by a combination of characters including the position of the stigmata, lack of setae,...
– comprises a single species,
Nuttalliella namaqua
.