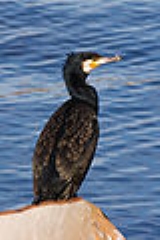 Great Cormorant
The
Great Cormorant
known as the
Great Black Cormorant
across the Northern Hemisphere, the
Black Cormorant
in Australia and the
Black Shag
further south in New Zealand, is a widespread member of the
cormorant
Cormorant
The bird family Phalacrocoracidae is represented by some 40 species of cormorants and shags. Several different classifications of the family have been proposed recently, and the number of genera is disputed.- Names :...
family of
seabird
Seabird
Seabirds are birds that have adapted to life within the marine environment. While seabirds vary greatly in lifestyle, behaviour and physiology, they often exhibit striking convergent evolution, as the same environmental problems and feeding niches have resulted in similar adaptations...
s. It breeds in much of the
Old World
Old World
The Old World consists of those parts of the world known to classical antiquity and the European Middle Ages. It is used in the context of, and contrast with, the "New World" ....
and the
Atlantic
Atlantic Ocean
The Atlantic Ocean is the second-largest of the world's oceanic divisions. With a total area of about , it covers approximately 20% of the Earth's surface and about 26% of its water surface area...
coast of
North America
North America
North America is a continent wholly within the Northern Hemisphere and almost wholly within the Western Hemisphere. It is also considered a northern subcontinent of the Americas...
.
Description
The Great Cormorant is a large black bird, but there is a wide variation in size in the species wide range. Weight is reported from 1.5 kg (3.3 lbs) to 5.3 kg (11.7 lbs), with a typical range from 2.6 to 3.7 kg (5.7-8.2 lbs). Length can vary from 70 to 102 cm (28–40 in) and wingspan from 121 to 160 cm (48–63 in). It has a longish tail and yellow throat-patch. Adults have white thigh patches in the breeding season. In
Europe
Europe
Europe is, by convention, one of the world's seven continents. Comprising the westernmost peninsula of Eurasia, Europe is generally 'divided' from Asia to its east by the watershed divides of the Ural and Caucasus Mountains, the Ural River, the Caspian and Black Seas, and the waterways connecting...
an waters it can be distinguished from the
Common Shag
Common Shag
The European Shag or Common Shag is a species of cormorant. It breeds around the rocky coasts of western and southern...
by its larger size, heavier build, thicker bill, lack of a crest and
plumage
Feather
Feathers are one of the epidermal growths that form the distinctive outer covering, or plumage, on birds and some non-avian theropod dinosaurs. They are considered the most complex integumentary structures found in vertebrates, and indeed a premier example of a complex evolutionary novelty. They...
without any green tinge.
In eastern North America, it is similarly larger and bulkier than
Double-crested Cormorant
Double-crested Cormorant
The Double-crested Cormorant is a member of the cormorant family of seabirds. It occurs along inland waterways as well as in coastal areas, and is widely distributed across North America, from the Aleutian Islands in Alaska down to Florida and Mexico...
, and the latter species has more yellow on the throat and bill.
Variations
A very rare variation of the Great Cormorant is caused by
albinism
Albinism
Albinism is a congenital disorder characterized by the complete or partial absence of pigment in the skin, hair and eyes due to absence or defect of an enzyme involved in the production of melanin...
. The
Phalacrocorax carbo
albino suffers from loss of eyesight and/or hearing, thus it rarely manages to survive in the wild.
Distribution
This is a very common and widespread
bird
Bird
Birds are feathered, winged, bipedal, endothermic , egg-laying, vertebrate animals. Around 10,000 living species and 188 families makes them the most speciose class of tetrapod vertebrates. They inhabit ecosystems across the globe, from the Arctic to the Antarctic. Extant birds range in size from...
species. It feeds on the sea, in
estuaries
Estuary
An estuary is a partly enclosed coastal body of water with one or more rivers or streams flowing into it, and with a free connection to the open sea....
, and on freshwater lakes and rivers. Northern birds
migrate
Bird migration
Bird migration is the regular seasonal journey undertaken by many species of birds. Bird movements include those made in response to changes in food availability, habitat or weather. Sometimes, journeys are not termed "true migration" because they are irregular or in only one direction...
south and winter along any coast that is well-supplied with
fish
Fish
Fish are a paraphyletic group of organisms that consist of all gill-bearing aquatic vertebrate animals that lack limbs with digits. Included in this definition are the living hagfish, lampreys, and cartilaginous and bony fish, as well as various extinct related groups...
.
The type subspecies,
P. c. carbo
, is found mainly in Atlantic waters and nearby inland areas: on western European coasts and south to North Africa, the
Faroe Islands
Faroe Islands
The Faroe Islands are an island group situated between the Norwegian Sea and the North Atlantic Ocean, approximately halfway between Scotland and Iceland. The Faroe Islands are a self-governing territory within the Kingdom of Denmark, along with Denmark proper and Greenland...
,
Iceland
Iceland
Iceland , described as the Republic of Iceland, is a Nordic and European island country in the North Atlantic Ocean, on the Mid-Atlantic Ridge. Iceland also refers to the main island of the country, which contains almost all the population and almost all the land area. The country has a population...
and
Greenland
Greenland
Greenland is an autonomous country within the Kingdom of Denmark, located between the Arctic and Atlantic Oceans, east of the Canadian Arctic Archipelago. Though physiographically a part of the continent of North America, Greenland has been politically and culturally associated with Europe for...
; and on the eastern seaboard of
North America
North America
North America is a continent wholly within the Northern Hemisphere and almost wholly within the Western Hemisphere. It is also considered a northern subcontinent of the Americas...
, though in America it breeds only in the north of its range, in the
Canadian
Canada
Canada is a North American country consisting of ten provinces and three territories. Located in the northern part of the continent, it extends from the Atlantic Ocean in the east to the Pacific Ocean in the west, and northward into the Arctic Ocean...
maritime provinces.
The subspecies found in
Australasia
Australasia
Australasia is a region of Oceania comprising Australia, New Zealand, the island of New Guinea, and neighbouring islands in the Pacific Ocean. The term was coined by Charles de Brosses in Histoire des navigations aux terres australes...
n waters,
P. carbo novaehollandiae
, has a crest. In
New Zealand
New Zealand
New Zealand is an island country in the south-western Pacific Ocean comprising two main landmasses and numerous smaller islands. The country is situated some east of Australia across the Tasman Sea, and roughly south of the Pacific island nations of New Caledonia, Fiji, and Tonga...
it is known as the
Black Shag
or by its
Māori
Maori language
Māori or te reo Māori , commonly te reo , is the language of the indigenous population of New Zealand, the Māori. It has the status of an official language in New Zealand...
name;
Kawau
. The
syntype
Syntype
In biological nomenclature, a syntype is a term used to indicate a specimen with a special status.In zoological nomenclature, a syntype is defined as "Each specimen of a type series from which neither a holotype nor a lectotype has been designated [Arts. 72.1.2, 73.2, 74]. The syntypes...
is in the collection of the
Museum of New Zealand Te Papa Tongarewa
Museum of New Zealand Te Papa Tongarewa
The Museum of New Zealand Te Papa Tongarewa is the national museum and art gallery of New Zealand, located in Wellington. It is branded and commonly known as Te Papa and Our Place; "Te Papa Tongarewa" is broadly translatable as "the place of treasures of this land".The museum's principles...
.
The 80–100 cm long
White-breasted Cormorant
White-breasted Cormorant
The White-breasted Cormorant is a member of the cormorant family Phalacrocoracidae. It is sometimes treated as a subspecies of the Great Cormorant, in which case it is referred to as Phalacrocorax carbo lucidus. However some authorities The White-breasted Cormorant (Phalacrocorax lucidus) is a...
P. c. lucidus
found in sub-Saharan Africa, has a white neck and breast. It is often treated as a full species,
Phalacrocorax lucidus
(e.g. Sibley & Monroe, 1990, Sinclair, Hockey and Tarboton, 2002)
In addition to the Australasian and African forms,
Phalacrocorax carbo novaehollandiae
and
P. carbo lucidus
mentioned above, other geographically distinct subspecies are recognised, including
P. c. sinensis
(western Europe to east
Asia
Asia
Asia is the world's largest and most populous continent, located primarily in the eastern and northern hemispheres. It covers 8.7% of the Earth's total surface area and with approximately 3.879 billion people, it hosts 60% of the world's current human population...
),
P. c. maroccanus
(north-western Africa), and
P. c. hannedae
(
Japan
Japan
Japan is an island nation in East Asia. Located in the Pacific Ocean, it lies to the east of the Sea of Japan, China, North Korea, South Korea and Russia, stretching from the Sea of Okhotsk in the north to the East China Sea and Taiwan in the south...
).
Some authors treat all these as allospecies of a
P. carbo
superspecies group.
Behaviour

The Great Cormorant breeds mainly on coasts, nesting on cliffs or in trees (which are eventually killed by the droppings), but also increasingly inland. 3-4
egg
Egg (biology)
An egg is an organic vessel in which an embryo first begins to develop. In most birds, reptiles, insects, molluscs, fish, and monotremes, an egg is the zygote, resulting from fertilization of the ovum, which is expelled from the body and permitted to develop outside the body until the developing...
s are laid in a nest of
seaweed
Seaweed
Seaweed is a loose, colloquial term encompassing macroscopic, multicellular, benthic marine algae. The term includes some members of the red, brown and green algae...
or twigs.
The Great Cormorant can dive to considerable depths, but often feeds in shallow water. It frequently brings prey to the surface. A wide variety of fish are taken: cormorants are often noticed eating
eel
Eel
Eels are an order of fish, which consists of four suborders, 20 families, 111 genera and approximately 800 species. Most eels are predators...
s, but this may reflect the considerable time taken to subdue an eel and position it for swallowing, rather than any dominance of eels in the diet. In
British
United Kingdom
The United Kingdom of Great Britain and Northern IrelandIn the United Kingdom and Dependencies, other languages have been officially recognised as legitimate autochthonous languages under the European Charter for Regional or Minority Languages...
waters, dive times of 20–30 seconds are common, with a recovery time on the surface around a third of the dive time.
Relationships with humans
Many fishermen see in the Great Cormorant a competitor for fish. Because of this it was nearly hunted to extinction in the past. Thanks to conservation efforts its numbers increased. At the moment there are about 1.2 million birds in Europe (based on winter counts. Late summer counts would show higher numbers). Increasing populations have once again brought the cormorant into conflict with fisheries. For example, in Britain, where inland breeding was once uncommon, there are now increasing numbers of birds breeding inland, and many inland fish farms and fisheries now claim to be suffering high losses due to these birds. In the UK each year some licences are issued to shoot specified numbers of cormorants in order to help reduce predation, it is however still illegal to kill a bird without such a licence.
Cormorant fishing
Cormorant fishing
Cormorant fishing is a traditional fishing method in which fishermen use trained cormorants to fish in rivers. Historically, cormorant fishing has taken place in Japan and China from around 960 AD.and recorded from other places throughout the world....
is practiced in China, Japan, and elsewhere around the globe. In it, fishermen tie a line around the throats of cormorants, tight enough to prevent swallowing, and deploy them from small boats. The cormorants catch fish without being able to fully swallow them, and the fishermen are able to retrieve the fish simply by forcing open the cormorants' mouths, apparently engaging the regurgitation reflex.
In Norway cormorant is a traditional game bird. Each year ca. 10,000 cormorants are shot to be eaten. In North Norway, cormorants are traditionally seen as semi-sacred. It is regarded as good luck to have cormorants gather near your village or settlement. An old legend states that people who die far out at sea, their bodies never recovered, spend eternity on the island Utrøst - which can only occasionally be found by mortals. The inhabitants of Utrøst can only visit their homes in the shape of cormorants.
External links
http://www.mchportal.com/photography-galleries/macro-and-nature-mainmenu-52/birds-mainmenu-54/869-phalacrocorax-carbo-cormorant-albino.html
Great Cormorant videos, photos & sounds on the Internet Bird Collection