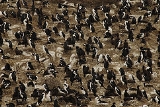 Cormorant
The
bird
Bird
Birds are feathered, winged, bipedal, endothermic , egg-laying, vertebrate animals. Around 10,000 living species and 188 families makes them the most speciose class of tetrapod vertebrates. They inhabit ecosystems across the globe, from the Arctic to the Antarctic. Extant birds range in size from...
family
Family (biology)
In biological classification, family is* a taxonomic rank. Other well-known ranks are life, domain, kingdom, phylum, class, order, genus, and species, with family fitting between order and genus. As for the other well-known ranks, there is the option of an immediately lower rank, indicated by the...
Phalacrocoracidae
is represented by some 40
species
Species
In biology, a species is one of the basic units of biological classification and a taxonomic rank. A species is often defined as a group of organisms capable of interbreeding and producing fertile offspring. While in many cases this definition is adequate, more precise or differing measures are...
of
cormorants and shags
. Several different classifications of the family have been proposed recently, and the number of
genera
Genus
In biology, a genus is a low-level taxonomic rank used in the biological classification of living and fossil organisms, which is an example of definition by genus and differentia...
is disputed.
There is no consistent distinction between cormorants and shags. The names "cormorant" and "shag" were originally the common names of the two species of the family found in
Great Britain
Great Britain
Great Britain or Britain is an island situated to the northwest of Continental Europe. It is the ninth largest island in the world, and the largest European island, as well as the largest of the British Isles...
,
Phalacrocorax carbo
(now referred to by ornithologists as the
Great Cormorant
Great Cormorant
The Great Cormorant , known as the Great Black Cormorant across the Northern Hemisphere, the Black Cormorant in Australia and the Black Shag further south in New Zealand, is a widespread member of the cormorant family of seabirds...
) and
P.