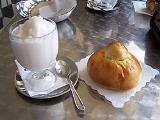 Granita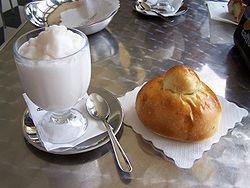 Granita
is a semi-frozen
dessert
Dessert
In cultures around the world, dessert is a course that typically comes at the end of a meal, usually consisting of sweet food. The word comes from the French language as dessert and this from Old French desservir, "to clear the table" and "to serve." Common Western desserts include cakes, biscuits,...
made from sugar, water and various flavorings. Originally from
Sicily
Sicily
Sicily is a region of Italy, and is the largest island in the Mediterranean Sea. Along with the surrounding minor islands, it constitutes an autonomous region of Italy, the Regione Autonoma Siciliana Sicily has a rich and unique culture, especially with regard to the arts, music, literature,...
, although available all over
Italy
Italy
Italy , officially the Italian Republic languages]] under the European Charter for Regional or Minority Languages. In each of these, Italy's official name is as follows:;;;;;;;;), is a unitary parliamentary republic in South-Central Europe. To the north it borders France, Switzerland, Austria and...
(but granita in Sicily is somewhat different from the rest of Italy), it is related to sorbet and
italian ice
Italian ice
Italian ice, also known as water ice, is a sweetened frozen dessert made with fruit or other natural or artificial food flavorings, similar to sorbet. Italian ice is not shaved ice that is flavored; rather, it is made by the same process by which ice cream is made: freezing the ingredients while...
. However, in most of Sicily, it has a coarser, more crystalline texture. Food writer
Jeffrey Steingarten
Jeffrey Steingarten
Jeffrey Steingarten is a leading food writer in the United States. He has been the food critic at Vogue magazine since 1989. His monthly columns in Vogue have earned him a National Magazine Award, and nearly a dozen James Beard Awards and nominations...
says that "the desired texture seems to vary from city to city" on the island; on the west coast and in
Palermo
Palermo
Palermo is a city in Southern Italy, the capital of both the autonomous region of Sicily and the Province of Palermo. The city is noted for its history, culture, architecture and gastronomy, playing an important role throughout much of its existence; it is over 2,700 years old...
, it is at its chunkiest, and in the east it is nearly as smooth as sorbet. This is largely the result of different freezing techniques: the smoother types are produced in a
gelato machine
Ice cream maker
A domestic ice cream maker or ice cream freezer is a machine used to make small quantities of ice cream at home. Ice cream makers may stir the mixture by hand-cranking or with an electric motor, and may chill the ice cream by using a freezing mixture, by pre-cooling the machine in a freezer, or by...
, while the coarser varieties are frozen with only occasional agitation, then scraped or shaved to produce separated crystals.
Ingredients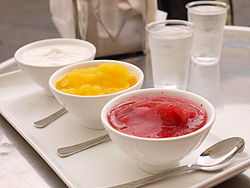 Common and traditional flavoring ingredients include
lemon
Lemon
The lemon is both a small evergreen tree native to Asia, and the tree's ellipsoidal yellow fruit. The fruit is used for culinary and non-culinary purposes throughout the world – primarily for its juice, though the pulp and rind are also used, mainly in cooking and baking...
juice,
mandarin orange
Mandarin orange
The orange, also known as the ' or mandarine , is a small citrus tree with fruit resembling other oranges. Mandarin oranges are usually eaten plain or in fruit salads...
s,
jasmine
Jasmine
Jasminum , commonly known as jasmines, is a genus of shrubs and vines in the olive family . It contains around 200 species native to tropical and warm temperate regions of the Old World...
,
coffee
Coffee
Coffee is a brewed beverage with a dark,init brooo acidic flavor prepared from the roasted seeds of the coffee plant, colloquially called coffee beans. The beans are found in coffee cherries, which grow on trees cultivated in over 70 countries, primarily in equatorial Latin America, Southeast Asia,...
,
almond
Almond
The almond , is a species of tree native to the Middle East and South Asia. Almond is also the name of the edible and widely cultivated seed of this tree...
s,
mint
Mentha
Mentha is a genus of flowering plants in the family Lamiaceae . The species are not clearly distinct and estimates of the number of species varies from 13 to 18. Hybridization between some of the species occurs naturally...
, and when in season wild
strawberries
Strawberry
Fragaria is a genus of flowering plants in the rose family, Rosaceae, commonly known as strawberries for their edible fruits. Although it is commonly thought that strawberries get their name from straw being used as a mulch in cultivating the plants, the etymology of the word is uncertain. There...
and
black mulberries
Black Mulberry
Morus nigra, the Black mulberry, is a species of mulberry. It is native to southwestern Asia, where it has been cultivated for so long that its precise natural range is unknown.-Description:...
.
Chocolate
Chocolate
Chocolate is a raw or processed food produced from the seed of the tropical Theobroma cacao tree. Cacao has been cultivated for at least three millennia in Mexico, Central and South America. Its earliest documented use is around 1100 BC...
granitas have a tradition in the city of
Catania
Catania
Catania is an Italian city on the east coast of Sicily facing the Ionian Sea, between Messina and Syracuse. It is the capital of the homonymous province, and with 298,957 inhabitants it is the second-largest city in Sicily and the tenth in Italy.Catania is known to have a seismic history and...
and, according to Steingarten, nowhere else in Sicily. The nuances of the Sicilian ingredients are important to the flavor of the finished granita: Sicilian lemons are a less acidic, more floral variety similar to
Meyer lemon
Meyer lemon
Citrus × meyeri, the Meyer lemon, is a citrus fruit native to China thought to be a cross between a true lemon and either a mandarin or common orange. It was introduced to the United States in 1908 as S.P.I...
s, while the almonds used contain some number of bitter almonds, crucial to the signature almond flavor.
Serving conventions
Granita with coffee is very common in the city of Messina, while granita with almonds is popular in the city of Catania. Granita in combination with a yeast pastry called
brioche
Brioche
Brioche is a highly enriched French pastry, whose high egg and butter content give it a rich and tender crumb. It is "light and slightly puffy, more or less fine, according to the proportion of butter and eggs" It has a dark, golden, and flaky crust, frequently accentuated by an egg wash applied...
is a common breakfast in summer time. (The Sicilian brioche is generally flatter and wider than the French version.)
Granita is often found served as a
slush
Slush (beverage)
A slush is a flavored frozen drink.There are a number of different kinds of slush drinks:* Frozen carbonated beverages, typified by the Slurpee or ICEE, are made by freezing a carbonated drink. These machines are complicated and expensive, and notably require a carbon dioxide supply...
-type drink rather than a dessert, in a paper or plastic cup with a plastic lid and a
straw
Drinking straw
A drinking straw is a short tube intended for transferring a beverage from its container to the mouth of the drinker by use of suction. A thin tube of plastic or other material, straight or with an accordion-like living hinge, it is employed by being held with one end in the mouth and another end...
(often a spoon straw).