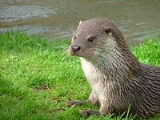 European Otter
The
European Otter
also known as the
Eurasian otter
,
Eurasian river otter
,
common otter
and
Old World otter
, is a
Europe
Europe
Europe is, by convention, one of the world's seven continents. Comprising the westernmost peninsula of Eurasia, Europe is generally 'divided' from Asia to its east by the watershed divides of the Ural and Caucasus Mountains, the Ural River, the Caspian and Black Seas, and the waterways connecting...
an and
Asia
Asia
Asia is the world's largest and most populous continent, located primarily in the eastern and northern hemispheres. It covers 8.7% of the Earth's total surface area and with approximately 3.879 billion people, it hosts 60% of the world's current human population...
n member of the Lutrinae or otter subfamily, and is typical of
freshwater
Freshwater
Fresh water is naturally occurring water on the Earth's surface in ice sheets, ice caps, glaciers, bogs, ponds, lakes, rivers and streams, and underground as groundwater in aquifers and underground streams. Fresh water is generally characterized by having low concentrations of dissolved salts and...
otter
Otter
The Otters are twelve species of semi-aquatic mammals which feed on fish and shellfish, and also other invertebrates, amphibians, birds and small mammals....
s.
Description
The European Otter is a typical species of the otter subfamily. Brown above and cream below, these long, slender creatures are well-equipped for their aquatic habits. This otter differs from the North American river otter by its shorter neck, broader visage, the greater space between the ears and its longer tail. However, the European Otter is the only otter in its range, so it cannot be confused for any other animal. Normally, this species is 57 to 95 cm (23-37 in) long, not counting a tail of 35-45 cm (14-18 in). The otter's average body weight is 7 to 12 kg (15.4-26.4 lbs), although occasionally a large old male may reach up to 17 kg (37 lbs). The record-sized specimen, reported by a reliable source but not verified, weighed over 24 kg (53 lbs).
Range and habitat
The European Otter is the most widely distributed otter species, its range including parts of Asia and
Africa
Africa
Africa is the world's second largest and second most populous continent, after Asia. At about 30.2 million km² including adjacent islands, it covers 6% of the Earth's total surface area and 20.4% of the total land area...
as well as being spread across Europe. It is believed to be currently extinct in
Liechtenstein
Liechtenstein
The Principality of Liechtenstein is a doubly landlocked alpine country in Central Europe, bordered by Switzerland to the west and south and by Austria to the east. Its area is just over , and it has an estimated population of 35,000. Its capital is Vaduz. The biggest town is Schaan...
, and
Switzerland
Switzerland
Switzerland name of one of the Swiss cantons. ; ; ; or ), in its full name the Swiss Confederation , is a federal republic consisting of 26 cantons, with Bern as the seat of the federal authorities. The country is situated in Western Europe,Or Central Europe depending on the definition....
. They are now very common in
Latvia
Latvia
Latvia , officially the Republic of Latvia , is a country in the Baltic region of Northern Europe. It is bordered to the north by Estonia , to the south by Lithuania , to the east by the Russian Federation , to the southeast by Belarus and shares maritime borders to the west with Sweden...
, along the coast of
Norway
Norway
Norway , officially the Kingdom of Norway, is a Nordic unitary constitutional monarchy whose territory comprises the western portion of the Scandinavian Peninsula, Jan Mayen, and the Arctic archipelago of Svalbard and Bouvet Island. Norway has a total area of and a population of about 4.9 million...
and across
Great Britain
Great Britain
Great Britain or Britain is an island situated to the northwest of Continental Europe. It is the ninth largest island in the world, and the largest European island, as well as the largest of the British Isles...
, especially Shetland where 12% of the UK breeding population exist.
Ireland
Ireland
Ireland is an island to the northwest of continental Europe. It is the third-largest island in Europe and the twentieth-largest island on Earth...
has the highest density of Eurasian otters in Europe. In
Italy
Italy
Italy , officially the Italian Republic languages]] under the European Charter for Regional or Minority Languages. In each of these, Italy's official name is as follows:;;;;;;;;), is a unitary parliamentary republic in South-Central Europe. To the north it borders France, Switzerland, Austria and...
, they can be found in the Calore river area. These creatures live in the South Korean area, and are endangered.
Diet
The European Otter's diet mainly consists of fish. However, during the winter and in colder environments fish consumption is significantly lower and the otters use other sources for their food supply. This diet can include
bird
Bird
Birds are feathered, winged, bipedal, endothermic , egg-laying, vertebrate animals. Around 10,000 living species and 188 families makes them the most speciose class of tetrapod vertebrates. They inhabit ecosystems across the globe, from the Arctic to the Antarctic. Extant birds range in size from...
s,
insect
Insect
Insects are a class of living creatures within the arthropods that have a chitinous exoskeleton, a three-part body , three pairs of jointed legs, compound eyes, and two antennae...
s,
frog
Frog
Frogs are amphibians in the order Anura , formerly referred to as Salientia . Most frogs are characterized by a short body, webbed digits , protruding eyes and the absence of a tail...
s,
crustacean
Crustacean
Crustaceans form a very large group of arthropods, usually treated as a subphylum, which includes such familiar animals as crabs, lobsters, crayfish, shrimp, krill and barnacles. The 50,000 described species range in size from Stygotantulus stocki at , to the Japanese spider crab with a leg span...
s and sometimes small
mammal
Mammal
Mammals are members of a class of air-breathing vertebrate animals characterised by the possession of endothermy, hair, three middle ear bones, and mammary glands functional in mothers with young...
s, including young
beavers
European Beaver
The Eurasian beaver or European beaver is a species of beaver, which was once widespread in Eurasia, where it was hunted to near extinction both for fur and for castoreum, a secretion of its scent gland believed to have medicinal properties...
. In general this opportunism means they may inhabit any unpolluted body of freshwater, including lakes, streams, rivers, and ponds, as long as there is good supply of food. European Otters may also live along the coast, in salt water, but require regular access to freshwater to clean their fur. When living in the sea individuals of this species are sometimes referred to as "sea otters", but they should not be confused with the true
sea otter
Sea Otter
The sea otter is a marine mammal native to the coasts of the northern and eastern North Pacific Ocean. Adult sea otters typically weigh between 14 and 45 kg , making them the heaviest members of the weasel family, but among the smallest marine mammals...
, a
North America
North America
North America is a continent wholly within the Northern Hemisphere and almost wholly within the Western Hemisphere. It is also considered a northern subcontinent of the Americas...
n species much more strongly adapted to a marine existence.
Behavior and reproduction
European Otters are strongly territorial, living alone for the most part. An individual's territory may vary between about one and forty kilometres long (about half to 25 miles), with about 18 km (about 11 miles) being usual. The length of the territory depends on the density of food available and the width of the water suitable for hunting (it is shorter on coasts, where the available width is much wider, and longer on narrower rivers). The territories are only held against members of the same sex, so those of males and females may overlap.
Mating
Mating
In biology, mating is the pairing of opposite-sex or hermaphroditic organisms for copulation. In social animals, it also includes the raising of their offspring. Copulation is the union of the sex organs of two sexually reproducing animals for insemination and subsequent internal fertilization...
takes place in water. Eurasian otters are non-seasonal breeders (Males and females will breed at any time of the year) and it has been found that their mating season is most likely determined simply by the otters' reproductive maturity and physiological state. Female otters are sexually mature between 18 and 24 months old and the average age of first breeding is found to be 2.5 years old.
Gestation
Gestation
Gestation is the carrying of an embryo or fetus inside a female viviparous animal. Mammals during pregnancy can have one or more gestations at the same time ....
for the
L. lutra
is 60–64 days,
litter
Litter
Litter consists of waste products such as containers, papers, wrappers or faeces which have been disposed of without consent. Litter can also be used as a verb...
weight when being compared to the female body mass is about 10%. After the gestation period one to four pups are born, which remain dependent on the mother for about 13 months. The male plays no direct role in parental care, although the territory of a female with her cubs is usually entirely within that of the male. Hunting mainly takes place at night, while the day is usually spent in the European Otter's holt (den) – usually a burrow or hollow tree on the riverbank which can sometimes only be entered from underwater. It has long been thought that they hunt using sight and touch only; but evidence is emerging that they may also be able to smell underwater - possibly in a similar manner to the
Star-nosed mole
Star-nosed mole
The star-nosed mole is a small mole found in wet low areas of eastern Canada and the north-eastern United States, with records extending along the Atlantic coast as far as extreme southeastern Georgia...
.
Conservation

The European otter declined across its range in the second half of the 20th century primarily due to pollution from pesticides such as organochlorine (OCs) and
polychlorinated biphenyl
Polychlorinated biphenyl
Polychlorinated biphenyls are a class of organic compounds with 2 to 10 chlorine atoms attached to biphenyl, which is a molecule composed of two benzene rings. The chemical formula for PCBs is C12H10-xClx...
s (PCBs). Other threats included habitat loss and hunting, both legal and illegal. European Otter populations are now recovering in many parts of Europe. In the
United Kingdom
United Kingdom
The United Kingdom of Great Britain and Northern IrelandIn the United Kingdom and Dependencies, other languages have been officially recognised as legitimate autochthonous languages under the European Charter for Regional or Minority Languages...
the number of sites with an otter presence increased by 55% between 1994 and 2002. In August, 2011, the
Environment Agency
Environment Agency
The Environment Agency is a British non-departmental public body of the Department for Environment, Food and Rural Affairs and an Assembly Government Sponsored Body of the Welsh Assembly Government that serves England and Wales.-Purpose:...
announced that otter had returned to every county in England since vanishing from every county except the West Country and parts of Northern England. Recovery is partly due to a ban on the most harmful pesticides that has been in place across Europe since 1979, partly to improvements in water quality leading to increases in prey populations, and partly to direct legal protection under the European Union Habitats Directive and national legislation in several European countries. In
Hong Kong
Hong Kong
Hong Kong is one of two Special Administrative Regions of the People's Republic of China , the other being Macau. A city-state situated on China's south coast and enclosed by the Pearl River Delta and South China Sea, it is renowned for its expansive skyline and deep natural harbour...
, it is a
protected species
under Wild Animals Protection Ordinance Cap 170. It is listed as Near Threatened by the 2001
IUCN Red List
IUCN Red List
The IUCN Red List of Threatened Species , founded in 1963, is the world's most comprehensive inventory of the global conservation status of biological species. The International Union for Conservation of Nature is the world's main authority on the conservation status of species...
.
External links